Abstract
Because global phosphorus (P) resources are limited, the continued supply of this element is a concern, and the recovery of P from waste is desirable. Carbonized sludge contains aluminum (Al) and iron (Fe) as a result of the addition of coagulants added during dewatering, which hinders the effective use of recovered P. Therefore, it is necessary to develop recovery methods that extract P but not Al or Fe. Zirconium was loaded onto orange waste, a cheap and available agricultural waste in Japan, to investigate the feasibility of its utilization for phosphorus recovery. In the present study, a biomass adsorbent was applied to the selective adsorption of P following extraction using 0.25 mol/l sulfuric acid. This process, based on a batch adsorption system employing a solid-to-liquid ratio of 50 mg/ml or more, was found to adsorb close to 100% of the P but less than 6% of the Al. When the adsorbent was separated and treated with a 0.25 mol/l sulfuric acid solution at a solid-to-liquid ratio of 20 mg/ml, about 75% of the Al was removed but none of the P. Immersion in a NaOH solution was able to strip the P from the adsorbent, giving P and Al concentrations in the desorption solution of 800 and 3 mg/l, respectively.
Access options
Buy single article
Instant access to the full article PDF.
US$ 39.95
Tax calculation will be finalised during checkout.
Subscribe to journal
Immediate online access to all issues from 2019. Subscription will auto renew annually.
US$ 79
Tax calculation will be finalised during checkout.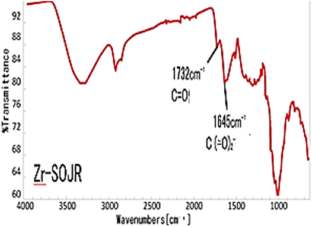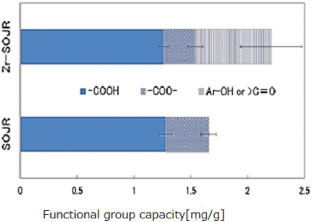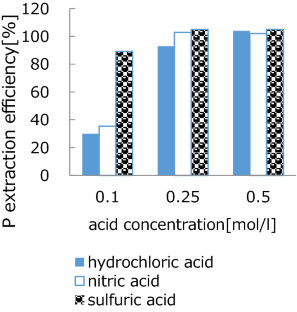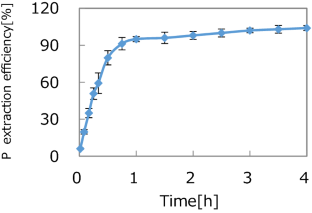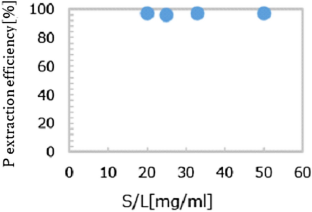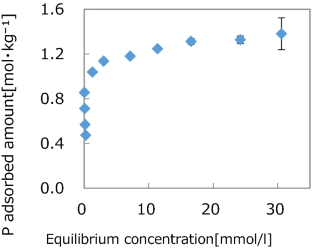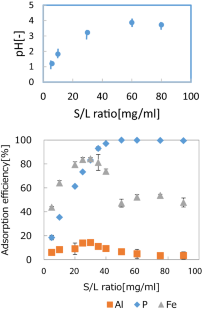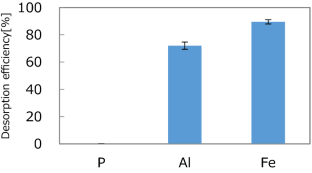 References
1.

Kuroda A, Takiguchi N, Kato J, Ohtake H (2005) J Environ Biotech 4(2):87–94

2.

Gorazda K, Wzorek Z, Tarko B, Nowak AK, Kulczycka J, Henclik A (2013) Review phosphorus cycle—possibilities for its rebuilding. Biochemica Polonica 60(4):725–730

3.

Fang L, Li J, Donatello S, Cheeseman CR, Wang Q, Sun Poon C, Tsang DCW (2018) Recovery of phosphorus from incinerated sewage sludge ash by combined two-step extraction and selective precipitation. Chem Eng J 348:74–83. https://doi.org/10.1016/j.cej.2018.04.201

4.

Shoji T, Takeda Y, Noguchi M, Iizuka A, Yamasaki A (2018) Dissolution and solidification property of major elements in alkali treatment of sewage sludge ashes. J Jpn Sewage Works Association 55(674):102–111. https://doi.org/10.24748/jswa.55.674_102

5.

Takahashi T (2004) Characteristics of alkali elution on incinerator ash of sewage sludge. J Jpn Soc Waste Manage Exper 15:491–499

6.

Yoshida Y, Noike T (2004) A study about increase of quantity of phosphorous collection by alkaline elution of incinerator ash of sewage sludge. J JSCE VII-31:83–90

7.

Petzet S, Peplinski B, Cornel P (2012) On wet chemical phosphorus recovery from sewage sludge ash by acidic or alkaline leaching and an optimized combination of both. Water Res 46:3769–3780

8.

Harada H, Kondo M, Biswas BK, Ohura S, Inoue K, Ishikaea S, Kawakita H, Ohto K (2011) Phosphorus recovery using zirconium-loaded saponified orange juice residue. J Environ Eng Landsc Manag 40(4):240–246

9.

Biswas BK, Inoue K, Ghimire KN, Harada H, Ohto K, Kawakita H (2008) Removal and recovery of phosphorus from water by means of adsorption onto orange waste gel loaded with zirconium. Bioresour Technol 99:8685–8690

10.

Biswas BK, Inoue K, Harada H, Ohto K, Kawakita H (2009) Leaching of phosphorus from incinerated sewage sludge ash by means of acid extraction followed by adsorption on orange waste gel. J Environ Sci 21(12):1753–1760

11.

Xiaolong Yu, Nakamura Y, Otuka M, Omori S, Haruta S (2021) Development of a novel phosphrous system using inicinerated swage sludge ash(ISSA) and phosphorous-selective adsorbent. Waste Manage 120:41–49

12.

Goertzen SL, Thériault KD, Oickle AM, Tarasuk AC, Andreas HA (2010) Standardization of the Boehm titration. Part I. CO2 expulsion and endpoint determination. Carbon 48(4):1252–1261

13.

Thakur S, Chaudhary J, Kumar V, Thakur VK (2019) Progress in pectin based hydrogels for water purification: trends and challenges. J Environ Manage 238(15):210–223

14.

Hirayama K, Kizuna T (2018) Method for recovering phosphorus from ash of sewage sludge by acid extraction. J Environ Lab Assoc 43(4):32–39

15.

Dong S, Ji Q, Wang Y, Liu H, Qu J (2020) Enhanced phosphate removal using zirconium hydroxide encapsulated in quaternized cellulose. J Environ Sci 89:102–112. https://doi.org/10.1016/j.jes.2019.10.005

16.

Zhang L, Liu J, Wan L, Zhou Q, Wang X (2012) Batch and fixed-bed column performance of phosphate adsorption by lanthanum-doped activated carbon fiber. Water Air Soil Pollut 223:5893–5902

17.

Lee W-H, Kim J-O (2019) Effect of coexisting components on phosphate adsorption using magnetite particles in water. Environ Sci Pollut Res 26(2):1054–1060
Additional information
Publisher's Note
Springer Nature remains neutral with regard to jurisdictional claims in published maps and institutional affiliations.
About this article
Cite this article
Harada, H., Hidayat, E., Uemoto, S. et al. Extraction of phosphorous from thermally treated sludge and separation of aluminum by adsorption. J Mater Cycles Waste Manag (2021). https://doi.org/10.1007/s10163-021-01273-w
Received:

Accepted:

Published:
Keywords
Activated sludge charcoal

Phosphorus adsorption

Zirconium

Extraction

Adsorption

Aluminum