Abstract
Hazardous waste management (HWM) in chemical industrial parks is an important issue related to sustainable development. Previous researches concentrations on HWM have been transferred from technologies, economic, and ecological benefits to social relations because the coordination and cooperation among different stakeholders determine the efficiency of HWM. To analyze stakeholder coordination in HWM, this paper employed a mixed-method combined with stakeholder analysis(SA) and social network analysis(SNA), for analyzing interests, powers, attitudes, knowledge of different stakeholders, and the characteristics, power quantification of the stakeholders' coordination network, by chosen Shanghai Hangzhou bay economic and technical development park(SHDP) as a case study area. In hazardous waste management, governmental supervision has enough interest but less power and with the complete knowledge on, third-party supervision has a medium interest but less knowledge to support their supervision, firms have the lowest power but interest, waste treatment and disposal company have most power and interest but limited knowledge. NGOs, research institutes and media have interest and knowledge but less power. Most stakeholders have positive attitude. We also find that local supervisions play an important role in stakeholder coordination, and NGOs and research institutes have the most potential to push stakeholder coordination by improving information exchange. Therefore, policy recommendations are proposed, including the establishment of communication mechanisms, the adoption of hazardous treatment regulations and economic instruments, the application of a platform for information exchange, and the encouragement of stakeholders' engagement and public participation.
Access options
Buy single article
Instant access to the full article PDF.
US$ 39.95
Tax calculation will be finalised during checkout.
Subscribe to journal
Immediate online access to all issues from 2019. Subscription will auto renew annually.
US$ 79
Tax calculation will be finalised during checkout.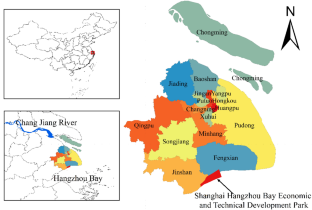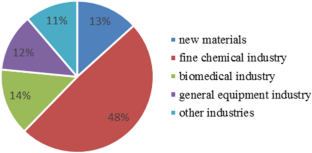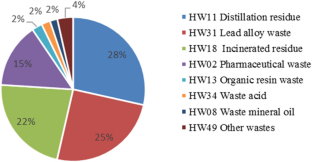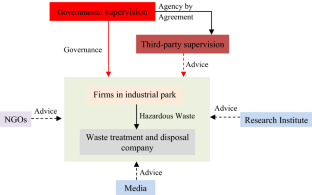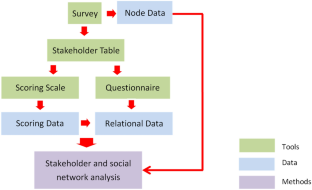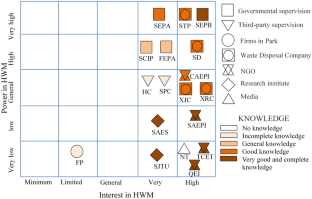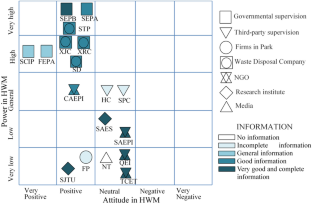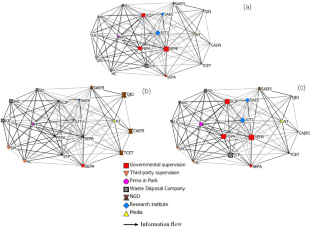 References
1.

Ali M, Wang W, Chaudhry N, Geng Y (2017) Hospital waste management in developing countries: a mini review. Waste Manag Res 35:581–592. https://doi.org/10.1177/0734242X17691344

2.

Bureau CS, Agency SEP (2016) China environmental statistics yearbook. China Statistics Press, Beijing

3.

Duan H, Huang Q, Wang Q et al (2008) Hazardous waste generation and management in China: A review. J Hazard Mater 158:221–227. https://doi.org/10.1016/j.jhazmat.2008.01.106

4.

Geng Y, Zhu Q, Haight M (2007) Planning for integrated solid waste management at the industrial park level: a case of Tianjin, China. Waste Manag 27:141–150

5.

Nema AK, Gupta SK (1999) Optimization of regional hazardous waste management systems: an improved formulation. Waste Manag 19:441–451. https://doi.org/10.1016/S0956-053X(99)00241-X

6.

Sampat AM, Hu Y, Sharara M et al (2019) Coordinated management of organic waste and derived products. Comput Chem Eng 128:352–363. https://doi.org/10.1016/j.compchemeng.2019.06.008

7.

Boix M, Montastruc L, Azzaro-Pantel C, Domenech S (2015) Optimization methods applied to the design of eco-industrial parks: a literature review. J Clean Prod 87:303–317. https://doi.org/10.1016/j.jclepro.2014.09.032

8.

Joseph K (2006) Stakeholder participation for sustainable waste management. Habitat Int 30:863–871

9.

Jackson ET, Gariba S (2002) Complexity in local stakeholder coordination: decentralization and community water management in Northern Ghana. Public Adm Dev 22:135–140. https://doi.org/10.1002/pad.215

10.

Peiry KK (1994) The basel convention on the control of transboundary movements of hazardous wastes and their disposal. Proc Asil Annu Meet 107:434–436

11.

Wang Q, Huang QF, Duan HB et al (2006) Study on technical system of china for identification of hazardous wastes. Res Environ Sci 19:165–179

12.

Sheng J, Zhou W, Zhu B (2020) The coordination of stakeholder interests in environmental regulation: Lessons from China's environmental regulation policies from the perspective of the evolutionary game theory. J Clean Prod 249:119385. https://doi.org/10.1016/j.jclepro.2019.119385

13.

Sheng J, Webber M (2017) Incentive-compatible payments for watershed services along the Eastern Route of China's South-North Water Transfer Project. Ecosyst Serv 25:213–226. https://doi.org/10.1016/j.ecoser.2017.04.006

14.

National Bureau of Statistics of the People's Republic of China (2017) China statistical yearbook on environment 2016. Statistics Press, Beijing

15.

Zhang Y, Yang Z, Li W (2006) Analyses of urban ecosystem based on information entropy. Ecol Modell 197:1–12. https://doi.org/10.1016/j.ecolmodel.2006.02.032

16.

Tu YJ, You CF, Chang CK (2013) Conversion of waste Mn-Zn dry battery as efficient nano-adsorbents for hazardous metals removal. J Hazard Mater 258:102–108

17.

Tang X, Shen C, Shi D et al (2010) Heavy metal and persistent organic compound contamination in soil from Wenling: An emerging e-waste recycling city in Taizhou area, China. J Hazard Mater 173:653–660

18.

Jiang H, Lin Z, Wu Y et al (2014) Daily intake of polybrominated diphenyl ethers via dust and diet from an e-waste recycling area in China. J Hazard Mater 276:35–42

19.

Geng Y, Ren WX, Fujita T et al (2013) Regional medical waste management in China: a case study of Shenyang. J Mater Cycles Waste Manag 15:310–320

20.

Lee CC, Huffman GL (1996) Medical waste management/incineration. J Hazard Mater 48:1–30

21.

Ferreira C, Ribeiro A, Ottosen L (2003) Possible applications for municipal solid waste fly ash. J Hazard Mater 96:201–216

22.

Song X, Geng Y, Dong H, Chen W (2018) Social network analysis on industrial symbiosis: a case of Gujiao eco-industrial park. J Clean Prod 193:414–423. https://doi.org/10.1016/j.jclepro.2018.05.058

23.

Ikhlayel M (2018) Indicators for establishing and assessing waste management systems in developing countries: a holistic approach to sustainability and business opportunities. Bus Strateg Dev 1:31–42

24.

Ren X, Che Y, Yang K, Tao Y (2016) Risk perception and public acceptance toward a highly protested Waste-to-Energy facility. Waste Manag 48:528–539

25.

Redus KS, Patterson JE, Hampshire GL, Perkins AB (2003) Waste acceptance decisions and uncertainty analysis at the oak ridge environmental management waste management facility. Off Sci Tech Inf Tech Reports 2:1–9

26.

Singh IB, Chaturvedi K, Morchhale RK, Yegneswaran AH (2007) Thermal treatment of toxic metals of industrial hazardous wastes with fly ash and clay. J Hazard Mater 141:215–222

27.

Mollah MY, Schennach R, Patscheider J et al (2000) Plasma chemistry as a tool for green chemistry, environmental analysis and waste management. J Hazard Mater 79:301–320

28.

Salihoglu G (2010) Industrial hazardous waste management in Turkey: current state of the field and primary challenges. J Hazard Mater 177:42–56

29.

Stafford SL (2003) Assessing the effectiveness of state regulation and enforcement of hazardous waste. J Regul Econ 23:27–41

30.

Meylan G, Spoerri A (2014) Eco-efficiency assessment of options for metal recovery from incineration residues: a conceptual framework. Waste Manag 34:93–100

31.

Chiampi M, Peirce JJ, Davidson GM, Tartaglia M (1982) Linear programming in hazardous waste management. J Environ Eng Div (Am Soc Civ Eng) 9:1014–1026 (lix)

32.

Wang Z, Yin J, Ma W (2008) A reverse logistics optimization model for hazardous waste in the perspective of fuzzy multi-objective programming theory. In: IEEE. 2008 IEEE Congress on Evolutionary Computation, vol 6, pp 1576–1580. https://doi.org/10.1109/CEC.2008.4631002

33.

Zhang X, Huang GH, Chan CW et al (2010) A fuzzy-robust stochastic multiobjective programming approach for petroleum waste management planning. Appl Math Model 34:2778–2788

34.

Dinler E, Güngör Z (2016) Planning decisions for recycling products containing hazardous and explosive substances: a fuzzy multi-objective model. Resour Conserv Recycl 117:93–101

35.

Misra V, Pandey SD (2005) Hazardous waste, impact on health and environment for development of better waste management strategies in future in India. Environ Int 31:417–431. https://doi.org/10.1016/j.envint.2004.08.005

36.

Callao C, Martinez-Nuñez M, Latorre MP (2019) European Countries: does common legislation guarantee better hazardous waste performance for European Union member states? Waste Manag 84:147–157. https://doi.org/10.1016/j.wasman.2018.11.014

37.

Ilankoon IMSK, Ghorbani Y, Chong MN et al (2018) E-waste in the international context—a review of trade flows, regulations, hazards, waste management strategies and technologies for value recovery. Waste Manag 82:258–275. https://doi.org/10.1016/j.wasman.2018.10.018

38.

Öncel MS, Bektaş N, Bayar S et al (2017) Hazardous wastes and waste generation factors for plastic products manufacturing industries in Turkey. Sustain Environ Res 27:188–194. https://doi.org/10.1016/j.serj.2017.03.006

39.

Nair S, Abraham J (2018) Hazardous waste management with special reference to biological treatment BT—handbook of environmental materials management. In: Hussain CM (ed) Springer International Publishing, Cham, pp 1–27

40.

Geng Y, Liu Z, Xue B et al (2014) Emergy-based assessment on industrial symbiosis: a case of Shenyang Economic and Technological Development Zone. Environ Sci Pollut Res 21:13572–13587

41.

Ohnishi S, Dong H, Yong G et al (2017) A comprehensive evaluation on industrial & urban symbiosis by combining MFA, carbon footprint and emergy methods—Case of Kawasaki, Japan. Ecol Indic 73:513–524

42.

Zhe L, Yong G, Hungsuck P et al (2016) An emergy-based hybrid method for assessing industrial symbiosis of an industrial park. J Clean Prod 114:132–140

43.

Velenturf APM, Jensen PD (2016) Promoting industrial symbiosis: using the concept of proximity to explore social network development. J Ind Ecol 20:700–709. https://doi.org/10.1111/jiec.12315

44.

Chertow MR (2007) "Uncovering" industrial symbiosis. J Ind Ecol 11:11–30. https://doi.org/10.1162/jiec.2007.1110

45.

Heidrich O, Harvey J, Tollin N (2009) Stakeholder analysis for industrial waste management systems. Waste Manag 29:965–973. https://doi.org/10.1016/j.wasman.2008.04.013

46.

Xu W, Zhou C, Lan Y et al (2015) An incentive-based source separation model for sustainable municipal solid waste management in China. Waste Manag Res 33:469–476

47.

Thabrew L, Wiek A, Ries R (2009) Environmental decision making in multi-stakeholder contexts: applicability of life cycle thinking in development planning and implementation. J Clean Prod 17:67–76. https://doi.org/10.1016/j.jclepro.2008.03.008

48.

Guo B, Geng Y, Sterr T et al (2016) Evaluation of promoting industrial symbiosis in a chemical industrial park: a case of Midong. J Clean Prod 135:995–1008. https://doi.org/10.1016/j.jclepro.2016.07.006

49.

Ghinoi S, Silvestri F, Steiner B (2020) The role of local stakeholders in disseminating knowledge for supporting the circular economy: a network analysis approach. Ecol Econ 169:106446. https://doi.org/10.1016/j.ecolecon.2019.106446

50.

Tsai FM, Bui TD, Tseng ML et al (2020) A performance assessment approach for integrated solid waste management using a sustainable balanced scorecard approach. J Clean Prod 251:119740. https://doi.org/10.1016/j.jclepro.2019.119740

51.

D'Adamo I, Falcone PM, Imbert E, Morone P (2020) A Socio-economic Indicator for EoL Strategies for Bio-based Products. Ecol Econ 178:106794. https://doi.org/10.1016/j.ecolecon.2020.10679

52.

Rerat C, Papadokonstantakis S, Hungerbühler K (2013) Integrated waste management in batch chemical industry based on multi-objective optimization. J Air Waste Manage Assoc 63:349–366

53.

State-owned Assets Supervision and Administration Commission (2018) Shanghai Hangzhou bay economic and technical development park. Website of state owned assets supervision and Administration Commission of Fengxian District, Shanghai. https://www.fengxian.gov.cn/gzw/014/20180213/014_eec1c497-6ba3-407f-944b-611e8b70a9a6.htm. Accessed 13 Feb 2018

54.

Ministry of ecology and environment of the People's Republic of China(2008) National hazardous waste list. Website of the central people's government of people's republic of china. http://www.gov.cn/flfg/2008-06/17/content_1019136.htm. Accessed 17 June 2008

55.

Ramírez R (1999) Stakeholder analysis and conflict management. In: Buckles D (ed) Cultivating peace: conflict and collaboration in natural resource management. pp 101–126

56.

Grimble R, Wellard K (1997) Stakeholder methodologies in natural resource management: a review of principles, contexts, experiences and opportunities. Agric Syst 55:173–193

57.

Anbumozhi V, Gunjima T, Ananth AP, Visvanathan C (2010) An assessment of inter-firm networks in a wood biomass industrial cluster: lessons for integrated policymaking. Clean Technol Environ Policy 12:365–372

58.

Caniato M, Tudor T, Vaccari M (2015) Understanding the perceptions, roles and interactions of stakeholder networks managing health-care waste: a case study of the Gaza Strip. Waste Manag 35:255–264. https://doi.org/10.1016/j.wasman.2014.09.018

59.

Xu W, Zhou C, Cao A, Luo M (2016) Understanding the mechanism of food waste management by using stakeholder analysis and social network model: an industrial ecology perspective. Ecol Modell 337:63–72. https://doi.org/10.1016/j.ecolmodel.2016.06.006

60.

Caniato M, Vaccari M, Visvanathan C, Zurbrügg C (2014) Using social network and stakeholder analysis to help evaluate infectious waste management: a step towards a holistic assessment. Waste Manag 34:938–951. https://doi.org/10.1016/j.wasman.2014.02.011

61.

Wasserman S, Faust K (1994) Social network analysis: Methods and applications. Contemp Sociol 91:219–220

62.

Freeman LC (1996) Cliques, Galois lattices, and the structure of human social groups. Soc Netw 18:173–187

63.

Haegeman K, Cagnin C, Könnölä T, Collins D (2012) Web 2.0 foresight for innovation policy: a case of strategic agenda setting in European innovation. Innovation 14:446–466

64.

Scott J, Carrington PJ (2011) SAGE handbook of social network analysis. Contemp Sociol 22:128

65.

Saito K, Kimura M, Ohara K, Motoda H (2016) Super mediator—a new centrality measure of node importance for information diffusion over social network. Inf Sci An Int J 329:985–1000

66.

Damian D (2007) Stakeholders in global requirements engineering: lessons learned from practice. IEEE Softw 24:21–27. https://doi.org/10.1109/MS.2007.55

67.

Schmeer K (1999) Guidelines for Conducting a Stakeholder Analysis. MD: Partnerships for Health Reform 11:1–42

68.

Butts CT (2008) Social network analysis: A methodological introduction. Asian J Soc Psychol 11:13–41

69.

Huh MH, Lee YG (2011) Monte-Carlo methods for social network analysis. Korean J Appl Stat 24(2):401–409. https://doi.org/10.5351/KJAS.2011.24.2.401

70.

Gustafsson E (2016) developing urban waste disposal system: the role of stakeholders. http://publications.lib.chalmers.se/records/fulltext/243496/243496.pdf Accessed 11 June 2016

71.

Mayhew BH, Levinger RL (1976) Size and the density of interaction in human aggregates. Am J Sociol 82:86–110

72.

Chen X, Haight ME, Geng Y, Fujita T (2010) Managing municipal solid waste from a system perspective: a comparative study of Dalian, China and Waterloo, Canada. Sustain Dev 18:282–294

73.

Geng Y (2012) Toward safe treatment of municipal solid wastes in China's urban areas. Environ Sci Technol 46:7067

74.

Xue B, Geng Y, Ren WX et al (2011) An overview of municipal solid waste management in Inner Mongolia Autonomous Region, China. J Mater Cycles Waste Manag 13:283–292

75.

Wang X, Geng Y (2012) Municipal solid waste management in Dalian: practices and challenges. Front Environ Sci Eng 6:540–548. https://doi.org/10.1007/s11783-011-0361-z

76.

Geng Y, Tsuyoshi F, Chen X (2010) Evaluation of innovative municipal solid waste management through urban symbiosis: a case study of Kawasaki. J Clean Prod 18:993–1000

77.

Song X, Geng Y, Li K et al (2020) Does environmental infrastructure investment contribute to emissions reduction? A case of China. Front Energy 14:57–70. https://doi.org/10.1007/s11708-019-0654-7

78.

Mish FC (1998) Merriam Webster's Collegiate Dictionary. Merriam-Webster. https://www.merriam-webster.com/. Accessed 1 Jan 2016

79.

Rubin LJ (1988) Communication and coordination. Appl Ind Hyg 3:16–19. https://doi.org/10.1080/08828032.1988.10390242
Acknowledgements
We would like to thank the Natural Science Foundation of China (No. 72004130) and the China Youth Foundation of Humanities and Social Sciences of the Ministry of Education (No. 18YJC630148), for their financial support. We also thank all the editors' and reviewers' comments and kindly advices.
Additional information
Publisher's Note
Springer Nature remains neutral with regard to jurisdictional claims in published maps and institutional affiliations.
Appendix. Questionnaire
Appendix. Questionnaire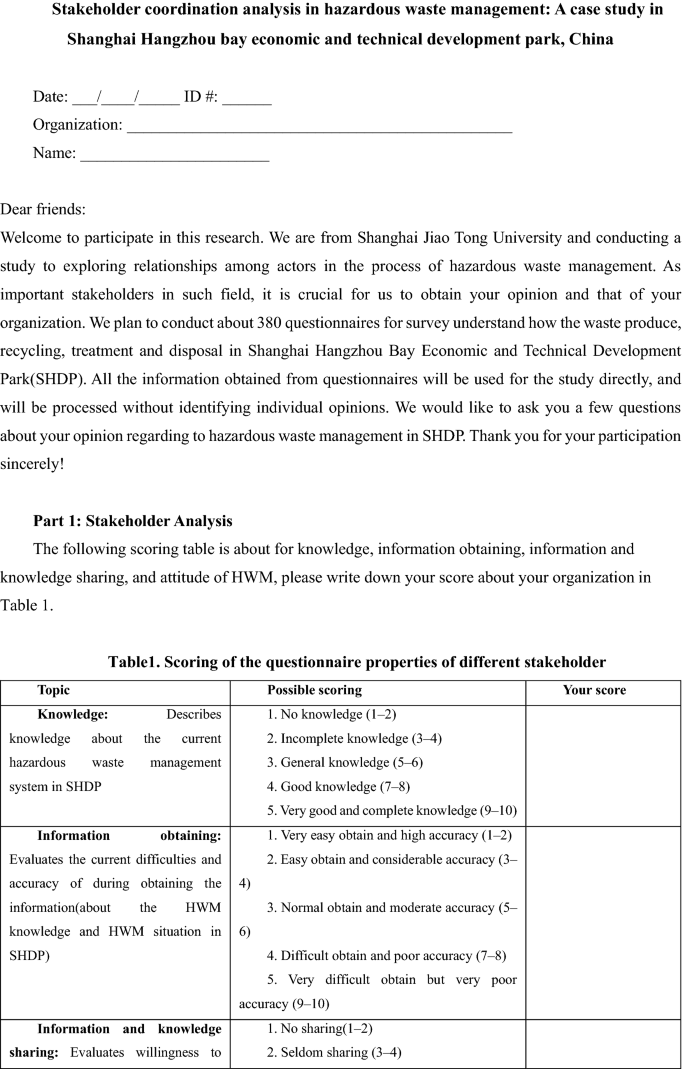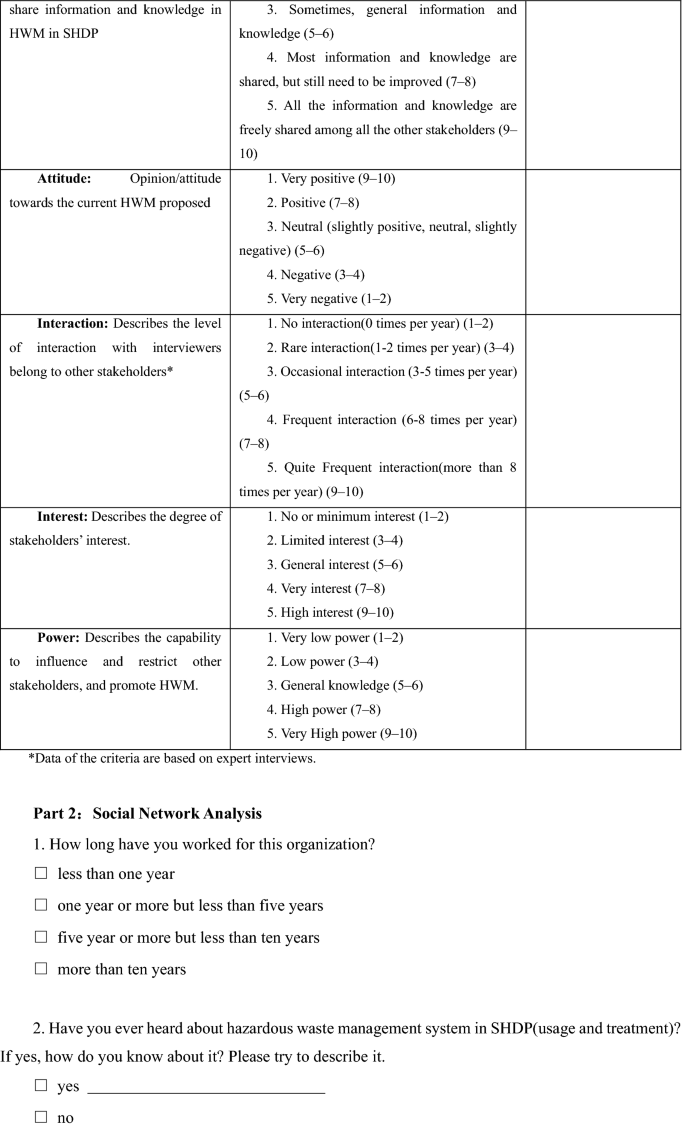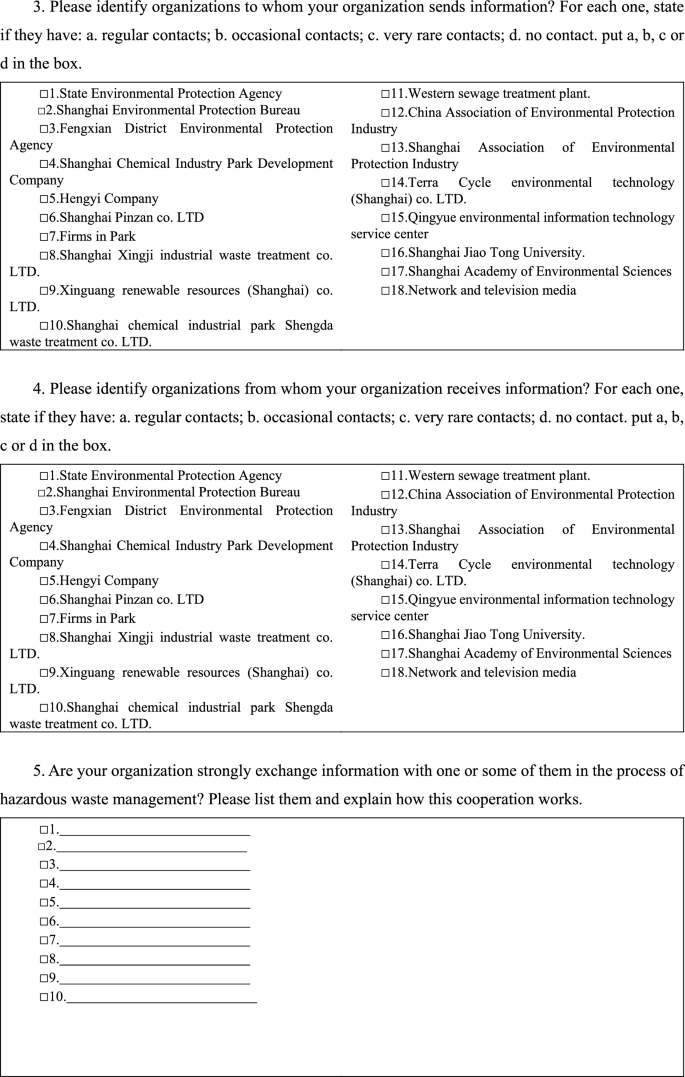 About this article
Cite this article
Song, X., Ali, M., Zhang, X. et al. Stakeholder coordination analysis in hazardous waste management: a case study in China. J Mater Cycles Waste Manag 23, 1873–1892 (2021). https://doi.org/10.1007/s10163-021-01258-9
Received:

Accepted:

Published:

Issue Date:
Keywords
Hazard waste management

Chemical industrial park

Stakeholder analysis

Social network analysis

Urban governance