Abstract
Large amount of slag is obtained during the production of ferrochromium. This by-product has properties comparable to natural aggregates. However, almost all of the ferrochromium slag is landfilled. The main objective of this study was to investigate the effects of ferrochromium slag aggregate on the mechanical properties and permeability of concrete. For this purpose, waste ferrochromium slag was used as aggregates in normal concretes and alkali-activated mixtures, with five different water/binder ratios. Concretes with limestone and Portland cement were produced as references. Mechanical properties of the concretes were determined. Chloride permeability and resistivity tests were performed. The results indicate that the strengths of the mixtures were similar to each other for given water/binder ratios. Rapid chloride permeabilities of the mixtures were close to each other, except for high water/binder ratios. Electrical resistivities of the mixtures were recorded. A strong relationship between electrical resistivity and chloride permeability was obtained. The results confirmed that the ferrochromium slag aggregates may be successfully used in concretes ranging from low-strength to higher strength classes.
This is a preview of subscription content, log in to check access.
Access options
Buy single article
Instant access to the full article PDF.
US$ 39.95
Price includes VAT for USA
Subscribe to journal
Immediate online access to all issues from 2019. Subscription will auto renew annually.
US$ 99
This is the net price. Taxes to be calculated in checkout.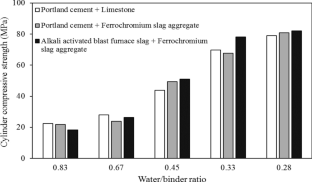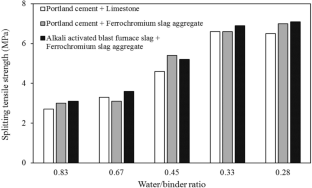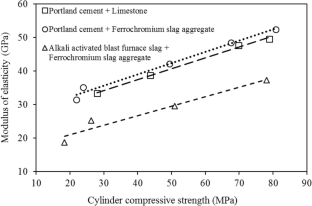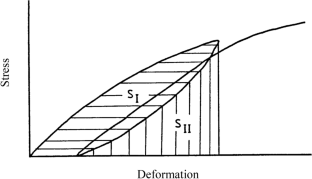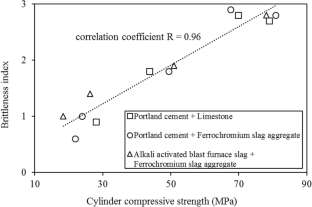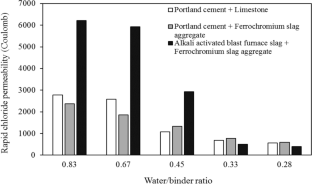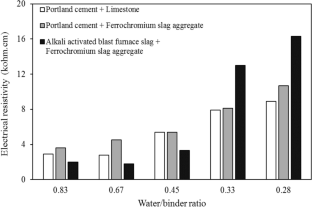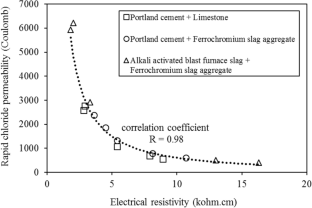 References
1.

The European Cement Association, Activity Report, CEMBUREAU, 2017, 48 pp

2.

Miller SA, John VM, Pacca SA, Horvath A (2018) Carbon dioxide reduction potential in the global cement industry by 2050. Cem Concr Res 114:115–124

3.

Miller SA, Horvath A, Monteiro PJM (2016) Readily implementable techniques can cut annual CO2 emissions from the production of concrete by over 20%. Environ Res Lett 11(7):7

4.

Mehta PK (2001) Reducing the environmental impact of concrete. Concr Int 15:61–66

5.

Sahu N, Biswas A, Kapure GU (2016) A short review on utilization of ferrochromium slag. Miner Extr Metall Rev 37:211–221

6.

Zhang S, Liu L, Tan K, Zhang L, Tang K (2015) Influence of burning temperature and cooling methods on strength of high carbon ferrochrome slag lightweight aggregate. Constr Build Mater 93:1180–1187

7.

Panda CR, Mishra KK, Panda KC, Nayak BD, Nayak BB (2013) Environmental and technical assessment of ferrochromium slag as concrete aggregate. Constr Build Mater 49:262–271

8.

Elibol C, Sengul O (2016) Effects of activator properties and ferrochrome slag aggregates on the properties of alkali activated blast furnace slag mortars. Arabian J Sci Eng 41:1561–1571

9.

Lind BB, Fallman AM, Larsson LB (2001) Environmental impact of ferrochromium slag in road construction. Waste Man 21:255–264

10.

Zelic J (2005) Properties of concrete pavements prepared with ferrochromium slag as concrete aggregate. Cem Concr Res 35:2340–2349

11.

Wang SD, Scrivener KL, Pratt PL (1994) Factors affecting the strength of alkali-activated slag. Cem Concr Res 24:1033–1043

12.

Karpuzcu M, Sengul O, Tasdemir MA, Erkan O, Delipınar S (2012) Use of ferrochromium slags as aggregate in asphalt production. Usak University, Turkey, National Congress on Recycling, pp 251–258

13.

Al-Jabri K, Shoukry H, Khalil IS, Nasir S, Hassan HF (2018) Reuse of waste ferrochrome slag in the production of mortar with improved thermal and mechanical performance. Mater Civ Eng 30(8):04018152

14.

Sengul O, Tasdemir C, Tasdemir MA (2002) Influence of aggregate type on the mechanical behaviour of normal and high strength concretes. ACI Mater J 99:528–533

15.

Neville AM (1997) Aggregate bond and modulus of elasticity of concrete. ACI Mater J 94:71–74

16.

Yildirim H, Sengul O (2011) Modulus of elasticity of substandard and normal concretes. Constr Build Mater 25:1645–1652

17.

Collins F, Sanjayan G (2001) Microcracking and strength development of alkali activated concrete. Cem Concr Comp 23:345–352

18.

Wang D, Pu XC, Scrivener KL, Pratt PL (1995) Alkali-activated slag cement and concrete: properties and problems. Adv Cem Res 7:93–102

19.

Puertas F, Palacios M, Manzano H, Dolado JS, Rico A, Rodriguez J (2011) Model for C-A-S-H gel formed in alkali-activated slag cements. J Eur Ceram Soc 31:2043–2056

20.

Duxson P, Provis JL, Lukey GC, Mallicoat SW, Kriven WM, Deventer JSJ (2005) Understanding relationship between geopolymer composition, microstructure, mechanical properties. Coll Surf A: Physicochem Eng Aspects 269:47–58

21.

Brandt AM (2009) Cement based materials. Taylor & Francis, London

22.

Tokyay M (1998) Effects of aggregate type on the mechanical properties of high strength concrete. Teknik Dergi 9:1627–1638

23.

Sengul O, Tasdemir C, Tasdemir MA (2005) Mechanical properties and rapid chloride permeabilites of concretes with ground fly ash. ACI Mater J 102:414–421

24.

Sengul O (2014) Use of electrical resistivity as an indicator for durability. Constr Build Mater 73:434–441
Additional information
Publisher's Note
Springer Nature remains neutral with regard to jurisdictional claims in published maps and institutional affiliations.
Electronic supplementary material
Below is the link to the electronic supplementary material.
About this article
Cite this article
Salihpasaoglu, F., Sengul, O. Use of waste ferrochromium slag as aggregate in concrete. J Mater Cycles Waste Manag (2020). https://doi.org/10.1007/s10163-020-01091-6
Received:

Accepted:

Published:
Keywords
Waste

Aggregate

Ferrochromium slag

Mechanical properties

Rapid chloride permeability

Electrical resistivity