Abstract
Laser-induced breakdown spectroscopy was applied for real-time identification of different types of plastics. The plasma emission spectra of polypropylene, acrylonitrile–butadiene–styrene, polystyrene, and polyethylene terephthalate, the most commonly used plastics in black household appliances, were studied. It was confirmed that the C/H spectral line intensity ratio varies depending on the type of plastics. Aliphatic and aromatic polymers were discriminated owing to the presence of delocalized C–C bonds in the aromatic fragments, revealing a correlation between the chemical structure and emission of the C2 Swan bands. Plastics containing a heteroatom could be selectively detected by monitoring the emission line characteristics of the heteroatom. Four types of plastics were successfully identified despite their similar chemical structure.
Access options
Buy single article
Instant access to the full article PDF.
USD 39.95
Price excludes VAT (USA)
Tax calculation will be finalised during checkout.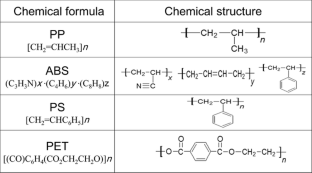 References
Unnikrishnan VK, Choudhari KS, Kulkarni SD, Nayak R, Kartha VB, Santhosh C (2013) Analytical predictive capabilities of laser induced breakdown spectroscopy (LIBS) with principal component analysis (PCA) for plastic classification. RSC Adv 3:25872–25880

Grégoire S, Boudinet M, Pelascini F, Surma F, Detalle V, Holl Y (2011) Laser-induced breakdown spectroscopy for polymer identification. Anal Bioanal Chem 400:3331–3340

Huth-Fehre T, Feldhoff R, Kantimm T, Quick L, Winter F, Cammann K, van den Broek W, Wienke D, Melssen W, Buydens L (1995) NIR-Remote sensing and artificial neural networks for rapid identification of post consumer plastics. J Mo Struct 348:143–146

Vašková H (2011) A powerful tool for material identification: Raman spectroscopy. Int J Math Models Methods Appl Sci 7:1205–1212

Pasquini C, Cortez J, Silva LMC, Gonzaga FB (2007) Laser induced breakdown spectroscopy. J Braz Chem Soc 18:463–512

Portnov A, Rosenwaks S, Bar I (2003) Identification of organic compounds in ambient air via characteristic emission following laser ablation. J Lumin 102–103:408–413

Sattmann R, Monch I, Krause H, Noll R, Couris S, Hatziapostolou A, Mavromanolakis A, Fotakis C, Larrauri E, Miguel R (1998) Laser-induced breakdown spectroscopy for polymer identification. Appl Spectrosc 52:456–461

Gondal MA, Siddiqui MN (2007) Identification of different kinds of plastics using laser-induced breakdown spectroscopy for waste management. J Environ Sci Health Part A 42:1989–1997

Tran M, Sun S, Smith BW, Winefordner JD (2001) Determination of C:H:O:N ratios in solid organic compounds by laser-induced plasma spectroscopy. J Anal At Spectrom 16:628–632

Portnov A, Rosenwaks S, Bar I (2003) Emission following laser-induced breakdown spectroscopy of organic compounds in ambient air. Appl Opt 42:2835–2842

Iglesias EJ, Ghosh J, Elton RC, Griem HR (2006) Spectral-line width measurements in Ar II from a laser heated gas-puff plasma. J Quant Spectrosc Radiat Transfer 98:101–106

Ahn JW, Canik JM, Soukhanovskii VA, Maingi R, Battaglia DJ (2010) Modification of divertor heat and particle flux profiles with applied 3D fields in NSTX H-mode plasmas. Nucl Fusion 50:045010

Chan GCY, Shelley JT, Wiley JS, Engelhard C, Jackson AU, Cooks RG, Hieftje GM (2011) Elucidation of reaction mechanisms responsible for afterglow and reagent-ion formation in the low-probe ambient ionization source. Anal Chem 83:3675–3686

Danko M, Orszagh J, Ďurian M, Kočišek J, Daxner M, Zöttl S, Maljković JB, Fedor J, Scheier P, Denifl S, Matejčík Š (2013) Electron impact excitation of methane: determination of appearance energies for dissociation products. J Phys B: At Mol Opt Phys 46:045203

Aquino FWB, Paranhos CM, Pereira-Filho ER (2016) Method for the production of acrylonitrile–butadiene–styrene (ABS) and polycarbonate (PC)/ABS standards for direct Sb determination in plastics from e-waste using laser-induced breakdown spectroscopy. J Anal At Spectrom 31:1228–1233

Harilal SS, Issac RC, Bindhu CV, Nampoori VPN, Vallabhan CPG (1997) Optical emission studies of C2 species in laser-produced plasma from carbon. J Phys D: Appl Phys 30:1703–1709

Khachatrian A, Dagdigian PJ (2009) Laser-induced breakdown spectroscopy with laser irradiation on mid-infrared hydride stretch transitions: polystyrene. Appl Phys B 97:243–248

St-Onge L, Sing R, Béchard S, Sabsabi M (1999)) Carbon emissions following 1:064 µm laser ablation of graphite and organic samples in ambient air. Appl Phys A 69:S913–S916

Roh S-B, Oh S-K, Park E-K, Choi WZ (2017) Identification of black plastics realized with the aid of Raman spectroscopy and fuzzy radial basis function neural networks classifier. J Mater Cycles Waste Manag 19:1093–1105
Acknowledgements
This study was supported by the R&D Center for Valuable Recycling (Global-Top R&D Program) of the Ministry of Environment (Project No.:2016002250002). The authors would like to thank Mr. Bosung Jang, Director of ASI Korea Operations, for his technical support during the LIBS experiment and data analysis.
About this article
Cite this article
Kim, E., Choi, W.Z. Real-time identification of plastics by types using laser-induced breakdown spectroscopy. J Mater Cycles Waste Manag 21, 176–180 (2019). https://doi.org/10.1007/s10163-018-0780-z
Received:

Accepted:

Published:

Issue Date:

DOI: https://doi.org/10.1007/s10163-018-0780-z
Keywords