Abstract
In Jakarta, Indonesia, municipalities collect plastic mixed with other waste, scavengers recover plastic waste by picking through waste, and some citizens recover plastic at community-based waste management centers called waste banks. The fact that each stakeholder operates separately means that the actual amount of plastic recycled in Jakarta is not well-known. This research evaluated the amount of plastic recovered at the source, identified the amount of plastic waste recycled using a material flow analysis (MFA), and proposed alternative solutions to improve plastic waste management in Jakarta. Through interviews, the amount of plastic waste recovered was determined; each scavenger recovers 239 kg/month and each waste bank recovers 260 kg/month. Through the MFA, the rate of plastic recycled was identified as 24%, leaving 76% of plastic waste in landfills or in the environment. There are several actions that can be taken to promote higher recycling rates in Jakarta: conducting separation at source; integrating scavenger activity with waste bank and municipality collection; providing a material recovery facility at final disposal sites using sorting technology to recover plastics; and using alternative technology such as chemical recycling or thermal treatment to treat plastic waste that is not readily recycled through mechanical recycling.
Access options
Buy single article
Instant access to the full article PDF.
US$ 39.95
Tax calculation will be finalised during checkout.
Subscribe to journal
Immediate online access to all issues from 2019. Subscription will auto renew annually.
US$ 79
Tax calculation will be finalised during checkout.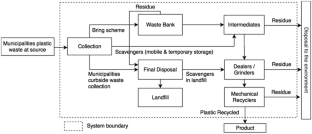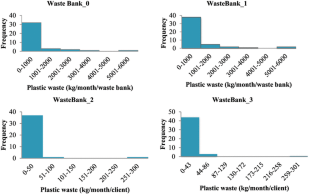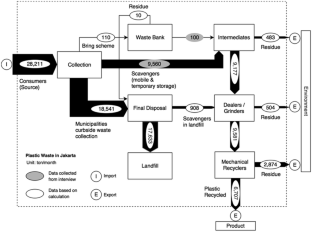 References
1.

Damanhuri E, Padmi T (2012) The role of informal collectors of recyclable waste and used goods in Indonesia. In: Damanhuri E (ed) Post-consumer waste recycling and optimal production. InTech, London, pp 23–44. https://doi.org/10.5772/33760

2.

Damanhuri E, Padmi T (2016) Integrated solid waste management (in Bahasa Indonesia). Penerbit ITB, Bandung

3.

Singhirunnusorn W, Donlakorn K, Kaewhanin W (2012) Household recycling behaviours and attitudes toward waste bank project: Mahasarakham municipality. J Asian Behav Stud 2(6):35–47

4.

Nurhasana R, Muhandiki VS (2014) Study on economic and environmental benefits of waste bank initiatives in DKI Jakarta province. Jurnal Teknik Lingkungan UNAND 11(2):127–137 (in Bahasa Indonesia)

5.

Suwerda B, Yamtana (2009) 'Gemah Ripah', community based waste bank in Badegan Village, Bantul, D.I. Yogyakarta Province. Jurnal Kesehatan Lingkungan dan Sanitasi 2(3):103–107. (in Bahasa Indonesia)

6.

Sembiring E, Nitivattananon V (2010) Sustainable solid waste management toward an inclusive society: integration of the informal sector. Resour Conserv Recycl 54(11):802–809. https://doi.org/10.1016/j.resconrec.2009.12.010

7.

Rini TS, Rachmansyah A, Muhaimin A, Suyadi (2013) Participation of waste pickers in waste management: a case study at Randegan landfill Mojokerto, Indonesia. World Appl Sci J 25(7):1036–1043. https://doi.org/10.5829/idosi.wasj.2013.25.07.13395

8.

Sasaki S, Araki T (2014) Estimating the possible range of recycling rates achieved by dump waste pickers: the case of Bantar Gebang in Indonesia. Waste Manag Res 32(6):474–481. https://doi.org/10.1177/0734242X14535651

9.

Mahyudin RP, Hadi SP, Purwanto (2015) Waste reduction by scavengers in Basirih landfill Banjarmasin South Kalimantan Indonesia. J Appl Environ Biol Sci 5(11):118–126

10.

Permanasari D (2012) Study of waste bank effectivity as an approach in community-based waste management. Undergraduate thesis, Bandung Institute of Technology (in Bahasa Indonesia)

11.

Ruslinda Y (2014) Management of valuable dry waste with waste bank system at University of Andalas Padang. Jurnal Teknik Lingkungan UNAND 11(2):96–109 (in Bahasa Indonesia)

12.

Chaerul M, Fahruroji AR, Fujiwara T (2014) Recycling of plastic packaging waste in Bandung City, Indonesia. J Mater Cycles Waste Manag 16(3):509–518. https://doi.org/10.1007/s10163-013-0201-2

13.

Nareta F (2014). Impact inventory of polypropylene (PP) packaging mineral water cups in informal sector recycling activity in Bandung city. Master thesis, Bandung Institute of Technology (in Bahasa Indonesia)

14.

Jakarta Central Bureau of Statistics (2016) Jakarta in Figs. 2016 (in Bahasa Indonesia). http://jakarta.bps.go.id/backend/pdf_publikasi/Jakarta-Dalam-Angka-2016.pdf. Accessed 13 Nov 2016

15.

Trisyanti D (2004) Solid waste management of Jakarta, Indonesia: an environmental systems perspective. Master thesis, KTH Kemiteknik

16.

Jakarta Cleansing Agency (2011) Study of composition and characteristic of municipal solid waste in DKI Jakarta (in Bahasa Indonesia)

17.

Pasang H, Moore GA, Sitorus G (2007) Neighbourhood-based waste management: a solution for solid waste problems in Jakarta, Indonesia. Waste Manag 27:1924–1938. https://doi.org/10.1016/j.wasman.2006.09.010 doi

18.

Damanhuri E, Padmi T (2009) Current situation of waste recycling in Indonesia. In: Kojima M, Damanhuri E (eds) 3R Policies for Southeast Asia and East Asia. ERIA, Jakarta, pp 23–52

19.

Sasaki S, Araki T, Tambunan AH, Prasadja H (2014) Household income, living and working condition of dumpsite waste pickers in Bantar Gebang: toward integrated waste management in Indonesia. Resour Conserv Recycl 89:11–21. https://doi.org/10.1016/j.resconrec.2014.05.006 doi

20.

Damanhuri E, Padmi T (2000) Reuse and recycling as a solution to urban solid waste problems in Indonesia. In: ISWA International Symposium on Waste Management in Asia Cities, 23–26 October

21.

Chaerul M, Tanaka M, Shekdar AV (2007) Municipal solid waste management in Indonesia: status and the strategic actions. J Fac Environ Sci Tech Okayama Univ 12(1):41–49

22.

Medina M (2007) The world's scavengers: salvaging for sustainable consumption and production. Rowman Altamira

23.

Porter RC (2002) The economics of waste. Resources for the future. RFF Press, Washington, DC

24.

Connett P (2013) The zero waste solution: untrashing the planet one community at a time. Chelsea Green Publishing, Vermont

25.

Chaturvedi B (2005) Informal-formal: creating opportunities for the informal waste recycling sector in Asia. CHINTAN Environmental Research and Action Group, Delhi

26.

Japan Ministry of the Environment (2014) History and current state of waste management in Japan. https://www.env.go.jp/en/recycle/smcs/attach/hcswm.pdf. Accessed 20 Aug 2015

27.

Di Maria F, Micale C, Sordi A, Cirulli G, Marionni M (2013) Urban mining: quality and quantity of recyclable and recoverable material mechanically and physically extractable from residual waste. Waste Manag 33:2594–2599. https://doi.org/10.1016/j.wasman.2013.08.008

28.

Garces D, Díaz E, Sastre H, Ordóñez S, González-LaFuente JM (2016) Evaluation of the potential of different high calorific waste fractions for the preparation of solid recovered fuels. Waste Manag 47:164–173. https://doi.org/10.1016/j.wasman.2015.08.029

29.

Bigum M, Jakobsen LG (2014) Comparative assessment of five tested sorting technologies. http://ec.europa.eu/environment/life/project/Projects/index.cfm?fuseaction=home.showFile&rep=file&fil=PLASTIC_ZERO_comparative_assessment_august_2014_final.pdf. Accessed 29 Dec 2016

30.

Patel M, Von Thienen N, Jochem E, Worrell E (2000) Recycling of plastics in Germany. Resour Conserv Recycl 29:65–90

31.

Kodera Y (2012) Plastics recycling—technology and business in Japan. In: Rebellon LFM (ed) Waste management—an integrated vision. InTech, London, pp 201–226. https://doi.org/10.5772/46085
Acknowledgements
This research was financially supported by Resource Recycling Science Laboratory of Kyoto University. We wish to thank the Jakarta Cleansing Agency and Association of Indonesian Plastic Recyclers (APDUPI) Jabodetabek region that provided the essential data for the study. We acknowledge financial support from a Grand-in-Aid for Scientific Research (B) (15H02862) from JSPS, the Ministry of Education, Culture, Sports, Science and Technology (MEXT), Japan.
Electronic supplementary material
Below is the link to the electronic supplementary material.
About this article
Cite this article
Putri, A.R., Fujimori, T. & Takaoka, M. Plastic waste management in Jakarta, Indonesia: evaluation of material flow and recycling scheme. J Mater Cycles Waste Manag 20, 2140–2149 (2018). https://doi.org/10.1007/s10163-018-0753-2
Received:

Accepted:

Published:

Issue Date:
Keywords
Plastic waste

Recycling

Indonesia

Material flow analysis

Scavenger

Waste Bank