Abstract
Unscientific disposal of waste is of severe environmental concern like air, water, and soil pollution. This requires immediate attention to minimize the impact of solid waste on the existing environment and health. Generation of waste is directly influenced by economic development. Most of the municipal authorities in the developing countries are facing massive challenges in waste management in an effective and efficient manner. The present study aims to explore the life-cycle assessment methodology to determine the impact of municipal solid-waste management under different scenarios in Tricity regions of Chandigarh, Mohali, and Panchkula. The study analyzes the impacts of different potential waste management alternatives for Tricity area using life-cycle approach (LCA). Four potential scenarios of scientific solid-waste management were analyzed. The impact categories analyzed were global warming, acidification, eutrophication, and human toxicity. Among the proposed alternative scenarios, the scenario with the combination of recycling, composting, and sanitary landfill showed the least environmental impacts. The results show that the significant environmental savings are achieved through the energy recovery in the present waste management scenario. A sensitivity analysis was carried in context of recycling rate with the recycling rate varied from 90 to 10%.
Access options
Buy single article
Instant access to the full article PDF.
USD 39.95
Price excludes VAT (USA)
Tax calculation will be finalised during checkout.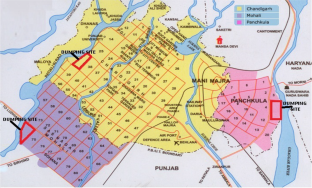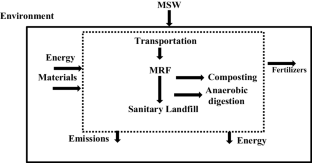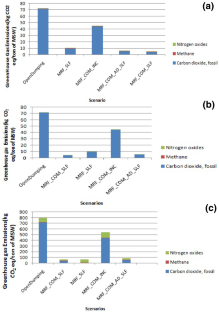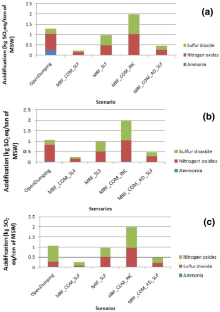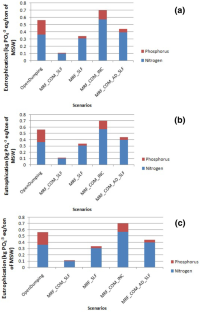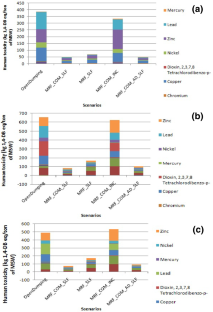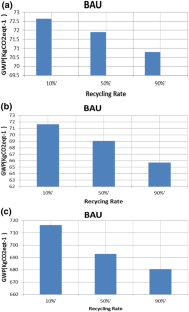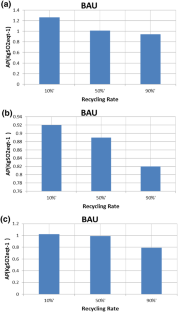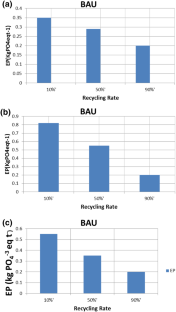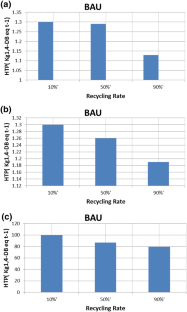 References
Couth B, Trois C (2010) Carbon emissions reduction strategies in Africa from improved waste management—a review. Waste Manag 30:2347–2353

Sharma BK, Chandel MK (2016) Life cycle assessment of potential municipal solid waste management strategies for Mumbai, India. Waste Manage Res. https://doi.org/10.1177/0734242x16675683

Song Q, Wang Z, Jinhui L (2013) Environmental problems of municipal solid waste strategies based on Lca method: a case study of Macau. J Clean Prod 57:92–100

Diaz RV, Aldape J, Flores M (2002) Identification of airborne particulates sources, of samples collected in Ticoman, Mexico, using Pixe and multivariate analysis. Nuclear Instrum Methods Phys Res B Beam Interact Mater Atoms 189(01):249–253. https://doi.org/10.1016/S0168-583x(01)073-4

Goel S (2008) Municipal solid waste management (Mswm) in India a critical review. J Environ Sci Eng 50(4):319–328

Chanakya HN, Shwetmala K, Ramachandra TV (2010) Small-scale decentralized and sustainable municipal solid waste management potential for Bangalore anchored around total recycle and biomethanation plants. In: National Conference on Urban, Industrial and Hospital Waste Management, Ahmadabad Management Association

Kumar S, Bhattacharyya JK, Vaidya AN, Chakrabarti T, Devotta S, Akolkar AB (2009) Assessment of the status of municipal solid waste management in metro cities, state capitals, class I cities, and class Ii Towns In India: an insight. Waste Manag 29:883–895

Anunay G, Singh SK, Rohit G, Shivangi G, Vipul V (2016) Greenhouse gas emissions from landfills: a case study of Nct of Delhi. J Climatol Weather Forecast 4:1. https://doi.org/10.4172/2332-2594.1000157, ISSN: 2332–2594

Mc Dougall F, White P, Franke M, Hindle P (2001) Integrated solid waste management: a life cycle inventory, 2nd edn. Blackwell Science, Hoboken

Saheri S, Masoud AM, Noor EAM, Noor ZBM, Rawshan AB (2012) Life cycle assessment for solid waste disposal options in Malaysia. Polish J Environ Stud 21(5):1377–1382

Haifete AN, Justus AH, Iita H (2016) Knowledge, attitude and practice of health care workers on waste segregation at two public training hospitals. Eur J Pharm Med Res 3(5):674–689

Winkler J (2004) Evaluation Of Life Cycle Assessment Models For Solid Waste Management. Ph.D Thesis, Tu Dresden, Dresden University, Germany, 127

Yadav P, Samadder SR (2014) Life cycle assessment of solid waste management options: a review. Recent Res Sci Technol 6:1

Denison RA, Ruston J (1990) Recycling and incineration, 1st edn. Island Press, Washington DC, pp 1–10, Isbn: 1-01-502772-5

Aljaradin M, Persson KM (2012) Comparison of different waste management technologies and climate change effect—Jordan. Am J Clim Change 1:57–63. http://www.scirp.org/journal/ajcc. Accessed 10 Dec 2017

Gentil EC, Damgaard A, Hauschild M, Finnveden G, Eriksson O, Thorneloe S, Kaplan PO, Barlaz M, Matsui Y, Li R, Christensen TH (2010) models for waste life cycle assessment. Rev Tech Assumpt Waste Manag 30:2636–2648

Huren AN, Englehard J, Fleming L, Bean J (2002) Occupational health and safety amongst municipal solid waste workers in Florida. Waste Manage Res 17(5):369–377

Zhao Y, Christensen T, Lu W, Wu H, Wang H (2011) Environmental impact assessment of solid waste management in Beijing, China. Waste Manag 31(4):793–799

Babu GLS, Lakshmikanthan P, Santhosh LG (2014) Life cycle analysis of municipal solid waste (Msw) land disposal options In Bangalore City. Icsi 2014: Creating Infrastructure for a Sustainable World © ASCE

Mendes MR, Aramaki T, Hanaki K (2004) Comparison of environmental impact of incineration and landfilling in Sao Paolo City as determined by Lca. Resour Conserv Recycl 41:47–63

Lebersorger S, P Beigl (2009) Forecasting municipal solid waste generation for urban and rural regions. In: Proceedings of XII international waste management and landfill symposium, Sardinia, Italy

Lebersorger S, Beigl P (2011) Municipal solid waste generation in municipalities: quantifying impacts of household structure, commercial waste and domestic fuel. Waste Manag 31:1907–1915

Banar M, Aysun O, Mine K (2008) Characterization of the Leachate in an urban landfill by physicochemical analysis and solid phase micro-extraction Gc/Ms. Environ Monit Assess 121:439–459

Naghibzadeh SS, Khorasani N, Yousefi J, Mousavi S, Badehian Z (2014) Life cycle assessment of municipal waste management system (case study: Karaj, Iran). J Appl Sci Environ Manage 18(4):559–565

Levis JW, Morton AB, Joseph F, Ranji R (2013) A generalized multistage optimization modelling framework for life cycle assessment based integrated solid waste management. Environ Model Softw 50:51–65

Khorasani N, Naghibzadeh S, Ghadiryanfar M, Badehian Z (2012) Life cycle assessment (Lca) of municipal solid waste system of Karaj

Srivastava AK, Nema AK (2011) Life cycle assessment of integrated solid waste management system of Delhi. Towards Life Cycle Sustain Manag. https://doi.org/10.1007/978-94-007-1899-9

Malla OB, Khatiwada NR (2016) Life cycle assessment of municipal solid waste management system in Kathmandu Metropolitan City. Int J Sci Eng Res 7:10 ISSN: 2229–5518

Rajaeifar MA, Tabatbaei M, Ghanavati H, Rafiee S (2015) Comparative life cycle assessment of different municipal solid waste management scenarios In Iran. Renew Sustain Energy Rev 51:886–898

Bare J (2009) Life cycle impact assessment research development and needs. Clean Technol Environ Policy 12(4):341–351

Akinbile O, Christopher Yusoff S, Mohd (2011) Environmental impact of leachate pollution on groundwater supplies in Akure, Nigeria. Int J Environ Sci Dev 2(1):81 (ISSN: 2010–0264)

Zaman AU (2010) Comparative study of municipal solid waste treatment technologies using life cycle assessment method. Int J Environ Sci Technol 7(2):225–234

Lardinois I, van de Klundert A (1997) Integrated sustainable waste management. In: UWEP programme policy meeting reader, 13–15 May Gouda, the Netherlands: WASTE urban waste expertise programme

Mohapatra PK, Siebel MA, Gijzen HJ, van der Hoek JP, Groot CA (2002) Improving eco-efficiencies of Amsterdam water supply: LCA approach. J Water Supply Res Technol 51(4):217–227

Manaf LA, Samah MAA, Zukki NIM (2009) Municipal solid waste management in Malaysia: practices and challenges. J Waste Manag 29:2902–2906

Yang Y, Campbell CD, Clark L, Cameron CM, Paterson E (2014) Microbial indicators of heavy metal contamination in urban and rural soils. Chemosphere 63:1942–1952

Rana R, Ganguly R, Gupta AK (2015) An assessment of solid waste management in Chandigarh City, India. Electron J Geotech Eng 20(6):1547–1572

Census Report of India (2011) Provisional population of India. Director of Census Operations, New Delhi

Rana R, Ganguly R, Gupta AK (2017) Evaluation of solid waste management in satellite Towns of Mohali and Panchkula. J Solid Waste Technol Manag 43(4):280–294

Rana R, Ganguly R, Gupta AK (2017) Physico-chemical characterization of municipal solid waste from Tri-City region of Northern India—a case study. J Mater Cycles Waste Manage 20(1):673–689

Annepu RK (2012) Sustainable solid waste management in India. Master Thesis, Columbia University, Columbia, USA

Harrison GP, Maclean EN, Kalamanlis S, Ochoa L (2011) Life cycle assessment of transmission network in Great Britain. Energy Policy 38(7):3622–3631

Central Public Health and Environmental Engineering Organisation (Cpheeo) (India) (2000) Manual On Municipal Solid Waste Management. Central Public Health and Environmental Engineering Organisation, Ministry of Urban Development, Government of India (2016)

Winker J, Bilitewski B (2018) Comparative evaluation of life cycle assessment models for solid waste management. Waste Manag 27:1021–1031

Velumani A, Meenakshi P (2007) Life cycle inventory analysis of emissions from solid waste management scenarios in Coimbatore City. In: Proceedings of international conference on sustainable solid waste management, pp 5–7

Intergovernmental Panel on Climate Change (Ipcc) (2006) Report of twelfth season on intergovernmental panel on climate change, Mexico City (1996)

Tchobanoglous G, Theisen H, Vigil S (1993) Integrated solid waste management: engineering principles and management issues. Mcgraw-Hill Inc., New York

ISO 14040 (2006) Environmental management-life cycle assessment—general principles and framework. International Organization for Standardization, Geneva

Akinbile CO, Yusoff MS, Shian LM (2012) Leachate characterization and phytoremediation using water hyacinth (Eichorrnia crassipes) in Pulau Burung, Malaysia. Bioremediat J 16(1):9–18

Central Pollution Control Board (CPCB) (2017) Odour Monitoring & Management in Urban MSW Landfill sites. http://cpcb.nic.in/openpdffile.php?id=UmVwb3J0RmlsZXMvNDYxXzE1MTE5MzMwODFfbWVkaWFwaG90bzIwMjI1LnBkZg==. Accessed 13 Dec 2017

Kulczycka J, Lelek L, Lewandowska A, Zarebska J (2015) Life cycle assessment of municipal solid waste management—comparison of results using different LCA models. Polish J Environ Stud 24(1):125–140
Additional information
Publisher's Note
Springer Nature remains neutral with regard to jurisdictional claims in published maps and institutional affiliations.
Electronic supplementary material
Below is the link to the electronic supplementary material.
About this article
Cite this article
Rana, R., Ganguly, R. & Gupta, A.K. Life-cycle assessment of municipal solid-waste management strategies in Tricity region of India. J Mater Cycles Waste Manag 21, 606–623 (2019). https://doi.org/10.1007/s10163-018-00822-0
Received:

Accepted:

Published:

Issue Date:

DOI: https://doi.org/10.1007/s10163-018-00822-0
Keywords
Life-cycle assessment

Municipal solid waste

Impact categories

Life-cycle inventory