Abstract
In the absence of relevant policies and supporting infrastructure, many developing countries are struggling to establish a resource-oriented waste management system. In countries like Nepal, where informal recycling practices are prevalent, the lack of understanding of the existing system hinders any advancement in this sector. We characterize the informal recycling chain in Kathmandu, where a workforce of more than 10,000 people handles the recyclable items in various waste streams, including electronic waste (e-waste). A field study, supported by key informant interviews, questionnaire surveys, and site observations was conducted to understand the local recycling sector, the lifecycle of electronic products, and the relevant stakeholders. E-waste is found to be an integral part of the existing solid waste management chain and, therefore, needs to be addressed collectively. We identify the challenges and opportunities towards building a sustainable system for managing e-waste, and offer propositions for a resource-oriented waste management system. This study can serve as a baseline for future research on informal waste recycling, e-waste in particular, in Nepal and similar developing economies that have not attracted a lot of attention until now.
Access options
Buy single article
Instant access to the full article PDF.
USD 39.95
Price excludes VAT (USA)
Tax calculation will be finalised during checkout.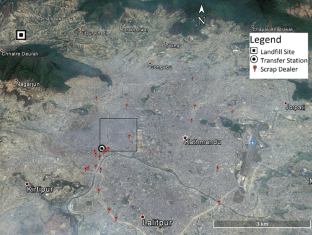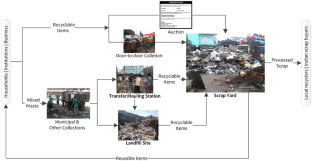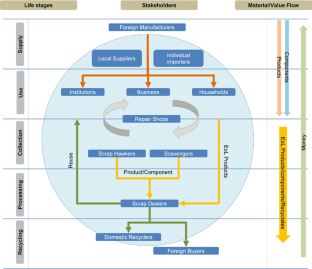 Notes
Shops officially authorized by the suppliers (e.g., Dell, LG, Samsung, etc.) to sale their products.

Institutions include offices of government and non-government organizations, schools and similar setups.

The target material or component is separated from the waste stream.

Not a fee or tax, but more like bribe that has to be paid to local dons/gangs to safely run one's business.
References
Ongondo FO, Williams ID, Cherrett TJ (2011) How are WEEE doing? A global review of the management of electrical and electronic wastes. Waste Manag 31(4):714–730

Li J et al (2013) Regional or global WEEE recycling. Where to go? Waste Manag 33(4):923–934

European Parliament, Directive 2012/19/EU of the European Parliament and of the Council of 4 July 2012 on waste electrical and electronic equipment (WEEE) (recast). 2012, Official Journal of the European Union.

Huisman J (2013) (W)EEE Mass balance and market structure in Belgium, Brussels. http://www.weee-forum.org/system/files/documents/2011_weee_mass_balance_and_market_structure_in_belgium.pdf. Accessed 5 June 2016

Bigum M, Brogaard L, Christensen TH (2012) Metal recovery from high-grade WEEE: a life cycle assessment. J Hazard Mater 207–208:8–14

Dirk N et al (2014) A multidimensional indicator set to assess the benefits of WEEE material recycling. J Cleaner Prod 83:305–316

Hischier R, Wäger P, Gauglhofer J (2005) Does WEEE recycling make sense from an environmental perspective? Environ Impact Assess Rev 25(5):525–539

Wager PA, Hischier R, Eugster M (2011) Environmental impacts of the Swiss collection and recovery systems for Waste Electrical and Electronic Equipment (WEEE): a follow-up. Sci Total Environ 409(10):1746–1756

Kiddee P, Naidu R, Wong MH (2013) Electronic waste management approaches: An overview. Waste Manage (Oxford) 33(5):1237–1250

Böni H, Schluep M, Widmer R (2015) Recycling of ICT equipment in industrialized and developing countries. In: ICT Innovations for Sustainability. Advances in Intelligent Systems and Computing, vol 310. Springer, Cham

Ezeah C, Fazakerley JA, Roberts CL (2013) Emerging trends in informal sector recycling in developing and transition countries. Waste Manage (Oxford) 33(11):2509–2519

Chi X et al (2011) Informal electronic waste recycling: a sector review with special focus on China. Waste Manage (Oxford) 31(4):731–742

Wu C et al (2014) Spatial characteristics of cadmium in topsoils in a typical e-waste recycling area in southeast China and its potential threat to shallow groundwater. Sci Total Environ 472:556–561

Fujimori T et al (2012) Impact of metals in surface matrices from formal and informal electronic-waste recycling around Metro Manila, the Philippines, and intra-Asian comparison. J Hazard Mater 221–222:139–146

Wilson DC, Velis C, Cheeseman C (2006) Role of informal sector recycling in waste management in developing countries. Habitat International 30(4):797–808

Tue NM et al (2013) Contamination of indoor dust and air by polychlorinated biphenyls and brominated flame retardants and relevance of non-dietary exposure in Vietnamese informal e-waste recycling sites. Environ Int 51:160–167

Wath SB et al (2010) A roadmap for development of sustainable E-waste management system in India. Sci Total Environ 409(1):19–32

Afroz R et al (2013) Survey and analysis of public knowledge, awareness and willingness to pay in Kuala Lumpur, Malaysia—a case study on household WEEE management. J Cleaner Prod 52:185–193

Umair S, Björklund A, Petersen EE (2015) Social impact assessment of informal recycling of electronic ICT waste in Pakistan using UNEP SETAC guidelines. Resourc Conserv Recycl 95:46–57

Qu Y et al (2013) A review of developing an e-wastes collection system in Dalian, China. J Cleaner Prod 52:176–184

Blaser F, Schluep M (2012) Economic Feasibility of e-Waste Treatment in Tanzania. Swiss Federal Institute for Materials Science and Technology (Empa), St. Gallen. http://ewasteguide.info/files/Blaser_2012_UNIDO-Empa.pdf. Accessed 5 June 2016

de Oliveira CR, Bernardes AM, Gerbase AE (2012) Collection and recycling of electronic scrap: a worldwide overview and comparison with the Brazilian situation. Waste Manage (Oxford) 32(8):1592–1610

Manhart A, Amera T, Belay M (2013) E-waste Country Study Ethiopia. Öko-Institut e.V./PAN Ethiopia, p 46. http://ewasteguide.info/files/Manhart_2013_StEP.pdf. Accessed 5 June 2016

Zhou L, Xu Z (2012) Response to waste electrical and electronic equipments in China: legislation, recycling system, and advanced integrated process. Environ Sci Technol 46(9):4713–4724

Sinha-Khetriwal D, Kraeuchi P, Schwaninger M (2005) A comparison of electronic waste recycling in Switzerland and in India. Environ Impact Assess Rev 25(5):492–504

Widmer R et al (2005) Global perspectives on e-waste. Environ Impact Assess Rev 25(5):436–458

Practical Action (2014) PRISM Poverty Reduction of Informal Workers in Solid Waste Management Sector. http://practicalaction.org/poverty-reduction-of-informal-workers-in-solid-waste-management-prism-nepal. Accessed 5 June 2016

World Computer Exchange (2016) Preparing for 5th shipment to Nepal. http://www.worldcomputerexchange.org/preparing-5th-shipment-nepal. Accessed 8 Nov 2016

Parajuly K (2016) Pollution: clean up the air in Kathmandu. Nature 533(7603):321–321

Parajuly K et al (2016) End-of-life resource recovery from emerging electronic products—a case study of robotic vacuum cleaners. J Cleaner Prod 137:652–666

Wang F et al (2013) Enhancing e-waste estimates: improving data quality by multivariate Input-Output Analysis. Waste Manage (Oxford) 33(11):2397–2407

Jain A, Sareen R (2006) E-waste assessment methodology and validation in India. J Mater Cycles Waste Manage 8(1):40–45

Liu X, Tanaka M, Matsui Y (2006) Generation amount prediction and material flow analysis of electronic waste: a case study in Beijing, China. Waste Management Research 24(5):434–445

Kahhat RF, Williams ED (2010) Adoption and disposition of new and used computers in Lima, Peru. Resourc Conserv Recycl 54(8):501–505

Jones H, Basnett Y (2013) Foreign employment and inclusive growth in Nepal: what can be done to improve impacts for the people and the country? http://www.refworld.org/pdfid/523abb634.pdf. Accessed 5 June 2016

Parajuly K, Habib K, Liu G (2016) Waste electrical and electronic equipment (WEEE) in Denmark: Flows, quantities and management. Resourc Conserv Recycl. doi:10.1016/j.resconrec.2016.08.004

Government of Nepal (2011) Solid Waste Management Act 2011, Solid Waste Management Technical Support Center. http://swmtsc.gov.np/act-and-rules. Accessed 5 June 2016

UNEP (2012) E-waste Volume III: WEEE/E-waste "Take-back system". http://ewasteguide.info/files/UNEP_2012_EwasteManual3.pdf. Accessed 5 June 2016

Yu L et al (2014) The development of WEEE management and effects of the fund policy for subsidizing WEEE treating in China. Waste Manag 34(9):1705–1714

Government of India (2016) E-waste Management Rules, Ministry of Environment Forest and Climate Change, New Delhi. http://www.moef.gov.in/sites/default/files/EWM%20Rules%202016%20english%2023.03.2016.pdf. Accessed 5 June 2016
Acknowledgements
We are grateful to Foundation Idella for supporting this work. We thank the officials of municipalities for providing the links to other stakeholders. Special thanks go to the scavengers, scrap dealers, and electronics sales and repair shops in Kathmandu for participating in the research and to the two anonymous reviewers for their valuable suggestions.
Electronic supplementary material
Below is the link to the electronic supplementary material.
About this article
Cite this article
Parajuly, K., Thapa, K.B., Cimpan, C. et al. Electronic waste and informal recycling in Kathmandu, Nepal: challenges and opportunities. J Mater Cycles Waste Manag 20, 656–666 (2018). https://doi.org/10.1007/s10163-017-0610-8
Received:

Accepted:

Published:

Issue Date:

DOI: https://doi.org/10.1007/s10163-017-0610-8
Keywords
Electronic waste

Developing country

E-waste

Informal sector

Nepal