Abstract
The aim of this work was to evaluate the composting process of poultry manure mixed with other complementary organic wastes. Two mixtures (treatment 1 and 2) were prepared with corn bare cobs, sawdust, shavings and manure. Temperature, pH, electrical conductivity, organic matter loss, total organic carbon, solved organic carbon, N loss, ammonium and nitrate concentration, laccase activity and respiration indices were analyzed. These variables showed similar tendencies during the composting process in both treatments. A peak of biological activity, organic matter mineralization and salt release was observed after 6 days of the process. Treatment 2 showed a higher concentration of solved organic carbon and higher organic matter loss than in the mixture with less manure (treatment 1). Laccase activity increased when solved organic carbon decreased. Compost from treatment 1 showed lower phytotoxic effects than that from treatment 2, probably because of a low salt content. In conclusion, it was observed that 60 % content of poultry manure in the mixture does not affect the composting process. However, the final product is not as good for agricultural purposes as a mixture with a lower manure content. Finally, it can be stated that the valorization of these wastes in the form of compost adds value to the materials, closing the biogeochemical nutrient cycle.
Access options
Buy single article
Instant access to the full article PDF.
US$ 39.95
Tax calculation will be finalised during checkout.
Subscribe to journal
Immediate online access to all issues from 2019. Subscription will auto renew annually.
US$ 79
Tax calculation will be finalised during checkout.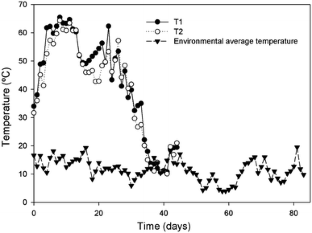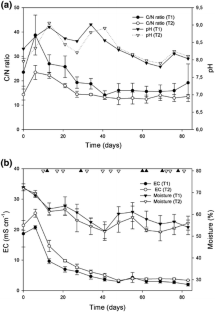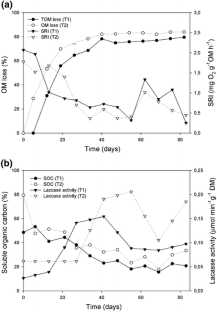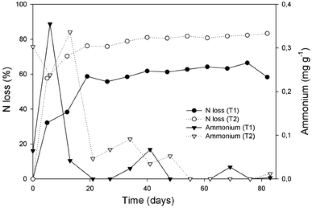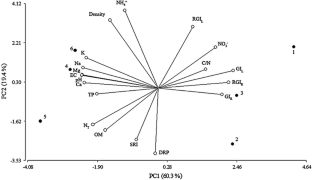 References
1.

Ministerio de Agricultura, Ganadería y Pesca de la Nación Argentina (2010). Anuario ganados y carnes, pp 167–171

2.

Dekker SEM, Aarnink AJA, de Boer IJM, Groot Koerkamp PWG (2011) Emissions of ammonia, nitrous oxide, and methane from aviaries with organic laying hen husbandry. Biosyst Eng 110:123–133

3.

Haug RT (1993) The practical handbook of compost engineering. Lewis Publishers, Boca Raton

4.

TMECC (Test methods for the examination of composting and compost) (2001) The US Department of Agriculture and the US Composting Council. Edaphos International, Houston

5.

Paredes C, Roig A, Bernal MP, Sánchez-Monedero MA, Cegarra J (2000) Evolution of organic matter and nitrogen during co-composting of olive mill wastewater with solid organic wastes. Biol Fertil Soils 32:222–227

6.

Bremner JM (1965) Inorganic forms of nitrogen. In: Black CA, De Wite E, LE Ensminger, Clark FE (eds) Methods of soil analysis. Part 2. Agronomy 9. American Society of Agronomy, Inc, Madison, pp 1179–1237

7.

Paszczynski A, Crawford RL (1991) Degradation of azo compounds by ligninases from Phanerochaete chrysosporium. Involvement of veratryl alcohol. Biochem Biophys Res Commun 178:1056–1063

8.

Iannotti DA, Pang T, Toth BL, Elwell DL, Keener HN, Hoitink HAJ (1993) A quantitative respirometric method for monitoring compost stability. Compost Sci Util 1:52–65

9.

US EPA (1989) Protocols for short term toxicity screening of hazardous waste sites. A.8.7. Lettuce root elongation (Lactuca sativa). EPA 600/3-88/029. National Service Center for environmental protection Agency, Chicago

10.

Zucconi F, Pera A, Forte M, De Bertoldi M (1981) Evaluating toxicity of immature compost. BioCycle 22:54–57

11.

Zucconi F, Monaco A, Forte M, De Bertoldi M (1985) Phytotoxins during the stabilization of organic matter. In: Gasser JKR (ed) Composting of agricultural and other wastes. Elsevier, London, pp 73–85

12.

Varnero MT, Rojas C, Orellana R (2007) Phytotoxicity indices of organic residues during composting. Soil Sci Plant Nutr 7:28–37

13.

Young BJ, Riera NI, Beily ME, Bres PA, Crespo DC, Ronco AE (2012) Toxicity of the effluent from an anaerobic bioreactor treating cereal residues on Lactuca sativa. Ecotoxicol Environ Saf 76:182–186

14.

Barbaro LA, Karlanian MA, Rizzo PF, Riera NI, Della Torre V, Beltrán M, Crespo DE (2013). Compost de guano de gallina en la composición de sustratos para la producción de plantines florales. Revista AgriScientia. Submitted for publication

15.

Ruggieri L, Gea T, Artola A, Sánchez A (2009) Air filled porosity measurements by air pycnometry in the composting process: a review and a correlation analysis. Bioresour Technol 100:2655–2666

16.

Ugwuanyi JO, Harvey LM, McNeil B (1999) Effect of process temperature, pH and suspended solids content upon pasteurization of a model agricultural waste during thermophilic aerobic digestion. J Appl Microbiol 87:387–395

17.

Rink R (1992) Composting methods. On-Farm Composting Handbook. Northeast Regional Agricultural Engineering Service, Cooperative Extension, Ithaca

18.

Bustamante MA, Paredes C, Marhuenda-Egea FC, Pérez-Espinosa A, Bernal MP, Moral R (2008) Co-composting of distillery wastes with animal manures: carbon and nitrogen transformations in the evaluation of compost stability. Chemosphere 72:551–557

19.

Pagans E, Barrena R, Font X, Sánchez A (2006) Ammonia emissions from the composting of different organic wastes. Dependency on process temperature. Chemosphere 62:1534–1542

20.

Petric I, Šestan A, Šestan I (2009) Influence of initial moisture content on the composting of poultry manure with wheat straw. Biosyst Eng 104:125–134

21.

Ahn HK, Richard TL, Glanville TD (2008) Optimum moisture levels for biodegradation of mortality composting envelope materials. Waste Manag 28:1411–1416

22.

Barrena Gómez R, Vázquez F, Gordillo MA, Gea T, Sánchez A (2005) Respirometric assays at fixed and process temperatures to monitor composting process. Bioresour Technol 96:1153–1159

23.

Tuomela M, Vikman M, Hatakka A, Itävaara M (2000) Biodegradation of lignin in a compost environment: a review. Bioresour Technol 72:169–183

24.

Ruggieri L, Gea T, Mompeó M, Sayara T, Sánchez A (2008) Performance of different systems for the composting of the source-selected organic fraction of municipal solid waste. Biosyst Eng 101:78–86

25.

Colón J, Ruggieri L, González A, Puig I, Sánchez A (2010) Possibilities of composting disposable diapers with municipal solid wastes. Waste Manage Res 29:249–259

26.

Hsu J, Lo S (1999) Chemical and spectroscopic analysis of organic matter transformations during composting of pig manure. Environ Pollut 104:189–196

27.

De Bertoldi M, Vallini G, Pera A (1983) The biology of composting. Waste Manage Res 1:157–176

28.

Tiquia SM (2002) Evolution of extracellular enzyme activities during manure composting. J Appl Microbiol 92:764–775

29.

Li H, Xin H, Liang Y, Burns RT (2008) Reduction of ammonia emissions from stored laying hen manure through topical application of zeolite, Al+ clear, ferix-3 or poultry litter treatment. J Appl Poultry Res 17:421–431

30.

Ferrer J, Paez G, Mármol Z, Ramones E, Chandler C, Marin M, Ferrer A (2001) Agronomic use of biotechnologically processed grape wastes. Bioresour Technol 76:39–44

31.

Puyuelo B, Ponsá S, Gea T, Sánchez A (2011) Determining C/N ratios for typical organic wastes using biodegradable fractions. Chemosphere 85:653–659

32.

Waste and Resources Action Program (WRAP) (2011). Guidelines for the specification of quality compost for use in growing media. Available at: www.wrap.org.uk (Accessed Oct 2013)

33.

Resolución SENASA 264 (2011). Manual para el registro de Fertilizantes, enmiendas, sustratos, acondicionadores, protectors y materias primas en la Repúbica Argentina (in Spanish)

34.

Barrena Gómez R, Vázquez Lima F, Sánchez Ferrer A (2006) The use of respiration indices in the composting process: a review. Waste Manage Res 24:37–47

35.

Domènech X, Solà L, Ramírez W, Alcañiz JM, Andrés P (2011) Soil bioassays as tools for sludge compost quality assessment. Waste Manag 31:512–522

36.

Abad M, Noguera P, Carrion C (2004) Los sustratos en los cultivos sin suelo. Tratado de cultivo sin suelo. Mundi prensa, Madrid, pp 113–158

37.

Bunt AC (1988) Media and mixes for container-grown plants. Unwin Hyman, London

38.

Handreck K, Black N (2002) Growing media for ornamental plants and turf, 3rd edn. A UNSW Press book, Australia, p 542

39.

Carmona E, Moreno MT, Avilés M, Ordovás J (2012) Use of grape marc compost as substrate for vegetable seedlings. Sci Hortic 137:69–74
Acknowledgments
We wish to thank Recupal Argentina S.A., INTA and the Spanish Ministerio de Economía y Competitividad (Project CTM2012-33663) for financial support.
About this article
Cite this article
Rizzo, P.F., Torre, V.D., Riera, N.I. et al. Co-composting of poultry manure with other agricultural wastes: process performance and compost horticultural use. J Mater Cycles Waste Manag 17, 42–50 (2015). https://doi.org/10.1007/s10163-013-0221-y
Received:

Accepted:

Published:

Issue Date:
Keywords
Poultry manure

Decomposition

Composting

Compost quality