Abstract:
Oil shale rocks represent one of the most available sources of energy. Jordan land contains about 50 billion tons of oil shale, which makes Jordan the third in the world of the reserve of this material. Oil shale ash is a byproduct of the oil shale manufacturing process and considered a waste material and may cause hazards for human health. In this study, the effect of oil shale ash on asphalt binder rheological properties at higher temperatures was investigated. Five oil shale ash to asphalt (OSA/A) percentages by volume (0, 5, 10, 15, and 20 %) were used. The complex shear modulus (G*) and phase angle (δ) of asphalt binders were investigated using the Superpave Dynamic Shear Rheometer and the rotational viscosity (RV). It was found that increasing the OSA/A percentage increased the G* value and the RV of asphalt binders, and improved the Superpave rutting parameter, but did not affect significantly the phase angle. Thus, adding oil shale ash (the waste material) to asphalt binder enhanced its rheological properties and performance at high temperatures.
Access options
Buy single article
Instant access to the full article PDF.
US$ 39.95
Tax calculation will be finalised during checkout.
Subscribe to journal
Immediate online access to all issues from 2019. Subscription will auto renew annually.
US$ 79
Tax calculation will be finalised during checkout.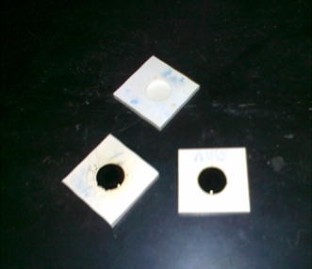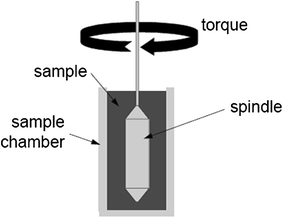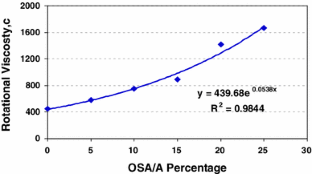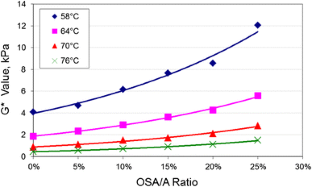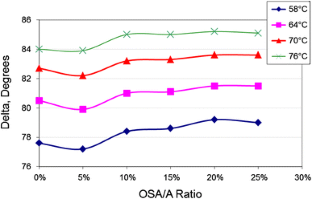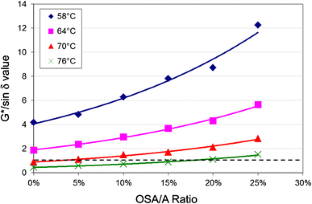 References
1.

Bsieso MS (2003) Jordan's experience in oil shale studies employing different technologies. In: Oil shale, vol 20, 3rd edn. Estonian Academy Publishers, Estonia, pp 360–370 (SPECIAL ISSN 0208-189X)

2.

Routson R, Wildung R, Bean R (1979) A review of the environmental impact of ground disposal of oil shale wastes. J Environ Qual 8(1):14–19

3.

Shawabkeh R, Al-Harahsheh A, Hami M, Khlaifat, A (2004) Conversion of oil shale ash into zeolite for cadmium and lead removal from wastewater. Fuel 83(7–8):981–985

4.

Kaasik A, Vohla C, Mõtlep R, Mander Ü, Kirsimäe K (2008) Hydrated calcareous oil-shaleash as potential filter media for phosphorus removal in constructed wetlands. Water Resour 42(5):1315–1323

5.

Hanni R (1996) Energy and valuable material by-product from firing Estonian oilshale. Waste Manag 16(1–3):97–99

6.

Smadi M, Haddad R (2003) The use of oil shale ash in Portland cement concrete. Cement Concr Compos 25(1):43–50

7.

Bahia H, Hanson D, Zeng M, Zhai H, Khatri M, Anderson R (2001) Characterization of Modified Asphalt Binders in Superpave Mix Design, National, NCHRP Report 459, Washington, D.C.

8.

Khedaywi TS, Abu-Orabi ST (1989) Effect of oil shale ash, rubber ash, husk ash, and polyethylene on properties of asphalt cement. J Petroleum 8(2):193–206

9.

Al-Masaeid H, Khedaywi T, Smadi M (1989) Properties of asphalt-oil shale ash bituminous mixtures under normal and freeze-thaw conditions. J Transp Res Board (TRB), Transportation Research Record No. 1228, National Research Council, Washington, D.C., USA, pp 54–62

10.

Al-Khateeb GG, Al-Akhras NM (2011) Properties of Portland cement-modified asphalt binder using Superpave tests. Constr Build Mater J (CBMJ) 25:926–932

11.

Tuncan M, Tuncan A, Cetin A (2003) The use of waste materials in asphalt concrete mixtures. Waste Manag Res 21(2):83–92

12.

Yi-qiu T, Li Z-H, Zhang X-Y, Dong Z-J (2010) Research on high- and low-temperature properties of asphalt-mineral filler mastic. J Mater Civil Eng 22(8) (Technical Notes, posted ahead of print)

13.

American Society for Testing and Materials (ASTM) (2007) ASTM Standard Test Methods. ASTM C128. Relative Density (Specific Gravity), and Absorption of Fine Aggregate

14.

American Association of State Highway and Transportation Officials (AASHTO) (2006) AASHTO Standard Test Methods, AASHTO T316. Standard Method of Test for Viscosity Determination of Asphalt Binder Using Rotational Viscometer

15.

American Association of State Highway and Transportation Officials (AASHTO) (2008) AASHTO Standard Test Methods. AASHTO T315 Standard Method of Test for Determining the Rheological Properties of Asphalt Binder Using a Dynamic Shear Rheometer (DSR)

16.

(2001) The Asphalt Institute (AI) Superpave Mix Design Series No. 1 (SP-1), Superpave Mix Design, Asphalt Institute Research Center, Lexington, Kentucky (KY), USA

17.

(2001) The Asphalt Institute (AI) Superpave Mix Design Series No. 2 (SP-2), Superpave Mix Design, Asphalt Institiute Research Center, Lexington, Kentucky (KY), USA
About this article
Cite this article
Ghuzlan, K., Al-Khateeb, G. & Damrah, A.A. Using oil shale ash waste as a modifier for asphalt binders. J Mater Cycles Waste Manag 15, 522–529 (2013). https://doi.org/10.1007/s10163-013-0135-8
Received:

Accepted:

Published:

Issue Date:
Keywords
Oil shale ash

Waste

Property of recycled products

Rheology

Recycling

Asphalt binder