Abstract
In this research the feasibility of aerated in-vessel composting process followed by chemical oxidation with H2O2 and Fenton for removal of petroleum hydrocarbons from oily sludge of crude oil storage tanks was investigated. The ratios of the sludge to immature compost were 1:0 (as abiotic control), 1:2, 1:4, 1:6, 1:8 and 1:10 (as dry basis) at a C:N:P ratio of 100:5:1 and 55 % moisture content for a period of 10 weeks. Six concentrations of H2O2 and Fenton were added to the compost mixture for a period of 24- and 48-h reaction times. Results showed that petroleum hydrocarbons removal in ratios of 1:2, 1:4, 1:6, 1:8 and 1:10 were 66.6, 73.2, 74.8, 80.2 and 79.9 %, respectively. The results of the abiotic experiments indicated that the main mechanism of hydrocarbon removal in the composting reactors was biological. The application of combined composting and chemical oxidation demonstrated a remarkable (about 88 %) overall removal. The study showed that in-vessel composting combined with chemical oxidation is a viable choice for the remediation of the sludge.
Access options
Buy single article
Instant access to the full article PDF.
US$ 39.95
Tax calculation will be finalised during checkout.
Subscribe to journal
Immediate online access to all issues from 2019. Subscription will auto renew annually.
US$ 79
Tax calculation will be finalised during checkout.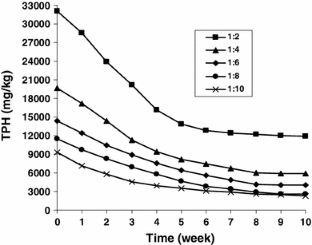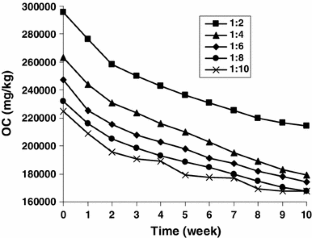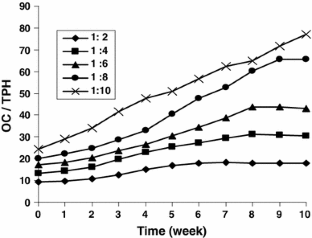 References
1.

Gallego JL, Garcia-Martinez MJ, Liamas JF, Belloch C, Pelaez AI, Sanchez J (2007) Biodegradation of oil tank bottom sludge using microbial Consortia. Biodegradation 18:269–281

2.

Su WT, Wu BS, Chen WJ (2011) Characterization and biodegradation of motor oil by indigenous Pseudomonas aeruginosa and optimizing medium constituents. J Taiwan Inst Chem E 42:689–695

3.

Phillips LA, Greer CW, Farrell RE, Germida JJ (2009) Field-scale assessment of weathered hydrocarbon degradation by mixed and single plant treatments. Appl Soil Ecol 42:9–17

4.

Baek KH, Yoon BD, Kim BH, Cho DH, Lee IS, Oh HM, Kim HS (2007) Monitoring of microbial diversity and activity during bioremediation of crude oil-contaminated soil with different treatments. J Microbiol Biotech 17:67–73

5.

Kriipsalu M, Marques M, Maastik A (2008) Characterization of oily sludge from a wastewater treatment plant flocculation–flotation unit in a petroleum refinery and its treatment implications. J Mater Cycles Waste Manag 10:79–86

6.

Vasudevan N, Rajaram P (2001) Bioremediation of oil sludge contaminated soil. Environ Int 26:409–411

7.

Sample KT, Reid BJ, Fermor TR (2001) Review of composting strategies to treat organic pollutants in contaminated soils. Environ Pollu 112:269–283

8.

Namkoong WH, wang EY, Park JS, Choi JY (2002) Bioremediation of diesel contaminated soil with composting. Environ Pollut 119: 23–31

9.

Grace Liu PW, Whang LM, Yang MC, Cheng SS (2008) Biodegradation of diesel-contaminated soil: a soil column study. J Taiwan Inst Chem E 39:419–428

10.

Tateda M, Duc Trung L, Viet Hung N, Ike M, Fujita M (2008) Comprehensive temperature monitoring in an in-vessel forced-aeration static-bed composting process. J Mater Cycles Waste Manag 10:79–86

11.

Bento FM, Camargo FAO, Okeke BC, Frankenberger WT (2005) Comparative bioremediation of soils contaminated with diesel oil by natural attenuation, biostimulation and bioaugmentation. Bioresour Technol 96:1049–1055

12.

Ghazali FM, Zaliha RN, Rahman A, Salleh AB, Basri M (2004) Biodegradation of hydrocarbons in soil by microbial consortium. Int Biodeter Biodegr 54:61–67

13.

Marin JA, Hernandez T, Garcia C (2005) Bioremdiation of oil refinery sludge by landfarming in semiarid conditions: influence on soil microbial activity. Environ Res 98:185–195

14.

Hansen LD, Nestler C, Ringelberg D, Bajpai R (2004) Extended bioremediation of PAH/PCP contaminated soils from POPILE wood treatment facility. Chemosphere 54:1481–1493

15.

Boopathy R (2000) Factors limiting bioremediation technologies. Bioresour Technol 74:63–67

16.

Chaillan F, Fleche AL, Bury E, Phantavong Y, Grimont P, Saliot A, Oudot J (2004) Identification and biodegradation potential of tropical aerobic hydrocarbon-degrading microorganisms. Res Microbiol 155:587–595

17.

Lee BD, Hosomi M (2000) Ethanol washing of PAH-contaminated soil and Fenton oxidation of washing solution. J Mater Cycles Waste Manag 2:24–30

18.

Liang J, Komarov S, Hayashi N, Kasai E (2007) Recent trends in the decomposition of chlorinated aromatic hydrocarbonsby ultrasound irradiation and Fenton's reagent. J Mater Cycles Waste Manag 9:47–55

19.

Lu M, Zhang Z, Qiao W, Wei X, Guan Y, Ma Q, Guan Y (2010) Remediation of petroleum-contaminated soil after composting by sequential treatment with Fenton-like oxidation and biodegradation. Biores Tech 101:2106–2113

20.

Huang GF, Wong JWC, Wuand QT, Nagar BB (2004) Effect of C/N on composting of pig manure with sawdust. Waste Manag 24:805–813

21.

Goi A, Trapido M (2004) Degradation of polycyclic aromatic hydrocarbons in soil: the Fenton reagent versus ozonation. Environ Tech 25:155–164

22.

Kroger M, Fels G (2007) Combined biological–chemical procedure for the mineralization of TNT. Biodegradation 18:413–425

23.

TNRCC (2001) Texas natural resource conservation commission total petroleum hydrocarbons method 1005. Revision 03 June 1

24.

Faithful NT (2002) Methods in agricultural chemical analysis: a practical handbook. Institute of Rural Studies, University of Wales, Aberystwyth

25.

TMECC (2002) Test methods for the examination of composting and compost. USDA and US Composting Council

26.

APHA (2005) Standard methods for the examination of water and wastewater. American Public Health Association, Washington, DC

27.

Al-Futaisi A, Jamrah A, Yaghi B, Taha R (2007) Assessment of alternative management techniques of tank bottom petroleum sludge in Oman. J Hazard Mater 141:557–564

28.

Jorgensen KS, Paustinein J, Suortti AM (2000) Bioremediation of petroleum hydrocarbon contaminated soil by composting in biopiles. Environ Pollut 107:245–254

29.

Antizar-Ladislao B, Lopez-Real J, Beck AJ (2006) Degradation of polycyclic aromatic hydrocarbons (PAHs) in an aged coal-tar contaminated soil under in-vessel composting conditions. Environ Pollut 141:459–468

30.

Artola-Caricano E, Borkent I, Damen K, Jager T, Vaes WHJ (2003) Sorption kinetics and microbial biodegradation activity of hydrophobic chemicals in sewage sludge: model and measurements based on free concentrations. Environ Sci Technol 37:116–122

31.

Leonardi V, Sasek V, Petruccioli M, D'Annibale A, Erbanovai P, Cajthaml T (2007) Bioavailability modification and fungal biodegradation of PAHs in aged industrial soils. Int Biodeter Biodegr 60:165–170

32.

Nam K, Rodriguez W, Kukor JJ (2001) Enhanced biodegradation of polycyclic aromatic hydrocarbons by biodegradation combined with a modified Fenton reaction. Chemosphere 45:11–20

33.

Loehr RC, Smith A, Corsi RL (2001) VOC and SVOC emissions from slurry and solid phase bioremediation processes. Pract Period Hazard Toxic Radioact Waste Manage 5:211–224

34.

Watts RJ (1992) Hydrogen peroxide for physico-chemically degrading petroleum contaminated soil. Remediation 2:413–425

35.

Yin Y, Allen HE (1999) In situ chemical treatment technology evaluation report. GWRTAC (Ground-Water Remediation Technologies Analysis Center) E-series report

36.

Kong SH, Watts RJ, Choi JH (1998) Treatment of petroleum-contaminated soils using iron mineral catalyzed hydrogen peroxide. Chemosphere 37:1473–1482

37.

Rafin C, Veignie E, Fayeulle A, Surpateanu G (2009) Benzo[a]pyrene degradation using simultaneously combined chemical oxidation, biotreatment with Fusarium solani and cyclodextrins. Biores Tech 100:3157–3160
Acknowledgments
Authors would like to acknowledge department of environmental health engineering of Tehran University of medical sciences for supporting this research in the frame of a PhD thesis.
About this article
Cite this article
Koolivand, A., Naddafi, K., Nabizadeh, R. et al. Degradation of petroleum hydrocarbons from bottom sludge of crude oil storage tanks using in-vessel composting followed by oxidation with hydrogen peroxide and Fenton. J Mater Cycles Waste Manag 15, 321–327 (2013). https://doi.org/10.1007/s10163-013-0121-1
Received:

Accepted:

Published:

Issue Date:
Keywords
In-vessel composting

Crude oil storage tanks

Petroleum hydrocarbons

Fenton

Hydrogen peroxide