Abstract
Open dumping sites in Surabaya and Palembang, Indonesia, have been studied to investigate emissions of polychlorinated dibenzo-para-dioxins and dibenzofurans (PCDD/Fs) and dioxin-like polychlorinated biphenyls (DL-PCBs), as well as the resulting soil contamination that might be caused by open burning of municipal solid waste. The emission factors of the waste residue, accounting for the ratio of waste burned, have also been characterized. The concentrations of PCDD/Fs and DL-PCBs in soil from Palembang were 61–310 pg-TEQ/g (dry weight) and 6.3–32 pg-TEQ/g, respectively. In Surabaya, very low levels of PCDD/Fs and DL-PCBs, ranging from 0.075 to 0.098 and 0.00032 to 0.095 pg-TEQ/g, respectively, were observed in soil for an open dumping site that included a top cover layer of soil above the compacted waste. The large difference in concentrations can be explained by the fact that open burning of waste is the source of PCDD/Fs and DL-PCBs. The emission factors for the residue for PCDD/Fs ranged from 27 to 140 pg-TEQ/g, and a sensitivity analysis found that the maximum emission factor to the residue could be 5600 pg-TEQ/g. Our results indicate that emissions of PCDD/Fs can be controlled by modifying the open dumping process to one that involves depositing soil layers on top of the compacted waste.
This is a preview of subscription content,
to check access.
Access this article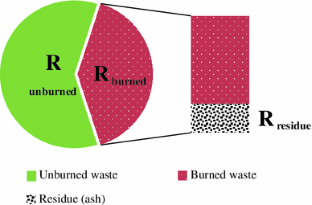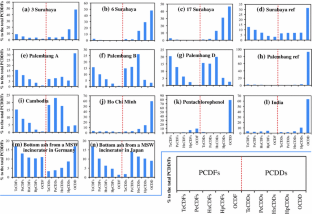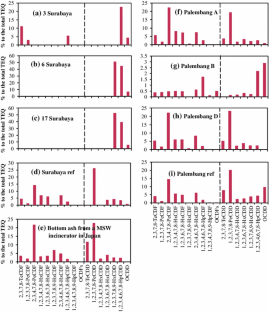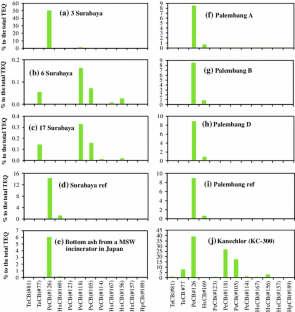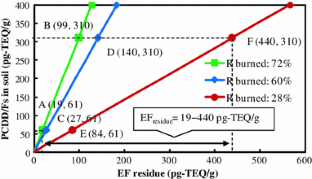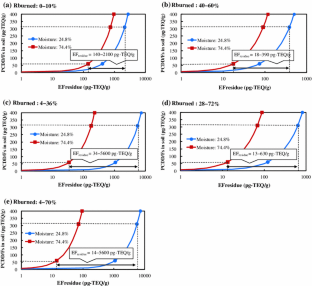 References
Fiedler H (2007) National PCDD/PCDF release inventories under the Stockholm Convention on persistent organic pollutants. Chemosphere 67:S96–S108

Sakai S, Takiguchi H, Toyama Y, Gang Y (2011) An integrated PCDD/Fs inventory for East Asian countries. Organohalogen Compd 73:2213–2216

Gullet BK, Lemieux PM, Lutes CC, Winterrowd CK, Winters DL (2001) Emissions of PCDD/F from uncontrolled domestic waste burning. Chemosphere 43:721–725

Hedmand B, Naslund M, Nilsson C, Marklund S (2005) Emissions of polychlorinated dibenzodioxins and dibenzofurans and polychlorinated biphenyls from uncontrolled burning of garden and domestic waste (Backyard Burning). Environ Sci Technol 39:8790–8796

Lemieux PM, Gullet BK, Lutes CC, Winterrowd CK, Winters DL (2003) Variables affecting emissions of PCDD/Fs from uncontrolled combustion of household waste in barrels. J Air Waste Manage Assoc 53:523–531

Lemieux P, Lutes C, Abbott J (2000) Emissions of polychlorinated dibenzo-p-dioxins and polychlorinated dibenzofurans from the open burning of household waste in barrels. Environ Sci Technol 34:377–384

Ochoa GS, Rosa D, Larralde PM, Gullet BK, Tabor DG, Touati AT, Ceradini BW, Fiedler H, Abel T, Carroll WF Jr (2012) Open burning of household waste: effect of experimental conditions on combustion quality and emission of PCDD, PCDF and PCB. Chemosphere 87:1003–1008

Wevers M, De Fre R, Desmedt M (2004) Effect of backyard burning on dioxin deposition and air concentration. Chemosphere 54:1351–1356

Zhang T, Fiedler H, Yu G, Ochoa GS, Carroll WF Jr, Gullet BK, Marklund S, Touati A (2011) Emissions of unintentional persistent organic pollutants from open burning of municipal solid waste in developing countries. Chemosphere 84:994–1001

Ettala M, Rahkonen P, Rossi E, Mangs J, Rahkonen OK (1996) Landfill fires in Finland. Waste Manage Res 14:377–384

Gullet BK, Wyrzykowska B, Grandesso E, Touati A, Tabor DG, Ochoa GS (2010) PCDD/F, PBDD/F and emissions from open burning of a residential waste dump. Environ Sci Technol 44:394–399

Hirai Y, Sakai S, Kunisue T, Tanabe S (2003) Emission factors for uncontrolled burning and simulation of PCDD/F contamination in open dumping sites. Organohalogen Compd 4:60–65

Hirai Y, Kida A, Sakai S (2005) Emission factors of PCDD/F and PBDE by landfill fire simulation. Organohalogen Compd 67:2246–2249

Minh NH, Minh TU, Watanabe M, Kunisue T, Monirith I, Tanabe S, Sakai S, Subramanian A, Sasikumar K, Viet PH, Tuyen BC, Tana TS, Prudente MS (2003) Open dumping site in Asian developing countries: a potential source of polychlorinated dibenzo-p-dioxins and polychlorinated dibenzofurans. Environ Sci Technol 37(8):1493–1502

Ruokojärvi P, Ettala M, Rahkonen P, Tarhanen J, Ruuskanen J (1995) Polychlorinated dibenzo-p-dioxins and furans (PCDDs and PCDFs) in municipal waste landfill fires. Chemosphere 30(9):1697–1708

Tanabe S, Minh TB (2010) Dioxins and organohalogen contaminants in the Asia-Pacific region. Ecotoxicology 19:463–478

National Standardization Agency of Indonesia (1995) Test methods for sampling and measurement of pile and composition of urban garbage. SNI 19-3694-1995 (in Indonesian)

Van den Berg M, Birnbaum LS, Denison M, De Vito M, Farland W, Feeley M, Fiedler H, Hakansson H, Hanberg A, Haws L, Rose M, Safe S, Schrenk D, Tohyama C, Tritscher A, Tuomisto J, Tysklind M, Walker N, Peterson RE (2006) The 2005 World Health Organization reevaluation of human and mammalian toxic equivalency factors for dioxins and dioxin-like compounds. Toxicol Sci 93:223–241

Springer C, Kraft E, Bidlingmaier W (2005) Development of alternative concepts for construction and operation of landfills under the conditions of tropical climate. In: Proceeding Sardinia 2005, 10th international waste management and landfill symposium. Cagliari, Italy, pp 3–7

Caneghem JV, Block C, Van Brecht A, Wauters G, Vandecasteele C (2010) Mass balance for POPs in hazardous and municipal solid waste incinerators. Chemosphere 78:701–708

Sakai S, Hayakawa K, Takatsuki H, Kawakami I (2001) Dioxin-like PCBs released from waste incineration and their deposition flux. Environ Sci Technol 35:3601–3607

Ministry for the Environment (2011) Methodology for deriving standards for contaminants in soil to protect human health. Ministry for the Environment. Wellington, New Zealand

Fiedler H (2003) Dioxins and furans (PCDD/PCDF). In: Fiedler H (ed) Persistent organic pollutants. Springer, Berlin, pp 123–201

Masunaga S, Takasuga T, Nakanishi J (2001) Dioxin and dioxin-like PCB impurities in some Japanese agrochemical formulations. Chemosphere 44(4):873–885

Vehlow J, Bergfeldt B, Hunsinger H (2006) PCDD/F and related compounds in solid residues from municipal solid waste in incineration—a literature review. Waste Manag Res 24:404–420

Baker JI, Hites RA (2000) Is combustion the major source of polychlorinated dibenzo-p-dioxins and dibenzofurans to the environment? A mass balance investigation. Environ Sci Technol 34:2879–2886

Sabdono A, Radjasa OK, Kang S, Hur HG, Grossart HP, Simon M, Zocchi E, Risk MJ (2007) Presence and toxicity of 2,4-d herbicide in coral Galaxea fascicularis of Java coast, Indonesia. Res J Environ Toxicol 1:71–77

Sakai S, Ukai T, Takatsuki H, Nakamura K, Kinoshita S, Takasuga T (1999) Substance flow analysis of coplanar PCBs released from waste incineration processes. J Mater Cycles Waste Manage 1:62–74

Ishikawa Y, Noma Y, Mori Y, Sakai S (2007) Congener profiles of PCB and a proposed new set of indicator congeners. Chemosphere 67:1838–1851

IPCC (2006) Guidelines for national greenhouse gas inventories, prepared by the National Greenhouse Gas Inventories Programme. In: Eggleston HS, Buendia L, Miwa K, Ngara T, Tanabe K (eds) IGES, Japan

UNEP (2010) Report of the expert meeting to further develop the standardized toolkit for identification and quantification of dioxin and furan releases. UNEP/POPs/Toolkit/2010/1. Geneva, Switzerland

UNEP (2005) Standardized toolkit for identification and quantification of dioxin and furans releases. UNEP Chemicals, Geneva

Liu J, Liu W (2009) Distribution of polychlorinated dibenzo-p-dioxins and dibenzofurans (PCDDs/Fs) and dioxin-like polychlorinated biphenyls (dioxin-like PCBs) in the soil in a typical area of eastern China. J Hazard Mater 163:959–966

Roots O, Henkelmann B, Schramm KW (2004) Concentrations of polychlorinated dibenzo-p-dioxins and polychlorinated dibenzofurans in soil in the vicinity of a landfill. Chemosphere 57:337–342

Vassura I, Passarini F, Ferroni L, Bernardi E, Morselli L (2011) PCDD/Fs atmospheric deposition fluxes and soil contamination close to a municipal solid waste incinerator. Chemosphere 83:1366–1373

Kobayashi J, Sakai M, Kajihara H, Takahashi Y (2008) Temporal trends and sources of PCDD/Fs, pentachlorophenol and chlornitrofen in paddy field soils along the Yoneshiro river basin, Japan. Environ Pollut 156:1233–1242
Acknowledgments
This study was supported by the Global Centre of Excellence Program entitled Global Centre for Education and Research on Human Security Engineering for Asian Megacities funded by the Japanese Ministry of Education, Culture, Sports, Science and Technology.
About this article
Cite this article
Bastian, L., Yano, J., Hirai, Y. et al. Behavior of PCDD/Fs during open burning of municipal solid waste in open dumping sites. J Mater Cycles Waste Manag 15, 229–241 (2013). https://doi.org/10.1007/s10163-012-0114-5
Received:

Accepted:

Published:

Issue Date:

DOI: https://doi.org/10.1007/s10163-012-0114-5
Keywords