Abstract
Normal-hearing (NH) listeners use frequency cues, such as fundamental frequency (voice pitch), to segregate sounds into discrete auditory streams. However, many hearing-impaired (HI) individuals have abnormally broad binaural pitch fusion which leads to fusion and averaging of the original monaural pitches into the same stream instead of segregating the two streams (Oh and Reiss, 2017) and may similarly lead to fusion and averaging of speech streams across ears. In this study, using dichotic speech stimuli, we examined the relationship between speech fusion and vowel identification. Dichotic vowel perception was measured in NH and HI listeners, with across-ear fundamental frequency differences varied. Synthetic vowels /i/, /u/, /a/, and /ae/ were generated with three fundamental frequencies (F0) of 106.9, 151.2, and 201.8 Hz and presented dichotically through headphones. For HI listeners, stimuli were shaped according to NAL-NL2 prescriptive targets. Although the dichotic vowels presented were always different across ears, listeners were not informed that there were no single vowel trials and could identify one vowel or two different vowels on each trial. When there was no F0 difference between the ears, both NH and HI listeners were more likely to fuse the vowels and identify only one vowel. As ΔF0 increased, NH listeners increased the percentage of two-vowel responses, but HI listeners were more likely to continue to fuse vowels even with large ΔF0. Binaural tone fusion range was significantly correlated with vowel fusion rates in both NH and HI listeners. Confusion patterns with dichotic vowels differed from those seen with concurrent monaural vowels, suggesting different mechanisms behind the errors. Together, the findings suggest that broad fusion leads to spectral blending across ears, even for different ΔF0, and may hinder the stream segregation and understanding of speech in the presence of competing talkers.
Access options
Buy single article
Instant access to the full article PDF.
US$ 39.95
Tax calculation will be finalised during checkout.
Subscribe to journal
Immediate online access to all issues from 2019. Subscription will auto renew annually.
US$ 79
Tax calculation will be finalised during checkout.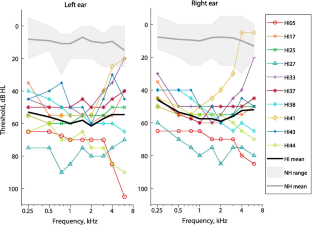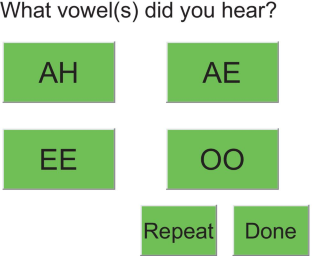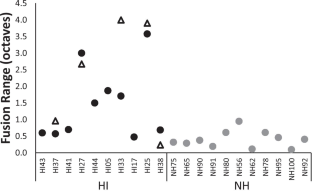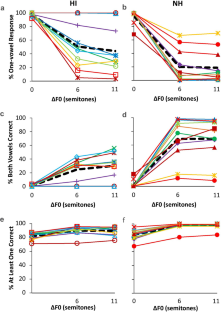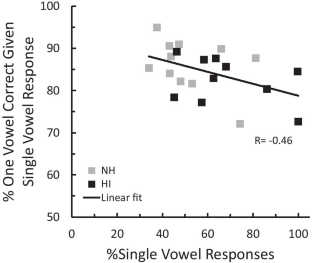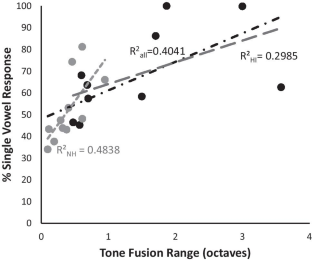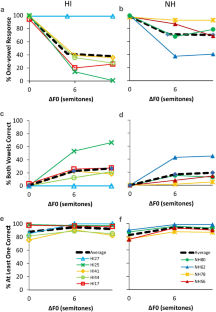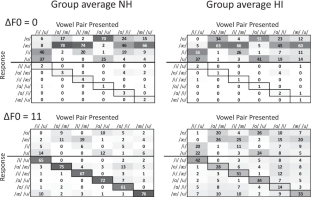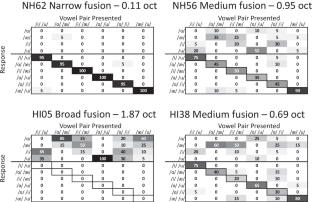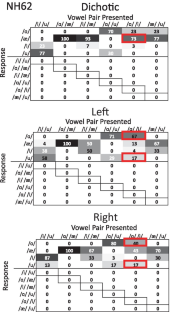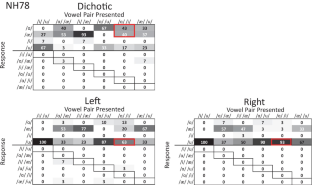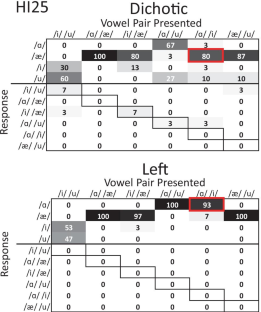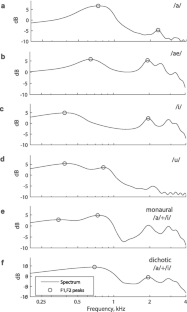 References
Arehart KH, King CA, Mclean-Mudgett KS (1997) Role of fundamental frequency differences in the perceptual separation of competing vowel sounds by listeners with normal hearing and listeners with hearing loss. J Speech Lang Hear Res 40:1434–1444

Arehart KH, Katz-Rossi J, Prustman JS (2005) Double-vowel perception in listeners with cochlear hearing loss: differences in fundamental frequency, ear of presentation, and relative amplitude. J Speech Lang Hear Res 48:236–252

Boersma P, Weenink D (2016) Praat: doing phonetics by computer [Computer program]. Version 6:22

Brungart D (2001) Informational and energetic masking effects in the perception of two simultaneous talkers. J Acoust Soc Am 109:1101–1109

Carney LH, Mcdonough JM (2019) Nonlinear auditory models yield new insights into representations of vowels. Atten Percept Psychophys 81(4):1034–1046

Chintanpelli A, Ahlstrohm JB, Dubno JR (2014) Computational model predictions of cues for concurrent vowel identification. J Assoc Res Otolaryngol 15:823–837

Eggermont JJ, Wang X (2011) Temporal coding in auditory cortex. In: Winer J., Schreiner C. (eds) The Auditory Cortex. Springer, Boston, MA

Festen JM, Plomp R (1990) Effect of fluctuating noise and interfering speech on the speech-reception threshold for impaired and normal hearing. J Acoust Soc Am 88:1725–1736

Fitzpatrick EM, Leblanc S (2010) Exploring the factors influencing discontinued hearing aid use in patients with unilateral cochlear implants. Trends Amplif 14(4):199–210

Florentine M, PopperAN, Fay RR (2011) Chapter 2, Loudness. Springer, 17–56

Folstein MF, Folstein SE, Mchugh PR (1975) Mini-mental state: a practical method for grading the cognitive state of patients for the clinician. J Psychiatr Res 12:189–198

Greenhouse SW, Geisser S (1959) On methods in the analysis of profile data. Psychometrika 24:95–112

Hermansky H. (1990) Perceptual linear predictive (PLP) analysis of speech. J Acoust Soc. Am 87:1738-1752

Hromadka T, Deweese MR, Zador AM (2008) Sparse representation of sounds in the unanesthetized auditory cortex. PLoS Biol 6(1):e16

Kidd G Jr, Mason CR, Richards VM, Gallun FJ, Durlarch NI (2008) Informational Masking. In: Yost WA, Popper AN, Fay RR (eds) Springer Handbook of Auditory Research: Auditory Perception of Sound Sources. Springer, New York, NY, pp 143–189

Kwon BJ, Perry TT (2014) Identification and multiplicity of double vowels in cochlear implant users. J Speech Lang Hear Res 57(5):1983–1996

Mauchly JW (1940) Significance test for sphericity of a normal n-variate distribution. Ann Math Stat 11(2):204–209

Odenthal DW (1963) Perception and neural representation of simultaneous dichotic pure tone stimuli. Acta Physiol Pharmacol: Neerl 12:453–496

Oh Y, Hartling CL, Srinivasan NK, Eddolls M, Diedesch AC, Gallun FJ, Reiss L A J (2019) Broad binaural fusion impairs segregation of speech based on voice pitch differences in a 'cocktail party' environment. BioRxiv, 805309. https://doi.org/10.1101/805309

Oh Y, Reiss LA (2017) Binaural pitch fusion: pitch averaging and dominance in hearing-impaired listeners with broad fusion. J Acoust Soc Am 142(2):780

Peterson GE, Barney HE (1952) Control of methods used in a study of vowels. J Acoust Soc Am 24:175–184

Reiss LA, Eggleston JL, Walker EP, Oh Y (2016) Two ears are not always better than one: mandatory vowel fusion across spectrally mismatched ears in hearing-impaired listeners. J Assoc Res Otolaryngol 17:341–356

Reiss LAJ, Shayman CS, Walker EP, Benneth KO, Fowler JR, Harting CL, Glickman B, Lasarev MR, Oh Y (2017) Binaural pitch fusion: comparison of normal-hearing and hearing-impaired listeners. J Acoust Soc Am 141(3):1909–1920

Rolls ET, Treves A (2011) The neural encoding of information in the brain. Prog Neurobiol 96:448–890

Smith SS, Chintanpelli A, Heinz MG, Summer CJ (2018) Revisiting models of concurrent vowel identification: the critical case of no pitch differences. Acta Acust 104(5):922–925

Souza PE, Boike KT, Witherall K, Tremblay K (2007) Prediction of speech recognition from audibility in older listeners with hearing loss: effects of age, amplification, and background noise. J Am Acad Audiol 18:54–65

Studebaker GA (1985) A "rationalized" arcsine transform. J Speech Lang Hear Res 28(3):455–462

Summerfield Q, Assann PF (1991) Perception of concurrent vowels: effects of harmonic misalignment and pitch-period asynchrony. J Acoust Soc Am 89:1364–1377

Summers V, Leek MR (1998) F0 processing and the separation of competing speech signals by listeners with normal hearing and with hearing loss. J Speech Lang Hear Res 41:1294–1306

Swanner H, Eddolls M, Molis M, Reiss L (2020) Effects of formant overlap on vowel fusion and identification. American Auditory Society 47th Annual Scientific & Technology Conference, poster 183

Thurfklow WR, Bernstein S (1957) Simultaneous two-tone pitch discrimination. J Acoust Soc Am 29:515–519

Van Den Brink G, Sintnicolaas K, Van Stam WS (1976) Dichotic pitch fusion. J Acoust Soc Am 59(6):1471–1476

Walden TC, Walden BE (2005) Unilateral versus bilateral amplification for adults with impaired hearing. J Am Acad Audiol 16(8):574–584

Zwicker UT (1984) Auditory recognition of diotic and dichotic vowel pairs. Speech Commun 3:265–277
Acknowledgements
This research was supported by grants R01 DC013307 from the National Institutes of Deafness and Communication Disorders, National Institutes of Health, and VA RR&D NCRAR C2361-C.
Ethics declarations
Disclaimer
The contents do not represent the views of the US Department of Veterans Affairs or the U.S. Government. We thank Sara Simmons, Larissa Katrina, and Morgan Eddolls for help with collection of data.
Additional information
Publisher's Note
Springer Nature remains neutral with regard to jurisdictional claims in published maps and institutional affiliations.
About this article
Cite this article
Reiss, L.A., Molis, M.R. An Alternative Explanation for Difficulties with Speech in Background Talkers: Abnormal Fusion of Vowels Across Fundamental Frequency and Ears. JARO (2021). https://doi.org/10.1007/s10162-021-00790-7
Received:

Accepted:

Published:
Keywords
hearing loss

concurrent vowel

binaural fusion

dichotic