Abstract
Exposure to loud noise can cause hearing loss and tinnitus in mice and humans. In mice, one major underlying mechanism of noise-induced tinnitus is hyperactivity of auditory brainstem neurons, due at least in part, to decreased Kv7.2/3 (KCNQ2/3) potassium channel activity. In our previous studies, we used a reflex-based mouse model of tinnitus and showed that administration of a non-specific KCNQ channel activator, immediately after noise trauma, prevented the development of noise-induced tinnitus, assessed 1 week after trauma. Subsequently, we developed RL-81, a very potent and highly specific activator of KCNQ2/3 channels. Here, to test the timing window within which RL-81 prevents tinnitus in mice, we modified and employed an operant animal model of tinnitus, where mice are trained to move in response to sound but not move in silence. Mice with behavioral evidence of tinnitus are expected to move in silence. We validated this mouse model by testing the effect of salicylate, which is known to induce tinnitus. We found that transient administration of RL-81 1 week after noise exposure did not affect hearing loss but reduced significantly the percentage of mice with behavioral evidence of tinnitus, assessed 2 weeks after noise exposure. Our results indicate that RL-81 is a promising drug candidate for further development for the treatment of noise-induced tinnitus.
Access options
Buy single article
Instant access to the full article PDF.
US$ 39.95
Tax calculation will be finalised during checkout.
Subscribe to journal
Immediate online access to all issues from 2019. Subscription will auto renew annually.
US$ 79
Tax calculation will be finalised during checkout.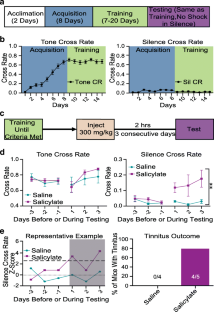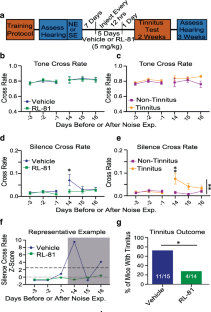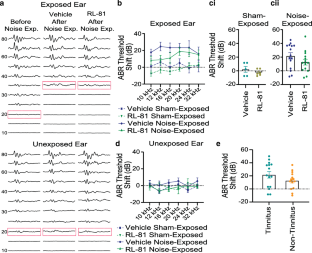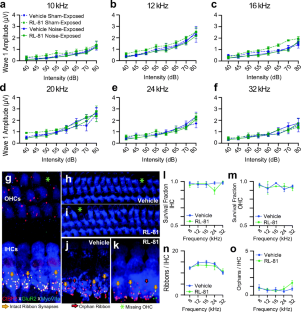 References
Adams PF, Hendershot GE, Marano MA, Centers for Disease C, Prevention/National Center for Health S (1999) Current estimates from the National Health Interview Survey, 1996. Vital Health Stat 10:1–203

Boyen K, Baskent D, van Dijk P (2015) The gap detection test: can it be used to diagnose tinnitus? Ear Hear 36:e138–e145. https://doi.org/10.1097/AUD.0000000000000156

Campolo J, Lobarinas E, Salvi R (2013) Does tinnitus "fill in" the silent gaps? Noise Health 15:398–405. https://doi.org/10.4103/1463-1741.121232

Delmas P, Brown DA (2005) Pathways modulating neural KCNQ/M (Kv7) potassium channels. Nat Rev Neurosci 6:850–862. https://doi.org/10.1038/nrn1785

Engineer ND, Riley JR, Seale JD, Vrana WA, Shetake JA, Sudanagunta SP, Borland MS, Kilgard MP (2011) Reversing pathological neural activity using targeted plasticity. Nature. 470(7332):101–104. https://doi.org/10.1038/nature09656

Eskioglou E, Perrenoud MP, Ryvlin P, Novy J (2017) Novel treatment and new drugs in epilepsy treatment. Curr Pharm Des 23:6389–6398. https://doi.org/10.1038/nature09656

Groseclose MR, Castellino S (2019) An investigation into retigabine (ezogabine) associated dyspigmentation in rat eyes by MALDI imaging mass spectrometry. Chem Res Toxicol 32:294–303. https://doi.org/10.1021/acs.chemrestox.8b00313

Henry KR, Chole RA (1980) Genotypic differences in behavioral, physiological and anatomical expressions of age-related hearing loss in the laboratory mouse. Audiology 19:369–383. https://doi.org/10.3109/00206098009070071

Hickox AE, Liberman MC (2014) Is noise-induced cochlear neuropathy key to the generation of hyperacusis or tinnitus? J Neurophysiol 111:552–564. https://doi.org/10.1152/jn.00184.2013

Hwang J, Chen J, Yang S et al (2011a) Expression of tumor necrosis factor-α and interleukin-1β genes in the cochlea and inferior colliculus in salicylate-induced tinnitus. J Neuroinflammation 8:30. https://doi.org/10.1186/1742-2094-8-30

Hwang JH, Chen JC, Yang SY, Wang MF, Liu TC, Chan YC (2011b) Expression of COX-2 and NMDA receptor genes at the cochlea and midbrain in salicylate-induced tinnitus. Laryngoscope 121:361–364. https://doi.org/10.1002/lary.21283

Hwang J-H, Chen J-C, Chan Y-C (2013) Effects of C-phycocyanin and Spirulina on salicylate-induced tinnitus, expression of NMDA receptor and inflammatory genes. PLoS ONE 8(3):e58215. https://doi.org/10.1371/journal.pone.0058215

Jentsch TJ, Schroeder BC, Kubisch C, Friedrich T, Stein V (2000) Pathophysiology of KCNQ channels: neonatal epilepsy and progressive deafness. Epilepsia 41:1068–1069. https://doi.org/10.1113/jphysiol.2008.150656

Kalappa BI, Soh H, Duignan KM, Furuya T, Edwards S, Tzingounis AV, Tzounopoulos T (2015) Potent KCNQ2/3-specific channel activator suppresses in vivo epileptic activity and prevents the development of tinnitus. J Neurosci 35:8829–8842. https://doi.org/10.1523/JNEUROSCI.5176-14.2015

Kikkawa Y, Seki Y, Okumura K, Ohshiba Y, Miyasaka Y, Suzuki S, Ozaki M, Matsuoka K, Noguchi Y, Yonekawa H (2012) Advantages of a mouse model for human hearing impairment. Exp Anim 61:85–98. https://doi.org/10.1538/expanim.61.85

Korsgaard MP, Hartz BP, Brown WD, Ahring PK, Strobaek D, Mirza NR (2005) Anxiolytic effects of Maxipost (BMS-204352) and retigabine via activation of neuronal Kv7 channels. J Pharmacol Exp Ther 314:282–292. https://doi.org/10.1124/jpet.105.083923

Kumar M, Reed N, Liu R, Aizenman E, Wipf P, Tzounopoulos T (2016) Synthesis and evaluation of potent KCNQ2/3-specific channel activators. Mol Pharmacol 89:667–677. https://doi.org/10.1124/mol.115.103200

Li S, Choi V, Tzounopoulos T (2013) Pathogenic plasticity of Kv7.2/3 channel activity is essential for the induction of tinnitus. Proc Natl Acad Sci U S A 110:9980–9985. https://doi.org/10.1073/pnas.1302770110

Li S, Kalappa BI, Tzounopoulos T (2015) Noise-induced plasticity of KCNQ2/3 and HCN channels underlies vulnerability and resilience to tinnitus. Elife 4:e07242. https://doi.org/10.1523/JNEUROSCI.5176-14.2015

Liu R, Tzounopoulos T, Wipf P (2019) Synthesis and optimization of Kv7 (KCNQ) potassium channel agonists: the role of fluorines in potency and selectivity. ACS Med Chem Lett 10:929–935. https://doi.org/10.1021/acsmedchemlett.9b00097

Marks KL, Martel DT, Wu C, Basura GJ, Roberts LE, Schvartz-Leyzac KC, Shore SE (2018) Auditory-somatosensory bimodal stimulation desynchronizes brain circuitry to reduce tinnitus in guinea pigs and humans. Sci Transl Med 10(422):eaal3175. https://doi.org/10.1126/scitranslmed.aal3175

Munro G, Dalby-Brown W (2007) Kv7 (KCNQ) channel modulators and neuropathic pain. J Med Chem 50:2576–2582. https://doi.org/10.1021/jm060989l

Ostacolo C, Miceli F, Di Sarno V, Nappi P, Iraci N, Soldovieri MV, Ciaglia T, Ambrosino P, Vestuto V, Lauritano A, Musella S, Pepe G, Basilicata MG, Manfra M, Perinelli DR, Novellino E, Bertamino A, Gomez-Monterrey IM, Campiglia P, Taglialatela M (2020) Synthesis and pharmacological characterization of conformationally restricted retigabine analogues as novel neuronal Kv7 channel activators. J Med Chem 63:163–185. https://doi.org/10.1021/acs.jmedchem.9b00796

Schaette R, Kempter R (2006) Development of tinnitus-related neuronal hyperactivity through homeostatic plasticity after hearing loss: a computational model. Eur J Neurosci 23:3124–3138. https://doi.org/10.1111/j.1460-9568.2006.04774.x

Seidman MD, Jacobson GP (1996) Update on tinnitus. Otolaryngol Clin N Am 29:455–465

Shargorodsky J, Curhan GC, Farwell WR (2010) Prevalence and characteristics of tinnitus among US adults. Am J Med 123:711–718. https://doi.org/10.1016/j.amjmed.2010.02.015

Shore SE, Wu C (2019) Mechanisms of noise-induced tinnitus: insights from cellular studies. Neuron 103:8–20. https://doi.org/10.1016/j.neuron.2019.05.008

Shore SE, Roberts LE, Langguth B (2016) Maladaptive plasticity in tinnitus-triggers, mechanisms and treatment. Nat Rev Neurol 12(3):150–160. https://doi.org/10.1038/nrneurol.2016.12

Soldovieri MV, Miceli F, Taglialatela M (2011) Driving with no brakes: molecular pathophysiology of Kv7 potassium channels. Physiology (Bethesda) 26:365–376. https://doi.org/10.1038/nrneurol.2016.12

Tzounopoulos T, Balaban C, Zitelli L, Palmer C (2019) Towards a mechanistic-driven precision medicine approach for tinnitus. J Assoc Res Otolaryngol 20:115–131. https://doi.org/10.1007/s10162-018-00709-9

Vanneste S, Martin J, Rennaker RL 2nd, Kilgard MP (2017) Pairing sound with vagus nerve stimulation modulates cortical synchrony and phase coherence in tinnitus: an exploratory retrospective study. Sci Rep 7:17345. https://doi.org/10.1038/s41598-017-17750-y

Vigil FA, Bozdemir E, Bugay V, Chun SH, Hobbs M, Sanchez I, Hastings SD, Veraza RJ, Holstein DM, Sprague SM, Carver MC, Cavazos JE, Brenner R, Lechleiter JD, Shapiro MS (2019) Prevention of brain damage after traumatic brain injury by pharmacological enhancement of KCNQ (Kv7, "M-type") K(+) currents in neurons. J Cereb Blood Flow Metab 6:1256–1273. https://doi.org/10.1177/0271678X19857818

Wainger BJ, Kiskinis E, Mellin C, Wiskow O, Han SS, Sandoe J, Perez NP, Williams LA, Lee S, Boulting G, Berry JD, Brown RH Jr, Cudkowicz ME, Bean BP, Eggan K, Woolf CJ (2014) Intrinsic membrane hyperexcitability of amyotrophic lateral sclerosis patient-derived motor neurons. Cell Rep 7:1–11. https://doi.org/10.1016/j.celrep.2014.03.019

Yang S, Weiner BD, Zhang LS, Cho SJ, Bao S (2011) Homeostatic plasticity drives tinnitus perception in an animal model. Proc Natl Acad Sci U S A 108:14974–14979. https://doi.org/10.1073/pnas.1107998108

Zuo H, Lei D, Sivaramakrishnan S, Howie B, Mulvany J, Bao J (2017) An operant-based detection method for inferring tinnitus in mice. J Neurosci Methods 291:227–237. https://doi.org/10.1016/j.jneumeth.2017.08.029
Acknowledgments
We thank Dr. Wai Lok Chang for help with initiating the behavioral paradigm of tinnitus, Patrick Cody for help with programming, and Dr. Thathiah for help with histology and imaging.
Funding
This work was supported by US Department of Defense grant W81XWH-14-1-0117 (TT and PW) and NIH grant DC007905 (TT).
Ethics declarations
Competing Interests
The authors declare that they have no competing interests.
Additional information
Publisher's Note
Springer Nature remains neutral with regard to jurisdictional claims in published maps and institutional affiliations.
About this article
Cite this article
Marinos, L., Kouvaros, S., Bizup, B. et al. Transient Delivery of a KCNQ2/3-Specific Channel Activator 1 Week After Noise Trauma Mitigates Noise-Induced Tinnitus. JARO 22, 127–139 (2021). https://doi.org/10.1007/s10162-021-00786-3
Received:

Accepted:

Published:

Issue Date:
Keywords
KCNQ potassium channel activators

tinnitus

hearing loss

auditory brainstem

cochlea

therapeutic window