Abstract
Although anatomical development of the cochlear duct is thought to be complete by term birth, human newborns continue to show postnatal immaturities in functional measures such as otoacoustic emissions (OAEs). Some of these OAE immaturities are no doubt influenced by incomplete maturation of the external and middle ears in infants; however, the observed prolongation of distortion-product OAE phase-gradient delays in newborns cannot readily be explained by conductive factors. This functional immaturity suggests that the human cochlea at birth may lack fully adult-like traveling-wave motion. In this study, we analyzed temporal-bone sections at the light microscopic level in newborns and adults to quantify dimensions and geometry of cochlear structures thought to influence the mechanical response of the cochlea. Contrary to common belief, results show multiple morphological immaturities along the length of the newborn spiral, suggesting that important refinements in the size and shape of the sensory epithelium and associated structures continue after birth. Specifically, immaturities of the newborn basilar membrane and organ of Corti are consistent with a more compliant and less massive cochlear partition, which could produce longer DPOAE delays and a shifted frequency-place map in the neonatal ear.
Access options
Buy single article
Instant access to the full article PDF.
US$ 39.95
Tax calculation will be finalised during checkout.
Subscribe to journal
Immediate online access to all issues from 2019. Subscription will auto renew annually.
US$ 79
Tax calculation will be finalised during checkout.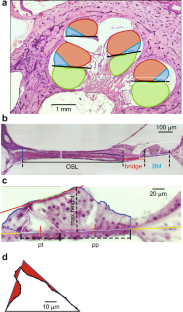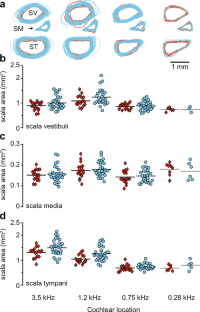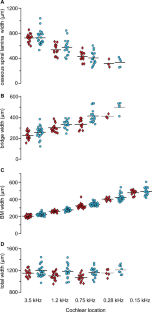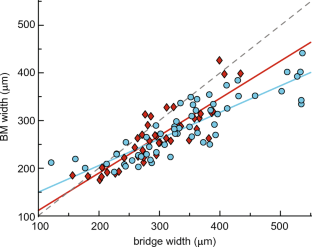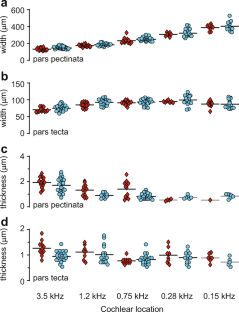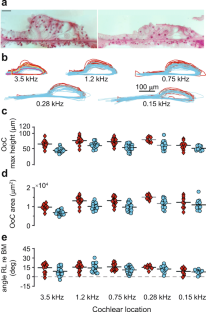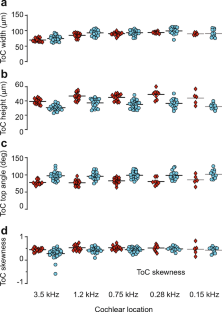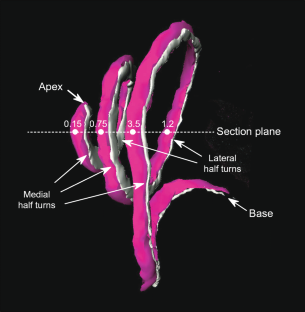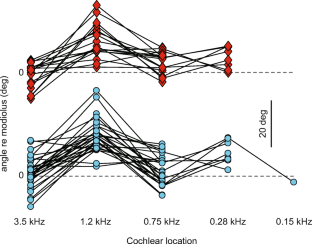 Notes
1.

The sectioning angle could also be off-orthogonal in the other direction (i.e., in the direction which would elongate the organ of Corti height rather than the BM width). However, we are confident that we are safe on that score, because the factor controlling that angle is the tilt of the modiolar axis with respect to the horizontal (see Figure 8). If we were "off" in the neonates, the different turns would not appear concentric in 2D reconstructions. Although we did no 2D reconstructions for the present study, the Liberman lab has completed two prior studies of human neonatal cochleae prepared by standard celloidin techniques and can verify that the spirals were just as concentric in the neonatal 2D reconstructions as in the adults.
References
Abdala C, Dhar S (2012) Maturation and aging of the human cochlea: a view through the DPOAE looking glass. J Assoc Res Otolaryngol 13:403–421. https://doi.org/10.1007/s10162-012-0319-2

Abdala C, Dhar S, Kalluri R (2011a) Level dependence of distortion product otoacoustic emission phase is attributed to component mixing. J Acoust Soc Am 129:3123–3133. https://doi.org/10.1121/1.3573992

Abdala C, Dhar S, Mishra S (2011b) The breaking of cochlear scaling symmetry in human newborns and adults. J Acoust Soc Am 129:3104–3114. https://doi.org/10.1121/1.3569737

Abdala C, Keefe DH (2012) Morphological and functional ear development. In: Werner L, Fay RR, Popper AN (eds) Springer handbook of auditory research: human auditory development. Springer, New York, pp 19–59

Abdala C, Ortmann AJ, Shera CA (2018) Reflection- and distortion-source otoacoustic emissions: evidence for increased irregularity in the human cochlea during aging. J Assoc Res Otolaryngol 19:493–510. https://doi.org/10.1007/s10162-018-0680-x

Amatuzzi M, Liberman MC, Northrop C (2011) Selective inner hair cell loss in prematurity: a temporal bone study of infants from a neonatal intensive care unit. J Assoc Res Otolaryngol 12:595–604. https://doi.org/10.1007/s10162-011-0273-4

Anson BJ, Bast TH (1958) Development of the otic capsule of the human ear; illustrated in atlas series. Q Bull Northwest Univ Med Sch 32(2):157–172

Bast TH, Anson BJ (1949) The temporal bone and the ear. Charles C. Thomas, Springfield, IL

von Békésy G (1960) Experiments in hearing. McGraw-Hill Book Co, New York

Bhatt KA, Liberman MC, Nadol JB Jr (2001) Morphometric analysis of age-related changes in the human basilar membrane. Ann Otol Rhinol Laryngol 110:1147–1153. https://doi.org/10.1177/000348940111001212

Bredberg G (1968) Cellular pattern and nerve supply of the human organ of Corti. Acta Otolaryngol Suppl 236:1+

Cabezudo LM (1978) The ultrastructure of the basilar membrane in the cat. Acta Oto-Layringol 86:1–6. https://doi.org/10.3109/00016487809124733

Dallos P (2003) Organ of Corti kinematics. J Assoc Res Otolaryngol 4:416–421. https://doi.org/10.1007/s10162-002-3049-z

Edge RM, Evans BM, Pearce M, Richter C-P, Hu X, Dallos P (1998) Morphology of the unfixed cochlea. Hear Res 124:1–16

Greenwood DD (1990) A cochlear frequency-position function for several species—29 years later. J Acoust Soc Am 87:2592–2605. https://doi.org/10.1121/1.399052

Guild SR (1927) The width of the basilar membrane. Science 65:67–69

Igarashi Y (1980) Cochlear of the human fetus: a scanning electron microscope study. Arch Histol Jap 43:195–209

Igarashi Y, Ishii T (1980) Embryonic development of the human organ of Corti: electron microscopic study. Int J Pediatr Otorhinolaryngol 2:51–62. https://doi.org/10.1016/0165-5876(80)90028-2

Jeffery N, Spoor F (2004) Prenatal growth and development of the modern human labyrinth. J Anat 204:71–92

Lavigne-Rebillard M, Pujol R (1986) Development of the auditory hair cell surface in human fetuses. A scanning electron microscopy study. Anat Embryol (Berl) 174:369–377

Lavigne-Rebillard M, Pujol R (1987) Surface aspects of the developing human organ of Corti. Acta Otolaryngol Suppl:436: 43–436: 50

Lavigne-Rebillard M, Pujol R (1988) Hair cell innervation in the fetal human cochlea. Acta Otolaryngol 105:398–402

Lavigne-Rebillard M, Bagger-Sjöbäck D (1992) Development of the human stria vascularis. Hear Res 64:39–51. https://doi.org/10.1016/0378-5955(92)90166-K

Lim DJ, Rueda J (1992) Structural development of the cochlea. In: Romand R (ed) Development of auditory and vestibular systems 2, Elsevier, Amsterdam, pp 33–58

Lim R, Brichta AM (2016) Anatomical and physiological development of the human inner ear. Hear Res 338:9–21. https://doi.org/10.1016/j.heares.2016.02.004

Makary CA, Shin J, Kujawa SG, Liberman MC, Merchant SN (2011) Age-related primary cochlear neuronal degeneration in human temporal bones. J Assoc Res Otolaryngol 12:711–717. https://doi.org/10.1007/s10162-011-0283-2

Merchant SN, Nadol JB (2010) Schuknecht's pathology of the ear, 3rd edn. People's Medical Publishing House-USA, Shelton, CT

Olson ES, Mountain DC (1991) In vivo measurement of basilar-membrane stiffness. J Acoust Soc Am 89:1262–1275. https://doi.org/10.1121/1.400535

Preibisch S, Saalfeld S, Tomancak P (2009) Globally optimal stitching of tiled 3D microscopic image acquisitions. Bioinformatics 25:1463–1465. https://doi.org/10.1093/bioinformatics/btp184

Pujol R (1985) Morphology, synaptology and electrophysiology of the developing cochlea. Acta Otolaryngol Suppl 421:5–9

Pujol R, Hilding D (1973) Anatomy and physiology of the onset of auditory function. Acta Otolaryngol 76:1–10

Pujol R, Lavigne-Rebillard M (1985) Early stages of innervation and sensory cell differentiation in the human fetal organ of Corti. Acta Otolaryngol Suppl 423:43–50

Raufer S, Cho NH, Guinan JJ, Puria S, Nakajima HH (2019) The anatomy and cochlear partition motion-pattern of the human is different from those of laboratory animals: optical coherence tomography (OCT) measurements. Assoc Res Otolaryngol Abs 42:95–96

Retzius G (1884) Das Gehörorgan der Wirbelthiere. Morphologisch-histologische Studien. Band II. Das Gehörorgan der Reptilien, der Vögel und der Säugethiere. Samson and Wallin, Stockholm, Sweden

Roberson DW, Rubel EW (1994) Cell division in the gerbil cochlea after acoustic trauma. Am J Otolaryngol 15:28–34

Ruben RJ (1967) Development of the inner of the mouse: a radioautographic study of terminal mitosis. Acta Otolaryngol Suppl 220:1–44

Sánchez-Fernández JM, Rivera JM, Macias JA (1983) Early aspects of human cochlea development and tectorial membrane histogenesis. Acta Otolaryngol 95:460–469

Schindelin J, Arganda-Carreras I, Frise E, Kaynig V, Longair M, Pietzsch T, Preibisch S, Rueden C, Saalfeld S, Schmid B, Tinevez JY, White DJ, Hartenstein V, Eliceiri K, Tomancak P, Cardona A (2012) Fiji: an open-source platform for biological-image analysis. Nat Methods 9:676–682. https://doi.org/10.1038/nmeth.2019

Shera CA, Guinan JJ (1999) Evoked otoacoustic emissions arise by two fundamentally different mechanisms: a taxonomy for mammalian otoacoustic emissions. J Acoust Soc Am 105:782–798. https://doi.org/10.1121/1.426948

Shera CA, Talmadge CL, Tubis A (2000) Interrelations among distortion-product phase-gradient delays: their connection to scaling symmetry and its breaking. J Acoust Soc Am 108:2933–2948. https://doi.org/10.1121/1.1323234

Tanaka K, Sakai N, Terayama Y (1979) Organ of Corti in the human fetus: scanning and transmission electronmicroscope studies. Ann Otol Rhinol Laryngol 88:749–758. https://doi.org/10.1177/000348947908800602

Tasaki I, Davis H, Eldredge DH (1954) Exploration of cochlear potentials in Guinea pig with a microelectrode. J Acoust Soc Am 26:765–773. https://doi.org/10.1121/1.1907415

Temchin AN, Rich NC, Ruggero MA (2008) Threshold tuning curves of chinchilla auditory-nerve fibers. I. Dependence on characteristic frequency and relation to the magnitudes of cochlear vibrations. J Neurophysiol 100:2889–2898. https://doi.org/10.1152/jn.90637

Wang H, Northrop CC, Burgess B, Liberman MC, Merchant SN (2006) Three-dimensional virtual model of the human temporal bone: a stand-alone, downloadable teaching tool. Otol Neurotol 27:452–457

Wever ER (1938) The width of the basilar membrane in man. Ann Otol Rhinol Laryngol 47:37–47. https://doi.org/10.1177/000348943804700102

Zweig G (1976) Basilar membrane motion. Cold Spring Harb Symp Quant Biol 40:619–633
Acknowledgments
We thank the anonymous reviewers for their helpful comments on the manuscript.
Funding
This study was supported by grants DC003552 (CA), DC003687 (CAS), and DC0188 (MCL) from the National Institutes of Health.
Additional information
Publisher's Note
Springer Nature remains neutral with regard to jurisdictional claims in published maps and institutional affiliations.
About this article
Cite this article
Meenderink, S.W.F., Shera, C.A., Valero, M.D. et al. Morphological Immaturity of the Neonatal Organ of Corti and Associated Structures in Humans. JARO 20, 461–474 (2019). https://doi.org/10.1007/s10162-019-00734-2
Received:

Accepted:

Published:

Issue Date:
Keywords
Temporal bone

Cochlea

Newborn

Development

OAE

Anatomy

Basilar membrane