Abstract
Bilateral loss of vestibular sensation can be disabling. We have shown that a multichannel vestibular prosthesis (MVP) can partly restore vestibular sensation as evidenced by improvements in the 3-dimensional angular vestibulo-ocular reflex (3D VOR). However, a key challenge is to minimize misalignment between the axes of eye and head rotation, which is apparently caused by current spread beyond each electrode's targeted nerve branch. We recently reported that rodents wearing a MVP markedly improve 3D VOR alignment during the first week after MVP activation, probably through the same central nervous system adaptive mechanisms that mediate cross-axis adaptation over time in normal individuals wearing prisms that cause visual scene movement about an axis different than the axis of head rotation. We hypothesized that rhesus monkeys would exhibit similar improvements with continuous prosthetic stimulation over time. We created bilateral vestibular deficiency in four rhesus monkeys via intratympanic injection of gentamicin. A MVP was mounted to the cranium, and eye movements in response to whole-body passive rotation in darkness were measured repeatedly over 1 week of continuous head motion-modulated prosthetic electrical stimulation. 3D VOR responses to whole-body rotations about each semicircular canal axis were measured on days 1, 3, and 7 of chronic stimulation. Horizontal VOR gain during 1 Hz, 50 °/s peak whole-body rotations before the prosthesis was turned on was <0.1, which is profoundly below normal (0.94 ± 0.12). On stimulation day 1, VOR gain was 0.4–0.8, but the axis of observed eye movements aligned poorly with head rotation (misalignment range ∼30–40 °). Substantial improvement of axis misalignment was observed after 7 days of continuous motion-modulated prosthetic stimulation under normal diurnal lighting. Similar improvements were noted for all animals, all three axes of rotation tested, for all sinusoidal frequencies tested (0.05–5 Hz), and for high-acceleration transient rotations. VOR asymmetry changes did not reach statistical significance, although they did trend toward slight improvement over time. Prior studies had already shown that directional plasticity reduces misalignment when a subject with normal labyrinths views abnormal visual scene movement. Our results show that the converse is also true: individuals receiving misoriented vestibular sensation under normal viewing conditions rapidly adapt to restore a well-aligned 3D VOR. Considering the similarity of VOR physiology across primate species, similar effects are likely to occur in humans using a MVP to treat bilateral vestibular deficiency.
This is a preview of subscription content, log in to check access.
Access options
Buy single article
Instant access to the full article PDF.
US$ 39.95
Tax calculation will be finalised during checkout.
Subscribe to journal
Immediate online access to all issues from 2019. Subscription will auto renew annually.
US$ 99
Tax calculation will be finalised during checkout.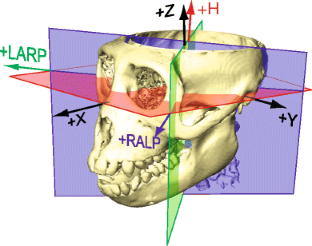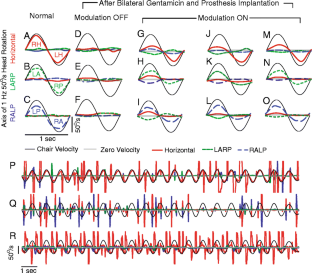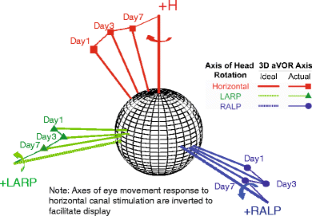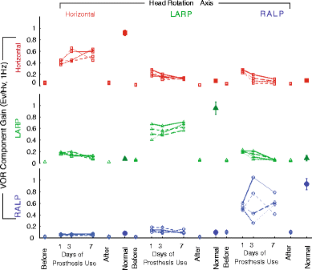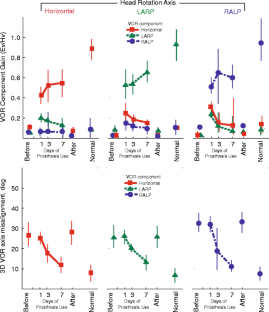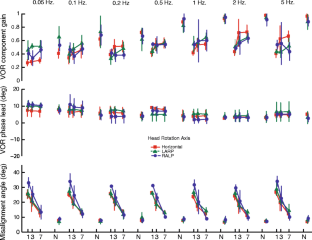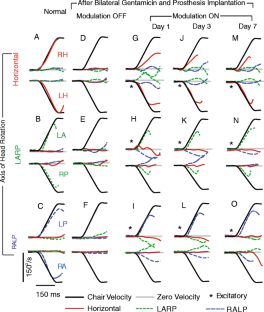 References
Baker J, Harrison RE, Isu N, Wickland C, Peterson B (1986) Dynamics of adaptive change in vestibulo-ocular reflex direction. II. Sagittal plane rotations. Brain Res 371(1):166–170

Baker JF, Wickland C, Peterson B (1987) Dependence of cat vestibulo-ocular reflex direction adaptation on animal orientation during adaptation and rotation in darkness. Brain Res 408:339–343

Black FO, Wade SW, Nashner LM (1996) What is the minimal vestibular function required for compensation? Am J Otol 17:401–409

Carey JP, Della Santina CC (2010) Principles of applied vestibular physiology. In: Flint P (ed) Cummings otolaryngology: head and neck surgery. Elsevier, Amsterdam

Chiang B, Fridman GY, Dai C, Rahman MA, Della Santina CC (2011) Design and performance of a multichannel vestibular prosthesis that restores semicircular canal sensation in rhesus monkey. IEEE Trans Neural Syst Rehabil Eng 19(5):588–598

Dai C, Fridman GY, Davidovics NS, Chiang B, Ahn JH, Della Santina CC (2011) Restoration of 3D vestibular sensation in rhesus monkeys using a multichannel vestibular prosthesis. Hear Res 281(1–2):74–83

Davidovics NS, Fridman GY, Chiang B, Della Santina CC (2011) Effects of biphasic current pulse frequency, amplitude, duration and interphase gap on eye movement responses to prosthetic electrical stimulation of the vestibular nerve. IEEE Trans Neural Syst Rehabil Eng 19(1):84–94

Davidovics NS, Rahman MA, Dai C, Ahn JH, Fridman GY, Della Santina CC (2013) Multichannel vestibular prosthesis employing modulation of pulse rate and current with alignment precompensation elicits improved VOR performance in monkeys. JARO 14(2):233–248

Della Santina CC, Potyagaylo V, Migliaccio AA, Minor LB, Carey JP (2005a) Orientation of human semicircular canals measured by three-dimensional multiplanar CT reconstruction. JARO 6(3):191–206

Della Santina CC, Migliaccio AA, Patel AH (2005b) Electrical stimulation to restore vestibular function development of a 3-D vestibular prosthesis. Conf Proc IEEE Eng Med Biol Soc 7:7380–7385

Della Santina CC, Migliaccio AA, Patel AH (2007) A multichannel semicircular canal neural prosthesis using electrical stimulation to restore 3-D vestibular sensation. IEEE Trans Biomed Eng 54:1016–1030

Della Santina CC, Migliaccio AA, Hayden R, Melvin TA, Fridman GY, Chiang B, Davidovics NS, Dai C, Carey JP, Minor LB, Anderson ICW, Park H, Lyford-Pike S, Tang S (2010) Current and future management of bilateral loss of vestibular sensation—an update on the Johns Hopkins Multichannel Vestibular Prosthesis Project. Cochlear Implants Int 11(s2):2–11

Fridman GY, Davidovics NS, Dai C, Della Santina CC (2010) Vestibulo-ocular reflex responses to a multichannel vestibular prosthesis incorporating a 3D coordinate transformation for correction of misalignment. JARO 11(3):367–381

Fukushima K, Fukushima J, Chin S et al (1996) Cross axis vestibulo-ocular reflex induced by pursuit training in alert monkeys. Neurosci Res 25:255–265

Furman JM, Wall C, Kamerer DB (1989) Earth horizontal axis rotational responses in patients with unilateral peripheral vestibular deficits. Ann Otol Rhinol Laryngol 98(7 Pt 1):551–555

Gillespie MB, Minor LB (1999) Prognosis in bilateral vestibular hypofunction. Laryngoscope 109:35–41

Gong W, Haburcakova C, Merfeld DM (2008) Vestibulo-ocular responses evoked via bilateral electrical stimulation of the lateral semicircular canals. IEEE Trans Biomed Eng 55(11):2608–2619

Grunbauer WM, Dieterich M, Brandt T (1998) Bilateral vestibular failure impairs visual motion perception even with the head still. NeuroReport 9(8):1807–1810

Harrison REW, Baker JF, Isu N, Wickland CR, Peterson BW (1986) Dynamics of adaptive change in vestibulo-ocular reflex direction. I. Rotations in the horizontal plane. Brain Res 371:162–165

Haslwanter T (1995) Mathematics of three-dimensional eye rotations. Vis Res 35:1727–1739

Hayden R, Sawyer S, Frey E, Mori S, Migliaccio AA, Della Santina CC (2011) Virtual labyrinth model of vestibular afferent excitation via implanted electrodes: validation and application to design of a multichannel vestibular prosthesis. Exp Brain Res 210(3–4):623–640

Hepp K (1990) On listing's law. Commun Math Phys 132:285–295

Hirvonen TP, Minor LB, Hullar TE, Carey JP (2005) Effects of intratympanic gentamicin on vestibular afferents and hair cells in the chinchilla. J Neurophysiol 93(2):643–655

Lasker DM, Hullar TE, Minor LB (2000) Horizontal vestibuloocular reflex evoked by high-acceleration rotations in the squirrel monkey. III. Responses after labyrinthectomy. J Neurophysiol 83:2482–2496

Lewis RF, Gong WS, Ramsey M, Minor L, Boyle R, Merfeld DM (2002) Vestibular adaptation studied with a prosthetic semicircular canal. J Vestib Res 12:87–94

Lewis RF, Haburcakova C, Gong W, Makary C, Merfeld DM (2010) Vestibuloocular reflex adaptation investigated with chronic motion-modulated electrical stimulation of semicircular canal afferents. J Neurophysiol 103(2):1066–1079

Migliaccio AA, Schubert MC, Jiradejvong P, Lasker DM, Clendaniel RA, Minor LB (2004) The three-dimensional vestibulo-ocular reflex evoked by high-acceleration rotations in the squirrel monkey. Exp Brain Res 159(4):433–446

Minor LB (1998) Gentamicin-induced bilateral vestibular hypofunction. JAMA 279:541–544

Minor LB, Lasker DM (2009) Tonic and phasic contributions to the pathways mediating compensation and adaptation of the vestibulo-ocular reflex. J Vestib Res 19(5–6):159–170

Remmel RS (1984) An inexpensive eye movement monitor using the scleral search coil technique. IEEE Trans Biomed Eng 31(4):388–390

Robinson DA (1963) A method of measuring eye movement using a sclera search coil in a magnetic field. IEEE Trans Biomed Eng 10:137–145

Sadeghi SG, Minor LB, Cullen KE (2007) Response of vestibular-nerve afferents to active and passive rotations under normal conditions and after unilateral labyrinthectomy. J Neurophysiol 97(2):1503–1514

Sadeghi S, Minor LB, Cullen KE (2010) Neural correlates of motor learning: dynamic regulation of multimodal integration in the macaque vestibular system. J Neurosci 30(30):10158–10168

Schultheis LW, Robinson DA (1981) Directional plasticity of the vestibulo-ocular reflex in the cat. Ann NY Acad Sci 374:504–512

Straumann D, Zee DS, Solomon D, Lasker AG, Roberts DC (1995) Transient torsion during and after saccades. Vis Res 35:3321–3334

Tweed D, Cadera W, Vilis T (1990) Computing three-dimensional eye position quaternions and eye velocity from search coil signals. Vis Res 30(1):97–110

Ushio M, Minor LB, Della Santina CC, Lasker DM (2011) Unidirectional rotations produce asymmetric changes in horizontal VOR gain before and after unilateral labyrinthectomy in macaques. Exp Brain Res 210(3–4):651–660
Acknowledgments
We thank Lani Swarthout for assistance with animal care. This work was funded by NIH NIDCD grants R01DC009255, R01DC2390, and 5F32DC009917. CDS, GYF, and BC are inventors on pending and awarded patents relevant to prosthesis technology, and CDS is the CEO of and holds an equity interest in Labyrinth Devices LLC. We thank Lani Swarthout for assistance with animal care and Roland Hessler and Frank Risi for assistance with electrode array fabrication. The terms of these arrangements are being managed by the Johns Hopkins University in accordance with its conflict of interest policies.
About this article
Cite this article
Dai, C., Fridman, G.Y., Chiang, B. et al. Directional Plasticity Rapidly Improves 3D Vestibulo-Ocular Reflex Alignment in Monkeys Using a Multichannel Vestibular Prosthesis. JARO 14, 863–877 (2013). https://doi.org/10.1007/s10162-013-0413-0
Received:

Accepted:

Published:

Issue Date:
Keywords
vestibular nerve

vestibular prosthesis

vestibular implant

vestibulo-ocular reflex

VOR

labyrinth

bilateral vestibular deficiency

adaptation

electrical stimulation