Abstract
Background
Interstitial nephritis is a common cause of renal failure. Gallium-67 scintigraphy is reportedly useful for diagnosing interstitial nephritis; however, its ability to assess disease activity remains unknown. We aimed to analyze the relationship between the renal uptake of gallium-67 and the disease activity in interstitial nephritis.
Methods
We retrospectively analyzed the data of patients who underwent gallium-67 scintigraphy at a hospital in Tokyo. The renal uptake adjusted for the soft tissues beneath the kidneys was semi-quantitatively evaluated. We compared the renal uptake levels between patients clinically diagnosed with and without interstitial nephritis. Among those undergoing renal biopsy, we evaluated the predictive ability of gallium-67 scintigraphy and analyzed the renal uptake levels regarding the disease activity through a histopathological analysis.
Results
We included 143 patients; among them, 30, 17, and 96 patients were clinically diagnosed with interstitial nephritis, other kidney diseases, and non-kidney diseases, respectively. The renal uptake of gallium-67 was the highest among patients with interstitial nephritis. Among the 25 patients who underwent renal biopsy, 15 were pathologically diagnosed with interstitial nephritis. The renal uptake levels showed a high discriminative ability (C-statistic: 0.83). Furthermore, net reclassification improvement with the addition of gallium-67 scintigraphy to N-acetyl-β-D-glucosaminidase for the prediction of interstitial nephritis was 1.14. Histopathological analysis revealed a positive correlation between renal uptake and inflammation in the cortex and peritubular capillaries.
Conclusions
This study confirmed the diagnostic value and potential usefulness of gallium-67 scintigraphy for evaluating interstitial nephritis.
Access options
Buy single article
Instant access to the full article PDF.
USD 39.95
Price excludes VAT (USA)
Tax calculation will be finalised during checkout.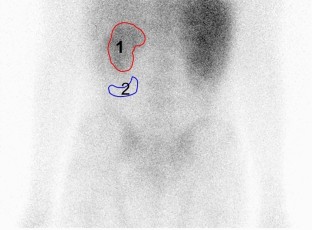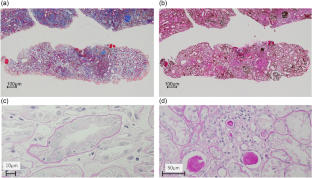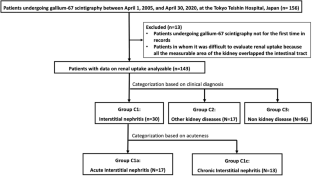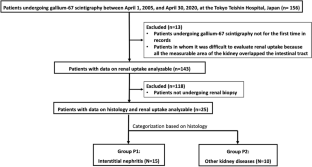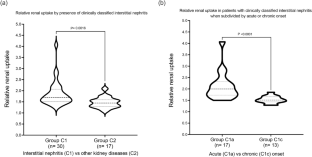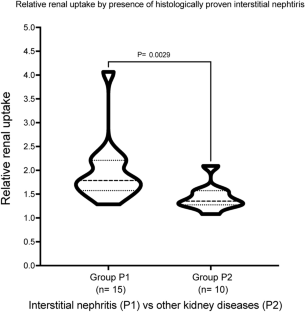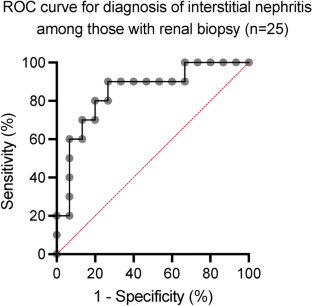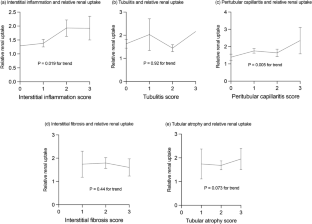 Data availability
The data underlying this article may be available on reasonable request to the corresponding author.
References
Kodner CM, Kudrimoti A. Diagnosis and management of acute interstitial nephritis. Am Fam Physician. 2003;67:2527–34.

Fogazzi GB, Ferrari B, Garigali G, Simonini P, Consonni D. Urinary sediment findings in acute interstitial nephritis. Am J Kidney Dis. 2012;60:330–2.

Perazella MA. Diagnosing drug-induced AIN in the hospitalized patient: a challenge for the clinician. Clin Nephrol. 2014;81:381–8.

Shi Y, Su T, Qu L, Wang C, Li X, Yang L. Evaluation of urinary biomarkers for the prognosis of drug-associated chronic tubulointerstitial nephritis. Am J Med Sci. 2013;346:283–8.

Toto RD. Acute tubulointerstitial nephritis. Am J Med Sci. 1990;299:392–410.

Rossert J. Drug-induced acute interstitial nephritis. Kidney Int. 2001;60:804–17.

Linton AL, Richmond JM, Clark WF, Lindsay RM, Driedger AA, Lamki LM. Gallium67 scintigraphy in the diagnosis of acute renal disease. Clin Nephrol. 1985;24:84–7.

Koselj M, Kveder R, Bren AF, Rott T. Acute renal failure in patients with drug-induced acute interstitial nephritis. Ren Fail. 1993;15:69–72.

Graham F, Lord M, Froment D, Cardinal H, Bollée G. The use of gallium-67 scintigraphy in the diagnosis of acute interstitial nephritis. Clin Kidney J. 2016;9:76–81.

Graham GD, Lundy MM, Moreno AJ. Failure of Gallium-67 scintigraphy to identify reliably noninfectious interstitial nephritis: concise communication. J Nucl Med. 1983;24:568–70.

Ohkubo Y, Sasayama A, Takegahara I, Katoh S, Abe K, Kohno H, Kubodera A. 67Ga in transferrin-unbound form is taken up by inflamed liver of mouse treated with CCl4. Ann Nucl Med. 1990;4:89–93.

Akimoto T, Horikoshi R, Muto S, Kusano E. Low-dose corticosteroid and gallium-67 scintigraphy and acute interstitial nephritis. Saudi J Kidney Dis Transpl. 2014;25:864–8.

Helms E, Servilla KS, Hartshorne MF, Harris A, Nichols MJ, Tzamaloukas AH. Tubulointerstitial nephritis and uveitis syndrome: use of gallium scintigraphy in its diagnosis and treatment. Int Urol Nephrol. 2005;37:119–22.

Matsuo S, Imai E, Horio M, Yasuda Y, Tomita K, Nitta K, Yamagata K, Tomino Y, Yokoyama H, Hishida A, Collaborators developing the Japanese equation for estimated GFR. Revised equations for estimated GFR from serum creatinine in Japan. Am J Kidney Dis. 2009;53:982–92.

Lucio CG, Vincenzo C, Antonio R, Oscar T, Antonio R, Luigi M. Neurological applications for myocardial MIBG scintigraphy. Nucl Med Rev Cent East Eur. 2013;16:35–41.

Muriithi AK, Leung N, Valeri AM, Cornell LD, Sethi S, Fidler ME, Nasr SH. Biopsy-proven acute interstitial nephritis, 1993–2011: a case series. Am J Kidney Dis. 2014;64:558–66.

Nolan CM, Abernathy RS. Nephropathy associated with methicillin therapy. Prevalence and determinants in patients with staphylococcal bacteremia. Arch Intern Med. 1977;137:997–1000.

Roufosse C, Simmonds N, Clahsen-van Groningen M, Haas M, Henriksen KJ, Horsfield C, Loupy A, Mengel M, Perkowska-Ptasińska A, Rabant M, Racusen LC, Solez K, Becker JU. A 2018 reference guide to the banff classification of renal allograft pathology. Transplantation. 2018;102:1795–814.

Yamaguchi Y, Kanetsuna Y, Honda K, et al. Characteristic tubulointerstitial nephritis in IgG4-related disease. Hum Pathol. 2012;43(4):536–49.

Schisterman EF, Perkins NJ, Liu A, Bondell H. Optimal cut-point and its corresponding Youden Index to discriminate individuals using pooled blood samples. Epidemiology. 2005;16:73–81.

Leening MJ, Vedder MM, Witteman JC, Pencina MJ, Steyerberg EW. Net reclassification improvement: computation, interpretation, and controversies: a literature review and clinician's guide. Ann Intern Med. 2014;160:122–31.

Mikami S, Hamano T, Fujii N, Nagasawa Y, Isaka Y, Moriyama T, Matsuhisa M, Ito T, Imai E, Hori M. Serum osteoprotegerin as a screening tool for coronary artery calcification score in diabetic pre-dialysis patients. Hypertens Res. 2008;31:1163–70.

Ito Y, Okuyama S, Sato K, Takahashi K, Sato T, Kanno I. 67Ga tumor scanning and its mechanisms studied in rabbits. Radiology. 1971;100:357–62.

Tsan MF, Chen WY, Scheffel U, Wagner HN Jr. Studies on gallium accumulation in inflammatory lesions: I. Gallium uptake by human polymorphonuclear leukocytes. J Nucl Med. 1978;19:36–43.

Hoffer PB, Huberty J, Khayam-Bashi H. The association of Ga-67 and lactoferrin. J Nucl Med. 1977;18:713–7.

Bombardieri E, Aktolun C, Baum RP, Bishof-Delaloye A, Buscombe J, Chatal JF, Maffioli L, Moncayo R, Mortelmans L, Reske SN. 67Ga scintigraphy: procedure guidelines for tumour imaging. Eur J Nucl Med Mol Imaging. 2003;30:BP125-31.

Menon S, Wagner HN Jr, Tsan MF. Studies on gallium accumulation in inflammatory lesions: II. uptake by Staphylococcus aureus: concise communication. J Nucl Med. 1978;19:44–7.

Ando A, Nitta K, Ando I, Sanada S, Katsuda S, Tonami N, Hiraki T, Hisada K, Ogawa H. Mechanism of gallium 67 accumulation in inflammatory tissue. Eur J Nucl Med. 1990;17:21–7.

Fernandez-Juarez G, Perez JV, Caravaca-Fontán F, Quintana L, Shabaka A, Rodriguez E, Gadola L, de Lorenzo A, Cobo MA, Oliet A, Sierra M, Cobelo C, Iglesias E, Blasco M, Galeano C, Cordon A, Oliva J, Praga M, Spanish Group for the Study of Glomerular Diseases (GLOSEN). Duration of treatment with corticosteroids and recovery of kidney function in acute interstitial nephritis. Clin J Am Soc Nephrol. 2018;13:1851–8.

Rankin AJ, Cannon E, Gillis K, Crosby J, Mark PB, Geddes CC, Fox JG, Mackinnon B, McQuarrie EP, Kipgen D. Predicting outcome in acute interstitial nephritis: a case–series examining the importance of histological parameters. Histopathology. 2020;76:698–706.

Wendt R, Schliecker J, Beige J. Inflammatory leucocyte infiltrates are associated with recovery in biopsy-proven acute interstitial nephritis: a 20-year registry-based case series. Clin Kidney J. 2019;12:814–20.

Joaquim AI, Mendes GE, Ribeiro PF, Baptista MA, Burdmann EA. Ga-67 scintigraphy in the differential diagnosis between acute interstitial nephritis and acute tubular necrosis: an experimental study. Nephrol Dial Transplant. 2010;25:3277–82.

Linton AL, Clark WF, Driedger AA, Turnbull DI, Lindsay RM. Acute interstitial nephritis due to drugs: review of the literature with a report of nine cases. Ann Intern Med. 1980;93:735–41.

Lin WY, Hsieh JF, Tsai SC, Lan JL, Cheng KY, Wang SJ. Semi-quantitative evaluation of gallium-67 scintigraphy in lupus nephritis. Eur J Nucl Med. 2000;27:1626–31.

Skálová S. The diagnostic role of urinary N-acetyl-beta-D-glucosaminidase (NAG) activity in the detection of renal tubular impairment. Acta Medica (Hradec Kralove). 2005;48:75–80.

Obert LA, Elmore SA, Ennulat D, Frazier KS. A review of specific biomarkers of chronic renal injury and their potential application in nonclinical safety assessment studies. Toxicol Pathol. 2021;49:996–1023.

Trof RJ, Di Maggio F, Leemreis J, Groeneveld AB. Biomarkers of acute renal injury and renal failure. Shock. 2006;26:245–53.

Wu Y, Yang L, Su T, Wang C, Liu G, Li XM. Pathological significance of a panel of urinary biomarkers in patients with drug-induced tubulointerstitial nephritis. Clin J Am Soc Nephrol. 2010;5:1954–9.

Hettinga YM, Scheerlinck LM, Lilien MR, Rothova A, de Boer JH. The value of measuring urinary β2-microglobulin and serum creatinine for detecting tubulointerstitial nephritis and uveitis syndrome in young patients with uveitis. JAMA Ophthalmol. 2015;133:140–5.

Tsai SC, Hsieh TY, Huang PW, Lin WY. Absolute quantitative evaluation of 67Ga scintigraphy in lupus nephritis. Clin Nucl Med. 2016;41:442–6.
Acknowledgements
We would like to thank the hospital and laboratory staff for supporting this study. This study was not funded by any commercial, private, or not-for-profit sectors.
Funding
The authors did not receive support from any organization for the submitted work.
Ethics declarations
Conflict of interest
The authors have declared that no conflict of interest exists.
Ethical approval
All procedures performed in studies involving human participants were in accordance with the ethical standards of the institutional and/or national research committee at which the studies were conducted (IRB approval number 1124) and with the 1964 Helsinki declaration and its later amendments or comparable ethical standards.
Informed consent
Informed consent was obtained from all individual participants included in the study.
Additional information
Publisher's Note
Springer Nature remains neutral with regard to jurisdictional claims in published maps and institutional affiliations.
About this article
Cite this article
Matsumura, M., Okada, A., Yokoyama, H. et al. Usefulness of gallium-67 scintigraphy for evaluating the histopathological activity in interstitial nephritis. Clin Exp Nephrol 27, 251–261 (2023). https://doi.org/10.1007/s10157-022-02302-0
Received:

Accepted:

Published:

Issue Date:

DOI: https://doi.org/10.1007/s10157-022-02302-0
Keywords