Abstract
Background
Few good-quality clinical trials on adults with nephrotic syndrome exist. Thus, there are discrepancies between real-world practice and clinical practice guidelines. We conducted a questionnaire-based survey to investigate potential discrepancies and the factors associated with variations in clinical practice.
Methods
A questionnaire was administered electronically to all board-certified nephrologists in Japan. To examine clinical practice variations in relation to physician characteristics, we estimated the ratio of the mean duration of steroid therapy using a generalized linear model, and the odds ratio of higher level ordinal variables using an ordered logistic regression model.
Results
Responses of the 116 participants showed some variation for the majority of questions. Most participants (94.8%) indicated that screening for malignant tumors was "Conducted for almost all patients". The duration of steroid therapy was found to be longer among physicians seeing ≥ 30 patients with nephrotic syndrome per month, both for minimal-change disease (ratio of mean 1.69; 95% CI 1.07–2.66) and membranous nephropathy (ratio of mean 1.71; 95% CI 1.09–2.69).
Conclusions
We identified practice patterns for nephrotic syndrome and discrepancies between clinical practice guidelines and actual practice. Defining the standard therapy for nephrotic syndrome may be necessary to generate high-quality evidence and develop clinical guidelines.
Access options
Buy single article
Instant access to the full article PDF.
USD 39.95
Price includes VAT (USA)
Tax calculation will be finalised during checkout.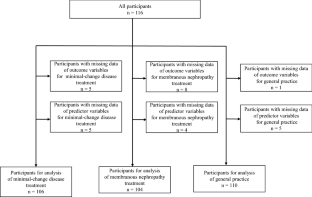 Acknowledgements
This study was supported in part by a Grant-in-Aid for Intractable Renal Diseases Research, Research on rare and intractable diseases (eRad ID-17931232), and Health and Labour Sciences Research Grants from the Ministry of Health, Labour and Welfare of Japan. We are deeply grateful to all specialists who responded the questionnaire survey in this study.
Ethics declarations
Conflict of interest
Honoraria: Hirokazu Okada (Kyowa Hakko Kirin, Daiichi Sankyo Inc., and Mitsubishi Tanabe Parma), Shoichi Maruyama (Kyowa Hakko Kirin Co., Ltd, Chugai pharmaceutical Co., Ltd., and Sumitomo Dainippon Pharma Co., Ltd.), and Yugo Shibagaki (Astellas Pharma, Teijin Pharma, Chugai Pharmaceuticals, Otsuka Pharmaceutical, Dainihon Sumitomo Pharmaceutical, and Daiichi-Sankyo). Research funding: Shoichi Maruyama (Sanwa Kagaku Kenkyusho Co., Ltd. and Rohto Pharmaceutical Co., Ltd.). Subsidies or Donations: Hirokazu Okada (Takeda Pharm., Chugai Pharm., Torii Pharm., Kyowa-Hakko Kirin, Pfizer, Boehringer Ingelheim, Astellas Pharm., Otsuka Pharm., MSD, Shionogi, Novartis, Sumitomo Dainippon Pharm., Mitsubishi Tanabe Pharm., and Daiichi Sankyo Co.), Yugo Shibagaki (Kyowa-Hakko Kirin, Sanwa Chemicals, Baxter, Takeda Pharmaceutical, Teijin Pharma, Tanabe Mitsubishi Pharma, and Pfizer), and Shoichi Maruyama (Asahi Kasei Pharma Co., Astellas Pharma Inc, Alexion Pharma Co., Otsuka Pharma Co., Kyowa Hakko Kirin Co., Daiichi Sankyo Co. Ltd., Sumitomo Dainippon Pharma Co. Ltd., Mitsubishi Tanabe Pharma Co., Chugai pharmac Co. Ltd., Teijin Pharma Ltd., Torii Pharmaceutical Co, Ltd., Baxter Ltd., Pfizer Japan Inc., Bristol-Myers Squibb., MSD K.K., and Mochida Pharma Co. Ltd.).
Research involving human participants
All procedures performed in studies involving human participants were in accordance with the ethical standards of the institutional and/or national research committee at which the studies were conducted, and were approved by the Research Ethics Committee of Iwate Prefectural Central Hospital (approval number 1941) and conform to the 1964 Helsinki declaration and its later amendments or comparable ethical standards.
Informed consent
Participant consent was waived, as responses to the questionnaire were retrieved anonymously and no individual information of participants was retrieved.
Additional information
Publisher's Note
Springer Nature remains neutral with regard to jurisdictional claims in published maps and institutional affiliations.
Electronic supplementary material
Below is the link to the electronic supplementary material.
About this article
Cite this article
Niihata, K., Nishiwaki, H., Kurita, N. et al. Variations in actual practice patterns and their deviations from the clinical practice guidelines for nephrotic syndrome in Japan: certified nephrologists' questionnaire survey. Clin Exp Nephrol 23, 1288–1297 (2019). https://doi.org/10.1007/s10157-019-01772-z
Received:

Accepted:

Published:

Issue Date:
Keywords
Practice patterns

Guideline-practice gap

Nephrotic syndrome