This is a preview of subscription content, log in to check access.
Access options
Buy single article
Instant access to the full article PDF.
US$ 39.95
Price includes VAT for USA
Subscribe to journal
Immediate online access to all issues from 2019. Subscription will auto renew annually.
US$ 99
This is the net price. Taxes to be calculated in checkout.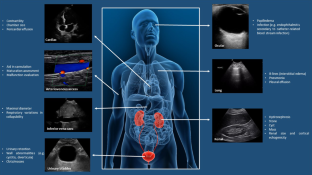 References
1.

Narula J, Chandrashekhar Y, Braunwald E. Time to add a fifth pillar to bedside physical examination: inspection, palpation, percussion, auscultation, and insonation. JAMA Cardiol. 2018;3(4):346–50.

2.

Wilson SP, Mefford JM, Lahham S, Lotfipour S. Implementation of a 4-year point-of-care ultrasound curriculum in a liaison committee on medical education-accredited US medical school. J Ultrasound Med. 2017;36(2):321–5.

3.

https://www.asnonline.org/education/training/workforce/Nephrology_Fellow_Survey_Report_2017.pdf. Accessed 14 Dec 2018.

4.

Moore CL, Copel JA. Point-of-care ultrasonography. N Engl J Med. 2011;364(8):749–57.

5.

Niyyar VD, O'Neill WC. Point-of-care ultrasound in the practice of nephrology. Kidney Int. 2018;93(5):1052–9.

6.

Howard ZD, Noble VE, Marill KA, Sajed D, et al. Bedside ultrasound maximizes patient satisfaction. J Emerg Med. 2014;46(1):46–53.

7.

Morris AE. Point-of-care ultrasound: seeing the future. Curr Probl Diagn Radiol. 2015;44(1):3–7.

8.

Mathews BK, Zwank M. Hospital medicine point of care ultrasound credentialing: an example protocol. J Hosp Med. 2017;12(9):767–72. https://doi.org/10.12788/jhm.2809.
Ethics declarations
Conflict of interest
The author has declared that no conflicts of interest exist.
Human and Animal Rights (with IRB Approval number)
This article does not contain any studies with human participants or animals performed by any of the authors. IRB approval is not applicable for a letter.
Authorship
The author has drafted the manuscript and prepared the figure. License obtained for the use of human body illustration in Fig. 1.
Financial support
None.
Additional information
Publisher's Note
Springer Nature remains neutral with regard to jurisdictional claims in published maps and institutional affiliations.
About this article
Cite this article
Koratala, A. Focus on POCUS: it is time for the kidney doctors to upgrade their physical examination. Clin Exp Nephrol 23, 982–984 (2019). https://doi.org/10.1007/s10157-019-01707-8
Received:

Accepted:

Published:

Issue Date:
Keywords
Point of care

Ultrasound

Renal

Hydronephrosis

Cyst

Stone

Bladder