Abstract
Background
Several clinical parameters and pathological findings are known to be predictors of the deterioration of diabetic nephropathy (DN). Glomerular basement membrane duplication (GBM-DP) is a pathological feature representing endothelial injury, which is commonly observed in DN. In the present study, we investigated the association between GBM-DP and the renal prognosis in DN.
Methods
The study enrolled 80 patients with renal biopsy-proven DN who were managed at Chiba-East Hospital from 2005 to 2012. We confirmed the pathological findings according to the Renal Pathology Society classifications, and we further evaluated the GBM-DP, which was defined as double contours of the GBM that expanded more than 10% of capillary loops in the most affected nonsclerotic glomerulus. We used Cox regression models to estimate hazard ratios (HRs) for end-stage renal disease (ESRD), with adjustment for age, sex, systolic blood pressure, HbA1c, estimated glomerular filtration rate (eGFR), and urinary protein excretion (UP) at baseline.
Results
Of the 80 patients, 56 were male (70.0%) and the mean age was 59.1 years. The median eGFR and UP were 42 ml/min/1.73 m2 (IQR 30, 59) and 3.1 g/gCr (IQR 1.2, 5.2). Twenty-seven patients progressed to ESRD and one patient died during the median observational period of 2.9 years (IQR 1.5, 4.3). The multivariable analyses showed that GBM-DP was significantly associated with ESRD (HR 3.18 [95% confidence interval (CI): 1.02–9.87], p = 0.045).
Conclusion
We newly identified GBM-DP as a strong prognostic predictor in DN patients. Further study is needed to clarify the pathogenic mechanism of GBM-DP in DN.
Access options
Buy single article
Instant access to the full article PDF.
USD 39.95
Price excludes VAT (USA)
Tax calculation will be finalised during checkout.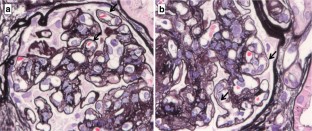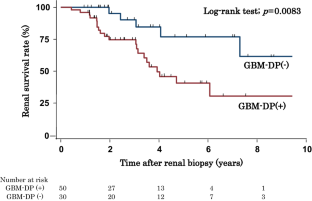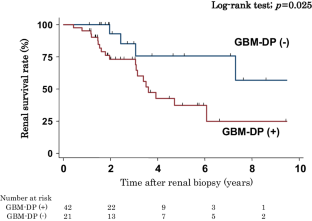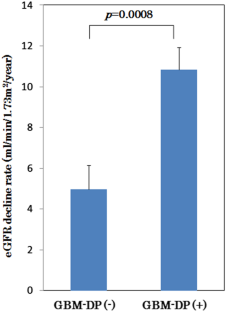 References
Berhane AM, Weil EJ, Knowler WC, et al. Albuminuria and estimated glomerular filtration rate as predictors of diabetic end-stage renal disease and death. Clin J Am Soc Nephrol. 2011;6:2444–51.

Wada T, Haneda M, Furuichi K, et al. Clinical impact of albuminuria and glomerular filtration rate on renal and cardiovascular events, and all-cause mortality in Japanese patients with type 2 diabetes. Clin Exp Nephrol. 2014;18:613–20.

Tervaert TW, Mooyaart AL, Amann K, et al. Pathologic classification of diabetic nephropathy. J Am Soc Nephrol. 2010;21:556–63.

Okada T, Nagao T, Matsumoto H, et al. Histological predictors for renal prognosis in diabetic nephropathy in diabetes mellitus type 2 patients with overt proteinuria. Nephrology (Carlton). 2012;17:68–75.

Shimizu M, Furuichi K, Toyama T, et al. Long-term outcomes of Japanese type 2 diabetic patients with biopsy-proven diabetic nephropathy. Diabetes Care. 2013;36:3655–62.

Mise K, Hoshino J, Ubara Y, et al. Renal prognosis a long time after renal biopsy on patients with diabetic nephropathy. Nephrol Dial Transplant. 2014;29:109–18.

An Y, Xu F, Le W, et al. Renal histologic changes and the outcome in patients with diabetic nephropathy. Nephrol Dial Transplant. 2015;30:257–66.

Nakayama T, Sato W, Yoshimura A, et al. Endothelial von Willebrand factor release due to eNOS deficiency predisposes to thrombotic microangiopathy in mouse aging kidney. Am J Pathology. 2010;176(5):2199–207.

Horio M, Imai E, Yasuda Y, et al. Modification of the CKD epidemiology collaboration (CKD-EPI) equation for Japanese: accuracy and use for population estimates. Am J Kidney Dis. 2010;56:32–8.

Seino Y, Nanjo K, Tajima N, et al. Report of the committee on the classification and diagnostic criteria of diabetes mellitus. J Diabetes Investig. 2010;1(5):212–28.

Furuichi K, Yuzawa Y, Shimizu M, et al. Nationwide multicentre kidney biopsy study of Japanese patients with type 2 diabetes. Nephrol Dial Transplant. 2017;33(1):138–48.

Furuichi K, Shimizu M, Yuzawa Y, et al. Clinicopathological analysis of biopsy-proven diabetic nephropathy based on the Japanese classification of diabetic nephropathy. Clin Exp Nephrol. 2018;22(3):570–82.

Toyoda M, Najafian B, Kim Y, et al. Podocyte detachment and reduced glomerular capillary endothelial fenestration in human type 1 diabetic nephropathy. Diabetes. 2007;56(8):2155–60.

Weil EJ, Lemley KV, Mason CC, et al. Podocyte detachment and reduced glomerular capillary endothelial fenestration promote kidney disease in type 2 diabetic nephropathy. Kidney Int. 2012;82(9):1010–7.

Khamaisi M, Schrijvers BF, De Vriese AS, et al. The emerging role of VEGF in diabetic kidney disease. Nephrol Dial Transplant. 2003;18:1427–30.

Hohenstein B, Hausknecht B, Boehmer K, et al. Local VEGF activity but not VEGF expression is tightly regulated during diabetic nephropathy in man. Kidney Int. 2006;69:1654–61.

Said SM, Leung N, Sethi S, et al. Myeloproliferative neoplasms cause glomerulopaathy. Kidney Int. 2011;80:753–9.

Nasr SH, D'Agati VD. Nodular glomerulosclerosis in the nondiabetic smoker. J Am Soc Nephrol. 2007;18:2032–6.

Salvatore SP, Troxell ML, Hecox D, et al. Smoking-related glomerulopathy: expanding the morphologic spectrum. Am J Nephrol. 2015;41:66–72.
Acknowledgements
This research was supported by the Kashiwado memorial foundation (to T.Y).
Ethics declarations
Conflict of interest
The authors have declared that no conflict of interest exists.
Human and animal rights
The protocol of this study was approved by the ethics committee of National Hospital Organization Chiba-East Hospital in July 2016 (IRB Approval No.9), and all study procedures adhered to the Declaration of Helsinki.
Informed consent
Informed consent was obtained from all individual participants included in the study.
About this article
Cite this article
Yamakawa, T., Kawaguchi, T., Kitamura, H. et al. Glomerular basement membrane duplication is a predictor of the prognosis of diabetic nephropathy in patients with type 2 diabetes. Clin Exp Nephrol 23, 521–529 (2019). https://doi.org/10.1007/s10157-018-1674-z
Received:

Accepted:

Published:

Issue Date:

DOI: https://doi.org/10.1007/s10157-018-1674-z
Keywords
Glomerular basement membrane duplication

Endothelial injury

Diabetic nephropathy

Type 2 diabetes

Renal prognosis