Abstract
Background
Three recent studies from the United States and China reported the clinicopathological features and short-term prognosis in patients with membranous nephropathy (MN) and crescents in the absence of secondary MN, anti-glomerular basement membrane (GBM) antibodies, and anti-neutrophil cytoplasmic antibodies (ANCA).
Methods
We compared clinicopathological and prognostic features in 16 MN patients with crescents (crescent group) and 38 MN patients without crescents (control group), in the absence of secondary MN, anti-GBM antibodies, and ANCA. Median follow-up periods in the crescent and control groups were 79 and 50 months, respectively.
Results
Decreased estimated glomerular filtration rates (<50 mL/min/1.73 m2), glomerulosclerosis, and moderate-to-severe interstitial fibrosis were more frequently observed in the crescent group than in the control group (P = 0.043, P = 0.004, and P = 0.035, respectively). Positive staining rates for glomerular IgG2 and IgG4 were significantly different between the 2 groups (P = 0.032, P = 0.006, respectively). Doubling of serum creatinine during follow-up was more frequently observed in the crescent group than in the control group (P = 0.002), although approximately two-thirds of patients in the crescent group were treated with immunosuppressive therapy. Crescent formation and interstitial fibrosis were risks for doubling of serum creatinine [hazard ratio (HR) = 10.506, P = 0.012; HR = 1.140, P = 0.009, respectively].
Conclusions
This is the first Japanese study demonstrating significant differences in clinicopathological and prognostic features between the 2 groups. Most patients in the crescent group may develop a long-term decline in renal function despite immunosuppressive therapy.
This is a preview of subscription content, log in to check access.
Access options
Buy single article
Instant access to the full article PDF.
US$ 39.95
Price includes VAT for USA
Subscribe to journal
Immediate online access to all issues from 2019. Subscription will auto renew annually.
US$ 99
This is the net price. Taxes to be calculated in checkout.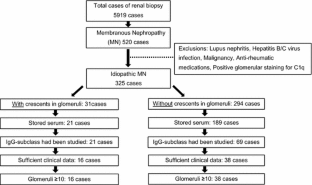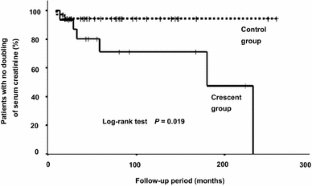 References
1.

Francis JM, Beck LH Jr, Salant DJ. Membranous nephropathy: a journey from bench to bedside. Am J Kidney Dis. 2016;68:138–47.

2.

Beck LH Jr, Bonegio RG, Lambeau G, Beck DM, Powell DW, Cummins TD, et al. M-Type phospholipase A2 receptor as target antigen in idiopathic membranous nephropathy. N Engl J Med. 2009;361:11–21.

3.

Akiyama S, Akiyama M, Imai E, Ozaki T, Matsuo S, Maruyama S. Prevalence of anti-phospholipase A2 receptor antibodies in Japanese patients with membranous nephropathy. Clin Exp Nephrol. 2015;19:653–60.

4.

Iwakura T, Ohashi N, Kato A, Baba S, Yasuda H. Prevalence of enhanced granular expression of thrombospondin type-1 domain-containing 7A in the glomeruli of Japanese patients with idiopathic membranous nephropathy. PLoS ONE. 2015;10:e0138841.

5.

Schroeder HW Jr, Cavacini L. Structure and function of immunoglobulins. J Allergy Clin Immunol. 2010;125:S41–52.

6.

Imai H, Hamai K, Komatsuda A, Ohtani H, Miura AB. IgG subclasses in patients with membranoproliferative glomerulonephritis, membranous nephropathy, and lupus nephritis. Kidney Int. 1997;51:270–6.

7.

Omokawa A, Komatsuda A, Nara M, Fujiwara S, Sato R, Togashi M, et al. Distribution of IgG subclass deposits in patients with membranous nephropathy and anti-U1 ribonucleoprotein antibody. Nephrol Dial Transplant. 2012;27:1937–41.

8.

Nagahama K, Matsushita H, Hara M, Ubara Y, Hara S, Yamada A. Bucillamine induces membranous glomerulonephritis. Am J Kidney Dis. 2002;39:706–12.

9.

Ohtani H, Wakui H, Komatsuda A, Okuyama S, Masai R, Maki N, et al. Distribution of glomerular IgG subclass deposits in malignancy-associated membranous nephropathy. Nephrol Dial Transplant. 2004;19:574–9.

10.

Moroni G, Ponticelli C. Rapidly progressive crescentic glomerulonephritis: early treatment is a must. Autoimmun Rev. 2014;13:723–9.

11.

Basford AW, Lewis J, Dwyer JP, Fogo AB. Membranous nephropathy with crescents. J Am Soc Nephrol. 2011;22:1804–8.

12.

Nasr SH, Said SM, Valeri AM, Stokes MB, Masani NN, D'Agati VD, et al. Membranous glomerulonephritis with ANCA-associated necrotizing and crescentic glomerulonephritis. Clin J Am Soc Nephrol. 2009;4:299–308.

13.

Barrett CM, Troxell ML, Larsen CP, Houghton DC. Membranous glomerulonephritis with crescents. Int Urol Nephrol. 2014;46:963–71.

14.

Kwan JT, Moore RH, Dodd SM, Cunningham J. Crescentic transformation in primary membranous glomerulonephritis. Postgrad Med J. 1991;67:574–6.

15.

Tse WY, Howie AJ, Adu D, Savage CO, Richards NT, Wheeler DC, et al. Association of vasculitic glomerulonephritis with membranous nephropathy: a report of 10 cases. Nephrol Dial Transplant. 1997;12:1017–27.

16.

Arrizabalaga P, Boix AS, Rabassa AT, Tey AD, Torrellas LR. Monoclonal antibody analysis of crescentic membranous glomerulonephropathy. Am J Nephrol. 1998;18:77–82.

17.

Unver S, Haholu A, Atasoyu EM, Karatas M, Akcan R, Evrenkaya TR. A rare complication of idiopathic membranous nephropathy: crescent transformation. Ren Fail. 2008;30:573–5.

18.

Gadonski G, Poli-de-Figueiredo CE, Fervenza FC, Singh AK, Tettamanzy FM, Antonello IC, et al. Rapidly deteriorating kidney function in a young man previously diagnosed with membranous nephropathy. Nephron Clin Pract. 2010;115:c100–6.

19.

Rodriguez EF, Nasr SH, Larsen CP, Sethi S, Fidler ME, Cornell LD. Membranous nephropathy with crescents: a series of 19 cases. Am J Kidney Dis. 2014;64:66–73.

20.

Wang J, Zhu P, Cui Z, Qu Z, Zhang Y, Wang F, et al. Clinical features and outcomes in patients with membranous nephropathy and crescent formation. Medicine. 2015;94:e2294.

21.

Qian Y, Zuo K, Shijun L, Li X, Zeng C, Liu Z, et al. Clinicopathological analysis of membranous nephropathy with crescents. Int J Clin Pathol. 2016;9:1947–53.

22.

Matsuo S, Imai E, Horio M, Yasuda Y, Tomita K, Nitta K, et al. Revised equations for estimated GFR from serum creatinine in Japan. Am J Kidney Dis. 2009;53:982–92.

23.

Hoxha E, Harendza S, Zahner G, Panzer U, Steinmetz O, Fechner K, et al. An immunofluorescence test for phospholipase-A2-receptor antibodies and its clinical usefulness in patients with membranous glomerulonephritis. Nephrol Dial Transplant. 2011;26:2526–32.

24.

Ozawa M, Komatsuda A, Ohtani H, Nara M, Sato R, Togashi M, et al. Long-term prognosis of AL and AA renal amyloidosis: a Japanese single-center experience. Clin Exp Nephrol. 2017;21:212–27.

25.

Komatsuda A, Masai R, Ohtani H, Maki N, Sawada K, Wakui H. Monoclonal immunoglobulin deposition disease associated with membranous features. Nephrol Dial Transplant. 2008;23:3888–94.

26.

Kidney Disease: Improving Global Outcomes (KDIGO) Glomerulonephritis Work Group. KDIGO Clinical Practice Guideline for Glomerulonephritis. Kidney Int Suppl. 2012;2:186–97.

27.

Schwartz MM. Membranous glomerulonephritis. In: Jennette JC, Olson JL, Schwartz MM, Silva FG, editors. Heptinstall's pathology of the kidney. 6th ed. Philadelphia: Lippincott Williams & Wilkins; 2007. p. 205–51.
Acknowledgements
The authors thank all the doctors in our affiliated hospitals for the referral of patients.
Ethics declarations
Disclosure
All the authors have declared no competing interest.
Ethical approval
All procedures performed in studies involving human participants were in accordance with the ethical standards of the institutional and/or national research committee at which the studies were conducted (IRB approval number 1026) and with the 1964 Helsinki declaration and its later amendments or comparable ethical standards.
Informed consent
Informed consent was obtained from all individual participants included in the study.
About this article
Cite this article
Saito, M., Komatsuda, A., Sato, R. et al. Clinicopathological and long-term prognostic features of membranous nephropathy with crescents: a Japanese single-center experience. Clin Exp Nephrol 22, 365–376 (2018). https://doi.org/10.1007/s10157-017-1465-y
Received:

Accepted:

Published:

Issue Date:
Keywords
Clinicopathological study

Crescent formation

IgG-subclass

Membranous nephropathy

Prognosis