Abstract
Background
There is little evidence about possible effects of pelvic anatomical characteristics on proctological complications. The aim of our study was to investigate the potential correlation between sagittal pelvic position and rectal prolapse.
Methods
A study was conducted on a proctology patients and patients without any specific history of proctological disorders who were divided into two groups according to the presence or the absence of rectal prolapse. In all cases, the pelvic angle was measured with a pelvic goniometer and categorized as posterior (< 10°), neutral (10°–15°), and anterior (> 15°). To minimize effects of potential confounders in the analysis, 3:1 nearest neighbor propensity score matching (PSM) method was implemented using age, sex, and diagnose of rectal disorders as confounding variables.
Results
Among the 143 screened patients, posterior tilt was more frequent in the 19 patients with rectal prolapse than in those without prolapse (42 vs. 18%; p = 0.027). This result was also confirmed in the post-PSM analysis (42 vs. 14%; p = 0.036) using 35 propensity score (PS)-matched controls compared with the rectal prolapse group. Posterior tilt was associated with an increased risk of prolapse in both the unmatched population (odds ratio = 3.37; p = 0.020) and PS-matched subset (odds ratio = 4.36; p = 0.028).
Conclusions
A posterior pelvic angle was more frequently associated with the diagnosis of rectal prolapse. In both the entire population and in the PS-matched subset, posterior tilt was a significant risk factor for rectal prolapse. The easy-to-do investigation of the pelvic angle can provide several benefits in terms of rectal prolapse prevention and more precise management of post-surgical prolapse recurrence.
Access options
Buy single article
Instant access to the full article PDF.
USD 39.95
Price excludes VAT (USA)
Tax calculation will be finalised during checkout.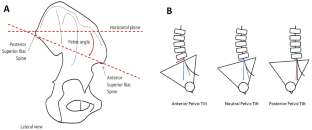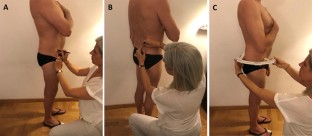 References
Bordeianou L, Rockwood T, Baxter N, Lowry A, Mellgren A, Parker S (2008) Does incontinence severity correlate with quality of life? Prospective analysis of 502 consecutive patients. Colorectal Dis 10(3):273–279

Schaffer JI, Wai CY, Boreham MK (2005) Etiology of pelvic organ prolapse. Clin Obstet Gynecol 48(3):639–647

Shultz SJ, Nguyen AD, Windley TC, Kulas AS, Botic TL, Beynnon BD (2006) Intratester and intertester reliability of clinical measures of lower extremity anatomic characteristics: implications for multicenter studies. Clin J Sport Med 16(2):155–161

Fortin C. Développement et validation d'un outil clinique pour l'analyse quantitative de la posture auprès de personnes atteintes d'une scoliose idiopathique. https://hdl.handle.net/1866/4182. Accessed 15 Jan 2019

Roussouly P, Gollogly S, Berthonnaud E, Dimnet J (2005) Classification of the normal variation in the sagittal alignment of the human lumbar spine and pelvis in the standing position. Spine (Phila Pa 1976) 30(3):346–353

Wijffels NA, Collinson R, Cunningham C, Lindsey I (2010) What is the natural history of internal rectal prolapse? Colorectal Dis 12:822–830

Haylen BT, Maher CF, Barber MD, Camargo S, Dandolu V, Digesu A, Goldman HB, Huser M, Milani AL, Moran PA, Schaer GN, Withagen MIJ (2016) Erratum to: An International Urogynecological Association (IUGA)/International Continence Society (ICS) joint report on the terminology for female pelvic organ prolapse (POP). Int Urogynecol J 27:655–684

Parekh M, Swift S, Lemos N, Iskander M, Freeman B, Arunkalaivanan AS, Martan A, Sorinola O, Rizk D, Halaska M, Surkont G, Medina C, Conceicao JC, Korte JE (2011) Multicentre inter-examiner trial of the validation of simplified POPQ system. Int Urogynecol J 22:645–650

Altomare DF, Spazzafumo L, Rinaldi M, Dodi G, Ghiselli R, Piloni V (2008) (2008), Set-up and statistical validation of a new scoring system for obstructed defaecation syndrome. Colorectal Dis 10:84–88

Jorge JM, Wexner SD (1993) Etiology and management of fecal incontinence. Dis Colon Rectum 36(1):77–97

Sprigle S, Flinn N, Wootten M, McCorry S (2003) Development and testing of a pelvic goniometer designed to measure pelvic tilt and hip flexion. Clin Biomech (Bristol, Avon) 18(5):462–465

Hwang YI, Kim KS (2018) Effects of pelvic tilt angles and forced vital capacity in healthy individuals. J Phys Ther Sci 30(1):82–85

Lim HS, Roh SY, Lee SM (2013) The relationship between pelvic tilt angle and disability associated with low back pain. J Phys Ther Sci 25:65–68

Capson AC, Nashed J, Mclean L (2011) The role of lumbopelvic posture in pelvic floor muscle activation in continent women. J Electromyogr Kinesiol 21(1):166–177

Delancey J (1994) Structural support of the urethra as it relates to stress incontinence: the Harmmock hypothesis. Am J Obstet Gynecol 170:1713–1723

Minaire P, Lyonnet A, Sabot E, Chevallard JB, Capdepon C (1998) Rééducation Périneale et statique lombo-pelvienne. Ann Kinesither 15:391–394

Kamina P, Chansigaud JP (1988) Support and suspension of the pelvic viscera in women. Functional and surgical anatomy. J Gynecol Obstet Biol Reprod (Paris) 17(7):835–848

Fozzatti C, Herrmann V, Palma T, Riccetto CL, Palma PC (2010) Global postural re-education: an alternative approach for stress urinary incontinence? Eur J Obstet Gynecol Reprod Biol 152(2):218–224

Adusumilli S, Gosselink MP, Fourie S et al (2013) Does the presence of a high grade internal rectal prolapse affect the outcome of pelvic floor retraining in patients with faecal incontinence or obstructed defaecation? Colorectal Dis 15(11):e680–e685

Ram E, Hoffman A, Goldes Y et al (2018) Perineal stapled rectal prolapse resection in elderly patients: long-term follow-up. Dis Colon Rectum 61(11):1316–1319

Gleditsch D, Wexels WA, Nesbakken A (2018) Surgical options and trends in treating rectal prolapse: long-term results in a 19-year follow-up study. Langenbecks Arch Surg 403(8):991–998

Ris F, Gorissen KJ, Ragg J, Gosselink MP, Buchs NC, Hompes R, Cunningham C, Jones O, Slater A, Lindsey I (2017) Rectal axis and enterocele on proctogram may predict laparoscopic ventral mesh rectopexy outcomes for rectal intussusception. Tech Coloproctol 21(8):627–632

Hasebe K, Okubo Y, Kaneoka K, Takada K, Suzuki D, Sairyo K (2016) The effect of dynamic stretching on hamstrings flexibility with respect to the spino-pelvic rhythm. J Med Invest 63(1–2):85–90

Moon SH, Boo JA, Park SE (2016) Effects of ankle plantar flexors stretching with closed kinetic chain on pelvic movements and gait speed in hemiplegia patients: a case study. J Phys Ther Sci 28(1):309–313
Acknowledgements
The authors thank Alessio Gargaro for the statistical analysis and his contributions during text revision.
Ethics declarations
Conflict of interest
The authors have no conflicts of interest to disclose the content of the paper. The study did not receive any third-party financial support.
Ethical approval
All procedures performed in this study were in accordance with ethical standard, with 1964 Helsinki declaration and its later amendments, and were approved by the competent Ethics Committee.
Informed consent
Written informed consent was obtained from all participants.
Additional information
Publisher's Note
Springer Nature remains neutral with regard to jurisdictional claims in published maps and institutional affiliations.
About this article
Cite this article
Cantiani, C., Sgamma, D., Grossi, E. et al. Posterior pelvic tilt is a risk factor for rectal prolapse: a propensity score matching analysis. Tech Coloproctol 24, 463–469 (2020). https://doi.org/10.1007/s10151-020-02179-9
Received:

Accepted:

Published:

Issue Date:

DOI: https://doi.org/10.1007/s10151-020-02179-9
Keywords
Prolapse

Pelvic tilt

Proctology

Complication