Abstract
Background
Fistula laser closure (FiLaC) is a novel sphincter-saving technique for the treatment of fistula-in-ano. The aim of this study was to assess the safety and efficacy of the FiLaC procedure.
Methods
Databases including PubMed/Medline, Scopus, Web of Science, and Embase were searched for articles assessing FiLaC. All studies including case series and comparative studies reporting the outcome of FiLaC in the treatment of fistula-in-ano were considered eligible. The main outcomes were healing rates of fistula laser closure, postoperative complications including incontinence, technical aspects of the procedure and failure of healing.
Results
Seven studies were included. There were a total of 454 patients, 69.1% with a transsphincteric fistula-in-ano and 35% with recurrent disease. The median age of the patients was 43 years (range 18–83 years). The median operation time was 18.3 min (range 6–32 min). With a median follow-up of 23.7 months, the weighed mean rate of primary healing was 67.3% and the overall success when FiLaC was reused was 69.7%. The weighted mean rate of complications was 4%, all of them were minor complications and the weighted mean rate of continence affection was 1% in the form of minor soiling.
Conclusions
FiLaC may be considered an effective and safe sphincter-saving technique for the treatment of fistula-in-ano with an acceptable, low, complication rate. However, well-designed randomized control trials comparing FiLaC with other techniques are required to substantiate the promising outcomes reported in this review.
Access options
Buy single article
Instant access to the full article PDF.
US$ 39.95
Tax calculation will be finalised during checkout.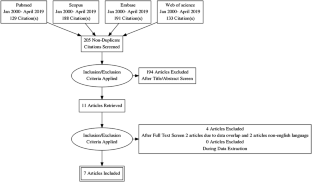 References
1.

Abbas MA, Jackson CH, Haigh PI (2011) Predictors of outcome for anal fistula surgery. Arch Surg 146:1011–1016

2.

Blumetti J, Abcarian A, Quinteros F, Chaudhry V, Prasad L, Abcarian H (2012) Evolution of treatment of fistula in ano. World J Surg 36:1162–1167

3.

Emile SH, Elfeki H, Shalaby M, Sakr A (2017) A Systematic review and meta-analysis of the efficacy and safety of video-assisted anal fistula treatment (VAAFT). Surg Endosc Other Interv Tech 32:2084–2093

4.

Narang SK, Keogh K, Alam NN, Pathak S, Daniels IR, Smart NJ (2017) A systematic review of new treatments for cryptoglandular fistula in ano. Surgeon 15:30–39

5.

Elfeki H, Hougaard HT, Duelund-Jakobsen J, Lundby L (2019) Injection of freshly collected autologous adipose tissue for treatment of perianal fistula in a patient with Crohn's disease video vignette. Color Dis 21:981–982

6.

Wilhelm A (2011) A new technique for sphincter-preserving anal fistula repair using a novel radial emitting laser probe. Tech Coloproctol 15:445–449

7.

Liberati A, Altman DG, Tetzlaff J, Mulrow C, Gøtzsche PC, John PA (2009) "The PRISMA statement for reporting systematic reviews and meta-analyses of studies that evaluate healthcare interventions explanation and elaboration. Br Med J 339:b2700

8.

National Institute for Health and Clinical Excellence (2019) https://www.nice.org.uk/guidance/cg3/documents/appendix-4-quality-of-case-series-form2. Accessed on 22 May 2019.

9.

Lau J, Loannidis JPA, Terrin N, Schmid CH, Olkin I (2006) The case of the misleading funnel plot. BMJ 333:597–600

10.

Wilhelm A, Fiebig A, Krawczak M (2017) Five years of experience with the FiLaCTM laser for fistula-in-ano management: long-term follow-up from a single institution. Tech Coloproctol 21(4):269–276

11.

Giamundo P, Esercizio L, Geraci M, Tibaldi L, Valente M (2015) Fistula-tract Laser Closure (FiLaCTM): long-term results and new operative strategies. Tech Coloproctol 19(8):449–453

12.

Terzi MC, Agalar C, Habip S, Canda AE, Arslan NC, Obuz F (2018) Closing perianal fistulas using a laser: Long-term results in 103 patients. Dis Colon Rectum 61(5):599–603

13.

Ozturk E, Gulcu B (2014) Laser ablation of fistula tract: A sphincter-preserving method for treating fistula-in-ano. Dis Colon Rectum 57(3):360–364

14.

Dönmez T, Hatipoğlu E (2017) Closure of fistula tract with FilacTM laser as a sphincter preserving method in anal fistula treatment. Turkish J Color Dis 27:142–147

15.

Lauretta A, Falco N, Stocco E, Bellomo R, Infantino A (2018) Anal fistula laser closure: the length of fistula is the Achilles' heel. Tech Coloproctol 22(12):933–939

16.

Quaresimini G, Rossi G (2016) Laser surgery of anal fistulae. Chirurgia-Italy 29(5):163–168

17.

Slutzki S, Abramsohn R, Bogokowsky H (1981) Carbon dioxide laser in the treatment of high anal fistula. Am J Surg 141:395–396

18.

Yassin NA, Hammond TM, Lunniss PJ, Phillips RKS (2013) Ligation of the intersphincteric fistula tract in the management of anal fistula. A systematic review. Colorectal Dis 15:527–535

19.

Zirak-Schmidt S, Perdawood SK (2014) Management of anal fistula by ligation of the intersphincteric fistula tract a systematic review. Dan Med J 61:A4977

20.

Chand M, Tozer P, Cohen RC (2017) Is FiLaC the answer for more complex perianal fistula? Tech Coloproctol 21:253–255

21.

Moy J, Bodzin J (2006) Carbon dioxide laser ablation of perianal fistulas in patients with Crohn's disease: Experience with 27 patients. Am J Surg 191:424–427
Funding
No funding was received for this study.
Ethics declarations
Conflict of interest
The authors declare no conflict of interest.
Ethical approval
This article does not contain any study with human participants or animals performed by any of the authors.
Informed consent
For this type of study, formal consent is not required.
Additional information
Publisher's Note
Springer Nature remains neutral with regard to jurisdictional claims in published maps and institutional affiliations.
About this article
Cite this article
Elfeki, H., Shalaby, M., Emile, S.H. et al. A systematic review and meta-analysis of the safety and efficacy of fistula laser closure. Tech Coloproctol 24, 265–274 (2020). https://doi.org/10.1007/s10151-020-02165-1
Received:

Accepted:

Published:

Issue Date:
Keywords
Anal fistula

Perianal fistula

Fistula-in-ano

FiLaC

Laser

Outcome