Abstract
Anal stenosis (AS), which is a very rare but serious complication, usually develops after hemorrhoidectomy. It may be mild, moderate or severe depending on the grade of stenosis. While mild and moderate types can be monitored with conservative treatment, most of the severe type require advancement flap anoplasty. There are several commonly used flap types such as Y-V, diamond and house-type flaps, but the best results belong to house-type flaps. In this paper, we aimed to present a case of severe post-hemorrhoidectomy AS, in which we performed house advancement flap anoplasty, with its video demonstrating the procedure step by step.
Access options
Buy single article
Instant access to the full article PDF.
US$ 39.95
Tax calculation will be finalised during checkout.
Subscribe to journal
Immediate online access to all issues from 2019. Subscription will auto renew annually.
US$ 79
Tax calculation will be finalised during checkout.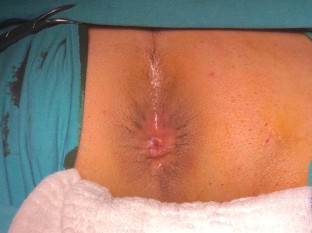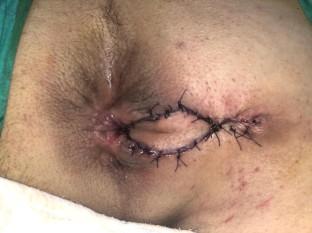 References
1.

Chiarelli M, Guttadauro A, Maternini M, Lo Bianco G, Tagliabue F, Achilli P, Terragni S, Gabrielli F (2018) The clinical and therapeutic approach to anal stenosis. Ann Ital Chir 89:237–241

2.

Milsom JW, Mazier WP (1986) Classification and management of postsurgical anal stenosis. Surg Gynecol Obstet 163:60–64

3.

Alver O, Ersoy YE, Aydemir I, Erguney S, Teksoz S, Apaydin B, Ertem M (2008) Use of "house" advancement flap in anorectal diseases. World J Surg 32:2281–2286. https://doi.org/10.1007/s00268-008-9699-1

4.

Owen HA, Edwards DP, Khosraviani K, Phillips RKS (2006) The House advancement anoplasty for treatment of anal disorders. J R Army Med Corps 152:87–88. https://doi.org/10.1136/jramc-152-02-02

5.

Farid M, Youssef M, El Nakeeb A, Fikry A, El Awady S, Morshed M (2010) Comparative study of the house advancement flap, rhomboid flap, and y-v anoplasty in treatment of anal stenosis: a prospective randomized study. Dis Colon Rectum 53:790–797. https://doi.org/10.1007/DCR.0b013e3181d3205a
Acknowledgements
The authors thank all the general surgery staff for their cooperation.
Ethics declarations
Conflict of interest
The authors have no conflict of interest and no financial issues to disclose.
Ethical approval
All the authors read and approved the paper.
Informed consent
Written informed consent was obtained from the patient's legal guardian(s) for publication of this case report and any accompanying images.
Additional information
Publisher's Note
Springer Nature remains neutral with regard to jurisdictional claims in published maps and institutional affiliations.
Electronic supplementary material
Below is the link to the electronic supplementary material.
Supplementary file1 (MOV 2,67,485 kb)
About this article
Cite this article
Acar, T., Acar, N., Tosun, F. et al. House advancement flap anoplasty for severe post-hemorrhoidectomy anal stenosis. Tech Coloproctol 24, 261–262 (2020). https://doi.org/10.1007/s10151-019-02139-y
Received:

Accepted:

Published:

Issue Date:
Keywords
Anal stenosis

Anoplasty

House advancement flap