Abstract
Background
Carbon dioxide (CO2) embolism is a rare but potentially devastating complication of minimally invasive abdominal and retroperitoneal surgery. Characterized by a decrease in end-tidal CO2 (ETCO2) and oxygen saturation (SpO2), CO2 emboli can cause rapid intraoperative hypotension and cardiovascular collapse. Transanal total mesorectal excision (taTME) is a novel surgical approach for rectal resection, which requires high flow CO2 insufflation in a low volume operative field. In this setting, the incidence of CO2 embolism is unknown; we evaluate three cases of intraoperative CO2 embolism that occurred during the transanal portion of the TME dissection.
Methods
All taTME cases from December 2014 to March 2018 at a single institution were reviewed. Cases of CO2 embolism were identified intraoperatively and characterized using the operative reports and anesthesia records. The transanal/pelvic insufflation included a targeted pressure of 15 mm Hg, high flow and high smoke evacuation. Physiologic derangements and management of these instances were analyzed. The postoperative course was evaluated and any complications were noted.
Results
A total of 80 taTME were performed for benign and malignant disease. Three patients (4%) developed intraoperative evidence of CO2 embolism. Each instance occurred during the transanal portion of the dissection. Physiologic changes were marked by abrupt decrease in end-tidal ETCO2, SpO2, and blood pressure (BP). Management included immediate release of pneumopelvis, hemodynamic support with crystalloid or vasopressors, and placement of the patient in the Trendelenburg position with left side down. Within 10 min of the acute event, all patients had return of ETCO2, SpO2, and BP to pre-event levels. There were no intraoperative or postoperative sequelae including arrhythmia, myocardial infarction, stroke or death. No cases required conversion to open.
Conclusions
During taTME, rare CO2 emboli may occur in the setting of venous bleeding during pneumopelvis, causing sudden, transient cardiovascular instability. Immediate recognition of rapid decrease in ETCO2, SpO2, and BP should be followed by desufflation of pneumopelvis, patient positioning in Trendelenburg and left lateral decubitus, and hemodynamic support. Increased awareness of this potential complication and maintaining a high index of suspicion will lead to preparedness of the anesthesia and surgery teams.
This is a preview of subscription content, log in to check access.
Access options
Buy single article
Instant access to the full article PDF.
US$ 39.95
Price includes VAT for USA
Subscribe to journal
Immediate online access to all issues from 2019. Subscription will auto renew annually.
US$ 99
This is the net price. Taxes to be calculated in checkout.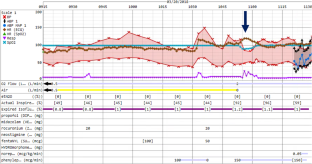 References
1.

Sylla P, Rattner DW, Delgado S, Lacy AM (2010) NOTES transanal rectal cancer resection using transanal endoscopic microsurgery and laparoscopic assistance. Surg Endosc 24(5):1205–1210

2.

Penna M, Hompes R, Arnold S, Wynn G, Austin R, Warusavitarne J, Moran B, Hanna GB, Mortensen NJ, Tekkis PP (2017) TaTME Registry Collaborative. Transanal total mesorectal excision: international registry results of the first 720 cases. Ann Surg 266(1):111–117

3.

Ma B, Gao P, Song Y, Zhang C, Zhang C, Wang L, Liu H, Wang Z (2016) Transanal total mesorectal excision (taTME) for rectal cancer: a systematic review and meta-analysis of oncological and perioperative outcomes compared with laparoscopic total mesorectal excision. BMC Cancer 16:380

4.

Rouanet P, Mourregot A, Azar CC, Carrere S, Gutowski M, Quenet F, Saint-Aubert B, Colombo PE (2013) Transanal endoscopic proctectomy: an innovative procedure for difficult resection of rectal tumors in men with narrow pelvis. Dis Colon Rectum 56(4):408–415

5.

Ratcliffe F, Hogan AM, Hompes R (2017) CO(2) embolus: an important complication of TaTME surgery. Tech Coloproctol 21(1):61–62

6.

Lucas WJ (1987) How to manage air embolism. In: Vaughn RW (ed) Problems in anesthesia. JB Lippincott Co., Philadelphia, pp 228–252

7.

Marino PL, Sutin KM (1998) The ICU book. Williams & Wilkins, Baltimore

8.

Gordy S, Rowell S (2013) Vascular air embolism. Int J Crit Illn Inj Sci 3(1):73–76

9.

Atallah S, Gonzalez P, Chadi S, Hompes R, Knol J (2017) Operative vectors, anatomic distortion, fluid dynamics and the inherent effects of pneumatic insufflation encountered during transanal total mesorectal excision. Tech Coloproctol 21(10):783–794

10.

Natal BL, Doty CI (2018) Venous air embolism treatment and management. Available at https://emedicine.medscape.com/article/761367-treatment. Accessed April 2018

11.

Hong JY, Kim JY, Choi YD, Rha KH, Yoon SJ, Kil HK (2010) Incidence of venous gas embolism during robotic-assisted laparoscopic radical prostatectomy is lower than that during radical retropubic prostatectomy. Br J Anaesth 105(6):777–781

12.

Phillips J, Keith D, Hulka J, Hulka B, Keith L (1976) Gynecologic laparoscopy in 1975. J Reprod Med 16:105–117

13.

Hynes SR, Marshall RL (1992) Venous gas embolism during gynaecological laparoscopy. Can J Anaesth 39:748–749

14.

Hong JY, Kim WO, Kil HK (2010) Detection of subclinical CO2 embolism by transesophageal echocardiography during laparoscopic radical prostatectomy. Urology 75:581–584

15.

Park EY, Kwon JY, Kim KJ (2012 May) Carbon dioxide embolism during laparoscopic surgery. Yonsei Med J 53(3):459–466
Ethics declarations
Conflict of interest
The authors declare that they have no conflict of interest.
Ethical approval
This study was deemed exempt from IRB review.
Informed consent
This type of study does not require a formal consent.
Electronic supplementary material
Below is the link to the electronic supplementary material.
Supplementary material 1 (MP4 331763 KB)
About this article
Cite this article
Harnsberger, C.R., Alavi, K., Davids, J.S. et al. CO2 embolism can complicate transanal total mesorectal excision. Tech Coloproctol 22, 881–885 (2018). https://doi.org/10.1007/s10151-018-1897-8
Received:

Accepted:

Published:

Issue Date:
Keywords
Transanal total mesorectal excision

Complications

Carbon dioxide embolism