Abstract
Background
Colovesical fistula secondary to diverticular disease is increasing in incidence. Presentation and severity may differ, but a common management strategy may be applied. The aim of this study is to evaluate the characteristics and perioperative management of patients with colovesical fistulae and determine optimal management.
Methods
From 2003 to 2012, all charts of surgical patients with diverticular colovesical fistulae at two different institutions were reviewed. Patient and presentation characteristics and perioperative management and outcomes were recorded. Patient groups with early and late catheter removal (< 8 and ≥ 8 days) were compared with significance level set at p < 0.05.
Results
Seventy-eight patient charts were reviewed. The mean duration of symptoms was 7.5 months. Laparoscopic assisted surgery was carried out in 35% of patients. Complex bladder repair was performed in 27%. Mean length of stay was 8 days. Mean urinary catheter duration was 13 days. Seventy percent of patients underwent postoperative cystogram, with 4% positive for extravasation. Patients with early catheter removal were significantly older, more likely to have received intraoperative methylene blue instillation, and less likely to have had a complex bladder repair (p < 0.05). Complication rate, length of stay, postoperative cystography, and stent use were similar for both catheter removal groups.
Conclusions
Intraoperative methylene blue bladder instillation should be utilized to limit unnecessary bladder repairs. In the setting of negative methylene blue extravasation, surgeons may confidently remove urinary catheters in 7 days or less, in some cases as early as 48 h. In complex bladder repairs, cystogram is still an important adjunct, with those patients with negative studies benefiting from catheter removal at 7 days or less.
Access options
Buy single article
Instant access to the full article PDF.
USD 39.95
Price excludes VAT (USA)
Tax calculation will be finalised during checkout.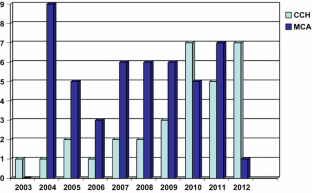 References
Bordeianou L, Hodin R (2007) Controversies in the surgical management of sigmoid diverticulitis. J Gastrointest Surg 11:542–548

Makela J, Kiviniemi H, Laitinen S (2002) Prevalence of perforated sigmoid diverticulitis is increasing. Dis Colon Rectum 45:955–961

Menenakos E, Hahnloser D, Nassiopoulos K et al (2003) Laparoscopic surgery for fistulas that complicate diverticular disease. Langenbecks Arch Surg 388:189–193

Bahadursingh AM, Virgo KS, Kaminski DL et al (2003) Spectrum of disease and outcome of complicated diverticular disease. Am J Surg 186:696–701

Garcea G, Majid I, Sutton CD et al (2006) Diagnosis and management of colovesical fistulae; six-year experience of 90 consecutive cases. Colorectal Dis 8:347–352

Solkar MH, Forshaw MJ, Sankararajah D et al (2005) Colovesical fistula—is a surgical approach always justified? Colorectal Dis 7:467–471

King RM, Beart RWJ, McIlrath DC (1982) Colovesical and rectovesical fistulas. Arch Surg 117:680–683

Driver CP, Anderson DN, Findlay K et al (1997) Vesico-colic fistulae in the Grampian region: presentation, assessment, management and outcome. J R Coll Surg Edinb 42:182–185

de Moya MA, Zacharias N, Osbourne A et al (2009) Colovesical fistula repair: is early Foley catheter removal safe? J Surg Res 156:274–277

Lynn ET, Ranasinghe NE, Dallas KB et al (2012) Management and outcomes of colovesical fistula repair. Am Surg 78:514–518

Poulin EC, Schlachta CM, Mamazza J et al (2000) Should enteric fistulas from Crohn's disease or diverticulitis be treated laparoscopically or by open surgery? a matched cohort study. Dis Colon Rectum 43:621–626 (Discussion 626–627)

Bartus CM, Lipof T, Sarwar CM et al (2005) Colovesical fistula: not a contraindication to elective laparoscopic colectomy. Dis Colon Rectum 48:233–236

Le Moine MC, Fabre JM, Vacher C et al (2003) Factors and consequences of conversion in laparoscopic sigmoidectomy for diverticular disease. Br J Surg 90:232–236

Nguyen SQ, Divino CM, Vine A et al (2006) Laparoscopic surgery for diverticular disease complicated by fistulae. JSLS 10:166–168

Kirsh GM, Hampel N, Shuck JM et al (1991) Diagnosis and management of vesicoenteric fistulas. Surg Gynecol Obstet 173:91–97

Ferguson GG, Lee EW, Hunt SR et al (2008) Management of the bladder during surgical treatment of enterovesical fistulas from benign bowel disease. J Am Coll Surg 207:569–572

Pollard SG, Macfarlane R, Greatorex R et al (1987) Colovesical fistula. Ann R Coll Surg Engl 69:163–165

Walker KG, Anderson JH, Iskander N et al (2002) Colonic resection for colovesical fistula: 5-year follow-up. Colorectal Dis 4:270–274

Woods RJ, Lavery IC, Fazio VW et al (1988) Internal fistulas in diverticular disease. Dis Colon Rectum 31:591–596
Ethics declarations
Funding
No funding was obtained for this study.
Conflict of interest
All authors declare they have no conflict of interest.
Ethical approval
All procedures performed in studies on human participants were in accordance with the ethical standards of the institutional and/or national research committee and with the 1964 Helsinki declaration and its later amendments or comparable ethical standards.
Informed consent
For this type of study, formal consent is not required.
About this article
Cite this article
Bertelson, N.L., Abcarian, H., Kalkbrenner, K.A. et al. Diverticular colovesical fistula: What should we really be doing?. Tech Coloproctol 22, 31–36 (2018). https://doi.org/10.1007/s10151-017-1733-6
Received:

Accepted:

Published:

Issue Date:

DOI: https://doi.org/10.1007/s10151-017-1733-6
Keywords