Abstract
Background
The role of a mixture of phlebotonics in the treatment of acute hemorrhoid crisis is investigated to test their efficacy.
Methods
One hundred and thirty-four consecutive patients with an acute hemorrhoidal crisis recruited in five colorectal units entered the study. Sixty-six of them were randomized to receive a mixture of diosmin, troxerutin and hesperidin (group A), and 68 a placebo (group B). The main symptoms, the use of oral painkillers and the Bristol scale score were recorded at each scheduled visit and compared using both Student's t test for independent samples and the ANOVA models for repeated measures. The presence of edema, prolapse and thrombosis were also recorded and compared using the Chi-square test. Furthermore, the trend of proportions during the time of the evaluations was assessed by the Chi-square test for linear trend.
Results
Pain, bleeding and the proportion of patients who reported persistence of edema and thrombosis decreased significantly after 12 days of treatment in group A. After 6 days, the number of paracetamol tablets taken by patients in group A was significantly lower than the amount of flavonoid mixture.
Conclusions
The use of a mixture of diosmin, troxerutin and hesperidin is a safe and effective mean of managing symptoms of acute hemorrhoidal disease. Furthermore, in patients receiving treatment, there was faster control and lower persistence of edema and thrombosis.
Access options
Buy single article
Instant access to the full article PDF.
USD 39.95
Price includes VAT (USA)
Tax calculation will be finalised during checkout.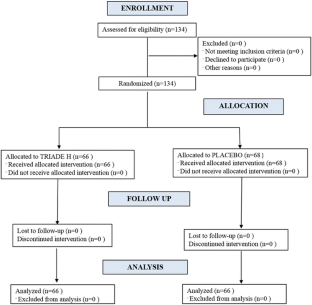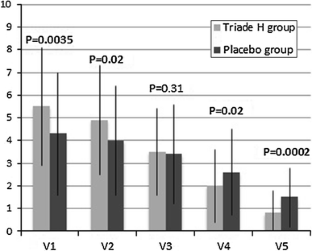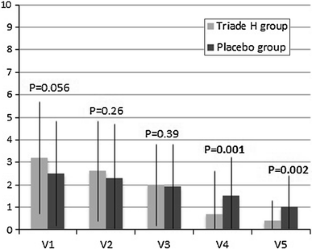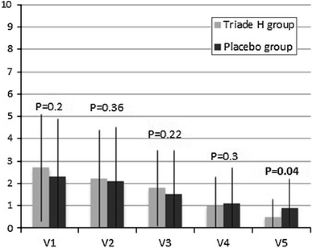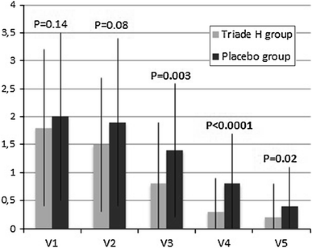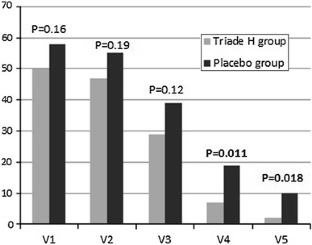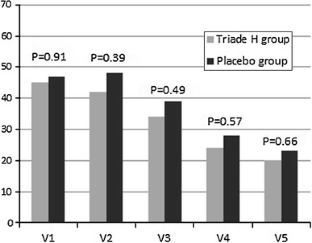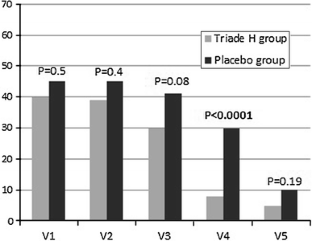 References
1.

Altomare DF, Giannini I (2013) Pharmacological treatment of hemorrhoids: a narrative review. Expert Opin Pharmacother 14:2343–2349

2.

Perera N, Liolitsa D, Iype S (2012) Phlebotonics for haemorrhoids. Cochrane Database Syst Rev 8:CD004322

3.

Altomare DF, Roveran A, Pecorella G, Gaj F, Stortini E (2006) The treatment of hemorrhoids: guidelines of the Italian society of colorectal surgery. Tech Coloproctol 10:181–186

4.

Rivadeneira DE, Steele SR, Ternent C et al (2011) Standards practice task force of the american society of colon and rectal surgeons. Practice parameters for the management of hemorrhoids (revised 2010). Dis Colon Rectum 54:1059–1064

5.

Ho YH, Tan M, Seow-Choen F (2000) Micronized purified flavonoid fraction compared favourably with rubber band ligations and fiber alone in the management of bleeding haemorrhoids: randomized controlled trial. Dis Colon Rectum 43:66–69

6.

Khubchandani IT (2001) Randomized clinical trial of micronized flavonoids in the early control of bleeding for acute internal haemorrhoids. Tech Coloproctol 5:57–58

7.

Labrid C (1994) Pharmacologic properties of Daflon 500 mg. Angiology 45:524–530

8.

Labrid C (1995) A lymphatic function of Daflon 500 mg. Int Angiol 14:36–38

9.

Struckmann JR, Nicolaides AN (1994) Flavonoids. A review of the pharmacology and therapeutic efficacy of Daflon 500 mg in patients with chronic venous insufficiency and related disorders. Angiology 45:419–428

10.

Bartoli M (2013) Efficacia Farmacologica di diversi flebotonici sulla risposta contrattile alla noradrenalina di safene umane isolate. Il Continuum del paziente vascolare 1:2–3

11.

Fortini C, Morelli C, Fiorelli V (2010) Effetto biologico di una formulazione a base di diosmina, esperidina, troxerutina (Triade) sulle permeabilità dell'endotelio vasale umano. Il Continuum del paziente vascolare 1:12–16

12.

Lohsiriwat V (2012) Hemorrhoids: from basic pathophysiology to clinical management. World J Gastroenterol 18:2009–2017

13.

Belcaro G, Rosaria Cesarone M, Ledda A et al (2008) O-(beta-hydroxyethyl)-rutosides systemic and local treatment in chronic venous disease and microangiopathy: an independent prospective comparative study. Angiology 59(Suppl 1):7S–13S

14.

Cesarone MR, Belcaro G, Pellegrini L et al (2006) Venoruton verus Daflon: evaluation of effects on quality of life in chronic venous insufficiency. Angiology 57:131–138

15.

Danielsson G, Jungbeck C, Peterson K, Norgren L (2002) A randomised controlled trial of micronised purified flavonoid fraction vs placebo in patients with chronic venous disease. Eur J Vasc Endovasc Surg 23:73–76

16.

Jantet G (2000) RELIEF study: first consolidated European data. Reflux assessment and quality of life improvement with micronized flavonoids. Angiology 51:31–37

17.

Jantet G (2002) Chronic venous insufficiency: worldwide results of the RELIEF study. Reflux assessment and quality of life improvement with micronized flavonoids. Angiology 53:245–256

18.

Stuard S, Cesarone MR, Belcaro G et al (2008) Five-year treatment of chronic venous insufficiency with O-(β-hydroxyethyl)-rutosides: safety aspects. Int J Angiol 17:143–148

19.

Alonso-Coello P, Zhou Q, Martinez-Zapata MJ et al (2006) Meta-analysis of flavonoids for the treatment of haemorrhoids. Br J Surg 93:909–920

20.

La Torre F, Nicolai AP (2004) Clinical use of micronized purified flavonoid fraction for treatment of symptoms after hemorrhoidectomy: results of a randomized, controlled, clinical trial. Dis Colon Rectum 47:704–710
Conflict of interest
Omikron Italia Srl has been involved in the study by generously providing the active drug and placebo to the units, but did not have access to the data either in the recruitment or in the elaboration and interpretation of the data.
About this article
Cite this article
Giannini, I., Amato, A., Basso, L. et al. Flavonoids mixture (diosmin, troxerutin, hesperidin) in the treatment of acute hemorrhoidal disease: a prospective, randomized, triple-blind, controlled trial. Tech Coloproctol 19, 339–345 (2015). https://doi.org/10.1007/s10151-015-1302-9
Received:

Accepted:

Published:

Issue Date:
Keywords
Hemorrhoidal crisis

Flavonoids

Anal pain

Anal bleeding

Anal itching