Abstract
Background
Rectoanal repair (RAR), which combines doppler-guided hemorrhoidal artery ligation (HAL) and mucopexy via lifting of the hemorrhoidal prolapse, offers a minimally invasive alternative to conventional hemorrhoidectomy.
Methods
Patients with grade II hemorrhoids were treated with HAL, and patients with grade III and IV hemorrhoids were treated with the RAR procedure by two surgeons. Postoperative follow-up was performed clinically and by proctoscopy after 8 weeks routinely, and long-term follow-up was performed using a standardized postal questionnaire.
Results
The overall complication rate was 29 % (n = 118). After short-term follow-up, 26 % (n = 106) of patients reported recurrent or persistent prolapsing piles, while 21 % (n = 86) of patients had recurrent bleeding. After long-term follow-up, 24 % (n = 98) of patients reported prolapsing piles, 3 % (n = 12) bleeding, 3 % (n = 12) pruritus, and 2 % (n = 8) anal pain, while 20 % (n = 82) complained of persistent mixed symptoms.
Conclusions
HAL and RAR provide prolonged relief for patients with hemorrhoidal disease whose main symptoms are bleeding, pruritus and pain but not for patients with prolapse as an initial indication.
Access options
Buy single article
Instant access to the full article PDF.
USD 39.95
Price excludes VAT (USA)
Tax calculation will be finalised during checkout.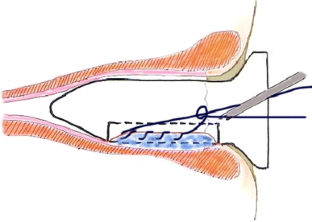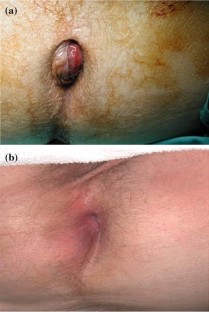 References
Johanson JF, Sonnenberg A (1990) The prevalence of hemorrhoids and chronic constipation. An epidemiologic study. Gastroenterology 98:380

Guy RJ, Seow-Choen F (2003) Septic complications after treatment of haemorrhoids. Br J Surg 90:147–156

Rowsell M, Bello M, Hemingway DM (2000) Circumferential mucosectomy (stapled haemorrhoidectomy) versus conventional haemorrhoidectomy: randomised controlled trial. Lancet 355:779–781

Mehigan BJ, Monson JR, Hartley JE (2000) Stapling procedure for haemorrhoids versus Milligan-Morgan haemorrhoidectomy: randomised controlled trial. Lancet 355:782–785

Pernice LM, Bartalucci B, Bencini L et al (2001) Early and late (ten years) experience with circular stapler haemorrhoidectomy. Dis Colon Rectum 44:836–841

Riss S, Riss P, Schuster M, Riss T (2008) Impact of stapled haemorrhoidopexy on stool continence and anorectal function—long-term follow-up of 242 patients. Langenbecks Arch Surg 393:501–505

Herold A, Kirsch J, Staude G, Hager T, Raulf F, Michel J (2000) A German multicentre study on circular stapled haemorrhoidectomy. Colorectal Dis 2:18

Morinaga K, Hasuda K, Ikeda T (1995) A novel therapy for internal hemorrhoids: ligation of the hemorrhoidal artery with a newly devised instrument (Moricorn) in conjunction with a doppler flow meter. Am J Gastroenterol 90:610–613

Sohn N, Aronoff JS, Cohen FS, Weinstein MA (2001) Transanal hemorrhoidal dearterialization is an alternative to operative hemorrhoidectomy. Am J Surg 182:515–519

Arnold S, Antonietti E, Rollinger G, Scheyer M (2002) Doppler ultrasound assisted haemorrhoid artery ligation. A new therapy in symptomatic hemorrhoids. Chirurg 73:269–273

Shelygin IUA, Titov AIU, Veselov VV, Kanametov MKH (2003) Results of ligature of distal branches of the upper rectal artery in chronic hemorrhoid with the assistance of Doppler ultrasonography. Khirurgiia (Mosk) 1:39–44

Greenberg R, Karin E, Avital S, Skornick Y, Werbin N (2006) First 100 cases with Doppler-guided hemorrhoidal artery ligation. Dis Colon Rectum 49:485–489

Hardy A, Chan CLH, Cohen CRG (2005) The surgical management of haemorrhoids—a review. Dig Surg 22:26–33

Bursics A, Morvay K, Kupcsulik P, Flautner L (2004) Comparison of early and 1-year follow-up results of conventional hemorrhoidectomy and hemorrhoid artery ligation: a randomised study. Int J Colorectal Dis 19:176–180

Theodoropoulos GE, Sevrisarianos N, Papaconstantinou J et al (2008) Doppler-guided hemorrhoidal artery ligation (DGHAL), rectoanal repair (RAR), sutured hemorrhoidopexy (SHP) and minimal mucocutaneous excision (MMCE) for grade III-IV hemorrhoids: a multicenter prospective study of safety and efficacy. Colorectal Dis 12:125–134

Zagryadskiy EA, Gorelv SI (2008) Transanal Doppler-guided hemorrhoidal artery ligation/recto anal repair (HAL-RAR) for treatment of Grade 3-4 hemorrhoids: a new mini-invasive technology. Pelviperineology 27:151–155

Scheyer M, Antonietti E, Rollinger G, Mall H, Arnold S (2006) Doppler-guided hemorrhoidal artery ligation. Am J Surg 191:89–93

Satzinger U, Feil W, Glaser K (2009) Recto anal repair (RAR): a viable treatment option for high-grade hemorrhoids. One year results of a prospective study. Pelviperineology 28:37–42
About this article
Cite this article
Scheyer, M., Antonietti, E., Rollinger, G. et al. Hemorrhoidal artery ligation (HAL) and rectoanal repair (RAR): retrospective analysis of 408 patients in a single center. Tech Coloproctol 19, 5–9 (2015). https://doi.org/10.1007/s10151-014-1246-5
Received:

Accepted:

Published:

Issue Date:

DOI: https://doi.org/10.1007/s10151-014-1246-5
Keywords