Abstract
Background
Pilonidal sinus is a common condition often managed with invasive surgery associated with a significant morbidity and often a prolonged recovery time. Fibrin glue has been used in our institution as an alternative to conventional surgery. The purpose of this study was to perform a service evaluation of patient satisfaction and recovery following fibrin glue treatment for pilonidal sinus.
Methods
All pilonidal glue procedures for a single surgeon were identified from theatre and consultant diary records from March 2007 to September 2011. A questionnaire was sent by post to all patients. Patient satisfaction, time to return to normal activities, the need for further procedures and whether they would recommend a glue procedure to a friend were evaluated.
Results
Ninety-three patients were identified, accounting for a total of 119 glue procedures and 57/93 responses were received (61 %). The median age of respondents was 26 (17–70) years. Seventy-nine per cent (n = 45) were satisfied, pleased or very pleased with the result of their procedure. Fifty-four per cent (n = 31) were back to normal activities within a week with a further 17 % (n = 10) back to normal activities within 2 weeks. Seventy-four per cent (n = 42) required no further treatment. Of the 15 patients requiring a further procedure, 3 went on to have a repeat glue treatment which resulted in complete healing. Eighty-two per cent (n = 47) would recommend a glue procedure to a friend.
Conclusions
Fibrin gluing for pilonidal sinus should be considered as first-line treatment for most pilonidal sinuses. It has a high level of patient satisfaction and allows a rapid return to normal activities in this group of patients of working age.
This is a preview of subscription content, log in to check access.
Access options
Buy single article
Instant access to the full article PDF.
US$ 39.95
Price includes VAT for USA
Subscribe to journal
Immediate online access to all issues from 2019. Subscription will auto renew annually.
US$ 99
This is the net price. Taxes to be calculated in checkout.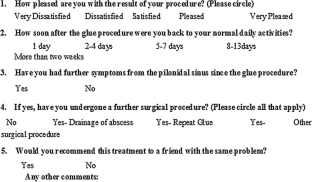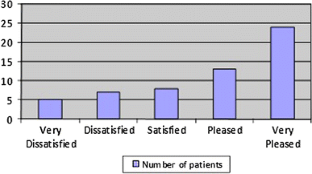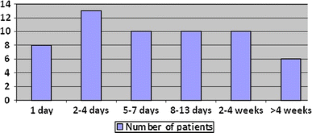 References
1.

Allen-Mersh TG (1990) Pilonidal sinus: finding the right track for treatment. Br J Surg 77:123–132

2.

Patey DH, Scarff RW (1946) Pathology of postanal pilonidal sinus: its bearing on treatment. Lancet 2:484–486

3.

McCallum IJ, King PM, Bruce J (2008) Healing by primary closure versus open healing after surgery for pilonidal sinus: systematic review and meta-analysis. BMJ 336:868–871

4.

Petersen S (2002) Primary closure techniques in chronic pilonidal sinus. Dis Colon Rectum 45:1458–1467

5.

Nessar G (2004) Elliptical rotation flap for pilonidal sinus. Am J Surg 187:300

6.

Eryilmaz R (1973) Surgical treatment of sacrococcygeal pilonidal sinus. Lancet 2:1414–1415

7.

Lund JN, Leveson SH (2005) Fibrin glue in the treatment of pilonidal sinus: results of a pilot study. Dis Colon Rectum 48:1094–1096

8.

Tisseel product information PDF. http://www.baxter.com/downloads/healthcare_professionals/products/Tisseel_PI.pdf

9.

Greenberg R (2004) Treatment of pilonidal sinus disease. Tech Coloproctol 8:95–98

10.

National patient safety agency, National Research Ethics Service. Defining research Leaflet. www.nres.nhs.uk/EasySiteWeb/GatewayLink.aspx?alId=355

11.

AL-Khamis A, McCallum I, King PM, Bruce J (2010) Healing by primary versus secondary intention after surgical treatment for pilonidal sinus. Cochrane Database Syst Rev 20:CD006213
About this article
Cite this article
Elsey, E., Lund, J.N. Fibrin glue in the treatment for pilonidal sinus: high patient satisfaction and rapid return to normal activities. Tech Coloproctol 17, 101–104 (2013). https://doi.org/10.1007/s10151-012-0956-9
Received:

Accepted:

Published:

Issue Date:
Keywords
Pilonidal sinus

Fibrin glue

Bascom

New treatment