Abstract
Background
The aim of this study was to systematically analyse the clinical trials on the effectiveness of transanal haemorrhoidal de-arterialisation (THD) and stapled haemorrhoidopexy (SH) in the management of haemorrhoidal disease (HD).
Methods
Clinical trials on the effectiveness of THD and SH in the management of HD were analysed systematically using RevMan®, and combined outcomes were expressed as risk ratio (RR) and mean difference (MD).
Results
Three randomised, controlled trials encompassing 150 patients were analysed systematically. There were 80 THD patients and 70 SH patients. There was no significant heterogeneity (P = 0.40) among included trials. Therefore, in the fixed effects model, THD and SH were statistically equivalent in terms of treatment success rate (P = 0.19), operation time (P = 0.55), postoperative complications (P = 0.11) and recurrence (P = 0.46) of HD. THD was associated with significantly less postoperative pain (MD, −2.00; 95% CI, −2.06, −1.94; z = 63.59; P < 0.00001) compared to SH.
Conclusions
Both THD and SH are equally effective and can be attempted for the management of HD. However, THD is associated with significantly lesser postoperative pain and therefore may be considered a preferred procedure. This conclusion is based only on treating 150 patients by THD or SH in three moderate-quality randomised trials. A major, multicenter, randomised trial is required to validate this conclusion and investigate other variables like hospital stay, cost-effectiveness and health-related quality of life measurement.
Access options
Buy single article
Instant access to the full article PDF.
US$ 39.95
Tax calculation will be finalised during checkout.
Subscribe to journal
Immediate online access to all issues from 2019. Subscription will auto renew annually.
US$ 79
Tax calculation will be finalised during checkout.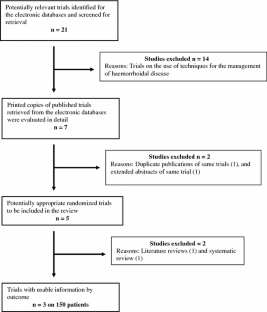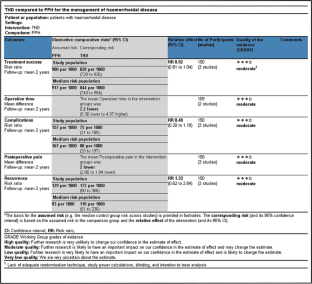 References
1.

Dal Monte PP, Tagariello C, Saragò M et al (2007) Transanal haemorrhoidal dearterialisation: nonexcisional surgery for the treatment of haemorrhoidal disease. Tech Coloproctol 11:333–338

2.

Jayaraman S, Colquhoun PH, Malthaner RA (2007) Stapled hemorrhoidopexy is associated with a higher long-term recurrence rate of internal hemorrhoids compared with conventional excisional hemorrhoid surgery. Dis Colon Rectum 50:1297–1305

3.

Carapeti EA, Kamm MA, McDonald PJ, Phillips RK (1998) Double-blind randomised controlled trial of effect of metronidazole on pain after day-case haemorrhoidectomy. Lancet 351:169–172

4.

Ortiz H, Marzo J, Armendariz P (2002) Randomized clinical trial of stapled haemorrhoidopexy versus conventional diathermy haemorrhoidectomy. Br J Surg 89(11):1376–1381

5.

Wrobleski DE, Corman ML, Veidenheimer MC, Coller JAL (1980) Long-term evaluation of rubber ring ligation in hemorrhoidal disease. Dis Colon Rectum 23:478–482

6.

Farag EA (1978) Pile suture: a new technique for treatment of haemorrhoids. Br J Surg 65:293–295

7.

Awojobi OA (1983) Modified pile suture in the outpatient treatment of haemorrhoids: a preliminary report. Dis Colon Rectum 26:96–97

8.

Serdev N (1990) The surgical treatment of haemorrhoids: their suturing ligation without excision. Khirusgiia 43:65–68

9.

Schulte T, Fändrich F, Kahlke V (2008) Life-threatening rectal necrosis after injection sclerotherapy for haemorrhoids. Int J Colorectal Dis 23:725–726

10.

Marques CF, Nahas SC, Nahas CS, Sobrado CW Jr, Habr-Gama A, Kiss DR (2006) Early results of the treatment of internal hemorrhoid disease by infrared coagulation and elastic banding: a prospective randomized cross-over trial. Tech Coloproctol 10:312–317

11.

Ricci MP, Matos D, Saad SS (2008) Rubber band ligation and infrared photocoagulation for the outpatient treatment of hemorrhoidal disease. Acta Cir Bras 23:102–106

12.

Gupta PJ (2007) Infra red photocoagulation of early grades of hemorrhoids—5-year follow-up study. Bratisl Lek Listy 108:223–226

13.

Tajana A, Chiurazzi D, De Lorenzi I (1995) Infrared photocoagulation, cryosurgery and laser surgery in hemorrhoidal disease. Ann Ital Chir 66:775–782

14.

Longo A (1998) Treatment of haemorrhoidal disease by reduction of mucosa and haemorrhoidal prolapse with circular suturing device: a new procedure. In: Proceedings of the 6th world congress of endoscopic surgery, Monduzzi Editore, Bologna, pp 777–784

15.

Ortiz H, Marzo J, Armendáriz P, De Miguel M (2005) Stapled hemorrhoidopexy vs. diathermy excision for fourth-degree hemorrhoids: a randomized, clinical trial and review of the literature. Dis Colon Rectum 48:809–815

16.

Sakr MF, Moussa MM (2010) LigaSure hemorrhoidectomy versus stapled hemorrhoidopexy: a prospective, randomized clinical trial. Dis Colon Rectum 53:1161–1167

17.

Gravié JF, Lehur PA, Huten N et al (2005) Stapled hemorrhoidopexy versus milligan-morgan hemorrhoidectomy: a prospective, randomized, multicenter trial with 2-year postoperative follow up. Ann Surg 242:29–35

18.

Jayaraman S, Colquhoun PH, Malthane R et al (2006) Stapled versus conventional surgery for haemorrhoids. Cochrane Database Syst Rev (4):CD005393. doi:10.1002/14651858.CD005393.pub2

19.

Seow-Choen F (2001) Stapled haemorrhoidectomy: pain or gain. Br J Surg 88:1–3

20.

Morinaga K, Hasuda K, Ikeda T (1995) A novel therapy for internal hemorrhoids: ligation of the hemorrhoidal artery with a newly devised instrument (Moricorn) in conjunction with a Doppler flowmeter. Am J Gastroenterol 90:610–613

21.

Sohn N, Aronoff JS, Cohen FS, Wernstein MA (2001) Transanal hemorrhoidal dearterialization is an alternative to operative hemorrhoidectomy. Am J Surg 182:515–519

22.

Faucheron JL, Poncet G, Voirin D, Badic B, Gangner Y (2011) Doppler-guided hemorrhoidal artery ligation and rectoanal repair (HAL-RAR) for the treatment of grade IV hemorrhoids: long-term results in 100 consecutive patients. Dis Colon Rectum 54:226–231

23.

Ratto C, Donisi L, Parello A et al (2010) Evaluation of transanal hemorrhoidal dearterialization as a minimally invasive therapeutic approach to hemorrhoids. Dis Colon Rectum 53:803–811

24.

Theodoropoulos GE, Sevrisarianos N, Papaconstantinou J et al (2010) Doppler-guided haemorrhoidal artery ligation, rectoanal repair, sutured haemorrhoidopexy and minimal mucocutaneous excision for grades III-IV haemorrhoids: a multicenter prospective study of safety and efficacy. Colorectal Dis 12:125–134

25.

Pol RA, van der Zwet WC, Hoornenborg D et al (2010) Results of 244 consecutive patients with hemorrhoids treated with Doppler-guided hemorrhoidal artery ligation. Dig Surg 27:279–284

26.

Infantino A, Bellomo R, Dal Monte PP et al (2010) Transanal haemorrhoidal artery echodoppler ligation and anopexy (THD) is effective for II and III degree haemorrhoids: a prospective multicentric study. Colorectal Dis 12:804–809

27.

Wilkerson PM, Strbac M, Reece-Smith H, Middleton SBL (2009) Doppler-guided haemorrhoidal artery ligation: long-term outcome and patient satisfaction. Colorectal Dis 11:394–400

28.

Greenberg R, Karin E, Avital S, Skornick Y, Werbin N (2006) First 100 cases with Doppler-guided hemorrhoidal artery ligation. Dis Colon Rectum 49:485–489

29.

Scheyer M, Antonietti E, Rollinger G, Mall H, Arnold SL (2006) Doppler-guided hemorrhoidal artery ligation. Am J Surg 191:89–93

30.

Narro JL (2004) Hemorrhoid therapy with Doppler guided hemorrhoidal artery ligation via proctoscope KM-25. A new alternative to hemorrhoidectomy and rubber band ligation? Zentralbl Chir 129:208–210

31.

Lienert M, Ulrich B (2004) Doppler-guided ligation of the hemorrhoidal arteries. Report of experiences with 248 patients. Dtsch Med Wochenschr 129:947–950

32.

Tagariello C, Dal Monte PP, Saragò M (2004) Doppler-guided transanal haemorrhoidal dearterialisation. Chir Ital 56:693–697

33.

Arnold S, Antonietti E, Rollinger G, Scheyer M (2002) Doppler ultrasound assisted hemorrhoid artery ligation. A new therapy in symptomatic hemorrhoids. Chirurg 73:269–273

34.

Festen S, van Hoogstraten MJ, van Geloven AA, Gerhards MF (2009) Treatment of grade III and IV haemorrhoidal disease with PPH or THD. A randomized trial on postoperative complications and short-term results. Int J Colorectal Dis 24:1401–1405

35.

Giordano P, Nastro P, Davies A, Gravante G (2011) Prospective evaluation of stapled haemorrhoidopexy versus transanal haemorrhoidal dearterialisation for stage II and III haemorrhoids: three-year outcomes. Tech Coloproctol 15:67–73

36.

Ramirez JM, Gracia JA, Aguilella V et al (2005) Surgical management of symptomatic haemorrhoids: to cut, to hang or to strangulate? A prospective randomized controlled trial. Colorectal Dis 7:52

37.

Higgins JPT, Green S (eds) (2011) Cochrane handbook for systematic reviews of interventions version 5.0.0 (updated February 2008). The Cochrane Collaboration, 2008; http://www.cochrane-handbook.org. Accessed 15 April 2008

38.

Review Manager (RevMan) (2008) [Computer program]. Version 5.0. The Nordic Cochrane Centre, The Cochrane Collaboration, Copenhagen

39.

DerSimonian R, Laird N (1986) Meta-analysis in clinical trials. Control Clin Trials 7:177–188

40.

DeMets DL (1987) Methods for combining randomized clinical trials: strengths and limitations. Stat Med 6:341–350

41.

Higgins JP, Thompson SG (2002) Quantifying heterogeneity in a meta-analysis. Stat Med 21:1539–1558

42.

Egger M, Smith GD, Altman DG (2006) Systematic reviews in healthcare. BMJ Publishing, London

43.

Deeks JJ, Altman DG, Bradburn MJ (2001) Statistical methods for examining heterogeneity and combining results from several studies in meta-analysis. Systemic reviews in health care: meta-analysis in context, 2nd edn. BMJ Publication group, London

44.

Jadad AR, Moore RA, Carroll D et al (1996) Assessing the quality of reports of randomized clinical trials: is blinding necessary? Control Clin Trials 17:1–12

45.

Chalmers TC, Smith H Jr, Blackburn B et al (1981) A method for assessing the quality of a randomized control trial. Control Clin Trials 2:31–49

46.

http://ims.cochrane.org/revman/other-resources/gradepro/download. Accessed 30 April 2011

47.

Giordano P, Overton J, Madeddu F, Zaman S, Gravante G (2009) Transanal hemorrhoidal dearterialization: a systematic review. Dis Colon Rectum 52:1665–1671

48.

Bursics A, Morvay K, Kupcsulik P, Flautner L (2004) Comparison of early and 1-year follow-up results of conventional hemorrhoidectomy and hemorrhoid artery ligation: a randomized study. Int J Colorectal Dis 19:176–180

49.

Lewis AAM, Rogers HS, Leighton M (1983) Trial of maximal anal dilatation, cryotherapy and elastic band ligation as alternatives to haemorrhoidectomy in the treatment of large prolapsing haemorrhoids. Br J Surg 70:54–56

50.

Shanmugam V, Hakeem A, Campbell KL et al (2005) Rubber band ligation versus excisional haemorrhoidectomy for haemorrhoids. Cochrane Database Syst Rev (1):CD005034. doi:10.1002/14651858.CD005034.pub2
About this article
Cite this article
Sajid, M.S., Parampalli, U., Whitehouse, P. et al. A systematic review comparing transanal haemorrhoidal de-arterialisation to stapled haemorrhoidopexy in the management of haemorrhoidal disease. Tech Coloproctol 16, 1–8 (2012). https://doi.org/10.1007/s10151-011-0796-z
Received:

Accepted:

Published:

Issue Date:
Keywords
Stapled haemorrhoidopexy

Bleeding per rectum

Haemorrhoidectomy

Transanal haemorrhoidal de-arterialisation

Procedure for prolapse and haemorrhoids