Abstract
Background
Glucose-regulated protein (GRP) 78/immunoglobulin heavy chain binding protein (BiP) is a member of the endoplasmic reticulum chaperone family, and its role in various types of human malignancies has recently been investigated. However, the clinicopathological characteristics of GRP78/BiP in advanced thymic carcinoma (ATC) remain unknown. We aimed to examine the relationship between GRP78/BiP expression and the clinical outcomes of ATC patients.
Methods
Thirty-four patients with ATC receiving combination chemotherapy at three institutions between April 1998 and April 2014 were enrolled in this study. We retrospectively collected patient characteristics such as therapeutic efficacy, pathological findings, and survival data from their medical records. We performed immunohistochemical analysis to evaluate the expression of GRP78/BiP in tumor specimens obtained from surgical resection or biopsy.
Results
This study included 21 men (68%) and 13 women (32%) with a median age of 62 years (range 36–75 years). GRP78/BiP overexpression was observed in 65% of the patients (22 of 34 patients). There was no correlation between GRP78/BiP expression and any patient characteristic. Patients with a high level of GRP78/BiP expression had significantly longer overall survival (OS) compared to those with a low level (46.2 vs. 16.8 months, p = 0.04). Multivariate analysis demonstrated that a high level of GRP78/BiP expression was an independent prognostic factor for prolonged OS.
Conclusions
Our findings indicate that the overexpression of GRP78/BiP is a novel predictor of favorable outcomes in patients with ATC who receive combination chemotherapy.
This is a preview of subscription content, log in to check access.
Access options
Buy single article
Instant access to the full article PDF.
US$ 39.95
Price includes VAT for USA
Subscribe to journal
Immediate online access to all issues from 2019. Subscription will auto renew annually.
US$ 99
This is the net price. Taxes to be calculated in checkout.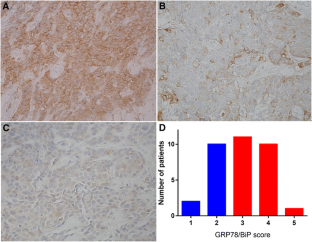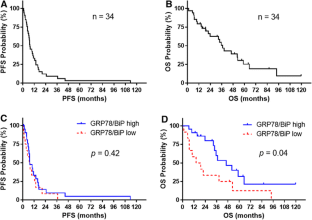 References
1.

Kelly RJ, Petrini I, Rajan A et al (2011) Thymic malignancies: from clinical management to targeted therapies. J Clin Oncol 29(36):4820–4827. doi:10.1200/jco.2011.36.0487

2.

Engels EA, Pfeiffer RM (2003) Malignant thymoma in the United States: demographic patterns in incidence and associations with subsequent malignancies. Int J Cancer 105(4):546–551. doi:10.1002/ijc.11099

3.

Lemma GL, Lee JW, Aisner SC et al (2011) Phase II study of carboplatin and paclitaxel in advanced thymoma and thymic carcinoma. J Clin Oncol 29(15):2060–2065. doi:10.1200/jco.2010.32.9607

4.

Kondo K, Monden Y (2003) Therapy for thymic epithelial tumors: a clinical study of 1,320 patients from Japan. Ann Thorac Surg 76(3):878–884 (discussion 884–875)

5.

Giaccone G, Ardizzoni A, Kirkpatrick A et al (1996) Cisplatin and etoposide combination chemotherapy for locally advanced or metastatic thymoma. A phase II study of the European Organization for Research and Treatment of Cancer Lung Cancer Cooperative Group. J Clin Oncol 14(3):814–820

6.

Agatsuma T, Koizumi T, Kanda S et al (2011) Combination chemotherapy with doxorubicin, vincristine, cyclophosphamide, and platinum compounds for advanced thymic carcinoma. J Thorac Oncol 6(12):2130–2134. doi:10.1097/JTO.0b013e31822e71c0

7.

Lee AS (2007) GRP78 induction in cancer: therapeutic and prognostic implications. Cancer Res 67(8):3496–3499. doi:10.1158/0008-5472.can-07-0325

8.

Ma Y, Hendershot LM (2004) The role of the unfolded protein response in tumour development: friend or foe? Nat Rev Cancer 4(12):966–977. doi:10.1038/nrc1505

9.

Hendershot LM (2004) The ER function BiP is a master regulator of ER function. Mt Sinai J Med 71(5):289–297

10.

Zhang J, Jiang Y, Jia Z et al (2006) Association of elevated GRP78 expression with increased lymph node metastasis and poor prognosis in patients with gastric cancer. Clin Exp Metastasis 23(7–8):401–410. doi:10.1007/s10585-006-9051-9

11.

Dong D, Ni M, Li J et al (2008) Critical role of the stress chaperone GRP78/BiP in tumor proliferation, survival, and tumor angiogenesis in transgene-induced mammary tumor development. Cancer Res 68(2):498–505. doi:10.1158/0008-5472.can-07-2950

12.

Lee E, Nichols P, Spicer D et al (2006) GRP78 as a novel predictor of responsiveness to chemotherapy in breast cancer. Cancer Res 66(16):7849–7853. doi:10.1158/0008-5472.can-06-1660

13.

Daneshmand S, Quek ML, Lin E et al (2007) Glucose-regulated protein GRP78 is up-regulated in prostate cancer and correlates with recurrence and survival. Hum Pathol 38(10):1547–1552. doi:10.1016/j.humpath.2007.03.014

14.

Fu W, Wu X, Li J et al (2010) Upregulation of GRP78 in renal cell carcinoma and its significance. Urology 75(3):603–607. doi:10.1016/j.urology.2009.05.007

15.

Langer R, Feith M, Siewert JR et al (2008) Expression and clinical significance of glucose regulated proteins GRP78 (BiP) and GRP94 (GP96) in human adenocarcinomas of the esophagus. BMC Cancer 8:70. doi:10.1186/1471-2407-8-70

16.

Uramoto H, Sugio K, Oyama T et al (2005) Expression of endoplasmic reticulum molecular chaperone Grp78 in human lung cancer and its clinical significance. Lung Cancer 49(1):55–62. doi:10.1016/j.lungcan.2004.12.011

17.

Thornton M, Aslam MA, Tweedle EM et al (2013) The unfolded protein response regulator GRP78 is a novel predictive biomarker in colorectal cancer. Int J Cancer 133(6):1408–1418. doi:10.1002/ijc.28137

18.

Koga K, Matsuno Y, Noguchi M et al (1994) A review of 79 thymomas: modification of staging system and reappraisal of conventional division into invasive and non-invasive thymoma. Pathol Int 44(5):359–367

19.

Travis W, Brambilla E, Muller-Hermelink H et al (2004) World Health Organization Classification of Tumours: pathology and genetics. Tumours of the lung, pleura, thymus and heart. IARC, Lyon

20.

Miura Y, Kaira K, Sakurai R et al. (2016) Prognostic impact of class III β-tubulin and topoisomerase-II in patients with advanced thymic carcinoma who received combination chemotherapy, including taxanes or topoisomerase-II inhibitors. Oncol Lett (in press)

21.

Lee E, Nichols P, Groshen S et al (2011) GRP78 as potential predictor for breast cancer response to adjuvant taxane therapy. Int J Cancer 128(3):726–731. doi:10.1002/ijc.25370

22.

Yerushalmi R, Raiter A, Nalbandyan K et al (2015) Cell surface GRP78: a potential marker of good prognosis and response to chemotherapy in breast cancer. Oncol Lett 10(4):2149–2155. doi:10.3892/ol.2015.3579

23.

Wei PL, Kuo LJ, Wang W et al (2012) Silencing of glucose-regulated protein 78 (GRP78) enhances cell migration through the upregulation of vimentin in hepatocellular carcinoma cells. Ann Surg Oncol 19(Suppl 3):S572–S579. doi:10.1245/s10434-011-2055-y

24.

Jamora C, Dennert G, Lee AS (1996) Inhibition of tumor progression by suppression of stress protein GRP78/BiP induction in fibrosarcoma B/C10ME. Proc Natl Acad Sci USA 93(15):7690–7694

25.

Fu Y, Lee AS (2006) Glucose regulated proteins in cancer progression, drug resistance and immunotherapy. Cancer Biol Ther 5(7):741–744

26.

Pyrko P, Schonthal AH, Hofman FM et al (2007) The unfolded protein response regulator GRP78/BiP as a novel target for increasing chemosensitivity in malignant gliomas. Cancer Res 67(20):9809–9816. doi:10.1158/0008-5472.can-07-0625

27.

Tanimoto R, Sakaguchi M, Abarzua F et al (2010) Down-regulation of BiP/GRP78 sensitizes resistant prostate cancer cells to gene-therapeutic overexpression of REIC/Dkk-3. Int J Cancer 126(7):1562–1569. doi:10.1002/ijc.24764

28.

Davidson DJ, Haskell C, Majest S et al (2005) Kringle 5 of human plasminogen induces apoptosis of endothelial and tumor cells through surface-expressed glucose-regulated protein 78. Cancer Res 65(11):4663–4672. doi:10.1158/0008-5472.can-04-3426

29.

Burikhanov R, Zhao Y, Goswami A et al (2009) The tumor suppressor Par-4 activates an extrinsic pathway for apoptosis. Cell 138(2):377–388. doi:10.1016/j.cell.2009.05.022

30.

Verfaillie T, Garg AD, Agostinis P (2013) Targeting ER stress induced apoptosis and inflammation in cancer. Cancer Lett 332(2):249–264. doi:10.1016/j.canlet.2010.07.016

31.

Kaira K, Toyoda M, Shimizu A et al (2016) Decreasing expression of glucose-regulated protein GRP78/BiP as a significant prognostic predictor in patients with advanced laryngeal squamous cell carcinoma. Head Neck 38(10):1539–1544. doi:10.1002/hed.24471

32.

Kaira K, Toyoda M, Shimizu A et al (2016) Prognostic significance of GRP78/BiP expression in patients with stage III/IV hypopharyngeal squamous cell carcinoma. Neoplasma 63(3):477–483. doi:10.4149/319_151002n513

33.

Gifford JB, Huang W, Zeleniak AE et al (2016) Expression of GRP78, master regulator of the unfolded protein response, increases chemoresistance in pancreatic ductal adenocarcinoma. Mol Cancer Ther 15(5):1043–1052. doi:10.1158/1535-7163.mct-15-0774

34.

Cerezo M, Lehraiki A, Millet A et al (2016) Compounds triggering ER stress exert anti-melanoma effects and overcome BRAF inhibitor resistance. Cancer Cell. doi:10.1016/j.ccell.2016.04.013
Acknowledgements
The authors would like to thank Dr. Akira Mogi, Department of General Surgical Science, Dr. Kimihiro Shimizu, Department of Thoracic Visceral Organ Surgery, and Dr. Masataka Maeno, Department of Medicine and Biological Science, for data collection. We would like to show our appreciation for technical assistance with immunohistochemical analysis to the staff in the pathology departments of the Gunma University Hospital, Gunma Prefectural Cancer Center, and National Hospital Organization Shibukawa Medical Center. This work was supported in part by grant 26461154 (KK) from the Ministry of Education, Culture, Sports, Science and Technology, Japan.
Ethics declarations
Conflict of interest
The authors declare that they have no conflicts of interest.
Ethical approval
All procedures performed in studies involving human participants were carried out in accordance with the ethical standards of the institutional and/or national research committee and in accordance with the 1964 Helsinki Declaration and its later amendments or comparable ethical standards. For this type of study, formal consent is not required.
About this article
Cite this article
Miura, Y., Kaira, K., Sakurai, R. et al. High expression of GRP78/BiP as a novel predictor of favorable outcomes in patients with advanced thymic carcinoma. Int J Clin Oncol 22, 872–879 (2017). https://doi.org/10.1007/s10147-017-1142-x
Received:

Accepted:

Published:

Issue Date:
Keywords
Thymic carcinoma

Glucose-regulated protein 78/immunoglobulin heavy chain binding protein

Endoplasmic reticulum stress

Prognostic factor

Biomarker