Abstract
Background
Oxaliplatin is now considered a standard treatment for advanced or unresectable colorectal cancer, but its main dose-limiting toxicity is sensory neuropathy. The OPTIMOX (stop and go) approach offers a reasonable strategy, but the preventive agent is not established. It is reported that the Kampo medicine, Goshajinkigan (GJG), has recently been considered an effective agent for the neuropathy of taxanes and for vibration sensation in patients with diabetic neuropathy. The aim of this study was to clarify the efficacy of GJG for peripheral neuropathy associated with oxaliplatin therapy.
Patients and method
From 2007, 45 patients treated with modified FOLFOX6 for non-resectable or recurrent colorectal cancer participated in the study. Twenty-two patients (GJG group) received oral administration of 7.5 g/day of GJG every day during mFOLFOX6 therapy and 23 patients (control group) did not receive GJG. Neuropathy was evaluated during every course according to DEB-NTC (Neurotoxicity Criteria of Debiopharm).
Results
The median number of cycles per patient in the GJG group was 13 (range 4–32), and in the control group was 12 (range 4–28). The cumulative dose of oxaliplatin was 1105 mg/m2 (GJG group) and 1120 mg/m2 (control group). The incidence of grade 3 peripheral neuropathy in the GJG group was significantly lower than in the control group (p < 0.01, log-rank test). The incidence of grade 3 peripheral neuropathy after 10 courses was 0% in the GJG group and 12% in the control group, and after 20 courses was 33% in the GJG group and 75% in the control group. The percentage of grade 2 and 3 peripheral neuropathy in the GJG group was lower than that in the control group. There were no differences in adverse effects between the two groups except for peripheral neuropathy and influence on tumor response.
Conclusion
The Kampo medicine, Goshajinkigan, is useful in preventing neuropathy in non-resectable or recurrent colorectal cancer patients treated with a FOLFOX regimen.
Access options
Buy single article
Instant access to the full article PDF.
USD 39.95
Price excludes VAT (USA)
Tax calculation will be finalised during checkout.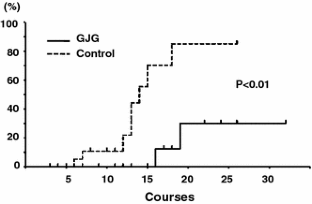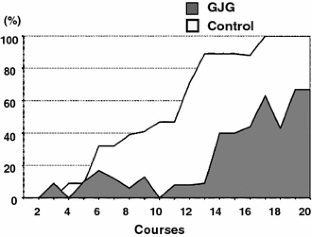 References
de Gramont A, Figer A, Seymour M et al (2000) Leucovorin and fluorouracil with or without oxaliplatin as first-line treatment in advanced colorectal cancer. J Clin Oncol 18:2938–2947

Andre′ T, Boni C, Mounedji-Boudiaf L et al (2004) Oxaliplatin, fluorouracil, and leucovorin as adjuvant treatment for colon cancer. N Engl J Med 350:2343–2351

Cassidy J, Misset J-L (2002) Oxaliplatin-related side effects: characteristics and management. Semin Oncol 29:11–20

Krishnan AV, Goldstein D, Friedlander M et al (2005) Oxaliplatin-induced neurotoxicity and the development of neuropathy. Muscle Nerve 32:51–60

Land SR, Kopec JA, Cecchini RS et al (2007) Neurotoxicity from oxaliplatin combined with weekly bolus fluorouracil and leucovorin as surgical adjuvant chemotherapy for stage II and III colon cancer: NSABP C-07. J Clin Oncol 25:2205–2211

Tournigand C, Cervantes A, Figer A et al (2006) OPTIMOX1: a randomized study of FOLFOX4 or FOLFOX7 with oxaliplatin in a stop-and-go fashion in advanced colorectal cancer: GERCOR study. J Clin Oncol 24:394–400

Gamelin L, Boisdron-Celle M, Delva R et al (2004) Prevention of oxaliplatin-related neurotoxicity by calcium and magnesium infusions: a retrospective study of 161 patients receiving oxaliplatin combined with 5-fluorouracil and leucovorin for advanced colorectal cancer. Clin Cancer Res 10:4055–4061

Gamelin E, Gamelin L, Bossi L et al (2002) Clinical aspects and molecular basis of oxaliplatin neurotoxicity: current management and development of preventive measures. Semin Oncol 29:21–33

Cascinu S, Catalano V, Cordella L et al (2002) Neuroprotective effect of reduced glutathione on oxaliplatin-based chemotherapy in advanced colorectal cancer: a randomized, double-blind, placebo-controlled trial. J Clin Oncol 20:3478–3483

Lin PC, Lee MY, Wang WS et al (2006) N-acetylcysteine has neuroprotective effects against oxaliplatin-based adjuvant chemotherapy in colon cancer patients: preliminary data. Support Care Cancer 14:484–487

Susman E (2006) Xaliproden lessens oxaliplatin-mediated neuropathy. Lancet Oncol 7(4):288

von Delius S, Eckel F, Wagenpfeil S et al (2007) Carbamazepine for prevention of oxaliplatinrelated neurotoxicity in patients with advanced colorectal cancer: final results of a randomised, controlled, multicenter phase II study. Invest New Drugs 25:173–180

Wang WS, Lin JK, Lin TC et al (2007) Oral glutamine is effective for preventing oxaliplatin-induced neuropathy in colorectal cancer patients. Oncologist 12(3):312–319

Nagaki Y, Hayasaka S, Hayasaka Y et al (2003) Effects of goshajinkigan on corneal sensitivity, superficial punctate keratopathy and tear secretion in patients with insulin-dependent diabetes mellitus. Am J Chin Med 31:103–109

Yao X, Chen H, Emura S et al (2007) Effects of hPTH (1–34) and Gosha-jinki-gan on the trabecular bone microarchitecture in ovariectomized rat tibia. Okajimas Folia Anat Jpn 83:107–113

Yamamoto T, Murai T, Ueda M et al (2009) Clinical features of paclitaxel-induced peripheral neuropathy and role of Gosya-jinki-gan. Gan To Kagaku Ryoho 36(1):89–92

Uno T, Ohsawa I, Tokudome M et al (2005) Effects of Goshajinkigan on insulin resistance in patients with type 2 diabetes. Diabetes Res Clin Pract 69:129–135

Kono T, Mamiya N, Chisato N et al (2009) Efficacy of Goshajinkigan for peripheral neurotoxicity of oxaliplatin in patients with advanced or recurrent colorectal cancer. Evid Based Complement Alternat Med. 1. (eCAM. doi:10.1093/ecam/nep200)

Shirao K, Matsumura Y, Yamada Y et al (2006) Phase I study of single-dose oxaliplatin in Japanese patients with malignant tumors. Jpn J Clin Oncol 36:295–300

Therasse P, Arbuck SG, Eisenhauer EA et al (2000) New guidelines to evaluate the response to treatment in solid tumors. European Organization for Research and Treatment of Cancer, National Cancer Institute of the United States, National Cancer Institute of Canada. J Natl Cancer Inst 92:205–216

Ishibashi K, Okada N, Miyazaki T et al (2010) Effect of calcium and magnesium on neurotoxicity and blood platinum concentrations in patients receiving mFOLFOX6 therapy: a prospective randomized study. Int J Clin Oncol 15(1):82–87

Gwag BJ, Sessler FM, Robine V et al (1997) Endogenous glutamate levels regulate nerve growth factor mRNA expression in the rat dentate gyrus. Mol Cells 7:425–430

Daikhin Y, Yudkoff M (2000) Compartmentation of brain glutamate metabolism in neurons and glia. J Nutr 130(4S Suppl):1026S–1031S

Meijer C, de Vries EG, Marmiroli P et al (1999) Cisplatin-induced DNA-platination in experimental dorsal root ganglia neuronopathy. Neurotoxicology 20:883–887

Kono T, Mishima H, Shimada M et al (2009) GONE Investigators. Preventive effect of goshajinkigan on peripheral neurotoxicity of FOLFOX therapy: a placebo-controlled double-blind randomized phase II study (the GONE Study). Jpn J Clin Oncol 39(12):847–849

Hochster HS, Grothey A, Childs BH (2007) Use of calcium and magnesium salts to reduce oxaliplatin-related neurotoxicity. J Clin Oncol 25:4028–4029

Yamada K, Suzuki E, Nakaki T et al (2005) Aconiti tuber increases plasma nitrite and nitrate levels in humans. J Ethnopharmacol 96:165–169

Gotoh A, Goto K, Sengoku A et al (2004) Inhibition mechanism of Gosha-jinki-gan on the micturition reflex in rats. J Pharmacol Sci 96:115–123

Hu X, Sato J, Oshida Y et al (2003) Effect of Gosha-jinki-gan (Chinese herbal medicine: Niu-Che-Sen-Qi-Wan) on insulin resistance in streptozotocin-induced diabetic rats. Diabetes Res Clin Pract 59:103–111

Joseph EK, Chen X, Bogen O et al (2008) Oxaliplatin acts on IB4-positive nociceptors to induce an oxidative stress-dependent acute painful peripheral neuropathy. J Pain 9(5):463–472

Imamura T, Ishizuka O, Aizawa N et al (2008) Gosha-jinki-gan reduces transmitter proteins and sensory receptors associated with C fiber activation induced by acetic acid in rat urinary bladder. Neurourol Urodyn 27(8):832–837
Acknowledgments
This study was partly supported by the Research Support Foundation of The University of Tokushima and TAIHO Pharmaceutical co., LTD., and the Grants-in-Aid for Scientific Research of the Japan Society for the Promotion of Science. A part of this study was presented at the Gastrointestinal Cancer Symposium, Orlando, FL, USA (January 22–24, 2010).
Conflict of interest
No author has any conflict of interest.
About this article
Cite this article
Nishioka, M., Shimada, M., Kurita, N. et al. The Kampo medicine, Goshajinkigan, prevents neuropathy in patients treated by FOLFOX regimen. Int J Clin Oncol 16, 322–327 (2011). https://doi.org/10.1007/s10147-010-0183-1
Received:

Accepted:

Published:

Issue Date:

DOI: https://doi.org/10.1007/s10147-010-0183-1
Keywords
Neuropathy

Kampo medicine

Goshajinkigan

Oxaliplatin

Colorectal cancer