Abstract
Background
Lower-limb lymphedema (LLL) is a prevalent complication that is encountered after treatment for gynecological malignancies. The aim of this study was to evaluate the risk factors for postoperative LLL in patients with cervical cancer.
Methods
We conducted a retrospective chart review for patients who had undergone surgery, including systematic lymphadenectomy, for cervical cancer. Patients who died of cancer, were evaluated for short periods of time (<2 years), had missing medical records, or were suffering from deep venous thrombosis were excluded. We utilized the International Society of Lymphology staging of lymphedema severity as the diagnostic criteria for LLL, and patients with stage II or III lymphedema, as objectively determined by physicians, were included in the group of patients with LLL. Multivariate analysis was performed to confirm independent risk factors.
Results
A total of 155 patients with cervical cancer were evaluated. Thirty-one patients (20.0%) contracted LLL with a median follow-up of 6.1 years. Suprafemoral node dissection (odds ratio, 9.5; 95% confidence interval, 1.2–73.3; P = 0.031) and adjuvant radiotherapy (3.7; 1.2–10.9; P = 0.019) were identified as independent risk factors.
Conclusion
Given that the effectiveness of the above two therapeutic options for cervical cancer is currently controversial, the clinical benefits of these therapies should be reevaluated specifically to conserve the quality of life for patients with this disease.
Access options
Buy single article
Instant access to the full article PDF.
USD 39.95
Price excludes VAT (USA)
Tax calculation will be finalised during checkout.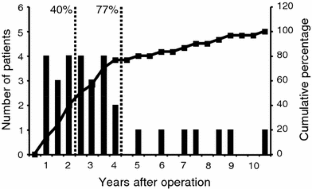 References
Casley-Smith JR (1995) Alterations of untreated lymphedema and its grades over time. Lymphology 28:174–185

Cheville AL, Almoza M, Courmier JN et al (2010) A prospective cohort study defining utilities using time trade-offs and the Euroqol-5D to assess the impact of cancer-related lymphedema. Cancer (Phila) 116:3722–3731

Szuba A, Rockson SG (1997) Lymphedema: anatomy, physiology and pathogenesis. Vasc Med 2:321–326

Matsuda T, Marugame T, Kamo K et al (2009) Cancer incidence and incidence rates in Japan in 2003: based on data from 13 population-based cancer registries in the Monitoring of Cancer Incidence in Japan (MCIJ) Project. Jpn J Clin Oncol 39:850–858

Committee on Classification of Regional Lymph Nodes of Japan Society of Clinical Oncology (2003) Classification of regional lymph nodes in Japan. Int J Clin Oncol 8:248–275

International Society of Lymphology (2009) The diagnosis and treatment of peripheral lymphedema. 2009 Consensus Document of the International Society of Lymphology. Lymphology 42:51–60

Abu-Rustum NR, Alektiar K, Iasonos A et al (2006) The incidence of symptomatic lower-extremity lymphedema following treatment of uterine corpus malignancies: a 12-year experience at Memorial Sloan-Kettering Cancer Center. Gynecol Oncol 103:714–718

Fuller J, Guderian D, Kohler C et al (2008) Lymph edema of the lower extremities after lymphadenectomy and radiotherapy for cervical cancer. Strahlenther Onkol 184:206–211

Todo Y, Yamamoto R, Minobe S et al (2010) Risk factors for postoperative lower-extremity lymphedema in endometrial cancer survivors who had treatment including lymphadenectomy. Gynecol Oncol 119:60–64

Tada H, Teramukai S, Fukushima M et al (2009) Risk factors for lower limb lymphedema after lymph node dissection in patients with ovarian and uterine carcinoma. BMC Cancer 9:47

Tanaka T, Ohki N, Kojima A et al (2007) Radiotherapy negates the effect of retroperitoneal nonclosure for prevention of lymphedema of the legs following pelvic lymphadenectomy for gynecological malignancies: an analysis from a questionnaire survey. Int J Gynecol Cancer 17:460–464

Ryan M, Stainton MC, Slaytor EK et al (2003) Aetiology and prevalence of lower limb lymphoedema following treatment for gynaecological cancer. Aust N Z J Obstet Gynaecol 43:148–151

Abu-Rustum NR, Gemignani ML, Moore K et al (2003) Total laparoscopic radical hysterectomy with pelvic lymphadenectomy using the argon-beam coagulator: pilot data and comparison to laparotomy. Gynecol Oncol 91:402–409

Hosaka M, Watari H, Takeda M et al (2008) Treatment of cervical cancer with adjuvant chemotherapy versus adjuvant radiotherapy after radical hysterectomy and systematic lymphadenectomy. J Obstet Gynaecol Res 34:552–556

Committee on Practice Bulletins–Gynecology (2002) ACOG practice bulletin. Diagnosis and treatment of cervical carcinomas, number 35, May 2002. Obstet Gynecol 99:855–867

Buchsbaum HJ (1979) Extrapelvic lymph node metastases in cervical carcinoma. Am J Obstet Gynecol 133:814–824

Sakuragi N, Satoh C, Takeda N et al (1999) Incidence and distribution pattern of pelvic and paraaortic lymph node metastasis in patients with Stages IB, IIA, and IIB cervical carcinoma treated with radical hysterectomy. Cancer (Phila) 85:1547–1554

Hoffman MS, Parsons M, Gunasekaran S et al (1999) Distal external iliac lymph nodes in early cervical cancer. Obstet Gynecol 94:391–394

Lee RV (2007) Peripartum cardiomyopathy: time for another look? J Obstet Gynaecol 27:1–2

Abu-Rustum NR, Barakat RR (2007) Observations on the role of circumflex iliac node resection and the etiology of lower extremity lymphedema following pelvic lymphadenectomy for gynecologic malignancy. Gynecol Oncol 106:4–5

Sakuragi N (2007) Up-to-date management of lymph node metastasis and the role of tailored lymphadenectomy in cervical cancer. Int J Clin Oncol 12:165–175

Crane LM, Themelis G, Pleijhuis RG et al (2010) Intraoperative multispectral fluorescence imaging for the detection of the sentinel lymph node in cervical cancer: a novel concept. Mol Imaging Biol [Epub ahead of print]

Marnitz S, Kohler C, Bongardt S et al (2006) Topographic distribution of sentinel lymph nodes in patients with cervical cancer. Gynecol Oncol 103:35–44

Martínez A, Zerdoud S, Mery E et al (2010) Hybrid imaging by SPECT/CT for sentinel lymph node detection in patients with cancer of the uterine cervix. Gynecol Oncol 119:431–435

Plante M, Renaud MC, Tetu B et al (2003) Laparoscopic sentinel node mapping in early-stage cervical cancer. Gynecol Oncol 91:494–503

Rob L, Strnad P, Robova H et al (2005) Study of lymphatic mapping and sentinel node identification in early stage cervical cancer. Gynecol Oncol 98:281–288

Tsai RJ, Dennis LK, Lynch CF et al (2009) The risk of developing arm lymphedema among breast cancer survivors: a meta-analysis of treatment factors. Ann Surg Oncol 16:1959–1972

Chatani M, Nose T, Masaki N et al (1998) Adjuvant radiotherapy after radical hysterectomy of the cervical cancer. Prognostic factors and complications. Strahlenther Onkol 174:504–509

Gerdin E, Cnattingius S, Johnson P (1995) Complications after radiotherapy and radical hysterectomy in early-stage cervical carcinoma. Acta Obstet Gynecol Scand 74:554–561

Hong JH, Tsai CS, Lai CH et al (2002) Postoperative low-pelvic irradiation for stage I–IIA cervical cancer patients with risk factors other than pelvic lymph node metastasis. Int J Radiat Oncol Biol Phys 53:1284–1290

Lawenda BD, Mondry TE, Johnstone PA (2009) Lymphedema: a primer on the identification and management of a chronic condition in oncologic treatment. CA Cancer J Clin 59:8–24

Sedlis A, Bundy BN, Rotman MZ et al (1999) A randomized trial of pelvic radiation therapy versus no further therapy in selected patients with stage IB carcinoma of the cervix after radical hysterectomy and pelvic lymphadenectomy: a Gynecologic Oncology Group Study. Gynecol Oncol 73:177–183

Estape RE, Angioli R, Madrigal M et al (1998) Close vaginal margins as a prognostic factor after radical hysterectomy. Gynecol Oncol 68:229–232

Schorge JO, Molpus KL, Koelliker D et al (1997) Stage IB and IIA cervical cancer with negative lymph nodes: the role of adjuvant radiotherapy after radical hysterectomy. Gynecol Oncol 66:31–35

Torres Lacomba M, Yuste Sanchez MJ, Zapico Goni A et al (2010) Effectiveness of early physiotherapy to prevent lymphoedema after surgery for breast cancer: randomised, single blinded, clinical trial. BMJ 340:b5396
Acknowledgments
The authors thank Yusuke Ohba (Hokkaido University) for drafting the manuscript and Drs. M. Nakatani, Y. Suzuki, S. Minobe, and K. Okamoto (Hokkaido Cancer Center) for helpful discussion. This work was supported in part by grants from the Japan Society for the Promotion of Science (KAKENHI: 22591843, 22591844).
Conflict of interest
No author has any conflict of interest.
About this article
Cite this article
Ohba, Y., Todo, Y., Kobayashi, N. et al. Risk factors for lower-limb lymphedema after surgery for cervical cancer. Int J Clin Oncol 16, 238–243 (2011). https://doi.org/10.1007/s10147-010-0171-5
Received:

Accepted:

Published:

Issue Date:

DOI: https://doi.org/10.1007/s10147-010-0171-5
Keywords