Abstract
Benign metastasizing leiomyoma (BML) is a rare disease that is caused by metastasis of a histologically benign leiomyoma that spreads to distant organs. Metastasis commonly follows surgical treatment of myomectomy or hysterectomy for benign uterine leiomyoma. Since the work of Steiner in 1939, several other studies have been published, but a unified view has not emerged regarding the biological nature, pathogenesis, and prognosis of this disease. In particular, a standard treatment has not been established. Here we report a case of BML of the lung and peritoneum in a premenopausal 45-year-old woman who underwent hysterectomy for uterine leiomyoma 10 years earlier. A computed tomography (CT) scan showed multiple pulmonary nodules (maximum size 48 mm) and a solitary intra-peritoneal nodule. The lung nodules were diagnosed as BML following a CT-guided needle biopsy. Histologically, the biopsied tumor was composed of spindle cells without significant atypia, and mitosis was not observed. Immunohistochemically, the tumor cells were strongly positive for smooth muscle actin, desmin, and estrogen receptor, suggesting a uterine leiomyomatous lineage. The patient was treated with a gonadotropin-releasing hormone agonist for 36 months, during which time the nodules reduced in size slightly. No new lesions appeared, and the tumors were stable at 15 months after the cessation of treatment. In conclusion, endocrine therapy can serve as one of the conservative treatments for premenopausal women with BML, rather than surgery.
Access options
Buy single article
Instant access to the full article PDF.
US$ 39.95
Tax calculation will be finalised during checkout.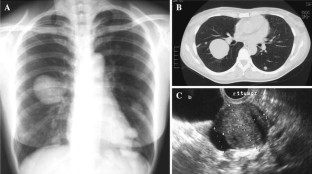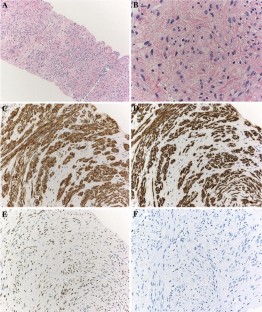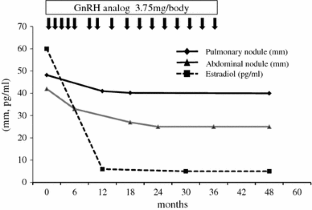 References
1.

Steiner PE (1939) Metastasizing fibroleiomyoma of the uterus: report of a case and review of the literature. Am J Pathol 15:89–110

2.

Ip PP, Tse KY, Tam KF (2010) Uterine smooth muscle tumors other than the ordinary leiomyomas and leiomyosarcomas: a review of selected variants with emphasis on recent advances and unusual morphology that may cause concern for malignancy. Adv Anat Pathol 17:91–112

3.

Bell SW, Kempson RL, Hendrickson MR (1994) Problematic uterine smooth muscle neoplasms. A clinicopathologic study of 213 cases. Am J Surg Pathol 18:535–558

4.

Hendrickson MR, Tavassoli FA, Kempson RL et al (2003) Mesenchymal tumours and related lesions. In: Tavassoli FA, Devilee P (eds) World Health Organization Classification of tumours: pathology and genetics of tumours of the breast and female genital organs. IARC Press, Lyon, pp 236–243

5.

Jautzke G, Muller-Ruchholtz E, Thalmann U (1996) Immunohistological detection of estrogen and progesterone receptors in multiple and well differentiated leiomyomatous lung tumors in women with uterine leiomyomas (so-called benign metastasizing leiomyomas). A report on 5 cases. Pathol Res Pract 192:215–223

6.

Kayser K, Zink S, Schneider T et al (2000) Benign metastasizing leiomyoma of the uterus: documentation of clinical, immunohistochemical and lectin-histochemical data of ten cases. Virchows Arch 437:284–292

7.

Cramer SF, Meyer JS, Kraner JF et al (1980) Metastasizing leiomyoma of the uterus. S-phase fraction, estrogen receptor, and ultrastructure. Cancer 45:932–937

8.

Alessi G, Lemmerling M, Vereecken L et al (2003) Benign metastasizing leiomyoma to skull base and spine: a report of two cases. Clin Neurol Neurosurg 105:170–174

9.

Rivera JA, Christopoulos S, Small D et al (2004) Hormonal manipulation of benign metastasizing leiomyomas: report of two cases and review of the literature. J Clin Endocrinol Metab 89:3183–3188

10.

Arif S, Ganesan R, Spooner D (2006) Intravascular leiomyomatosis and benign metastasizing leiomyoma: an unusual case. Int J Gynecol Cancer 16:1448–1450

11.

Egberts JH, Schafmayer C, Bauerschlag DO et al (2006) Benign abdominal and pulmonary metastasizing leiomyoma of the uterus. Arch Gynecol Obstet 274:319–322

12.

Cho KR, Woodruff JD, Epstein JI (1989) Leiomyoma of the uterus with multiple extrauterine smooth muscle tumors: a case report suggesting multifocal origin. Hum Pathol 20:80–83

13.

Patton KT, Cheng L, Papavero V et al (2006) Benign metastasizing leiomyoma: clonality, telomere length and clinicopathologic analysis. Mod Pathol 19:130–140

14.

Nasu K, Tsuno A, Takai N et al (2009) A case of benign metastasizing leiomyoma treated by surgical castration followed by an aromatase inhibitor, anastrozole. Arch Gynecol Obstet 279:255–257

15.

Pawlik C, Wildberger JE, Tietze L et al (2001) Benign metastasizing leiomyoma of the lung – a rare differential diagnosis of pulmonary space-occupying lesions. Dtsch Med Wochenschr 126:551–555

16.

Funakoshi Y, Sawabata N, Takeda S et al (2004) Pulmonary benign metastasizing leiomyoma from the uterus in a postmenopausal woman: report of a case. Surg Today 34:55–57
About this article
Cite this article
Mizuno, M., Nawa, A., Nakanishi, T. et al. Clinical benefit of endocrine therapy for benign metastasizing leiomyoma. Int J Clin Oncol 16, 587–591 (2011). https://doi.org/10.1007/s10147-010-0156-4
Received:

Accepted:

Published:

Issue Date:
Keywords
Leiomyoma

Lung neoplasms

Gonadotropin-releasing hormone agonist

Benign metastasizing leiomyoma

Atypical leiomyosarcoma