Abstract
Matrix population models are one of the most common mathematical models in ecology, which describe the dynamics of stage-structured populations and provide us many population statistics. One of the statistics, elasticity onto population growth rate, is frequently used and represents the degree of the relative impact of life history parameters to the population growth rate. Due to the utility of elasticities for cross-taxonomic comparisons, Silvertown and his coauthors have published multiple papers and reported the relationship between elasticities and life forms (or life history) in multiple plant species, using a triangle map (called "ternary plot"). To understand why their elasticities are located in specific regions of the ternary plot, we constructed four archetypes of population matrices, from which we simulated 24,000 randomly generated population matrices and obtained the consequent elasticities. We found a large discrepancy when comparing our results to those in Silvertown et al.'s study (Conserv Biol 10:591–597, 1996): for our simulated matrices where rapid transitions were not allowed (e.g., trees), the elasticity distribution resulted in a line across the ternary plot. We provided the mathematical proof for this result, and found that its slope depends on matrix dimension. We also used 1230 matrices from the COMPADRE Plant Matrix Database and calculated the elasticities. Our simulated results were validated with field data from COMPADRE: two straight lines appeared in the ternary plot. Furthermore, we answered several addressed questions, such as, "Is there any special elasticity distribution in matrices with high population growth rates?" and "Why are the elasticities of natural populations concentrated in the upper half of the ternary plot?".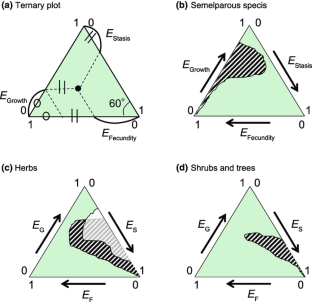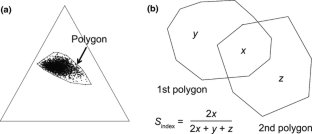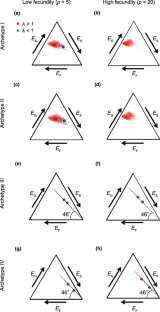 References
Caswell H (2001) Matrix population models: construction, analysis and interpretation, 2nd edn. Sinauer Associates, Sunderland

Caswell H, Naiman R, Morin R (1984) Evaluating the consequences of reproduction in complex salmonid life cycles. Aquaculture 43:123–143

Cruz-Rodriguez JA, Lopez-Mata L, Varverde T (2009) A comparison of traditional elasticity and variance-standardized perturbation analyses: a case study with the tropical tree species Manilkara zapota (Sapotaceae). J Trop Ecol 25:135–146

de Kroon H, Plaisier A, van Groenendael J, Caswell H (1986) Elasticity: the relative contribution of demographic parameters to population growth rate. Ecology 67:1427–1431

de Kroon H, van Groenendael J, Ehrlén J (2000) Elasticities: a review of methods and model limitations. Ecology 81:607–618

Enright NJ, Franco M, Silvertown J (1995) Comparing plant life histories using elasticity analysis: the importance of life span and the number of life cycle stages. Oecologia 104:79–84

Franco M, Silvertown J (1996) Life history variation in plants: an exploration of the fast–slow continuum hypothesis. Philos Trans R Soc Lond B 351:1341–1348

Franco M, Silvertown J (2004) A comparative demography of plants based upon elasticities of vital rates. Ecology 85:531–538

Geyer CJ, Wagenius S, Shaw RG (2007) Aster models for life history analysis. Biometrika 94:415–426

Harper JL (1977) Population biology of plants. Academic Press, New York

Hartshorn GS (1975) A matrix model of tree population dynamics. In: Golley FB, Medina E (eds) Tropical ecological systems. Springer, New York, pp 41–51

Horn R, Johnson C (1985) Matrix algebra. Cambridge University, Cambridge

Kaneko Y, Takada T (2014) Pair-wise analyses of the effects of demographic processes, vital rates, and life stages on the spatiotemporal variation in the population dynamics of the riparian tree Aesculus turbinata Blume. Pop Ecol 56:161–173

Kaneko Y, Takada T, Kawano S (1999) Population biology of Aesculus turbinata Blume: a demographic analysis using transition matrices on a natural population along a riparian environmental gradient. Plant Species Biol 14:47–68

Lamar WR, McGraw JB (2005) Evaluating the use of remotely sensed data in matrix population modeling for eastern hemlock (Tsuga canadensis L.). For Ecol Manag 212:50–64

Lin Y, Augspurger CK (2008) Impact of spatial heterogeneity of neighborhoods on long-term population dynamics of sugar maple (Acer saccharum). For Ecol Manag 255:3589–3596

Münzbergová Z, Hadincová V, Wild J, Kindlmannová J (2013) Variability in the contribution of different life stages to population growth as a key factor in the invasion success of Pinus strobus. Plos One 8:e56953

Pfister CA (1998) Patterns of variance in stage-structured populations: evolutionary predictions and ecological implications. Proc Natl Acad Sci USA 95:213–218

Platt WJ, Evans GW, Rathbun S (1988) The population dynamics of a long-lived conifer (Pinus palustris). Am Nat 131:491–525

Ramula S, Lehtila K (2005) Matrix dimensionality in demographic analysis of plants: when to use smaller matrices? Oikos 111:563–573

Salguero-Gómez R, Casper BB (2010) Keeping shrinkage in the demographic loop. J Ecol 98:312–323

Salguero-Gómez R, de Kroon H (2010) Matrix projection models meet variation in the real world. J Ecol 98:250–254

Salguero-Gómez R, Plotkin JB (2010) Matrix dimensions bias demographic inferences: implications for comparative plant demography. Am Nat 176:710–722

Salguero-Gómez R, Jones OR, Archer CR, Buckley YM, Che-Castaldo J, Caswell H, Hodgson D, Scheuerlein A, Conde DA, Brinks E, de Buhr H, Farack C, Gottschalk F, Hartmann A, Henning A, Hoppe G, Römer G, Runge J, Ruoff T, Wille J, Zeh S, Davison R, Vieregg D, Baudisch A, Altwegg R, Colchero F, Dong M, de Kroon H, Lebreton JD, Metcalf CJE, Neel MM, Parker IM, Takada T, Valverde T, Vélez-Espino LA, Wardle GM, Franco M, Vaupel JW (2015) The COMPADRE plant matrix database: an open online repository for plant demography. J Ecol 103:202–218

Salguero-Gómez R, Jones OR, Jongejans E, Blomberg SP, Hodgson DJ, Mbeau-Ache C, Zuidema PA, de Kroon H, Buckley YM (2016) Fast–slow continuum and reproductive strategies structure plant life-history variation worldwide. Proc Natl Acad Sci USA 113:230–235

Silvertown J, Franco M (1993) Plant demography and habitat: a comparative approach. Plant Species Biol 8:67–73

Silvertown J, Franco M, Pisanty I, Mendoza A (1993) Comparative plant demography–relative importance of life-cycle components to the finite rate of increase in woody and herbaceous perennials. J Ecol 81:465–476

Silvertown J, Franco M, Menges E (1996) Interpretation of elasticity matrices as an aid to the management of plant populations for conservation. Conserv Biol 10:591–597

Takada T (1995) Evolution of semelparous and iteroparous perennial plants: comparison between the density-independent and density-dependent dynamics. J Theor Biol 173:51–60

van Mantgem PJ, Stephenson NL (2005) The accuracy of matrix population model projections for coniferous trees in the Sierra Nevada, California. J Ecol 93:737–747

van Groenendael J, de Kroon H, Kalisz S, Tuljapurkar S (1994) Loop analysis: evaluating life history pathways in population projection matrices. Ecology 75:2410–2415

Yokomizo H, Takada T, Fukaya K, Lambrinos JG (2017) The influence of time since introduction on the population growth of introduced species and the consequences for management. Popul Ecol 59:89–97
Acknowledgements
We sincerely thank Dr. Motohide Seki, Hiroyuki Yokomizo, Keiichi Fukaya and Yuya Tachiki for their valuable suggestions. We thank the Max Planck Institute for Demographic Research for the development and curation of the COMPADRE Plant Matrix Database. TT was supported in part by JSPS KAKENHI (Grant Numbers JP26291087 and JP15H04418). RSG was supported by the Australian Research Council (DE140100505) and the UK NERC (R/142195-11-1).
Electronic supplementary material
Below is the link to the electronic supplementary material.
About this article
Cite this article
Takada, T., Kawai, Y. & Salguero-Gómez, R. A cautionary note on elasticity analyses in a ternary plot using randomly generated population matrices. Popul Ecol 60, 37–47 (2018). https://doi.org/10.1007/s10144-018-0619-4
Received:

Accepted:

Published:

Issue Date:
Keywords
COMPADRE plant matrix database

Comparative biology

Demographic simulation

Elasticity vector distribution

Population matrix models