Abstract
Spatial variation in habitat quality and anthropogenic factors, as well as social structure, can lead to spatially structured populations of animals. Demographic approaches can be used to improve our understanding of the dynamics of spatially structured populations and help identify subpopulations critical for the long-term persistence of regional metapopulations. We provide a regional metapopulation analysis to inform conservation management for Masai giraffes (Giraffa camelopardalis tippelskirchi) in five subpopulations defined by land management designations. We used data from an individual-based mark–recapture study to estimate subpopulation sizes, subpopulation growth rates, and movement probabilities among subpopulations. We assessed the source–sink structure of the study population by calculating source–sink statistics, and we created a female-based matrix metapopulation model composed of all subpopulations to examine how variation in demographic components of survival, reproduction, and movement affected metapopulation growth rate. Movement data indicated no subpopulation was completely isolated, but movement probabilities varied among subpopulations. Source–sink statistics and net flow of individuals indicated three subpopulations were sources, while two subpopulations were sinks. We found areas with higher wildlife protection efforts and fewer anthropogenic impacts were sources, and less-protected areas were identified as sinks. Our results highlight the importance of identifying source–sink dynamics among subpopulations for effective conservation planning and emphasize how protected areas can play an important role in sustaining metapopulations.
This is a preview of subscription content, log in to check access.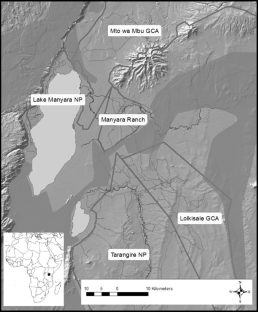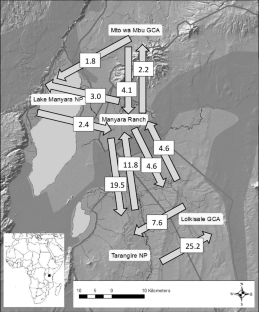 References
Arnason AN (1973) The estimation of population size, migration rates and survival in a stratified population. Res Popul Ecol 15:1–8

Balmford A, Cowling RM (2006) Fusion or failure? The future of conservation biology. Conserv Biol 20:692–695

Bolger DT, Morrison TA, Vance B, Lee D, Farid H (2012) A computer–assisted system for photographic mark–recapture analysis. Methods Ecol Evol 3:812–822

Bond ML, Strauss MK, Lee DE (2016) Soil correlates and mortality from giraffe skin disease in Tanzania. J Wildl Dis 52:953–958

Bonenfant C, Gaillard JM, Coulson T, Festa-Bianchet M, Loison A, Garel M, Loe LE, Blanchard P, Pettorelli N, Owen-Smith N, Du Toit J (2009) Empirical evidence of density–dependence in populations of large herbivores. Adv Ecol Res 41:313–357

Borner M (1985) The increasing isolation of Tarangire National Park. Oryx 19:91–96

Brown JH, Kodric-Brown A (1977) Turnover rates in insular biogeography: effect of immigration on extinction. Ecology 58:445–449

Brown JS, Kotler BP (2004) Hazardous duty pay and the foraging cost of predation. Ecol Lett 7:999–1014

Brownie C, Hines JE, Nichols JD, Pollock KH, Hestbeck JB (1993) Capture–recapture studies for multiple strata including non-Markovian transitions. Biometrics 1:1173–1187

Caswell H (2001) Matrix population models: construction, analysis and interpretation, 2nd edn. Sinauer Associates, Sunderland

Caughley G (1977) Analysis of vertebrate populations. Wiley, Chichester

Clutton-Brock T, Sheldon BC (2010) Individuals and populations: the role of long-term, individual-based studies of animals in ecology and evolutionary biology. Trends Ecol Evol 25:562–573

Constanti AL, VanBeest FM, Vander Wal E, McLoughlin PD (2013) Identifying hidden sinks in growing populations from individual fates and movements: the feral horses of Sable Island. J Wildl Manage 77:1545–1552

Dagg AI (2014) Giraffe biology, behavior and conservation. Cambridge University Press, New York

Dagg AI, Foster JB (1976) The giraffe: its biology, behavior, and ecology. Van Nostrand Reinhold, New York

de Kroon H, Van Groenendael J, Ehrlén J (2000) Elasticities: a review of methods and model limitations. Ecology 81:607–618

Delibes M, Gaona P, Ferreras P (2001) Effects of an attractive sink leading into maladaptive habitat selection. Am Nat 158:277–285

Driscoll DA (2007) How to find a metapopulation. Can J Zool 85:1031–1048

Fahrig L, Paloheimo J (1988) Determinants of local population size in patchy habitats. Theor Popul Biol 34:194–213

Foley CAH, Faust LJ (2010) Rapid population growth in an elephant Loxodonta africana population recovering from poaching in Tarangire National Park, Tanzania. Oryx 44:205–212

Foster JB (1966) The giraffe of Nairobi National park: home range, sex ratios, the herd, and food. East Afr Wildl J 4:139–148

Fryxell JM (1991) Forage quality and aggregation by large herbivores. Am Nat 138:478–498

Gaillard JM, Festa-Bianchet M, Yoccoz NG (1998) Population dynamics of large herbivores: variable recruitment with constant adult survival. Trends Ecol Evol 13:58–63

Gamassa DGM (1995) Blockade of wildlife migration corridors by agricultural development in Northern Tanzania. In: Bisonette J, Krausman P (eds) Integrating people and wildlife for a sustainable future. The Wildlife Society, Bethesda, pp 609–613

Gilpin ME, Hanski I (1991) Metapopulation dynamics: empirical and theoretical investigations. Linnaean Society of London and Academic Press, London

Goodman D (1987) The demography of chance extinction. In: Soulé ME (ed) Viable populations for conservation. Cambridge University Press, Cambridge, pp 11–34

Greenwood PJ (1980) Mating systems, philopatry and dispersal in birds and mammals. Anim Behav 28:1140–1162

Griffin PC, Mills LS (2009) Sinks without borders: snowshoe hare dynamics in a complex landscape. Oikos 118:1487–1498

Gunderson G, Johannesen E, Andreassen HP, Ims RA (2001) Source–sink dynamics: how sinks affect demography of sources. Ecol Lett 4:14–21

Hanski I, Gilpin M (1991) Metapopulation dynamics: brief history and conceptual domain. Bio J Linnean Soc 42:3–16

Harrison S (1994) Metapopulations and conservation. In: Edwards PJ, May RM, Webb N (eds) Large scale ecology and conservation biology. Blackwell Science Ltd, Oxford, pp 111–128

Hess GR (1996) Linking extinction to connectivity and habitat destruction in metapopulation models. Am Nat 148:226–236

Holt RD (1985) Population dynamics in two–patch environments: some anomalous consequences of an optimal habitat distribution. Theor Pop Biol 28:181–208

Hood GM (2010) PopTools version 3.2.5. http://www.poptools.org. Accessed 8 Jan 2017

Howe RW, Davis GJ, Mosca V (1991) The demographic significance of 'sink' populations. Biol Conserv 57:239–255

Johnson DM (2004) Source–sink dynamics in a temporally heterogeneous environment. Ecology 85:2037–2045

Kendall WL, Bjorkland R (2001) Using open robust design models to estimate temporary emigration from capture–recapture data. Biometrics 57:1113–1122

Kendall WL, Pollock KH, Brownie C (1995) A likelihood-based approach to capture–recapture estimation of demographic parameters under the robust design. Biometrics 51:293–308

Kiffner C, Peters L, Stroming A, Kioko J (2015) Bushmeat consumption in the Tarangire-Manyara Ecosystem, Tanzania. Trop Conserv Sci 8:318–332

Lamprey HF (1963) The Tarangire game reserve. Tangan Notes Rec 60:10–22

Lande R, Barrowclough GF (1987) Effective population size, genetic variation, and their use in population management. In: Soulé ME (ed) Viable populations for conservation. Cambridge University Press, Cambridge, pp 87–123

Lebreton J, Nichols JD, Barker RJ, Pradel R, Spendelow JA (2009) Modeling individual animal histories with multistate capture–recapture models. Adv Ecol Res 41:87–173

Lee DE, Bond ML (2016) Precision, accuracy, and costs of survey methods for giraffe Giraffa camelopardalis. J Mammal 97:940–948

Lee DE, Strauss MKL (2016) Giraffe demography and population ecology. Reference module in earth systems and environmental sciences. Elsevier, Amsterdam. doi:10.1016/B978-0-12-409548-9.09721-9. Accessed 15 Apr 2017, Available via Science Direct

Lee DE, Bond ML, Kissui BM, Kiwango YA, Bolger DT (2016) Spatial variation in giraffe demography: a test of two paradigms. J Mammal 97:1015–1025

Levins R (1969) Some demographic and genetic consequences of environmental heterogeneity for biological control. Bull Entomol SocAm 15:237–240

Lidicker WZ (1975) The role of dispersal in the demography of small mammals. In: Galley FB, Petrusewicz K, Ryszkowski L (eds) Small mammals: their productivity and population dynamics. Cambridge University Press, Cambridge, pp 103–128

Lowe WH (2003) Linking dispersal to local population dynamics: a case study using a headwater salamander system. Ecology 84:2145–2154

Martin K, Stacey PB, Braun CE (2000) Recruitment, dispersal, and demographic rescue in spatially–structured white-tailed ptarmigan populations. Condor 102:503–516

Merriam G (1991) Corridors and connectivity: animal populations in heterogeneous environments. In: Saunders DA, Hobbs RJ (eds) Nature conservation 2: the role of corridors. Surrey Beatty and Sons, Chipping Norton, pp 133–142

Morrison TA, Bolger DT (2012) Wet season range fidelity in a tropical migratory ungulate. J Anim Ecol 81:543–552

Morrison TA, Link WA, Newmark WD, Foley CAH, Bolger DT (2016) Tarangire revisited: Consequences of declining connectivity in a tropical ungulate population. Biol Conserv 197:53–60

Msoffe FU, Kifugo SC, Said MY, Ole Neselle M, Van Gardingen P, Said RS, Ogutu JO, Herero M, de Leeuw J (2011) Drivers and impacts of land-use change in the Maasai Steppe of northern Tanzania: an ecological, social, and political analysis. J Land Use 6:261–281

Naranjo EJ, Bodmer RE (2007) Source–sink systems and conservation of hunted ungulates in the Lacandon Forest, Mexico. Biol Conserv 138:412–420

Nelson F, Foley C, Foley LS, Leposo A, Loure E, Peterson D, Peterson M, Peterson T, Sachedina H, Williams A (2010) Payments for ecosystem services as a framework for community-based conservation in Northern Tanzania. Conserv Biol 24:78–85

Nichols JD, Hines JE, Lebreton J–D, Pradel R (2000) Estimation of contributions to population growth: a reverse-time capture–recapture approach. Ecology 81:3362–3376

Ozgul A, Oli MK, Armitage KB, Blumstein DT, Van Vuren DH (2009) Influence of local demography on asymptotic and transient dynamics of a yellow-bellied marmot metapopulation. Am Nat 173:517–530

Pollock KH (1982) A capture–recapture design robust to unequal probability of capture. J Wildl Manage 46:752–757

Pradel R (1996) Utilization of capture–mark–recapture for the study of recruitment and population growth rate. Biometrics 52:703–709

Prins HHT, Loth PE (1988) Rainfall patterns as background to plant phenology in northern Tanzania. J Biogeogr 15:451–463

Pulliam H (1988) Sources, sinks, and population regulation. Am Nat 132:652–661

Pulliam HR, Danielson BJ (1991) Sources, sinks and habitat selection—a landscape perspective on population dynamics. Am Nat 137:S50–S66

R Core Development Team (2013) R: a language and environment for statistical computing. R Foundation for Statistical Computing, Vienna

Robertson BA, Hutto RL (2006) A framework for understanding ecological traps and an evaluation of existing evidence. Ecology 87:1075–1085

Rodenhouse NL, Sherry TW, Holmes RT (1997) Site–dependent regulation of population size: a new synthesis. Ecology 78:2025–2042

Roy M, Holt RD, Barfield M (2005) Temporal autocorrelation can enhance the persistence and abundance of metapopulations comprised of coupled sinks. Am Nat 166:246–261

Runge JP, Runge MC, Nichols JD (2006) The role of local populations within a landscape context: defining and classifying sources and sinks. Am Nat 167:925–938

Sanderlin JS, Waser PM, Hines JE, Nichols JD (2012) On valuing patches: estimating contributions to metapopulation growth with reverse-time capture–recapture modelling. Proc R Soc Lond B 279:480–488

Schwarz CJ, Stobo WT (1997) Estimating temporary immigration using the robust design. Biometrics 53:178–194

Sinclair ARE, Fryxell JM, Caughley G (2006) Wildlife ecology, conservation, and management, 2nd edn. Wiley–Blackwell, Hoboken

Stacey PB, Taper M (1992) Environmental variation and the persistence of small populations. Ecol Appl 2:18–29

Stoner C, Caro T, Mduma S, Mlingwa C, Sabuni G, Borner M, Schelten C (2006) Changes in large herbivore populations across large areas of Tanzania. Afr J Ecol 45:202–215

Stoner C, Caro T, Mduma S, Mlingwa C, Sabuni G, Borner M (2007) Assessment of effectiveness of protection strategies in Tanzania based on a decade of survey data for large herbivores. Conserv Biol 21:635–646

Strauss MKL, Kilewo M, Rentsch D, Packer C (2015) Food supply and poaching limit giraffe abundance in the Serengeti. Popul Ecol 57:505–516

Sutherland C, Elston DA, Lambin X (2012) Multi-scale processes in metapopulations: contributions of stage structure, rescue effect, and correlated extinctions. Ecology 93:2465–2473

Thomas CD, Kunin WE (1999) The spatial structure of populations. J Anim Ecol 68:647–657

Turgeon K, Kramer DL (2012) Compensatory immigration depends on adjacent population size and habitat quality but not on landscape connectivity. J Anim Ecol 81:1161–1170

Vie´ J-C, Hilton-Taylor C, Stuart SN (2009) Wildlife in a changing world—an analysis of the 2008 IUCN red list of threatened species. IUCN, Gland

Virgl JA, Messier F (2000) Assessment of source–sink theory for predicting demographic rates among habitats that exhibit temporal changes in quality. Can J Zool 78:1483–1493

Western D, Russell S, Cuthill I (2009) The status of wildlife in protected areas compared to non-protected areas of Kenya. PLoS One 4(7):e6140

White GC, Burnham KP (1999) Program MARK: survival estimation from populations of marked animals. Bird Study 46(Supplement):120–138

Woodroffe R, Ginsberg JR (1998) Edge effects and the extinction of populations inside protected areas. Science 280:2126–2128
Acknowledgements
This research was carried out with permission from the Tanzania Commission for Science and Technology (COSTECH), Tanzania National Parks (TANAPA), the Tanzania Wildlife Research Institute (TAWIRI), African Wildlife Foundation, Manyara Ranch Conservancy, and the villages of Selela, Lolkisale, and Emboret, under COSTECH permits 2011-106-NA-90-172, 2012-175-ER-90-172, and 2013-103-ER-90-172. I am extremely grateful to these organizations for the opportunity to conduct this research, especially J. Keyyu, V. Kakenge, A. Mwakatobe, and K. Oola at TAWIRI; F. Olekashe at Manyara Ranch Conservancy, J. Salehe at African Wildlife Foundation, and I.A. Lejora, D. Njau, S. Quolli from TANAPA. M. Bond assisted with data collection and processing. Financial support for this work was provided by Dartmouth College Graduate Studies, Fulbright U.S. Scholar Program, Sacramento Zoo, Safari West, Columbus Zoo, Cincinnati Zoo, Dartmouth College Cramer Fund, and the Explorer's Club.
Electronic supplementary material
Below is the link to the electronic supplementary material.
About this article
Cite this article
Lee, D.E., Bolger, D.T. Movements and source–sink dynamics of a Masai giraffe metapopulation. Popul Ecol 59, 157–168 (2017). https://doi.org/10.1007/s10144-017-0580-7
Received:

Accepted:

Published:

Issue Date:
Keywords
Matrix population model

Metapopulation

Population dynamics

Rescue effect

Source–sink