Abstract
Variation in timing of reproduction and subsequent juvenile survival often plays an important role in population dynamics of temperate and boreal ungulates. Tropical ungulates often give birth year round, but survival effects of birth season for tropical ungulate species are unknown. We used a population of giraffe in the Tarangire Ecosystem of northern Tanzania, East Africa to determine whether calf survival varied by season of birth. Variation in juvenile survival according to season of birth was significant, with calves born during the dry season experiencing the highest survival probability. Phenological match may confer a juvenile survival advantage to offspring born during the dry season from greater accumulated maternal energy reserves in mothers who conceive in the long rainy season, high-protein browse in the late dry-early short rainy seasons supplementing maternal and calf resources, reduced predation due to decreased stalking cover, or some combination of these. Asynchrony is believed to be the ancestral state of all ungulates, and this investigation has illustrated how seasonal variation in vegetation can affect juvenile survival and may play a role in the evolution of synchronous births.
This is a preview of subscription content, log in to check access.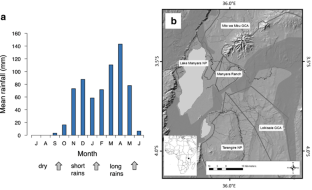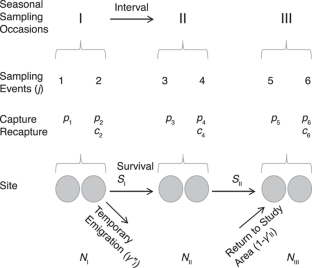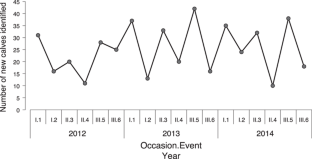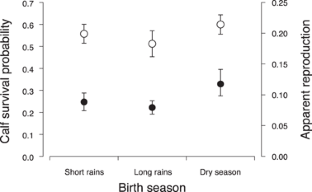 References
Aanes R, Andersen R (1996) The effects of sex, time of birth, and habitat on the vulnerability of roe deer fawns to red fox predation. Can J Zool 74:1857–1865

Arnold TW (2010) Uninformative parameters and model selection using Akaike's Information Criterion. J Wildl Manage 74:1175–1178

Asdell SA (1964) Patterns of mammalian reproduction. Cornell University Press, Ithaca

Barber-Meyer SM, Mech LD, White PJ (2008) Elk calf survival and mortality following wolf restoration to Yellowstone National Park. Wildl Monogr 169:1–30

Bell RHV (1971) A grazing ecosystem in the Serengeti. Sci Am 225:86–93

Bercovitch FB, Berry PSM (2009) Reproductive life history of Thornicroft's giraffe in Zambia. Afr J Ecol 48:535–538

Bercovitch FB, Bashaw MJ, Penny CG, Rieches RG (2004) Maternal investment in captive giraffes. J Mammal 85:428–431

Bolger DT, Morrison TA, Vance B, Lee D, Farid H (2012) A computer–assisted system for photographic mark–recapture analysis. Methods Ecol Evol 3:812–822

Bonenfant C, Gaillard J-M, Klein F, Hamann J-L (2005) Can we use the young:female ratio to infer ungulate population dynamics? An empirical test using red deer Cervus elaphus as a model. J Appl Ecol 42:361–370

Borner M (1985) The increasing isolation of Tarangire National Park. Oryx 19:91–96

Bowyer RT, van Ballenberghe V, Kie JG (1998) Timing and synchrony of parturition in Alaskan moose: long–term versus proximal effects of climate. J Mammal 79:1332–1344

Bronson FH (1985) Mammalian reproduction—an ecological perspective. Biol Repro 32:1–26

Bunnell FL (1980) Factors controlling lambing period of Dall's sheep. Can J Zool 58:1027–1031

Bunnell FL (1982) The lambing period of mountain sheep: synthesis, hypotheses, and tests. Can J Zool 60:1–14

Burnham KP, Anderson DR (2002) Model selection and multimodel inference: a practical information-theoretical approach. Springer–Verlag, New York

Buuveibaatar B, Young JE, Berger J, Fine AE, Lkhagvasuren B, Zahler P, Fuller TK (2013) Factors affecting survival and cause–specific mortality of saiga calves in Mongolia. J Mammal 94:127–136

Caswell H (2001) Matrix population models. Sinauer, Sunderland

Choquet R, Lebreton J-D, Gimenez O, Reboulet A-M, Pradel R (2009) U-CARE: Utilities for performing goodness of fit tests and manipulating CApture-REcapture data. Ecography 32:1071–1074

Clutton-Brock TH, Guinness FE, Albon SD (1983) The costs of reproduction to Red deer hinds. J Anim Ecol 52:367–383

Clutton-Brock TH, Major M, Guinness FE (1985) Population regulation in male and female red deer. J Anim Ecol 54:831–846

Clutton-Brock TH, Albon SD, Guinness FE (1988) Reproductive success in male and female red deer. In: Clutton-Brock TH (ed) Reproductive success: studies of individual variation in contrasting breeding systems. Chicago University Press, Chicago, pp 325–343

Cote SD, Festa-Bianchet M (2001) Birthdate, mass and survival in mountain goat kids: effects of maternal characteristics and forage quality. Oecologia 127:230–238

Coulson T, Albon SD, Guinness FE, Pemberton J, Clutton-Brock TH (1997) Population substructure, local density, and calf winter survival in red deer. Ecology 78:852–863

Dagg AI (2014) Giraffe biology, behavior and conservation. Cambridge University Press, New York

Dagg AI, Foster JB (1976) The giraffe: Its biology, behavior, and ecology. Van Nostrand Reinhold, New York

Dauphine TC, McClure RL (1974) Synchronous mating in Canadian barren–ground caribou. J Wildl Manage 38:54–66

del Castillo SM, Bashaw MJ, Patton ML, Rieches RR, Bercovitch FB (2005) (Giraffa camelopardalis) reproductive condition and the impact of endocrine status on daily time budgets. Gen Comp Endocr 141:271–281

Eberhardt LL (2002) A paradigm for population analysis of long–lived vertebrates. Ecology 83:2841–2854

Estes RD (1976) The significance of breeding synchrony in the wildebeest. E Afr Wildl J 14:135–152

Fairbanks WS (1993) Birthdate, birthweight, and survival in pronghorn fawns. J Mammal 74:129–135

Festa-Bianchet M (1988) Birthdate and survival in bighorn lambs (Ovis canadensis). J Zool 214:653–661

Findlay CS, Cooke F (1982) Synchrony in the lesser snow goose (Anser Caerulescens caerulescens). II the adaptive value of reproductive synchrony. Evolution 36:786–799

Foley CAH, Faust LJ (2010) Rapid population growth in an elephant Loxodonta africana population recovering from poaching in Tarangire National Park, Tanzania. Oryx 44:205–212

Foster JB (1966) The giraffe of Nairobi National Park: home range, sex ratios, the herd, and food. Afr J Ecol 4:139–148

Foster JB, Dagg AI (1972) Notes on the biology of the giraffe. Afr J Ecol 10:1–16

Gaillard JM, Yoccoz NG (2003) Temporal variation in survival of mammals: a case of environmental canalization? Ecology 84:3294–3306

Gaillard JM, Festa-Bianchet M, Yoccoz NG, Loison A, Toigo C (2000) Temporal variation in fitness components and population dynamics of large herbivores. Annu Rev Ecol Syst 31:367–393

Gamassa DGM (1995) Blockade of wildlife migration corridors by agricultural development in Northern Tanzania. In: Bisonette J, Krausman P (eds) Integrating People and Wildlife for a Sustainable Future. The Wildlife Society, Bethesda, pp 609–613

Hall-Martin AJ, Skinner JD, Van Dyke JM (1975) Reproduction in the giraffe in relation to some environmental factors. E Afr Wildl J 13:237–248

Hopcraft JG, Sinclair ARE, Packer C (2005) Planning for success: Serengeti lions seek prey accessibility rather than abundance. J Anim Ecol 74:559–566

Ims RA (1990) On the adaptive value of reproductive synchrony as a predator swamping strategy. Am Nat 136:485–498

Jönsson KI (1997) Capital and income breeding as alternative tactics of resource use in reproduction. Oikos 78:57–66

Kennish R (1997) Seasonal patterns of food availability: Influences on the reproductive output and body condition of the herbivorous crab Grapsus albolineatus. Oecologia 109:209–218

Kerby J, Post E (2013) Capital and income breeding traits differentiate trophic match–mismatch dynamics in large herbivores. Philos T Roy Soc Lon B 368:20120484

Lamprey H (1964) Estimation of the large mammal densities, biomass, and energy exchange in the Tarangire Game Reserve and the Maasai Steppe in Tanzania. E Afr Wildl J 1:3–92

Langman VA (1977) Cow–calf relationships in giraffe (Giraffa camelopardalis giraffe). Z Tierpsychol 43:264–286

Langvatn R, Mysterud A, Stenseth NC, Yoccoz NG (2004) Timing and synchrony of ovulation in red deer constrained by short northern summers. Am Nat 163:763–772

Lee DE, Strauss MKL (2016) Giraffe demography and population ecology. Reference module in earth systems and environmental sciences. Elsevier, Amsterdam. Available via ScienceDirect. 10.1016/B978-0-12-409548-9.09721-9. Accessed 3 Dec 2016

Lee DE, Bond ML, Kissui BM, Kiwango YA, Bolger DT (2016a) Spatial variation in giraffe demography: a test of two paradigms. J Mammal 97:1015–1025

Lee DE, Kissui BM, Kiwango YA, Bond ML (2016b) Migratory herds of wildebeests and zebras indirectly affect calf survival of giraffes. Ecol Evol. doi:10.1002/ece3.2561

Leuthold W, Leuthold BM (1975) Temporal patterns of reproduction in ungulates of Tsavo East National Park, Kenya. Afr J Ecol 13:159–169

Linnell JDC, Aanes R, Andersen R (1995) Who killed Bambi? The role of predation in the neonatal mortality of temperate ungulates. Wildl Biol 1:209–223

Moe SR, Rutina LP, du Toit JT (2007) Trade–off between resource seasonality and predation risk explains reproductive chronology in impala. J Zool 273:237–243

Nelson F, Foley C, Foley LS, Leposo A, Loure E, Peterson D, Peterson M, Peterson T, Sachedina H, Williams A (2010) Payments for ecosystem services as a framework for community–based conservation in northern Tanzania. Conserv Biol 24:78–85

Nichols JD (1992) Capture–recapture models: using marked animals to study population dynamics. Bioscience 42:94–102

O'Donoghue M, Boutin S (1995) Does reproductive synchrony affect juvenile survival rates of northern mammals? Oikos 74:115–121

Ogutu JO, Piepho H-P, Dublin HT, Bhola N, Reid RS (2007) El Nino–Southern Oscillation, rainfall, temperature and Normalized Difference Vegetation Index fluctuations in the Mara–Serengeti ecosystem. Afr J Ecol 46:132–143

Ogutu JO, Piepho H-P, Dublin HT (2014) Reproductive seasonality in African ungulates in relation to rainfall. Wildl Res 41:323–342

Owen-Smith N, Ogutu JO (2013) Controls over reproductive phenology among ungulates: allometry and tropical–temperate contrasts. Ecography 36:256–263

Pellew RA (1980) The production and consumption of Acacia browse and its potential for animal protein production. International symposium on browse in Africa (Addis Ababa, 1980). International Livestock Centre for Africa, Addis Ababa

Pellew RA (1983) The giraffe and its food resource in the Serengeti. I. Composition, biomass and production of available browse. Afr J Ecol 21:241–267

Pellew RA (1984a) The feeding ecology of a selective browser, the giraffe (Giraffa camelopardalis tippelskirchi). J Zool 202:57–81

Pellew RA (1984b) Food consumption and energy budgets of the giraffe. J Appl Ecol 21:141–159

Petorelli N, Gaillard JM, Yoccoz NG, Duncan DM, Maillard D, Delorme D, Van Laere G, Toigo C (2005) The response of fawn survival to changes in habitat quality varies according to cohort: quality and spatial scale. J Anim Ecol 74:972–981

Pianka ER (1976) Natural selection of optimal reproductive tactics. Am Zool 4:775–784

Pollock KH (1982) A capture–recapture design robust to unequal probability of capture. J Wildl Manage 46:752–757

Post E, Boving PS, Pedersen C, MacArthur MA (2003) Synchrony between caribou calving and plant phenology in depredated and non–depredated populations. Can J Zool 81:1709–1714

Pratt DM, Anderson VH (1979) Giraffe cow-calf relationships and social development of the calf in the Serengeti. Z Tierpsychol 51:233–251

Prins HHT (1987) Nature conservation as an integral part of optimal land use in East Africa: the case of the Masai Ecosystem of northern Tanzania. Biol Conserv 40:141–161

R Core Development Team (2013) R: A language and environment for statistical computing. R Foundation for Statistical Computing, Vienna

Raithel JD, Kauffman MJ, Pletscher DH (2007) Impact of spatial and temporal variation in calf survival on the growth of elk populations. J Wildl Manage 71:795–803

Roff DA (1992) The evolution of life histories. Theory and analysis. Chapman and Hall, New York

Rutherford MC (1980) Annual plant production – precipitation relations in arid and semi–arid regions. S Afr J Sci 76:53–56

Ryan SJ, Knechtel CU, Getz WM (2007) Ecological cues, gestation length, and birth timing in African buffalo (Syncerus caffer). Behav Ecol 18:635–644

Sadleir RMFS (1969) The ecology of reproduction in wild and domesticated mammals. Methuen, London

Santiago-Moreno J, Gomez-Brunet A, Toledano-Díaz A, Picazo R, Gonzalez-Bulnes A, Lopez-Sebastian A (2006) Seasonal endocrine changes and breeding activity in Mediterranean wild ruminants. Repro Dom Anim 41:72–81

Sinclair ARE (1975) The resource limitation of trophic levels in tropical grassland ecosystems. J Anim Ecol 44:497–520

Sinclair ARE, Mduma SAR, Arcese P (2000) What determines phenology and synchrony of ungulate breeding in Serengeti? Ecology 81:2100–2111

Smith BL, Anderson SH (1998) Juvenile survival and population regulation of the Jackson elk herd. J Wildl Manage 62:1036–1045

Stearns SC (1992) The evolution of life histories. Oxford University Press, Oxford

Strauss MKL, Kilewo M, Rentsch D, Packer C (2015) Food supply and poaching limit giraffe abundance in the Serengeti. Popul Ecol 57:505–516

Sugden LG (1961) The California bighorn in British Columbia with particular reference to the Churn Creek herd. British Columbia Department of Recreation and Conservation, Victoria

TAWIRI (2011) Aerial survey in the Tarangire-Manyara ecosystem. Tanzania Wildlife Research Institute, Conservation Information and Monitoring Unit, Arusha

White GC, Burnham KP (1999) Program MARK: survival estimation from populations of marked animals. Bird Study 46(Supplement):120–138

Wittemyer G, Rasmussen HB, Douglas-Hamilton I (2007) Breeding phenology in relation to NDVI variability in free–ranging African elephant. Ecography 30:42–50

Zerbe P, Clauss M, Codron D, Lackey LB, Rensch E, Streich JW, Hatt J-M, Muller DWH (2012) Reproductive seasonality in captive wild ruminants: implications for biogeographical adaptation, photoperiod control, and life history. Biol Rev 87:965–990
Acknowledgements
This research was carried out with permission from the Tanzania Commission for Science and Technology (COSTECH), Tanzania National Parks (TANAPA), the Tanzania Wildlife Research Institute (TAWIRI), African Wildlife Foundation, Manyara Ranch Conservancy, and the villages of Selela, Lolkisale, and Emboret, under COSTECH permits 2011-106-NA-90-172, 2012-175-ER-90-172, and 2013-103-ER-90-172. We are extremely grateful to J. Keyyu, V. Kakenge, A. Mwakatobe, and K. Oola at TAWIRI; F. Olekashe at MRC, J. Salehe at African Wildlife Foundation, and I. Lejora, D. Njau, S. Quolli from TANAPA. Financial support was provided by Dartmouth College Graduate Studies, Fulbright U.S. Scholar Program, Sacramento Zoo, Safari West, Columbus Zoo, Cincinnati Zoo, Tulsa Zoo, Dartmouth College Cramer Fund, and the Explorer's Club.
About this article
Cite this article
Lee, D.E., Bond, M.L. & Bolger, D.T. Season of birth affects juvenile survival of giraffe. Popul Ecol 59, 45–54 (2017). https://doi.org/10.1007/s10144-017-0571-8
Received:

Accepted:

Published:

Issue Date:
Keywords
Giraffe

Juvenile survival

Match-mismatch

Population dynamics

Reproduction

Reproductive timing