Abstract
Abandonment of traditional land-use practices can have strong effects on the abundance of species occurring in agricultural landscapes. However, the precise mechanisms by which individual performance and population dynamics are affected are still poorly understood. To assess how abandonment affects population dynamics of Succisa pratensis we used data from a 4-year field study in both abandoned and traditionally grazed areas in moist and mesic habitats to parameterize integral projection models. Abandoned populations had a lower long-term stochastic population growth rate (λ S = 0.90) than traditionally managed populations (λ S = 1.08), while λ S did not differ between habitat types. The effect of abandonment differed significantly between years and had opposed effects on different vital rates. Individuals in abandoned populations experienced higher mortality rates and lower seedling establishment, but had higher growth rates and produced more flower heads per plant. Population viability analyses, based on a population survey of the whole study area in combination with our demographic models, showed that 32 % of the populations face a high risk of extinction (>80 %) within 20 years. These results suggest that immediate changes in management are needed to avoid extinctions and further declines in population sizes. Stochastic elasticity analyses and stochastic life table response experiments indicated that management strategies would be most effective if they increase survival of small plants as well as seedling establishment, while maintaining a high seed production. This may be achieved by varying the grazing intensity between years or excluding grazers when plants are flowering.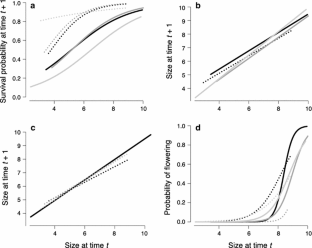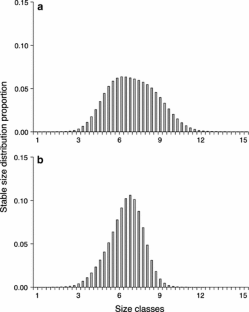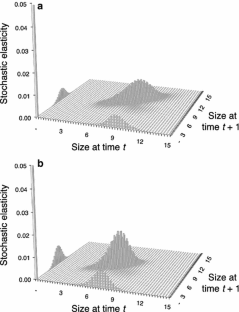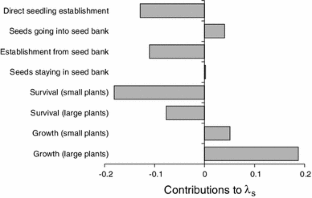 References
Adams AW (1955) Succisa pratensis Moench. J Ecol 43:709–718

Aptroot A, Dobben HF, Slim PA, Olff H (2007) The role of cattle in maintaining plant species diversity in wet dune valleys. Biodivers Conserv 16:1541–1550

Auestad I, Rydgren K, Jongejans E, de Kroon H (2010) Pimpinella saxifraga is maintained in road verges by mosaic management. Biol Conserv 143:899–907

Billeter R, Hooftman DAP, Diemer M (2003) Differential and reversible responses of common fen meadow species to abandonment. Appl Veg Sci 6:3–12

Brys R, Jacquemyn H, Endels P, Blust GD, Hermy M (2004) The effects of grassland management on plant performance and demography in the perennial herb Primula veris. J Appl Ecol 41:1080–1091

Caswell H (2001) Matrix population models: construction, analysis, and interpretation. Sinauer Associates, Sunderland

Caswell H (2010) Life table response experiment analysis of the stochastic growth rate. J Ecol 98:324–333

Coulson T (2012) Integral projections models, their construction and use in posing hypotheses in ecology. Oikos 121:1337–1350

Cousins SAO (2001) Analysis of land-cover transitions based on 17th and 18th century cadastral maps and aerial photographs. Landsc Ecol 16:41–54

Cousins SAO, Eriksson O (2001) Plant species occurrences in a rural hemiboreal landscape: effects of remnant habitats, site history, topography and soil. Ecography 24:461–469

Cousins SAO, Eriksson O (2002) The influence of management history and habitat on plant species richness in a rural hemiboreal landscape, Sweden. Landsc Ecol 17:517–529

Davison R, Jacquemyn H, Adriaens D, Honnay O, de Kroon H, Tuljapurkar S (2010) Demographic effects of extreme weather events on a short-lived calcareous grassland species: stochastic life table response experiments. J Ecol 98:255–267

Diebel J, Norda J (2013) WeatherSpark. http://weatherspark.com/

Easterling MR, Ellner SP, Dixon PM (2000) Size-specific sensitivity: applying a new structured population model. Ecology 81:694–708

Ehrlén J, Syrjänen K, Leimu R, Garcia MB, Lehtilä K (2005) Land use and population growth of Primula veris: an experimental demographic approach. J Appl Ecol 42:317–326

Ellner SP, Rees M (2006) Integral projection models for species with complex demography. Am Nat 167:410–428

Eriksson O, Cousins SAO, Bruun HH (2002) Land-use history and fragmentation of traditionally managed grasslands in Scandinavia. J Veg Sci 13:743–748

Hamre LN, Rydgren K, Halvorsen R (2010) The effects of mulching and abandonment on the viability of the perennial grassland species Plantago lanceolata. Plant Ecol 211:147–158

Hansson M, Fogelfors H (2000) Management of a semi-natural grassland; results from a 15-year-old experiment in southern Sweden. J Veg Sci 11:31–38

Helm A, Hanski I, Pärtel M (2006) Slow response of plant species richness to habitat loss and fragmentation. Ecol Lett 9:72–77

Herben T, Münzbergová Z, Mildén M, Ehrlén J, Cousins SAO, Eriksson O (2006) Long-term spatial dynamics of Succisa pratensis in a changing rural landscape: linking dynamical modelling with historical maps. J Ecol 94:131–143

Hilbert DW, Swift DM, Detling JK, Dyer MI (1981) Relative growth rates and the grazing optimization hypothesis. Oecologia 51:14–18

Hooftman DAP, van Kleunen M, Diemer M (2003) Effects of habitat fragmentation on the fitness of two common wetland species, Carex davalliana and Succisa pratensis. Oecologia 134:350–359

Jacquemyn H, Brys R, Hermy M (2003) Short-term effects of different management regimes on the response of calcareous grassland vegetation to increased nitrogen. Biol Conserv 111:137–147

Jacquemyn H, Brys R, Davison R, Tuljapurkar S, Jongejans E (2012) Stochastic LTRE analysis of the effects of herbivory on the population dynamics of a perennial grassland herb. Oikos 121:211–218

Johansson VA, Cousins SAO, Eriksson O (2011) Remnant populations and plant functional traits in abandoned semi-natural grasslands. Folia Geobot 46:165–179

Jongejans E, de Kroon H (2005) Space versus time variation in the population dynamics of three co-occurring perennial herbs. J Ecol 93:681–692

Lehtilä K, Syrjanen K, Leimu R, Garcia MB, Ehrlén J (2006) Habitat change and demography of Primula veris: identification of management targets. Conserv Biol 20:833–843

Lennartsson T, Oostermeijer JGB (2001) Demographic variation and population viability in Gentianella campestris: effects of grassland management and environmental stochasticity. J Ecol 89:451–463

McDonald AW, Bakker JP, Vegelin K (1996) Seed bank classification and its importance for the restoration of species-rich flood-meadows. J Veg Sci 7:157–164

Menges ES (1992) Stochastic modeling of extinction in plant populations. In: Fiedler PL, Jain SK (eds) Conservation biology: the theory and practice of nature conservation, preservation, and management. Chapman and Hall, New York, pp 253–275

Metcalf CJE, McMahon SM, Salguero-Gómez R, Jongejans E (2013) IPMpack: an R package for integral projection models. Method Ecol Evol 4:195–200

Mildén M (2005) Local and regional dynamics of Succisa pratensis. Ph.D. Thesis. Stockholm University, Sweden

Mildén M, Münzbergová Z, Herben T, Ehrlén J (2006) Metapopulation dynamics of a perennial plant, Succisa pratensis, in an agricultural landscape. Ecol Model 199:464–475

Mildén M, Cousins SAO, Eriksson O (2007) The distribution of four grassland plant species in relation to landscape history in a Swedish rural area. Ann Bot Fenn 44:416–426

Morris WF, Doak DF (2002) Quantitative conservation biology: theory and practice of population viability analysis. Sinauer Associates, Sunderland

Muller S, Dutoit T, Alard D, Grévilliot F (1998) Restoration and rehabilitation of species-rich grassland ecosystems in France: a review. Restor Ecol 6:94–101

Oesterheld M, Sala OE (1990) Effects of grazing on seedling establishment: the role of seed and safe-site availability. J Veg Sci 1:353–358

Oostermeijer JGB, Brugman ML, de Boer ER, den Nijs HCM (1996) Temporal and spatial variation in the demography of Gentiana pneumonanthe, a rare perennial herb. J Ecol 84:153–166

Overbeck G, Kiehl K, Abs C (2003) Seedling recruitment of Succisella inflexa in fen meadows: importance of seed and microsite availability. Appl Veg Sci 6:97–104

Ramula S, Rees M, Buckley YM (2009) Integral projection models perform better for small demographic data sets than matrix population models: a case study of two perennial herbs. J Appl Ecol 46:1048–1053

R Development Core Team (2012) R: a language and environment for statistical computing. http://www.r-project.org/

Rees M, Ellner SP (2009) Integral projection models for populations in temporally varying environments. Ecol Monogr 79:575–594

Schleuning M, Matthies D (2008) Habitat change and plant demography: assessing the extinction risk of a formerly common grassland perennial. Conserv Biol 23:174–183

Silvertown J, Franco M, Pisanty I, Mendoza A (1993) Comparative plant demography—relative importance of life-cycle components to the finite rate of increase in woody and herbaceous perennials. J Ecol 81:465–476

Stubben C, Milligan B (2007) Estimating and analyzing demographic models using the popbio package in R. J Stat Softw 22:1–23

Tuljapurkar S, Horvitz CC, Pascarella JB (2003) The many growth rates and elasticities of populations in random environments. Am Nat 162:489–502

Wallin L, Svensson BM (2012) Reinforced traditional management is needed to save a declining meadow species. A demographic analysis. Folia Geobot 47:231–247

Wallin L, Svensson BM, Lönn M (2009) Artificial dispersal as a restoration tool in meadows: sowing or planting? Restor Ecol 17:270–279

Williams JL, Miller TEX, Ellner SP (2012) Avoiding unintentional eviction from integral projection models. Ecology 93:2008–2014
Acknowledgments
This study was supported by EU project TRANSPLANT (EVK2-CT-1999-00004) and an ERASMUS Placement Scholarship from the University of Amsterdam. We would like to thank Jelle S. van Zweden, Gerard Oostermeijer, Hans Jacquemyn and two reviewers for comments that improved the manuscript.
Electronic supplementary material
Below is the link to the electronic supplementary material.
About this article
Cite this article
van der Meer, S., Dahlgren, J.P., Mildén, M. et al. Differential effects of abandonment on the demography of the grassland perennial Succisa pratensis . Popul Ecol 56, 151–160 (2014). https://doi.org/10.1007/s10144-013-0400-7
Received:

Accepted:

Published:

Issue Date:
Keywords
Grazing

Integral projection models (IPM)

Management

Population dynamics

Population viability

Stochasticity