Abstract
The knowledge of the state of biodiversity on the globe is based on a large number of monitoring schemes. Quite often the results of these schemes are sensitive to the timing of monitoring due to the phenology of species, which in turn may affect the detectability of species during censuses. As global warming has been shown to cause changes in phenology, there is an increasing risk that species detectability will be altered if the timing of monitoring is not adapted to this change. I tested how sensitive species detectability is to the timing of censuses and whether there are potential climate-driven temporal changes in the detectability of 73 Finnish land bird species monitored using single-visit line-transects in 1987–2010. This was done by investigating seasonal and annual patterns in the proportion of birds in the main belt and those detected by displaying activity. Over 20 of the study species showed significant changes in detectability within the census season. However, only three species showed a significant trend in annual detectability. According to multi-species analyses there was a slight but significant increasing trend in the proportion of displaying birds and a slight decreasing trend in the proportion of birds in the main belt. However, the observed species-specific annual changes in displaying activity or in proportion of birds in main belt were not associated with the observed population trends of species during the same period. Nevertheless, the findings highlight a strong potential risk that species detectability can change if climate change escalates in the future. I recommend researchers to investigate how sensitive their monitoring systems are for phenological changes and prepare tools for taking potential changes in detectability into account.
Access options
Buy single article
Instant access to the full article PDF.
USD 39.95
Price excludes VAT (USA)
Tax calculation will be finalised during checkout.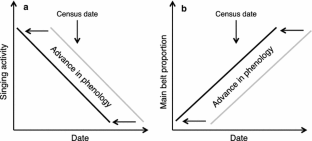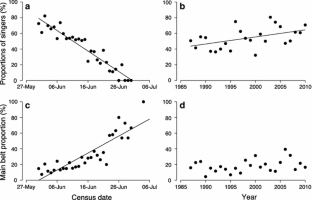 References
Ahola M, Laaksonen T, Sippola K, Eeva T, Rainio K, Lehikoinen E (2006) Variation in climate warming along the migration route uncouples arrival and breeding dates. Global Change Biol 10:1610–1617

Both C, Bouwhuis S, Lessells CM, Visser ME (2006) Climate change and population declines in a longdistance migratory bird. Nature 441:81–83

Both C, van Asch M, Bijlsma RG, van den Burg AB, Visser ME (2009) Climate change and unequal phenological changes across four trophic levels: constraints or adaptations? J Anim Ecol 78:73–83

Butchart SHM, Walpole M, Collen B, van Strien A, Scharlemann JPW, Almond REA, Baillie JEM, Bomhard B, Brown C, Bruno J, Carpenter KE, Carr GM, Chanson J, Chenery AM, Csirke J, Davidson NC, Dentener F, Foster M, Galli A, Galloway JN, Genovesi P, Gregory RD, Hockings M, Kapos V, Lamarque JF, Leverington F, Loh J, McGeoch MA, McRea L, Minasyan A, Morcillo MH, Oldfield TEE, Pauly D, Quader S, Revenga C, Sauer JR, Skolnik B, Spear D, Stanwell-Smith D, Stuart SN, Symes A, Tierney M, Tyrrell M, Vie JC, Watson R (2010) Global biodiversity: indicators of recent declines. Science 328:1164–1168

Butler SJ, Boccaccio L, Gregory RD, Voříšek P, Norris K (2010) Quantifying the impact of land-use change to European farmland bird populations. Agric Ecosyst Environ 137:348–357

Dunn P (2004) Breeding date and reproductive performance. Adv Ecol Res 35:69–87

Dunn PO, Winkler DW (2010) Effects of climate change on timing of breeding and reproductive success in birds. In: Møller AP, Fiedler W, Berthold P (eds) Effects of climate change on birds. Oxford University Press, Oxford, pp 113–128

Gregory RD, van Strien A (2010) Wild bird indicators: using composite population trends of birds as measures of environmental health. Ornithol Sci 9:3–22

Gregory RD, Voříšek, Noble D, van Strien, Klvanova A, Eaton M, Meyling AWG, Joys A, Foppen RPB, Burfield IJ (2008) The generation and use of bird population indicators in Europe. Bird Conserv Int 18:S223–S244

Gregory RD, Willis SG, Jiguet F, Voříšek P, Klvanova A, van Strien A, Huntley B, Collingham YC, Couvet D, Green RE (2009) An indicator of the impact of climatic change on European bird populations. PLoS ONE 4:e4678

Holm S (1979) A simple sequentially rejective multiple test procedure. Scand J Stat 6:65–70

Järvinen O, Väisänen RA (1975) Estimating relative densities of breeding birds by line transect method. Oikos 26:316–322

Järvinen O, Väisänen RA (1983) Correction coefficients for line transect censuses of breeding birds. Ornis Fenn 60:97–104

Jonzén N, Lindén A, Ergon T, Knudsen E, Vik JO, Rubolini D, Piacentini D, Brinch C, Spina F, Karlsson L, Stervander M, Andersson A, Waldenström J, Lehikoinen A, Edvardsen E, Solvang R, Stenseth NC (2006) Rapid advance of spring arrival dates in long-distance migratory birds. Science 312:1959–1961

Koskimies P, Väisänen RA (1991) Monitoring bird populations. Zoological Museum, Finnish Museum of Natural History, Helsinki

Lehikoinen E, Sparks T (2010) Changes in timing. In: Møller AP, Fiedler W, Berthold P (eds) Effects of climate change on birds. Oxford University Press, Oxford, pp 89–112

Lehikoinen E, Sparks TH, Zalakevicius M (2004) Arrival and departure dates. Adv Ecol Res 35:1–31

Lehikoinen A, Byholm P, Ranta E, Saurola P, Valkama J, Korpimäki E, Pietiäinen H, Henttonen H (2009) Reproduction of the common buzzard at its northern range margin under climate change. Oikos 118:829–836

Lehikoinen A, Saurola P, Valkama J, Lindén A, Byholm P (2010) Life history events of the Eurasian sparrowhawk in changing climate. J Avian Biol 41:627–636

Ludwig GX, Alatalo RV, Helle P, Lindén H, Lindström J, Siitari H (2006) Short- and long-term population dynamical consequences of asymmetric climate change in black grouse. Proc R Soc B 273:2009–2016

Møller AP, Rubolini D, Lehikoinen E (2008) Populations of migratory bird species that did not show a phenological response to climate change are declining. Proc Natl Acad Sci USA 105:16195–16200

Pannekoek J, van Strien A (2001) TRIM 3 manual (Trends & indices for monitoring data). Statistics Netherlands, Voorburg (available at http://www.ebcc.info/trim.html)

Parmesan C (2006) Ecological and evolutionary responses to recent climate change. Annu Rev Ecol Evol Syst 37:637–669

Saino N, Ambrosini R, Hüppop K, Hüppop O, Lehikoinen E, Lehikoinen A, Provenzale A, Rainio K, Romano M, Rubolini D, von Hardenberg J, Sokolov L (2010) Climate warming, ecological mismatch at arrival and population decline in migratory birds. Proc R Soc B 278:835–842

Solonen T (1985) Suomen linnusto. Lintutieto, Helsinki (in Finnish)

Thomas L, Buckland ST, Rexstad EA, Laake JL, Strindberg S, Hedley SL, Bishop JRB, Marques TA, Burnham KP (2010) Distance software: design and analysis of distance sampling surveys for estimating population size. J Appl Ecol 47:5–14

Väisänen RA (2006) Monitoring population changes of 86 land bird species breeding in Finland in 1983–2005. Linnut-vuosikirja 2005:83–98 (in Finnish with English summary)

Väisänen RA (2009) Detecting changes in clutch size and laying date of the Great Tit Parus major from the long-term data of the Finnish Nest Record Scheme. Linnut-vuosikirja 2008:68–75 (in Finnish with English summary)

Valkama J, Vepsäläinen V, Lehikoinen A (2011) The third Finnish breeding bird atlas. Finnish Museum of Natural History and Ministry of Environment. http://atlas3.lintuatlas.fi/english

van Swaay CAM, Nowicki P, Settele J, van Strien A (2008) Butterfly monitoring in Europe: methods, applications and perspectives. Biodivers Conserv 17:3455–3469

Voříšek P, Klvanová A, Wotten S, Gregory RD (2008) A best practice guide for wild bird monitoring schemes, 1st edn. CSO/RSPB, Třeboň, Czech Republic
Acknowledgments
I thank numerous observers who helped collecting data in the field. Comments of two anonymous referees improved the clarity of the manuscript. Andreas Lindén helped with the statistics. Ben Steele and Kim Jaatinen kindly checked the English.
About this article
Cite this article
Lehikoinen, A. Climate change, phenology and species detectability in a monitoring scheme. Popul Ecol 55, 315–323 (2013). https://doi.org/10.1007/s10144-012-0359-9
Received:

Accepted:

Published:

Issue Date:

DOI: https://doi.org/10.1007/s10144-012-0359-9
Keywords
Biodiversity

Conservation

Global warming

Population surveys