Abstract
We tested the hypothesis that the population density of ambrosia beetles at the stand level influences the spatial distribution of infested trees. We evaluated the spatial distribution of the ambrosia beetle, Platypus koryoensis (Murayama) in three oak forest stands that varied in beetle population density using a multi-year trapping survey. We used these data to inform a clustering analysis based on aggregation indices using the SADIE software. Four important findings emerged: (1) the spatial distribution pattern of P. koryoensis at the stand level changed as the population density of the beetle varied; (2) at low population densities, beetle distribution was contagious at the stand level; (3) as beetle population densities increased, the spatial distribution of infested trees became random, potentially due to beetle avoidance of mass attacked trees; and (4) at high beetle population densities, the spatial distribution of infested trees became contagious, possibly due to temporal changes in location of the attack epicenter within the stand. Our results support the hypothesis that beetle population density has consequences for the spatial distribution of infested trees at the within-stand scale. We conclude that the spatial distribution of infested trees is flexible in response to beetle population density, suggesting that beetle attack behaviors are mediated by one or more density-dependent effects.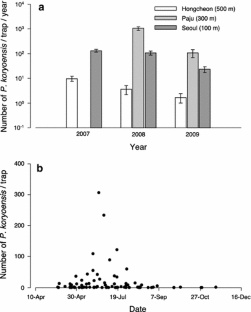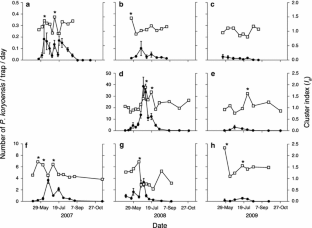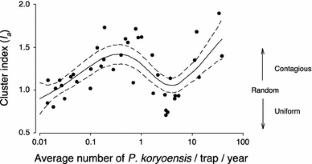 References
Akbulut S, Keten A, Yüksel B (2008) Wood destroying insects in Düzce province. Turk J Zool 32:343–350

Alfaro RI, Humble LM, Gonzalez P, Villaverde R, Allegro G (2007) The threat of the ambrosia beetle Megaplatypus mutates (Chapuis) (=Platypus mutates Chapuis) to world poplar resources. Forestry 80:471–479

Anderbrant O, Schlyter F, Birgersson G (1985) Intraspecific competition affecting parents and offspring in the bark beetle lps typographus. Oikos 45:89–98

Baker JM (1963) Ambrosia beetles and their fungi, with particular reference to Platypus cylindrus FAB. Symp Soc Gen Microbiol 13:232–265

Bentz BJ, Logan JA, Powell JA (1997) Spatial and temporal attack dynamics of the mountain pine beetle: implications for management. In: Grégoire JC, Liebhold AM, Stephen FM, Day KR, Salom SM (eds) Proceedings: integrating cultural tactics into the management of bark beetle and reforestation pests. USDA Forest Service General Technical Report NE-236, pp 153–162

Berryman AA, Dennis B, Raffa KF, Stenseth NC (1985) Evolution of optimal group attack, with particular reference to bark beetles (Coleoptera: Scolytidae). Ecology 66:898–903

Byers JA (1984) Nearest neighbor analysis and simulation of distribution patterns indicates an attack spacing mechanism in the bark beetle, Ips typographus (Coleoptera: Scolytidae). Environ Entomol 13:1191–1200

Byers JA (1996) An encounter rate model of bark beetle populations searching at random for susceptible host trees. Ecol Model 91:57–66

Choi WI, Lee JS, Choi KS, Kim JK, Shin SC (2008) Tree trunk level distribution of entry hole by Platypus koryoensis (Coleoptera: Platypodidae) and its implication to tree damage. Korean J Appl Entomol 47:127–131 (in Korean with English abstract)

Coops NC, Waring RH, Wulder MA, White JC (2009) Prediction and assessment of bark beetle-induced mortality of lodgepole pine using estimates of stand vigor derived from remotely sensed data. Remote Sens Environ 113:1058–1066

Crawley MJ (2002) Statistical computing: an introduction to data analysis using S-plus. Wiley, NY

Cressie N (1993) Statistics for spatial data. Wiley, NY

Davis TS, Hofstetter RW (2009) The effects of gallery density and species ratio on the fitness and fecundity of two sympatric bark beetles (Coleoptera: Curculionidae). Environ Entomol 38:639–650

Day MD, Zalucki MP (2000) Effect of density on spatial distribution, pit formation and pit diameter of Myrmeleon acer Walker, (Neuroptera: Myrmeleontidae): patterns and processes. Austral Ecol 25:58–64

Elkin CM, Reid ML (2010) Shifts in breeding habitat selection behaviour in response to population density. Oikos 119:1070–1080

Erbilgin N, Raffa KF (2002) Association of declining red pine stands with reduced populations of bark beetle predators, seasonal increases in root colonizing insects, and incidence of root pathogens. For Ecol Manage 164:221–236

Golden Software, Inc. (2009) Surfer 7.0 User's guide. Golden Software, Inc., Golden, CO, p 619

Hard JS (1989) Sequence of trees attacked by spruce beetles in a mature even-aged spruce stand in South-central Alaska. Northwest Sci 63:5–12

Henriques J, Inácio ML, Sousa E (2006) Ambrosia fungi in the insect-fungi symbiosis in relation to cork oak decline. Rev Iberoam Micol 23:185–188

Hirschberger P (1998) Spatial distribution, resource utilisation and intraspecific competition in the dung beetle Aphodius ater. Oecologia 116:136–142

Hong KJ, Kwon YD, Park SW, Lyu DP (2006) Platypus koryoensis (Murayama) (Platypodidae: Coleoptera), the vector of oak wilt disease. Korean J Appl Entomol 45:113–117 (in Korean with English abstract)

Hunt DWA, Borden JH (1990) Conversion of verbenols to verbenone by yeasts isolated from Dendroctonus ponderosae (Coleoptera: Scolytidae). J Chem Ecol 16:1385–1397

Kautz M, Dworschark K, Gruppe A, Schopf R (2011) Quantifying spatio-temporal dispersion of bark beetle infestations in epidemic and non-epidemic conditions. For Ecol Manage 262:598–608

Kelsey RG, Joseph G (1997) Ambrosia beetle host selection among logs of douglas fir, western hemlock, and western red cedar with different ethanol and α-pinene concentrations. J Chem Ecol 23:1035–1051

KFRI (Korea Forest Research Institute) (2009) Annual Report of Monitoring for Forest Insect Pests and Diseases in Korea. SeongMunSa, Seoul (in Korean)

Kim JH, Lee SG, Shin SC, Kwon YD, Park IK (2009) Male-produced aggregation pheromone blend in Platypus koryoensis. J Agric Food Chem 57:1406–1412

Kim JH, Lee JS, Park IK, Choi WI (2010) Influence of trap type and location on tree trunk on Platypus koryoensis (Coleoptera: Platypodidae) trapping. Korean J Appl Entomol 49:145–149 (in Korean with English abstract)

Kubono T, Ito S (2002) Raffaelea quercivora sp. nov. associated with mass mortality of Japanese oak, and the ambrosia beetle (Platypus quercivorus). Mycoscience 43:255–260

Lee J-S, Haack RA, Choi WI (2011) Attack pattern of Platypus koryoensis (Coleoptera: Platypodinae) in relation to crown dieback of Mongolian oak in Korea. Environ Entomol 40:1363–1369

Perry JN (1995) Spatial analysis by distance indices. J Anim Ecol 64:303–314

Perry JN (1998) Measures of spatial pattern for counts. Ecology 79:1008–1017

Perry JN, Dixon PM (2002) A new method to measure spatial association for ecological count data. Ecoscience 9:133–141

Perry JN, Hewitt M (1991) A new index of aggregation for animal counts. Biometrics 47:1505–1518

Perry JN, Winder L, Holland JM, Alston RD (1999) Red-blue plots for detecting clusters in count data. Ecol Lett 2:106–113

Ponel P, Orgeas J, Samways MJ, Andrieu-Ponel V, de Beaulieu JL, Reille M, Roche P, Tatoni T (2003) 110000 years of quaternary beetle diversity change. Biodivers Conserv 12:2077–2089

Pope DN, Coulson RN, Fargo WS, Gagne JA, Kelley CW (1980) The allocation process and between tree survival probabilities in Dendroctonus frontalis infestations. Res Popul Ecol 22:197–210

Raffa KF, Phillips TW, Salom SM (1993) Strategies and mechanisms of host colonization by bark beetles. In: Schowalter T, Filip G (eds) Beetle-pathogen interactions in conifer forests. Academic, San Diego, pp 103–128

Robertson C, Nelson TA, Boots B (2007) Mountain pine beetle dispersal: the spatial–temporal interaction of infestations. For Sci 53:395–405

Rossi J-P, Samalens J-C, Guyon D, van Halder I, Jactel H, Menassieu P, Piou D (2009) Multiscale spatial variation of the bark beetle Ips sexdentatus damage in a pine plantation forest (Landes de Gascogne, Southwestern France). For Ecol Manage 257:1551–1557

Safranyik L, Carroll AL (2006) The biology and epidemiology of the mountain pine beetle in lodgepole pine forests. In: Safranyik L, Wilson B (eds) The mountain pine beetle: a synthesis of biology, management, and impacts on lodgepole pine. Natural Resources Canada, Canadian Forest Service, Victoria, pp 3–66

Sallé A, Raffa KF (2007) Interactions among intraspecific competition, emergence patterns, and host selection behavior in Ips pini (Coleoptera: Scolytinae). Ecol Entomol 32:162–171

SAS institute (2004) SAS user's guide. SAS institute, Cary

Schlyter F, Birgersson G, Byers JA (1987) Field response of spruce bark beetle, Ips typographus, to aggregation pheromone candidates. J Chem Ecol 13:701–716

Storm BL, Roton LM, Goyer RA, Meeker JR (1999) Visual and semiochemical distribution of host finding in the southern pine beetle. Ecol Appl 9:1028–1038

Taylor LR (1984) Assessing and interpreting the spatial distributions of insect populations. Annu Rev Entomol 29:321–357

Wagner TL, Wu HI, Sharpe PJH, Coulson RN (1984) Modeling distributions of insect development time: a literature review and an application of the Weibull function. Ann Entomol Soc Am 77:475–487

Wood DL (1982) The role of pheromones, kairomones and allomones in the host selection and colonization behavior of bark beetles. Annu Rev Entomol 27:411–446

Yamasaki M, Sakimoto M (2009) Predicting oak tree mortality caused by the ambrosia beetle Platypus quercivorus in a cool-temperate forest. J Appl Entomol 133:673–681
Acknowledgments
We thank Dr. Robert Haack for valuable comments on an earlier version of this paper, Dr. Thomas Seth Davis for English language editing and anonymous reviewers for valuable comments and suggestions.
Electronic supplementary material
Below is the link to the electronic supplementary material.
About this article
Cite this article
Nam, Y., Choi, W.I., Won, DS. et al. Density related plasticity in stand-level spatial distribution of the ambrosia beetle, Platypus koryoensis (Coleoptera: Curculionidae). Popul Ecol 55, 3–10 (2013). https://doi.org/10.1007/s10144-012-0353-2
Received:

Accepted:

Published:

Issue Date:
Keywords
Epicenter

Mass attack

Optimization

Platypus koryoensis

SADIE

Spatial distribution