Abstract
African lions (Panthera leo) live in social groups (prides) that exhibit group territorial behavior. Pride persistence is expected to depend on its ability to compete against neighboring prides as well as on average rates of reproduction and survival, thus providing a meaningful measure of intergenerational reproductive success. We used Akaike's Information Criterion (AIC) to select the best approximating models explaining how demographic variables influenced pride persistence during a 30-year period in the Ngorongoro Crater, Tanzania, and identified landscape factors affecting those demographic variables. Pride persistence to 10 years depended on adult female density (pride size) and cub productivity (the ultimate source of new females). Average age of adult females had a weakly positive influence on pride persistence, while the effect of female mortality was weakly negative. Adult female mortality increased with disease epidemics and in territories with high human disturbance. Cub productivity was highest in territories closest to rivers and only slightly higher near swamps, and also high in areas of higher vegetative cover and high human use. No landscape variable significantly affected female density. The growth and population size of the Crater lions was closely linked to demographic performance of individual prides, while territorial behavior played a key role in mediating the interactive effects of landscape and demography.
This is a preview of subscription content, log in to check access.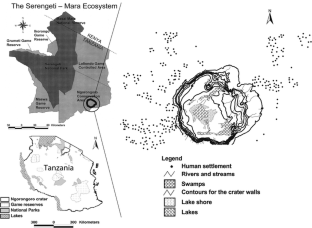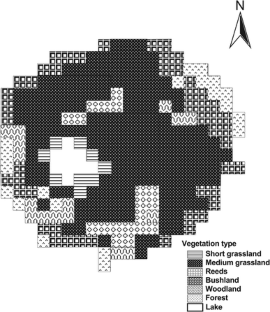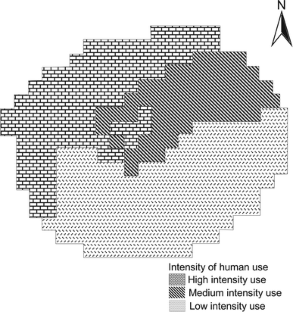 References
Anderson DR, Burnham KP (2002) Avoiding pitfalls when using information-theoretic methods. J Wildl Manage 66:912–918

Bradbury JW, Vehrencamp SL (1976) Social organization and foraging in Emballonurid bats. Behav Ecol Sociobiol 1:337–381

Budnik JM, Thompson FR III, Ryan MR (2002) Effect of habitat characteristics on the probability of parasitism and predation of bell's vireo nests. J Wildl Manage 66:232–239

Burnham KP, Anderson DR (2002) Model selection and multimodal inference: a practical information-theoretic approach, 2nd edn. Springer, New York

Bygott JD, Bertram BCR, Hanby JP (1979) Male lions in large coalitions gains reproductive advantages. Nature 282:839–841

Estes RD (2002) Ngorongoro Crater ungulate study (1996–1999) final report, Part 1. Unpublished report

Estes RD, Small R (1981) The large herbivore population of Ngorongoro Crater. Proceedings of the fourth annual African wildlife symposium. Afr J Ecol 19:175–185

Estes RD, Atwood JL, Estes AB (2006) Downward trends in Ngorongoro Crater ungulate populations 1986–2005: Conservation concerns and the need for ecological research. Biol Conserv 131:106–120

Flynn M (2007) Modeling event count data with PROC GENMOD and the SAS system. Statistics, Data Analysis, and Modeling. Paper 265 (www.sas.com/proceedings/sugi24/stats/p265-24)

Fretwell SD, Calver JS (1969) On territorial behavior and other factors influencing habitat distribution in birds. 2. Sex ratio variation in dickcissel. Acta Biotheor 19:37–44

Funston PJ, Mills MGL, Biggs HC (2001) Factors affecting the hunting success of male and female lions in the Kruger national park. J Zool (Lond) 253:419–431

Funston PJ, Mills MGL, Richardson PRK, Van Jaarsveld AS (2003) Reduced dispersal and opportunistic territory acquisition in male lions (Panthera leo). J Zool (Lond) 259:131–142

Fyumagwa RD, Runyoro V, Horak IG, Hoare R (2007) Ecology and control of ticks as disease vectors in wildlife of the Ngorongoro Crater, Tanzania. S Afr J Wildl Res 37:79–90

Hayward MW, O' Brien J, Kerley GIH (2007) Carrying capacity of large African predators: predictions and tests. Biol Conserv 139:219–229

Hopcraft JGC, Sinclair ARE, Packer C (2005) Planning for success: Serengeti lions seek prey accessibility rather than abundance. J Anim Ecol 74:559–566

Ikanda DK, Packer C (2008) Ritual vs. retaliatory killing of African lions in the Ngorongoro Conservation Area, Tanzania. Endang Species Res 6:67–74

Kissui BM (2008) Livestock predation by lions, leopards, sported hyenas, and their vulnerability to retaliatory killing in the Maasai steppe, Tanzania. Anim Conserv 11:422–432

Kissui BM, Packer C (2004) Top-down population regulation of a top predator: lions in the Ngorongoro Crater. Proc R Soc Lond B 271:1867–1874

Macdonald D (1983) The ecology of carnivore social behavior. Nature 301:379–384

McComb K, Packer C, Pusey A (1994) Roaring and numerical assessment in contests between groups of female lions (Panthera leo). Anim Behav 47:379–387

Miyashita T, Suzuki M, Takada M, Fujita G, Ochiai K, Asada M (2007) Landscape structure affects food quality of sika deer (Cervus nippon) evidenced by fecal nitrogen levels. Popul Ecol 49:185–190

Mosser A (2008) Group territoriality of the African lion: behavioral adaptation in a heterogeneous landscape. PhD thesis, University of Minnesota, Minneapolis

Mosser A, Packer C (2009) Group territoriality and the benefits of sociality in the African lion, Panthera leo. Anim Behav. doi:10.1016/j.anbehav.2009.04.024

Packer C, Pusey AE (1987) Intrasexual cooperation and the sex ratio in African lions. Am Nat 130:636–642

Packer C, Pusey AE (1993) Dispersal, kinship, and inbreeding in African lions. In: Thornhill NW (ed) The natural history of in breeding and out breeding. University of Chicago Press, Chicago, pp 375–391

Packer C, Pusey AE (1995) The lack clutch in a communal breeder: lion litter size is a mixed evolutionary stable strategy. Am Nat 145:833–841

Packer C, Herbst L, Pusey AE, Bygott JD, Hanby JP, Cairns SJ, Borgerhoff Mulder M (1988) Reproductive success in lions. In: Clutton-Brock TH (ed) Reproductive success. University of Chicago Press, Chicago, pp 363–383

Packer C, Scheel D, Pusey AE (1990) Why lions form groups: food is not enough. Am Nat 136:1–19

Packer C, Pusey AE, Rowley H, Gilbert DA, Martenson J, O'Brien SJ (1991) Case study of a population bottleneck: lions of Ngorongoro Crater. Conserv Biol 5:219–230

Packer C, Tatar M, Collins A (1998) Reproductive cessation in female mammals. Nature 392:807–811

Packer C, Altizer S, Appel M, Brown E, Martenson J, O'brien SJ, Roelke-Parker M, Hofmann-Lehmann R, Lutz H (1999) Viruses of the Serengeti: pattern of infection and mortality in African lions. J Anim Ecol 68:1161–1178

Packer C, Pusey AE, Eberly LE (2001) Egalitarianism in female African lions. Science 293:690–693

Packer C, Hilborn R, Mosser A, Kissui B, Borner M, Hopcraft G, Wilmshurst J, Mduma S, Sinclair ARE (2005) Ecological change, group territoriality, and population dynamics in Serengeti lions. Science 307:390–393

Peak RG, Thompson FR III, Shaffer TL (2004) Factors affecting songbird nest survival in riparian forests in a Midwestern agricultural landscape. Auk 121:726–737

Pusey AE, Packer C (1987) The evolution of sex-biased dispersal in lions. Behavior 101:275–310

Schaller GB (1972) Serengeti lion; a study of predator–prey relations. University of Chicago Press, Chicago

Spong G (2002) Space use in lions, Panthera leo, in the Selous Game Reserve: social and ecological factors. Behav Ecol Sociobiol 52:303–307

Stralberg D, Williams B (2002) Effect of residential development and landscape composition on the breeding birds of Placer County's foothill oak woodlands: USDA Forest Service. USDA Forest Service Gen Tech Report, pp 341–366

Worton BJ (1989) Kernel methods for estimating the utilization distribution in home range studies. Ecology 70:164–168

Zimmerman GS, La-Haye WS, Gutiérrez RJ (2003) Empirical support for a despotic distribution in a California spotted owl population. Behav Ecol 14:433–437
Acknowledgments
We thank the Tanzania Wildlife Research Institute (TAWIRI) and the management of the Ngorongoro Conservation Area (NCA) for providing permission to conduct the field research work. We thank the many people who worked in the Crater over many years to assemble the long-term dataset for the Crater lion population. The long-term research in the Ngorongoro Crater was funded by NSF grants LTREB 9903416 and EF 022543.
About this article
Cite this article
Kissui, B.M., Mosser, A. & Packer, C. Persistence and local extinction of lion prides in the Ngorongoro Crater, Tanzania. Popul Ecol 52, 103 (2010). https://doi.org/10.1007/s10144-009-0176-y
Received:

Accepted:

Published:
Keywords
Anthropogenic factors

Disease outbreak

Landscape variables

Pride territory

Reproductive success

Territorial behavior