Abstract
This study evaluated the effect of an outbreak of the cerambycid beetle, Oncideres rhodosticta, on branch growth and inflorescence production of the mesquite Prosopis glandulosa var. torreyana, and on larvae mortality in girdled branches at two sites (dry and wet) in the southern Chihuahuan Desert of Mexico. We compared stem growth responses to girdling in branches of similar sized trees from both sites over 42 months. The number of larvae per girdled branch was similar between sites, indicating similar ovipositing effort regardless of water stress. However, the proportion of dead larvae was significantly lower in trees at the dry site. On average, girdling reduced 96% of the stem length at both sites. At the end of the first year, 25% of the original stubs survived at the dry site, compared to 90% at the wet site. Girdling also broke apical dominance and allowed for the development of lateral buds from the surviving stubs, which produced many fewer branches and inflorescences at the dry site compared to the wet site, where a compact crown was developed. Water stress and girdling have a combined effect on mesquite architecture and reproduction, since more stubs died at the dry site while new branches from surviving stubs developed at the wet site, recovering the original lost biomass but changing the appearance of the tree.
Access options
Buy single article
Instant access to the full article PDF.
USD 39.95
Price excludes VAT (USA)
Tax calculation will be finalised during checkout.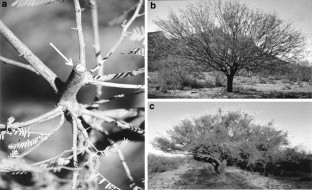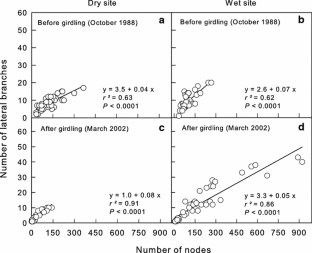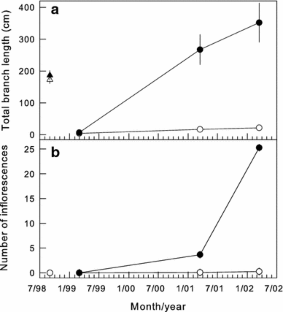 References
Aarssen LW (1995) Hypotheses for the evolution of apical dominance in plants: implications for the interpretation of overcompensation. Oikos 74:149–156. doi:10.2307/3545684

Ansley RJ, Jacoby PW, Cuomo GJ (1990a) Water relations of honey mesquite following severing of lateral roots: influence of location and amount of subsurface water. J Range Manage 43:436–442. doi:10.2307/3899008

Ansley RJ, Meadors CH, Jacoby PW (1990b) Preferential attraction of the twig girdler, Oncideres cingulata texana Horn, to moisture-stressed mesquite. Southwest Entomol 15:469–474

Baraza E, Zamora R, Hódar JA, Gómez JM (2007) Plant–herbivore interaction: beyond a binary vision. In: Pugnaire F, Valladares F (eds) Functional plant ecology. CRC, Boca Raton, pp 481–514

Belsky AJ (1986) Does herbivory benefit plants? A review of the evidence. Am Nat 127:870–892. doi:10.1086/284531

Berkov A, Tavakilian G (1999) Host utilization of the Brazil nut family (Lecythidaceae) by sympatric wood-boring species of Palame (Coleoptera, Cerambycidae, Lamiinae, Acanthocinini). Biol J Linn Soc Lond 67:181–198. doi:10.1111/j.1095-8312.1999.tb01860.x

Burkart A, Simpson BB (1977) The genus Prosopis: an annotated key to the species of the world. In: Simpson BB (ed) Mesquite: its biology in two desert scrub ecosystems. Dowden, Hutchinson and Ross, Stroudsburg, pp 201–235

Caraglio Y, Nicolini E, Petronelli P (2001) Observation on the links between the architecture of a tree (Dicorynia guianensis Amshoff) and Cerambycidae activity in French Guiana. J Trop Ecol 17:459–463. doi:10.1017/S0266467401001316

Cates RG, Rhoades DF (1977) Prosopis leaves as a resource for insects. In: Simpson BB (ed) Mesquite: its biology in two desert scrub ecosystems. Dowden, Hutchinson and Ross, Stroudsburg, pp 61–83

Cox CS, McEvoy PB (1983) Effect of summer moisture stress on the capacity of tansy ragwort (Senecio jacobaea) to compensate for defoliation by cinnabar moth (Tyria jacobaeae). J Appl Ecol 20:225–234. doi:10.2307/2403388

Danell K, Bergstrom R, Edenius L (1994) Effects of large mammalian browsers on architecture, biomass and nutrients of woody plants. J Mammal 75:833–844. doi:10.2307/1382465

Delhoume JP (1988) Distribution spatiale des sols le long d'une toposéquence représentative. In: Montaña C (ed) Estudio integrado de los recursos vegetación, suelo y agua en la Reserva de la Biósfera de Mapimí. Instituto de Ecología, A.C., Mexico City, pp 135–165 (in French with English abstract)

Di Iorio OR (1994) Cerambycidae and other Coleoptera emerging from branches cut by Oncideres germari (Lamiinae:Onciderini) in Northern Argentina. Rev Biol Trop 42:649–661 (in Spanish with English abstract)

Duval BD, Whitford WG (2008) Resource regulation by a twig-girdling beetle has implications for desertification. Ecol Entomol 33:161–166. doi:10.1111/j.1365-2311.2007.00928.x

Dwyer G, Dushoff J, Yee SH (2004) Generalist predators, specialist pathogens, and insect outbreaks. Nature 430:341–345. doi:10.1038/nature02569

Feller I (2002) The role of herbivory by wood boring insects in mangrove ecosystem in Belize. Oikos 97:167–176. doi:10.1034/j.1600-0706.2002.970202.x

Forcella F (1982) Why twig-girdling beetles girdle twigs. Naturwissenschaften 69:398–400. doi:10.1007/BF00396699

Fornara DA, du Toit JT (2007) Browsing lawns? Responses of Acacia nigrescens to ungulate browsing in an African savanna. Ecology 88:200–209. doi:10.1890/0012-9658(2007)88[200:BLROAN]2.0.CO;2

Gadd ME, Young TP, Palmer TM (2001) Effects of simulated shoot leaf herbivory on vegetative growth and plant defense in Acacia drepanolobium. Oikos 92:515–521. doi:10.1034/j.1600-0706.2001.920312.x

Golubov J, Mandujano MC, Franco M, Montaña C, Eguiarte LE, López-Portillo J (1999) Demography of the invasive woody perennial Prosopis glandulosa (honey mesquite). J Ecol 87:955–962. doi:10.1046/j.1365-2745.1999.00420.x

Golubov J, Mandujano MC, Montaña C, López-Portillo J, Eguiarte LE (2004) The demographic costs of nectar production in the desert perennial Prosopis glandulosa (Mimosoideae): a modular approach. Plant Ecol 170:267–275. doi:10.1023/B:VEGE.0000021698.74964.a3

González OE, Di Iorio OR (1997) Plantas hospederas de Cerambycidae (Coleoptera) en el noreste de Argentina. Rev Biol Trop 44:167–175 in Spanish with English abstract

Haack RA, Law KR, Mastro VC, Ossenbruggen HS, Raino BJ (1997) New York's battle with the Asian longhorned beetle. J For 95:11–15

Hanks LM (1999) Influence of the larval host plant on reproductive strategies of cerambycid beetles. Annu Rev Entomol 44:483–505. doi:10.1146/annurev.ento.44.1.483

Hanks LM, Paine TD, Millar JG, Campbell CD, Schuch UK (1999) Water relations of host trees and resistance to the phloem-boring beetle Phoracantha semipunctata F. (Coleoptera: Cerambycidae). Oecologia 119:400–407. doi:10.1007/s004420050801

Honkanen T, Haukioja E (1994) Why does a branch suffer more after branch wide than after tree-wide defoliation? Oikos 71:441–450. doi:10.2307/3545832

Hovore FT, Penrose RL (1982) Notes on cerambycidae co-inhabiting girdles of Oncideres pustulata Leconte (Coleoptera: Cerambycidae). Southwest Nat 27:23–27. doi:10.2307/3671403

Huberty AF, Denno RF (2004) Plant water stress and its consequences for herbivorous insects: a new synthesis. Ecology 85:1383–1398. doi:10.1890/03-0352

Janzen DH, Martin PS (1982) Neotropical anachronisms: the fruits the gomphotheres ate. Science 215:19–27. doi:10.1126/science.215.4528.19

Linsley EG (1959) Ecology of Cerambycidae. Annu Rev Entomol 4:99–138. doi:10.1146/annurev.en.04.010159.000531

Linsley EG, Knull JN, Statham M (1961) A list of Cerambycidae in the Chiricahua Mountain area, Cochise County, Arizona. Am Mus Novit 2050:1–34

López-Portillo J, Eguiarte LE, Montaña C (1993) Nectarless honey mesquites. Funct Ecol 7:452–461. doi:10.2307/2390032

López-Portillo J, Montaña C, Ezcurra E (1996) Stem demography of Prosopis glandulosa var. torreyana in vegetation arcs and associated bare areas. J Veg Sci 7:901–910. doi:10.2307/3236465

Marquis RJ (1996) Plant architecture, sectoriality and plant tolerance to herbivores. Plant Ecol 127:85–97. doi:10.1007/BF00054850

Martínez AJ, López-Portillo J (2003a) Growth and architecture of small honey mesquites under jackrabbit browsing: overcoming the disadvantage of being eaten. Ann Bot (Lond) 92:365–375. doi:10.1093/aob/mcg148

Martínez AJ, López-Portillo J (2003b) Allometry of Prosopis glandulosa var. torreyana along a topographic gradient in the Chihuahuan desert. J Veg Sci 14:111–120

Maschinski J, Whitham TG (1989) The continuum of plant responses to herbivory: the influence of plant association, nutrient availability, and timing. Am Nat 134:1–19. doi:10.1086/284962

Mattson WJ, Haack RA (1987) The role of drought in outbreaks of plant-eating insects. Bioscience 37:110–118. doi:10.2307/1310365

Mooney HA, Simpson BB, Solbrig OT (1977) Phenology, morphology, physiology. In: Simpson BB (ed) Mesquite: its biology in two desert scrub ecosystems. Dowden, Hutchinson and Ross, Stroudsburg, pp 26–43

Nowak DJ, Pasek JE, Sequeira RA, Crane DE, Mastro VC (2001) Potential effect of Anoplophora glabripennis (Coleoptera: Cerambycidae) on urban trees in the United States. J Econ Entomol 94:116–122

Oba G (1994) Responses of Indigofera spinosa to simulated herbivory in a semidesert of North-West Kenya. Acta Oecol 15:105–117

Paige KN, Whitham GT (1987) Overcompensation in response to mammalian herbivory: the advantage of being eaten. Am Nat 129:407–416. doi:10.1086/284645

Paulino-Neto HF, Romero GQ, Vasconcellos-Neto J (2005) Interactions between Oncideres humeralis Thomson (Coleoptera: Cerambycidae) and Melastomataceae: host-plant selection and patterns of host use in south-east Brazil. Neotrop Entomol 34:7–14. doi:10.1590/S1519-566X2005000100002

Peinetti HR, Menezes RSC, Coughenour MB (2001) Changes induced by elk browsing in the aboveground biomass production and distribution of willow (Salix monticola Bebb): their relationships with plant water, carbon, and nitrogen dynamics. Oecologia 127:334–342. doi:10.1007/s004420000593

Polk KL, Ueckert DN (1973) Biology and ecology of a mesquite twig girdler, Oncideres rhodosticta, in West Texas. Ann Entomol Soc Am 66:411–417

Rautio P, Huhta AP, Piippo S, Tuomi J, Juenger T, Saari M, Aspi J (2005) Overcompensation and adaptive plasticity of apical dominance in Erysimum strictum (Brassicaceae) in response to simulated browsing and resource availability. Oikos 111:179–191. doi:10.1111/j.0030-1299.2005.14045.x

Rice ME (1989) Branch girdling and oviposition biology of Oncideres pustulatus (Coleoptera: Cerambycidae) on Acacia farnesiana. Ann Entomol Soc Am 82:181–186

Rice ME (1995) Branch girdling by Oncideres cingulata (Coleoptera: Cerambycidae) and relative host quality of Persimmon, Hickory, and Elm. Ann Entomol Soc Am 88:451–455

Rogers CE (1977) Bionomics of Oncideres cingulata (Coleoptera: Cerambycidae) on mesquite [Prosopis glandulosa, insect pests]. J Kans Entomol Soc 50:222–228

Romero GQ, Vasconcellos-Neto J, Paulino-Neto HF (2005) The effects of wood-boring Oncideres humeralis (Coleoptera: Cerambycidae) on the number and size structure of its host-plants in south-east Brazil. J Trop Ecol 21:233–236. doi:10.1017/S0266467404002202

Rzedowski J (1978) Vegetación de México. Limusa, Mexico City. (In Spanish)

Seen J, Haukioja E (1994) Reaction of the mountain birch to bud removal: effects of severity and timing, and implications for herbivores. Funct Ecol 8:494–501. doi:10.2307/2390074

Skarpe C, Hester A (2008) Plant traits, browsing and grazing herbivores, and vegetation dynamics. In: Gordon IJ, Prins HHT (eds) The ecology of browsing and grazing. Ecological Studies 195, Springer, Berlin, pp 217–261

Strauss SY (1991) Direct, indirect, and cumulative effects of three native herbivores on a shared host plant. Ecology 72:543–558. doi:10.2307/2937195

Tavakilian G, Berkov A, Meurer-Grimes B, Mori S (1997) Neotropical tree species and their faunas of xylophagous longicorns (Coleoptera: Cerambycidae) in French Guiana. Bot Rev 63:303–355. doi:10.1007/BF02856596

Tuomi J, Nilsson P, Åström M (1994) Plant compensatory responses: bud dormancy as an adaptation to herbivory. Ecology 75:1429–1436. doi:10.2307/1937466

Ueckert DN, Polk KL, Ward CR (1971) Mesquite twig girdler: a possible means of mesquite control. J Range Manage 24:116–118. doi:10.2307/3896518

Uribe-Mú CA, Quesada M (2006) Preferences, patterns and consequences of branch removal on the dioecious tropical tree Spondias purpurea (Anacardiaceae) by the insect borer Oncideres albomarginata chamela (Cerambycidae). Oikos 112:691–697. doi:10.1111/j.0030-1299.2006.13957.x

Utsumi S, Ohgushi T (2007) Plant regrowth response to a stem-boring insect: a swift moth-willow system. Popul Ecol 49:241–248. doi:10.1007/s10144-007-0042-8

Whitham TG, Mopper S (1985) Chronic herbivory: impacts on architecture and sex expression of pinyon pine. Science 228:1089–1091. doi:10.1126/science.228.4703.1089

Wise MJ, Abrahamson WG (2007) Effects of resource availability on tolerance of herbivory: a review and assessment of three opposing models. Am Nat 169:443–454. doi:10.1086/512044

Woolnough AP, du Toit JT (2001) Vertical zonation of browse quality in tree canopies exposed to a size-structured guild of African browsing ungulates. Oecologia 129:585–590

Zar JH (1999) Biostatistical analysis, 4th edn. Prentice-Hall, Upper Saddle River
Acknowledgments
We appreciate the commentaries and suggestions by F.W. Ewers, M.L. Martínez, F. Ornelas and F. Valladares during different stages of this work. We thank Z. Durán, A. Herrera, A. Mottet, G. Beucher, G. Montes Cartas, L. Ríos, and J.F. Soulard for field assistance, and the facilities of the Instituto de Investigaciones Psicológicas, Universidad Veracruzana provided to A.J.M. This research was supported in part by the projects SEP CONACYT 2003-CO-43838, UVER-PTC-223 and 902-16 from the Instituto de Ecología A.C. Our study was conducted in conjunction with the Mapimi Long-Term Exclusion Experiment (MLTER) coordinated by L. Hernández.
About this article
Cite this article
Martínez, A.J., López-Portillo, J., Eben, A. et al. Cerambycid girdling and water stress modify mesquite architecture and reproduction. Popul Ecol 51, 533–541 (2009). https://doi.org/10.1007/s10144-009-0149-1
Received:

Accepted:

Published:

Issue Date:

DOI: https://doi.org/10.1007/s10144-009-0149-1
Keywords
Apical dominance

ENSO

Herbivory

Predawn water potential

Shoot regrowth

Stem boring beetle