Abstract
In this study we use a demographic approach to analyse the differing abundance of three congeneric columnar cacti: Neobuxbaumia macrocephala (the rarest), Neobuxbaumia tetetzo (intermediate), and Neobuxbaumia mezcalaensis (the most common). Populations of these species were studied in the Tehuacan Valley (Central Mexico) over a 3-year period. We employed traditional models and life table response experiments (LTRE) to explore the association between particular demographic traits and the degree of rarity of each species. Most matrices showed population growth rate (λ) values close to unity; the only exception was N. mezcalaensis in 2001–2002 (λ=1.091±0.088). In the three species the highest elasticity values corresponded to entries referring to the stasis of pre-reproductive plant and small adults. However, the LTRE indicated that most important differences in the λ values between years and species were associated with variation in fruit production and seedling recruitment. N. mezcalaensis yielded the highest mean λ due to its high fecundity in 2001–2002. This result suggests that the variation in demographic behaviour observed between species is sufficient to explain the higher abundance of N. mezcalaensis compared to the rare N. macrocephala. The high fecundity values and recruitment success observed in the former, even if they occur only seldom, may result in higher average λ values accounting for its high population densities.
Access options
Buy single article
Instant access to the full article PDF.
USD 39.95
Price excludes VAT (USA)
Tax calculation will be finalised during checkout.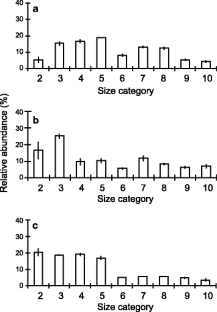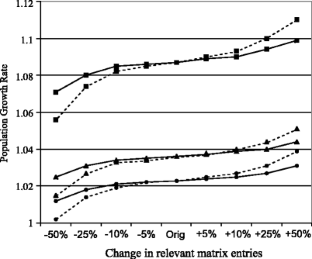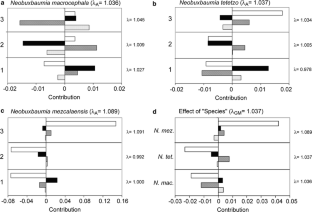 References
Altesor A, Ezcurra E, Silva C (1993) Changes in the photosynthetic metabolism during the early ontogeny in four cactus species. Acta Oecol 13:777–785

Álvarez-Buylla E, Slatkin M (1994) Finding confidence limits on population growth rates: three real examples revisted. Ecology 75:255–260

Álvarez-Buylla E, Garcia-Barrios R, Lara-Moreno C, Martínez-Ramos M (1996) Demographic and genetic models in conservation biology: applications and perspectives for tropical rain forest tree species. Annu Rev Ecol Syst 27:387–421

Arias-Montes S, Gama-López S, Guzmán-Cruz LU (1997) Flora del Valle de Tehuacan, vol 14. Cactaceae A.L. Juss. Instituto de Biología, Universidad Nacional Autónoma de México, México DF

Bevill RL, Louda SM (1999) Comparisons of related rare and common species in the study of plant rarity. Conserv Biol 3:493–498

Bierzychudek P (1982) The demography of jack-in-the-pulpit, a forest perennial that changes sex. Ecol Monogr 52:335–351

Carter R, Prince S (1981) Epidemic models used to explain biogeographical distribution limits. Nature 293:644–645

Caswell H (2000) Prospective and retrospective perturbation analyses: their roles in conservation biology. Ecology 81:619–627

Caswell H (2001) Matrix populations models, 2nd edn. Sinauer, Sunderland, Mass.

Cohen JE (1979) Comparative static and stochastic dynamics of age-structured populations. Theor Popul Biol 16:159–171

Contreras C, Valverde T (2002) Evaluation of the conservation status of a rare cactus (Mammillaria crucigera) through the analysis of its population dynamics. J Arid Environ 51:89–102

Damman H, Cain M (1998) Population growth and viability analysis of the clonal woodland herb, Asarum canadense. J Ecol 86:13–26

Dávila-Aranda P, Medina-Lemos R, Ramírez-Roa A, Salinas-Tovar A, Tenorio-Lezama P (1995) Análisis de la flora del Valle de Tehuacán–Cuicatlán endemismo y diversidad. In: Linares P, Dávila-Aranda P, Chiang F, Bye R, Elias T (eds) Conservación de plantas en peligro de extinción: diferentes enfoques. Instituto de Biología, Universidad Nacional Autónoma de México, México, pp 33–41

Ehrlen J, van Groenendael JM (1998) Direct perturbation analysis for better conservation. Conserv Biol 12:470–474

Enright NJ, Ogden J (1979) Applications of transition matrix models in forest dynamics: Araucaria in New Guinea, and Nothofagus in New Zeeland. Aust J Ecol 4:3–23

Eriksson O (1994) Stochastic population dynamics of clonal plants: numerical experiments with ramet and genet models. Ecol Res 9:257–268

Esparza-Olguín L (2004) Qué sabemos de la rareza: un enfoque genético-demográfico. Bol Soc Bot Mex 75:17–32

Esparza-Olguín L, Valverde T (2003) Estudio comparativo de la fonología de tres especies de Neobuxbaumia que difieren en su nivel de rareza. Cact Suc Mex 48:68–83

Esparza-Olguín L, Valverde T, Vilchis-Anaya E (2002) Demographic analysis of a rare columnar cactus (Neobuxbaumia macrocephala) in the Tehuacan Valley, Mexico. Biol Conserv 103:349–359

Fielder PL (1986) Concepts of rarity in vascular plant species, with special reference to the genus Calochortus Pursh (Lilaceae). Taxon 35:502–518

Fielder PL (1987) Life history and population dynamics of rare and common mariposa lilies (Calochortus Pursh: Lilaceae). J Ecol 75:977–995

Fisher M, Matthies D (1998) RAPD variation in relation to population size and plant fitness in the rare Gentianella germanica (Gentianaceae). Am J Bot 85:811–819

García MB, Guzmán D, Goñi D (2002) An evaluation of the status of five threatened plant species in the Pyrenees. Biol Conserv 103:151–161

Gaston KG (1994) Rarity. Chapman and Hall, London

Godínez-Álvarez H, Valiente-Banuet A (1998) Germination and early seedling growth of Tehuacán Valley cacti species: the role of soil and seed ingestion by dispersers on seedling growth. J Arid Environ 39:21–31

Godínez-Álvarez H, Valiente-Banuet A, Valiente-Banuet L (1999) Biotic interactions and the population dynamics of the long-lived columnar cactus Neobuxbaumia tetetzo in the Tehuacan Valley, Mexico. Can J Bot 77:1–6

Godínez-Álvarez H, Valiente-Banuet A, Rojas-Martínez A (2002) The role of seed dispersers in the population dynamics of the columnar cactus Neobuxbaumia tetetzo. Ecology 83:2617–2629

van Groenendael JM, Slim P (1988). The contrasting dynamics of two populations of Plantago lanceolata classified by age and size. J Ecol 76:585–599

Hanski I (1989) Metapopulation dynamics: does it help to have more of the same? Trends Ecol Evol 4:113–114

Harvey PH, Pagel MD (1991) The comparative method in evolutionary biology. Oxford University Press, Oxford

Higgins S, Pickett STA, Bond WJ (2000) Predicting extinction risks for plants: environmental stochasticity can save declining populations. Trends Ecol Evol 15:516–520

Horvitz C, Schemske D (1995) Spatiotemporal variation in demographic transitions of a tropical understory herb: projection matrix analysis. Ecol Monogr 65:155–192

Horvitz C, Schemske DW, Caswell H (1997) The relative "importance" of life-history stages to population growth: prospective and retrospective analyses. In: Tuljapurkar S, Caswell H (eds) Structured-population models in marine, terrestrial, and freshwater systems. Chapman and Hall, New York, pp 247–271

Kroon H de, Plaisier H, van Groenendael JM, Caswell H (1986) Elasticity: the relative contribution of demographic parameters to population growth rate. Ecology 67:1427–1331

Kroon H de, van Groenendael JM, Ehrlén J (2000) Elasticities: a review of methods and model limitations. Ecology 81:607–618

Kunin WE, Gaston KG (1997) The biology of rarity: patterns, causes and consequences of rare-common differences. Chapman and Hall, London

Lande R (1988) Genetics and demography in biological conservation. Science 241:1455–1460

Mandujano MC, Montaña C, Eguiarte LE (1996). Reproductive ecology and inbreeding depression in Opuntia rastrera (Cactaceae) in the Chihuahuan Desert: why is sexually derived recruitment so rare? Am J Bot 83:63–70

Mandujano MC, Montaña C, Franco M, Golubov J, Flores-Martínez A (2001) Integration of demographic annual variability in a clonal desert cactus. Ecology 82:344–359

Menges ES (1990) Population viability analysis for an endangered plant. Conserv Biol 4:52–62

Mondragón D, Durán R, Ramírez I, Valverde T (2004) Temporal variation in the demography of the clonal epiphyte Tillandsia brachycaulos (Bromeliaceae) in the Yucatán Peninsula, Mexico. Trop J Ecol 20:1–11

Oostermeijer JGB, Brugman ML, Boer ER, den Nijs HCM (1996) Temporal and spatial variation in the demography of Gentiana pneumonanthe, a rare perennial herb. J Ecol 84:153–166

Oyama K (1993) Conservation biology of tropical trees: demographic and genetic considerations. Environ Update 1:17–32

Pierson EA, Turner RM (1998) An 85-year study of saguaro (Carnegiea gigantea) demography. Ecology 79:2676–2693

Pyke K, Thompson J (1986) Statistical analysis of survival and removal rate experiments. Ecology 67:240–245

Rabinowitz D (1981) Seven forms of rarity. In: Synge H (ed) Biological aspects of rare plant conservation. Wiley, New York, pp 205–217

Rabinowitz D, Cairns S, Dillon T (1986) Seven forms of rarity and their frequency in the flora of the British Isles. In: Soulé ME (ed) Conservation biology: the science of scarcity and diversity. Sinauer Associates, Sunderland, Mass., pp182–204

Rae JG, Ebert TA (2002) Demography of the endangered fragrant prickly apple cactus, Harrisia fragans. Int J Plant Sci 163:631–640

Ramírez-Padilla CA, Valverde T (2005) Germination response of three congeneric cactus species (Neobuxbaumia) with differing degrees of rarity. J Arid Environ 61:333–343

Ruedas M, Valverde T, Zavala-Hurtado JA (2005) Analysis of the factors that affect the distribution and abundance of three Neobuxbaumia species (Cactaceae) that differ in their degree of rarity. Acta Oecol (in press)

Sather BE, Bakke O (2000) Avian life history and contribution of demographic traits to the population growth rate. Ecology 81:642–653

Schemske DW, Husband BC, Ruckelshaus MH, Goodwillie I, Parker M, Bishop JG (1994) Evaluating approach to the conservation of rare and endangered plants. Ecology 75:584–606

Silvertown J, Dodd M (1996) Comparing plants and connecting traits. Phil Trans Biol Soc Lond 351:1233–1239

Silvertown J, Franco M, Pisanty I, Mendoza A (1993) Comparative plant demography-relative importance of life-cycle components to the finite rate of increase in woody and herbaceous perennials. J Ecol 81:465–476

Silvertown J, Franco M, Menges E (1996) Interpretation of elasticity matrices as an aid to the management of plant populations for conservation. Conserv Biol 10:591–597

Valiente-Banuet A, Ezcurra E (1991) Shade as a cause of the association between the cactus Neobuxbaumia tetetzo and the nurse Mimosa luisana. J Veg Sci 2:11–14

Valiente-Banuet A, Rojas-Martínez A, Arizmendi MC, Dávila P (1997) Pollination biology of two columnar cacti (Neobuxbaumia mezcalaensis and Neobuxbaumia macrocephala) in the Tehuacan Valley, central Mexico. Am J Bot 84:452–455

Valverde T, Silvertown J (1998) Variation in the demography of a woodland understory herb (Primula vulgaris) along the forest regeneration cycle: projection matrix analysis. J Ecol 86:545–562

Valverde T, Quijas S, López-Villavicencio M, Castillo S (2004) Population dynamics of Mammillaria magnimamma Haworth (Cactaceae) in a lava-field in central Mexico. Plant Ecol 170:167–184

Wisdom MJ, Mills LS (1997) Sensitivity analysis to guide population recovery: prairie-chickens as an example. J Wildl Manage 61:302–312

Zavala-Hurtado JA (1982) Estudios ecológicos en el Valle de Zapotitlán. Puebla, I. Clasificación numérica de la vegetación basada en atributos binarios de presencia de las especies. Biotica 7:99–120

Zavala-Hurtado JA, Díaz-Solis A (1995) Repair, growth, age and reproduction in the giant columnar cactus Cephalocereus columna-trajani (Karwinski ex. Pfeiffer) Schumann (Cactaceae). J Arid Environ 31:21–31
Acknowledgements
We are grateful to Mariana Hernández, Pedro Eloy Mendoza, Marcela Ruedas, Cynthia Ramírez, Oswaldo Núñez, Rocío Bernal, Vania Jiménez, Laura Hernández, Elena Vilchis, Eduardo Martínez, Octavio Esparza, Abraham Martínez and Liliana Santamaría for valuable assistance during the field work. We thank Marco Antonio Romero for help with hardware maintenance and Carlos Martorell for advice in relation to LTRE. We thank Dr Luis Eguiarte for helpful suggestions and comments during the development of this study. The comments and suggestions of two anonymous reviewers greatly improved the quality of this contribution. The first author received a PhD studentship from CONACyT-Mexico during the course of this study.
Appendices
Appendix 1
Appendix 2
About this article
Cite this article
Esparza-Olguín, L., Valverde, T. & Mandujano, M.C. Comparative demographic analysis of three Neobuxbaumia species (Cactaceae) with differing degree of rarity. Popul Ecol 47, 229–245 (2005). https://doi.org/10.1007/s10144-005-0230-3
Received:

Accepted:

Published:

Issue Date:

DOI: https://doi.org/10.1007/s10144-005-0230-3
Keywords