Abstract
Primary intracranial fibrosarcoma (PIF) was a rare tumor with a high relapse rate and dismal survival rate. This study aimed to delineate the clinical characteristics of primary intracranial fibrosarcoma (PIF) and the risk factors for outcomes. We reviewed 15 PIF patients, who underwent surgical treatment at our institution from January 2009 to December 2018. Meanwhile, 36 cases from the prior literature between November 1962 and December 2019 were also retrieved and pooled to identify the risk factors. In our cohort, while cystic component (46.7%), perilesional edema (83.3%), and vascular flow void (66.7%) were commonly observed, no patient was accurately diagnosed. The 2-year relapse-free survival (RFS) and overall survival (OS) were 12.2% and 30.2%, respectively. Based on the pooled data, tumor size (p = 0.006), Ki-67 index (p = 0.004), and radiotherapy dose (p = 0.029) were prognostic factors for RFS in univariate analysis. In the univariate analysis, tumor size (p = 0.002), NGTR (p = 0.049), and high Ki-67 index (p = 0.019) were significant predictors for OS; and further multivariate analysis (n = 18) showed that large tumor size (≥ 5 cm; HR 14.613, p = 0.022) and high Ki-67 index (≥ 30%; HR 5.879, p = 0.020) were the independent risk factors for OS. Due to the rarity and nonspecific clinicoradiological features, the correct diagnosis of PIF before surgery was challenging. The outcomes of PIF were poor, and GTR plus radiotherapy (at least 60 Gy) might benefit to the outcomes and were recommended. Future study with a large cohort was needed to verify our findings.
Access options
Buy single article
Instant access to the full article PDF.
US$ 39.95
Tax calculation will be finalised during checkout.
Subscribe to journal
Immediate online access to all issues from 2019. Subscription will auto renew annually.
US$ 79
Tax calculation will be finalised during checkout.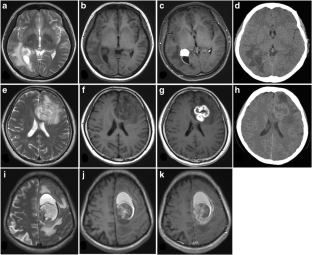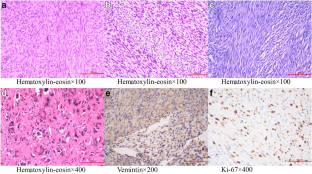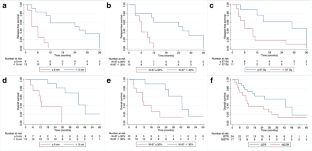 References
1.

Adeleye AO, Fellig Y, Umansky F, Shoshan Y (2009) Rapid growth of primary cerebral fibrosarcoma with conversion to glioblastoma at second recurrence. J Neurooncol 92:233–238. https://doi.org/10.1007/s11060-008-9756-5

2.

Aung TH, Tse CH (1993) Bifrontal meningeal fibrosarcoma in a patient with metastases to the liver, kidneys and suprarenal glands. Aust N Z J Surg 63:746–748. https://doi.org/10.1111/j.1445-2197.1993.tb00508.x

3.

Bisogno G, Roganovic J, Carli M, Scarzello G, Calderone M, Faggin R, Perilongo G (2002) Primary intracranial fibrosarcoma. Childs Nerv Syst 18:648–651. https://doi.org/10.1007/s00381-002-0628-6

4.

Brohi SR, Dilber M (2012) Congenital osteolytic dural fibrosarcoma presenting as a scalp swelling. J Coll Physicians Surg Pak 22:531–532. https://doi.org/08.2012/jcpsp.531532

5.

Cai N, Kahn LB (2004) A report of primary brain fibrosarcoma with literature review. J Neurooncol 68:161–167. https://doi.org/10.1023/B:NEON.0000027740.70380.5c

6.

Cassady JR, Wilner HI (1967) The angiographic appearance of intracranial sarcomas. Radiology 88:258–263. https://doi.org/10.1148/88.2.258

7.

Chopra R, Bhardwaj M, Premsagar IC (2010) Fibrosarcoma of the meninges. Rare Tumors 2:e3. https://doi.org/10.4081/rt.2010.e3

8.

Donnet A, Figarella-Branger D, Grisoli F (1999) Primary meningeal fibrosarcoma: a particular neuroradiological presentation. J Neurooncol 42:79–83. https://doi.org/10.1023/a:1006100119406

9.

Fraser RW, Limentani SA, Dollar JD, Asher A (2003) Recurrent primary fibrosarcoma of the brain treated with the GliaSite brachytherapy system: case report. Surg Neurol 60:579–583; discussion 583-574. https://doi.org/10.1016/S0090-3019(03)00456-7

10.

Gaspar LE, Mackenzie IR, Gilbert JJ, Kaufmann JC, Fisher BF, Macdonald DR, Cairncross JG (1993) Primary cerebral fibrosarcomas. Clinicopathologic study and review of the literature. Cancer 72:3277–3281. https://doi.org/10.1002/1097-0142(19931201)72:11<3277::aid-cncr2820721124>3.0.co;2-c

11.

Giridhar P, Mallick S, Haresh KP, Gupta S, Julka PK, Rath GK (2016) Intracranial fibrosarcoma treated with adjuvant radiation and temozolomide: report of a case and review of all published cases. J Egypt Natl Canc Inst 28:111–116. https://doi.org/10.1016/j.jnci.2015.07.002

12.

Khan WA, Attal H, Vernick J, Bedrossian CW (2001) Cytodiagnosis of a meningeal fibrosarcoma metastatic to the thyroid gland. Semin Diagn Pathol 18:104–109. https://doi.org/10.1053/sdia.2001.23741

13.

Kishikawa T, Numaguchi Y, Fukui M, Komaki S, Ikeda J, Kitamura K, Matsuura K (1981) Primary intracranial sarcomas: radiological diagnosis with emphasis on arteriography. Neuroradiology 21:25–31

14.

Lee JG, Song SW, Koh YC, Cho J, Choi JW, Roh HG, Lim SD (2013) Primary intracranial fibrosarcoma presenting with hemorrhage. Brain Tumor Res Treat 1:91–94. https://doi.org/10.14791/btrt.2013.1.2.91

15.

Li ZJ, Sun P, Guo Y, Wang RZ (2010) Primary pituitary fibrosarcoma presenting with multiple metastases: a case report and literature review. Neurol India 58:316–318. https://doi.org/10.4103/0028-3886.63792

16.

Liu Z, Salamat MS, Hafez GR, Mehta MP, Robins HI, Amoli RS, Tomic S (2002) Pineal sarcoma. Acta Neurochir 144:89–92. https://doi.org/10.1007/s007010200008

17.

Lopes MB, Lanzino G, Cloft HJ, Winston DC, Vance ML, Laws ER Jr (1998) Primary fibrosarcoma of the sella unrelated to previous radiation therapy. Mod Pathol 11:579–584

18.

McDonald P, Guha A, Provias J (1997) Primary intracranial fibrosarcoma with intratumoral hemorrhage: neuropathological diagnosis with review of the literature. J Neurooncol 35:133–139

19.

Onofrio BM, Kernohan JW, Uihlein A (1962) Primary meningeal sarcomatosis. A review of the literature and report of 12 cases. Cancer 15:1197–1208. https://doi.org/10.1002/1097-0142(196211/12)15:6<1197::aid-cncr2820150617>3.0.co;2-1

20.

Orbach D, Rey A, Cecchetto G, Oberlin O, Casanova M, Thebaud E, Scopinaro M, Bisogno G, Carli M, Ferrari A (2010) Infantile fibrosarcoma: management based on the European experience. J Clin Oncol 28:318–323. https://doi.org/10.1200/JCO.2009.21.9972

21.

Paulus W, Slowik F, Jellinger K (1991) Primary intracranial sarcomas: histopathological features of 19 cases. Histopathology 18:395–402. https://doi.org/10.1111/j.1365-2559.1991.tb00869.x

22.

Rovirosa A, Vicente P, Bellmut J, Morales S, Del Campo JM, Bodi R, Ortega A (1992) Meningeal fibrosarcoma: a case report and review of the literature. Acta Neurol Belg 92:30–35

23.

Tomita T, Gonzalez-Crussi F (1984) Intracranial primary nonlymphomatous sarcomas in children: experience with eight cases and review of the literature. Neurosurgery 14:529–540. https://doi.org/10.1227/00006123-198405000-00001

24.

Torres G, Petit F, Vilchez V, Romero Z, Dorfman S, Cardozo D, Cardozo J (2007) Primary cerebral fibrosarcoma in a child. Clin Neuropathol 26:284–287

25.

Vatsal DK, Sharma S, Renjen PN, Kaul S, Jha AN (2000) Primary fibrosarcoma of brain. Neurol India 48:396–398

26.

Vinodh VP, Harun R, Sellamuthu P, Kandasamy R (2017) Primary central nervous system fibrosarcoma. J Neurosci Rural Pract 8:S111–s113. https://doi.org/10.4103/jnrp.jnrp_165_17

27.

Zhang N, Guo L, Kuang H, Ji Y, Zeng X (2019) Primary intracranial fibrosarcoma: case report and systematic review of literature. World Neurosurg 123:251–255. https://doi.org/10.1016/j.wneu.2018.12.005
Acknowledgments
We thank senior statistician Dr. Dan Xiao (from the Department of Epidemiology, China National Clinical Research Center for Neurological Disease) and Dr. Wei Feng (from the Department of Epidemiology and Health Statistics, School of Public Health, Capital Medical University) for supervising and improving the confidence of statistical analysis. We also appreciate Pros. Guilin Zhang and Jiang Du (both from Neuropathological Department, Beijing Tiantan Hospital, Capital Medical University) for their great assistance in pathological analyses.
Funding
This work was supported in part by the National Natural Science Foundation of China awarded to J.T.Z (grant no.81672506) and Z.W. (grant no. 814742370).
Ethics declarations
Conflict of interest
We declare that there is no conflict of interest.
Ethical approval
This study was approved by the Institutional Review Board.
Informed consent
The informed consents were available for all patients.
Additional information
Publisher's note
Springer Nature remains neutral with regard to jurisdictional claims in published maps and institutional affiliations.
About this article
Cite this article
Ma, XJ., Li, D., Li, H. et al. The clinicoradiological features and surgical outcomes of primary intracranial fibrosarcoma: a single-institute experience with a systematic review. Neurosurg Rev 44, 543–553 (2021). https://doi.org/10.1007/s10143-020-01249-8
Received:

Revised:

Accepted:

Published:

Issue Date:
Keywords
Outcomes

Primary intracranial fibrosarcoma

Radiological characteristics

Radiotherapy

Risk factors

Surgery