Abstract
Neuroinflammation plays an important role in neuronal injury after aneurysmal subarachnoid hemorrhage (aSAH). Sulfonylurea receptor 1 (SUR1) and transient receptor potential cation channel subfamily M member 4 (TRPM4) receptors play an important role in the pathogenesis of several neural injuries, such as neural edema, spinal cord damage, stroke, and neuronal damage in aSAH. This study aimed to investigate the relationship of serum SUR1 and TRPM4 levels with the neurological status within the first 15 days after aSAH. In this prospective study, blood samples were collected from 44 consecutive patients on the 1st, 4th, and 14th days after aSAH. Serum SUR1 and TRPM4 levels were measured using an enzyme-linked immunosorbent assay kit. Glasgow coma scale and World Federation of Neurosurgical Societies (WFNS) scores upon presentation and Glasgow outcome scale (GOS) score on the 14th day were recorded. Serum SUR1 and TRPM4 levels on the 1st, 4th, and 14th days were significantly higher in patients with aSAH than in normal individuals. This increase in the levels varied among the 1st, 4th, and 14th days. On the first day, a correlation was observed between serum SUR1, but not TRPM4, levels and the WFNS score. Moreover, on the 14th day, an association of serum SUR1 and TRPM4 levels with the GOS score was noted. Serum SUR1 and TRPM4 levels were significantly upregulated in the peripheral blood samples. Further study is warranted to establish the utility of SUR1 and TRPM4 as biomarkers in patients with aSAH.
Access options
Buy single article
Instant access to the full article PDF.
US$ 39.95
Tax calculation will be finalised during checkout.
Subscribe to journal
Immediate online access to all issues from 2019. Subscription will auto renew annually.
US$ 79
Tax calculation will be finalised during checkout.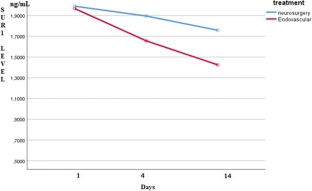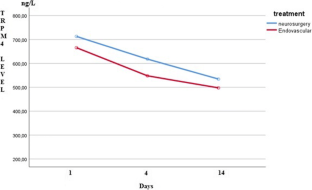 References
1.

Abdallah A, Asiltürk M, Emel E, Güler Abdallah B (2018) Factors affecting the outcome of multiple intracranial aneurysm surgery. Indian J Neurosurg 7(2):116–121

2.

Asiltürk M, Abdallah A (2018) Clinical outcomes of multiple aneurysms microsurgical clipping: evaluation of 90 patients. Neurol Neurochir Pol 52(1):15–24

3.

Bailes JE, Spetzler RF, Hadley MN, Baldwin HZ (1990) Management morbidity and mortality of poor-grade aneurysm patients. J Neurosurg 72:559–566

4.

Caffes N, Kurland DB, Gerzanich V, Simard JM (2015) Glibenclamide for the treatment of ischemic and hemorrhagic stroke. Int J Mol Sci 16(3):4973–4984

5.

Chalouhi N, Ali MS, Jabbour PM et al (2012) Biology of intracranial aneurysms: role of inflammation. J Cereb Blood Flow Metab 32(9):1659–1676

6.

Dündar TT, Aralaşmak A, Özdemir H et al (2018) Comparison of TOF MRA, contrast-enhanced MRA and subtracted CTA from CTP in residue evaluation of treated intracranial aneurysms. Turk Neurosurg 28(4):563–570

7.

Fung C, Inglin F, Murek M et al (2016) Reconsidering the logic of World Federation of Neurosurgical Societies grading in patients with severe subarachnoid hemorrhage. J Neurosurg 124(2):299–304

8.

Gerzanich V, Kwon MS, Woo SK, Ivanov A, Simard JM (2018) SUR1-TRPM4 channel activation and phasic secretion of MMP-9 induced by tPA in brain endothelial cells. PLoS One 13(4):1–23

9.

Gotoh O, Tamura A, Yasui N, Suzuki A, Hadeishi H, Sano K (1996) Glasgow Coma Scale in the prediction of outcome after early aneurysm surgery. Neurosurgery 39(1):19–25

10.

Grasso G, Alafaci C, Macdonald RL (2017) Management of aneurysmal subarachnoid hemorrhage: state of the art and future perspectives. Surg Neurol Int 8:11

11.

Haug T, Sorteberg A, Finset A, Lindegaard KF, Lundar T, Sorteberg W (2010) Cognitive functioning and health-related quality of life 1 year after aneurysmal subarachnoid hemorrhage in preoperative comatose patients (Hunt and Hess Grade V patients). Neurosurgery 66:475–485

12.

Ironside N, Buell TJ, Chen CJ et al (2019) High-grade aneurysmal subarachnoid hemorrhage: predictors of functional outcome. World Neurosurg:e723–e728

13.

Kurland DB, Tosun C, Pampori A et al (2013) Glibenclamide for the treatment of acute CNS injury. Pharmaceuticals (Basel) 6(10):1287–1303

14.

Le Roux PD, Elliott JP, Newell DW, Grady MS, Winn HR (1996) Predicting outcome in poor-grade patients with subarachnoid hemorrhage: a retrospective review of 159 aggressively managed cases. J Neurosurg 85:39–49

15.

Lucke-Wold BP, Logsdon AF, Manoranjan B et al (2016) Aneurysmal subarachnoid hemorrhage and neuroinflammation: a comprehensive review. Int J Mol Sci 17:497–509

16.

Navratil O, Duris K, Juran V, Neuman E, Svoboda K, Smrcka M (2017) Middle cerebral artery aneurysms with intracerebral hematoma—the impact of side and volume on final outcome. Acta Neurochir 159(3):543–547

17.

Oliveira AM, Paiva WS, Figueiredo EG, Oliveira HA, Teixeira MJ (2011) Fisher revised scale for assessment of prognosis in patients with subarachnoid hemorrhage. Arq Neuropsiquiatr 69(6):910–913

18.

Scharbrodt W, Stein M, Schreiber V, Böker DK, Oertel MF (2009) The prediction of long-term outcome after subarachnoid hemorrhage as measured by the Short Form-36 Health Survey. J Clin Neurosci 16(11):1409–1413

19.

Simard JM, Geng Z, Woo SK, Ivanova S, Tosun C, Melnichenko L, Gerzanich V (2009) Glibenclamide reduces inflammation, vasogenic edema, and caspase-3 activation after subarachnoid hemorrhage. J Cereb Blood Flow Metab 29(2):317–330

20.

Simard JM, Kahle KT, Gerzanich V (2010) Molecular mechanisms of microvascular failure in central nervous system injury--synergistic roles of NKCC1 and SUR1/TRPM4. J Neurosurg 113:622–629

21.

Tosun C, Kurland DB, Mehta R, Castellani RJ, deJong J, Kwon MS, Woo SK, Gerzanich V, Simard JM (2013) Inhibition of the SUR1-TRPM4 channel reduces neuroinflammation and cognitive impairment in subarachnoid hemorrhage. Stroke. 44(12):3522–3528

22.

Woo SK, Kwon MS, Ivanov A, Gerzanich V, Simard JM (2013) The sulfonylurea receptor 1 (Sur1)-transient receptor potential melastatin 4 (Trpm4) channel. J Biol Chem 288:3655–3667

23.

Wostrack M, Sandow N, Vajkoczy P, Schatlo B, Bijlenga P, Schaller K, Kehl V, Harmening K, Ringel F, Ryang YM, Friedrich B, Stoffel M, Meyer B (2013) Subarachnoid haemorrhage WFNS grade V: is maximal treatment worthwhile? Acta Neurochir 155:579–586

24.

Zhang G, Lin X, Zhang S, Xiu H, Pan C, Cui W (2017) A protective role of Glibenclamide in inflammation-associated injury Mediators Inflamm Article ID: 3578702, 11 pages

25.

Zhang Y, Hu Q, Xue H et al (2017) Intrasylvian/intracerebral hematomas associated with ruptured middle cerebral artery aneurysms: a single-center series and literature review. World Neurosurg 98:432–437

26.

Zhao C, Wei Y (2017) Surgical timing for aneurysmal subarachnoid hemorrhage: A meta-analysis and systematic review. Turk Neurosurg 27(4):489–499

27.

Zheng VZ, Wong GKC (2017) Neuroinflammation responses after subarachnoid hemorrhage: a review. J Clin Neurosci 42:7–11
Ethics declarations
Conflict of interest
The authors declare that they have no conflict of interest.
Research involving human participants and/or animals
This prospective study was approved by Bezmialem Vakif University ethical board under decision no. 2018.876.
Informed consent
Informed consent was obtained from all individual participants included in the study.
Additional information
Publisher's note
Springer Nature remains neutral with regard to jurisdictional claims in published maps and institutional affiliations.
About this article
Cite this article
Dundar, T.T., Abdallah, A., Yurtsever, I. et al. Serum SUR1 and TRPM4 in patients with subarachnoid hemorrhage. Neurosurg Rev 43, 1595–1603 (2020). https://doi.org/10.1007/s10143-019-01200-6
Received:

Revised:

Accepted:

Published:

Issue Date:
Keywords
Aneurysmal subarachnoid hemorrhage

SUR1

TRPM4

Neurological status

Prognosis

Treatment