Abstract
Patients with moyamoya angiopathy (MMA) are known to have an increased risk of impaired executive function (dysexecutive cognitive syndrome (DCS)). Numbers of moyamoya patients with DCS vary strongly in the literature; evidence of a correlation to affected vascular territories is low. This study aims to identify cognitive impairment in adult moyamoya patients and to correlate findings with imaging results. In addition, the predictive value of individual tests for the identification of DCS was analyzed. Neuropsychological test data of 41 adult moyamoya patients was analyzed for a possible correlation with territorial hypoperfusion on H215O PET with acetazolamide (ACZ) challenge (cerebrovascular reserve—CVR) and infarction patterns observed in MRI. Each vascular territory was analyzed separately and correlated to neuropsychological test results and to the presence of DCS. In total, 41.5% of patients presented with DCS. Significant association of DCS and affection of the right middle cerebral artery (MCA) territory was seen for insufficient CVR in PET (p = 0.030) and for patients with infarctions seen in MRI (p = 0.014). Analysis of individual neuropsychological test results confirmed the main association with the right MCA territory, as well as some association with the right anterior cerebral artery (ACA) territory. Analysis of a subgroup of patients with chronic disease on MRI (presence of large post-infarction gliosis and brain atrophy in affected territories) revealed a significantly higher risk for DCS (85% affected) than non-chronic patients (21% affected) (p < 0.001). Analysis of neuropsychological test data in this moyamoya cohort reveals DCS in 41.5% of all patients. Correlation between DCS and an impairment of CVR seen in PET and/or infarctions seen in MRI was significant for the right MCA territory. Patients with chronic disease had a significantly higher risk for DCS than non-chronic patients (p < 0.001).
This is a preview of subscription content, log in to check access.
Access options
Buy single article
Instant access to the full article PDF.
US$ 39.95
Tax calculation will be finalised during checkout.
Subscribe to journal
Immediate online access to all issues from 2019. Subscription will auto renew annually.
US$ 99
Tax calculation will be finalised during checkout.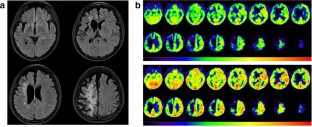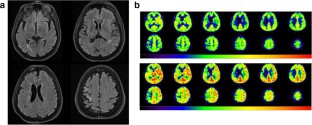 References
1.

Suzuki J, Takaku A (1969) Cerebrovascular "moyamoya" disease. Disease showing abnormal net-like vessels in base of brain. Arch Neurol 20(3):288–299

2.

Scott RM, Smith ER (2009) Moyamoya disease and moyamoya syndrome. N Engl J Med 360(12):1226–1237. https://doi.org/10.1056/NEJMra0804622

3.

Kronenburg A, van den Berg E, van Schooneveld MM, Braun KPJ, Calviere L, van der Zwan A, Klijn CJM (2018) Cognitive functions in children and adults with moyamoya vasculopathy: A systematic review and meta-analysis. Journal of stroke 20(3):332–341. https://doi.org/10.5853/jos.2018.01550

4.

Karzmark P, Zeifert PD, Bell-Stephens TE, Steinberg GK, Dorfman LJ (2012) Neurocognitive impairment in adults with moyamoya disease without stroke. Neurosurgery 70(3):634–638. https://doi.org/10.1227/NEU.0b013e3182320d1a

5.

Yanagihara W, Chida K, Kobayashi M, Kubo Y, Yoshida K, Terasaki K, Ogasawara K (2018) Impact of cerebral blood flow changes due to arterial bypass surgery on cognitive function in adult patients with symptomatic ischemic moyamoya disease. J Neurosurg:1–9. https://doi.org/10.3171/2018.7.jns18149

6.

Baek HJ, Chung SY, Park MS, Kim SM, Park KS, Son HU (2014) Preliminary study of neurocognitive dysfunction in adult moyamoya disease and improvement after superficial temporal artery-middle cerebral artery bypass. Journal of Korean Neurosurgical Society 56(3):188–193. https://doi.org/10.3340/jkns.2014.56.3.188

7.

Roder C, Burkle E, Ebner FH, Tatagiba M, Ernemann U, Buck A, Meyer PT, Khan N (2018) Estimation of severity of moyamoya disease with [(15)O]water-positron emission tomography compared with magnetic resonance imaging and angiography. World Neurosurg 117:e75–e81. https://doi.org/10.1016/j.wneu.2018.05.163

8.

Acker G, Lange C, Schatka I, Pfeifer A, Czabanka MA, Vajkoczy P, Buchert R (2018) Brain perfusion imaging under acetazolamide challenge for detection of impaired cerebrovascular reserve capacity: positive findings with 15O-water PET in patients with negative 99mTc-HMPAO SPECT findings. J Nucl Med 59(2):294–298. https://doi.org/10.2967/jnumed.117.195818

9.

Weinberg DG, Rahme RJ, Aoun SG, Batjer HH, Bendok BR (2011) Moyamoya disease: functional and neurocognitive outcomes in the pediatric and adult populations. Neurosurg Focus 30(6):E21. https://doi.org/10.3171/2011.3.Focus1150

10.

Calviere L, Ssi Yan Kai G, Catalaa I, Marlats F, Bonneville F, Larrue V (2012) Executive dysfunction in adults with moyamoya disease is associated with increased diffusion in frontal white matter. J Neurol Neurosurg Psychiatry 83(6):591–593. https://doi.org/10.1136/jnnp-2011-301388

11.

Calviere L, Catalaa I, Marlats F, Viguier A, Bonneville F, Cognard C, Larrue V (2010) Correlation between cognitive impairment and cerebral hemodynamic disturbances on perfusion magnetic resonance imaging in European adults with moyamoya disease. Clinical article. J Neurosurg 113(4):753–759. https://doi.org/10.3171/2010.4.jns091808

12.

Savolainen M, Mustanoja S, Pekkola J, Tyni T, Uusitalo AM, Ruotsalainen S, Poutiainen E, Hernesniemi J, Kivipelto L, Tatlisumak T (2018) Moyamoya angiopathy: long-term follow-up study in a Finnish population. J Neurol. 266:574–581. https://doi.org/10.1007/s00415-018-9154-7

13.

Arigoni M, Kneifel S, Fandino J, Khan N, Burger C, Buck A (2000) Simplified quantitative determination of cerebral perfusion reserve with H215O PET and acetazolamide. Eur J Nucl Med Mol Imaging 27(10):1557–1563

14.

Hauser TK, Seeger A, Bender B, Klose U, Thurow J, Ernemann U, Tatagiba M, Meyer PT, Khan N, Roder C (2019) Hypercapnic BOLD MRI compared to H215O PET/CT for the hemodynamic evaluation of patients with moyamoya disease. NeuroImage Clinical 22:101713. https://doi.org/10.1016/j.nicl.2019.101713

15.

Karzmark P, Zeifert PD, Tan S, Dorfman LJ, Bell-Stephens TE, Steinberg GK (2008) Effect of moyamoya disease on neuropsychological functioning in adults. Neurosurgery 62(5):1048–1051; discussion 1051-1042. https://doi.org/10.1227/01.neu.0000325866.29634.4c

16.

Festa JR, Schwarz LR, Pliskin N, Cullum CM, Lacritz L, Charbel FT, Mathews D, Starke RM, Connolly ES, Marshall RS, Lazar RM (2010) Neurocognitive dysfunction in adult moyamoya disease. J Neurol 257(5):806–815. https://doi.org/10.1007/s00415-009-5424-8

17.

Karnath H-O, Thier P (2006) Neuropsychologie. Springer

18.

Zeifert PD, Karzmark P, Bell-Stephens TE, Steinberg GK, Dorfman LJ (2017) Neurocognitive performance after cerebral revascularization in adult moyamoya disease. Stroke 48(6):1514–1517. https://doi.org/10.1161/strokeaha.116.016028
Ethics declarations
Conflict of interest
The authors declare that they have no conflict of interest.
Ethical approval
All procedures performed in studies involving human participants were in accordance with the ethical standards of the institutional research committee and with the 1964 Helsinki declaration and its later amendments or comparable ethics standards. As to the retrospective character of this analysis, no specific formal consent was obtained.
Additional information
Publisher's note
Springer Nature remains neutral with regard to jurisdictional claims in published maps and institutional affiliations.
Electronic supplementary material
About this article
Cite this article
Roder, C., Haas, P., Fudali, M. et al. Neuropsychological impairment in adults with moyamoya angiopathy: preoperative assessment and correlation to MRI and H215O PET. Neurosurg Rev 43, 1615–1622 (2020). https://doi.org/10.1007/s10143-019-01192-3
Received:

Revised:

Accepted:

Published:

Issue Date:
Keywords
Dysexecutive cognitive syndrome

Cerebral revascularization

Moyamoya disease

Moyamoya syndrome

Positron emission tomography

Neuropsychology