Abstract
Intermediate nerve schwannomas (INS) are extremely rare lesions in literature. They have been described mimicking facial nerve schwannomas, but not vestibular schwannomas (VS). We aimed to review the previously published cases, as well as the evidence to believe that they are far more common, though usually misdiagnosed as facial or VS. We performed a review of PubMed/Medline and Embase of "intermediate nerve schwannoma," "facial nerve schwannoma," "greater superficial petrosal nerve schwannoma," "geniculate ganglion schwannoma," and "chorda tympani schwannoma" to identify all cases of INS, following the Preferred Reporting Items for Systematic reviews and Meta-Analyses extension for Scoping Reviews (PRISMA-ScR) statement. Furthermore, 2 cases operated at our center are shown to exemplify the proposed hypotheses. No article was excluded from review. Thirteen cases of INS, 11 cases of chorda tympani schwannoma, and 18 cases of greater superficial petrosal nerve schwannoma were found in literature. In facial nerve schwannomas, the predilection of schwannomas for sensory nerves, and the ability to preserve the motor facial nerve during tumor resection support the hypothesis of intermediate nerve as the nerve of origin. For VSs, the different arachnoidal arrangement of medial VS, the sharing of pia mater by the intermediate nerve and vestibular nerve, and the medial Obersteiner-Redlich zone of the intermediate nerve, support the hypothesis of intermediate nerve origin of some VS. The correct identification of the intermediate nerve as a nerve of origin of cerebellopontine angle schwannomas is of uttermost importance, especially when mistaken for VS, as this may account for the heterogeneity of facial and cochlear outcomes after surgery.
Access options
Buy single article
Instant access to the full article PDF.
USD 39.95
Price excludes VAT (USA)
Tax calculation will be finalised during checkout.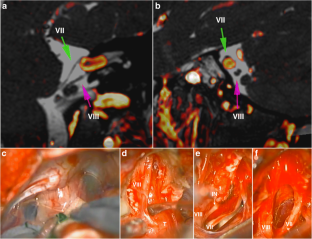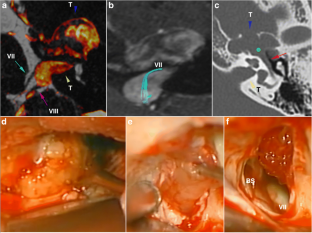 References
Alfieri A, Fleischhammer J, Peschke E, Strauss C (2012) The Nervus intermedius as a variable landmark and critical structure in cerebellopontine angle surgery: an anatomical study and classification. Acta Neurochir 154:1263–1268

Alfieri A, Fleischhammer J, Prell J (2011) The functions of the nervus intermedius. AJNR Am J Neuroradiol 32(7):E145

Alfieri A, Fleischhammer J, Strauss C, Peschke E (2012) The central myelin-peripheral myelin transitional zone of the Nervus intermedius and its implications for microsurgery in the cerebellopontine angle. Clin Anat 25(7):882–888

Alfieri A, Rampp S, Strauss C, Fleischhammer J, Rachinger J, Scheller C, Prell J (2014) The relationship between Nervus intermedius anatomy, ultrastructure, electrophysiology, and clinical function. Usefulness in cerebellopontine microsurgery. Acta Neurochir 156:403–408

Alfieri A, Strauss C, Prell J, Peschke E (2010) History of nervus intermedius of Wrisberg. Ann Anat 192(3):139–144

Ansari KA, Menon G, Abraham M, Nair S (2015) Greater superficial petrosal nerve schwannoma: 3 case reports and review of literature. The Open Neurosurgery Journal 7:1–5

Ashram YA, Jackler RK, Pitts LH, Yingling CD (2005) Intraoperative electrophysiological identification of the nervus intermedius. Otol Neurotol 26:274–279

Bridger MWM, Farkashidy J (1980) The distribution of neuroglia and Schwann cells in the 8th nerve of man. J Laryngol Otol 94:1353–1362

Brugge JF (1981) Neurophysiology of the central auditory and vestibular systems. In: Paparella MM, Shumrick DA (eds) Otolaryngology, Vol 1. WB Saunders Co, Philadelphia, pp 253–296

Calzada AP, Go JL, Tschirhart DL, Brackmann DE, Schwartz MS (2014) Cerebellopontine angle and Intracanalicular masses mimicking vestibular schwannomas. Otol Neurotol 36:491–497

Carlson ML, Deep NL, Patel NS, Lundy LB, Tombers NM, Lohse CM, Link MJ, Driscoll CL (2016) Facial nerve schwannomas: review of 80 cases over 25 years at Mayo Clinic. Mayo Clin Proc 91(11):1563–1576

Conley J, Janecka I (1973) Neurilemmoma of the facial nerve. Plast Reconst Surg 52(1):55–60

Dort JC, Fisch U (1991) Facial nerve schwannomas. Skull Base 1:51–56

Falcioni M, Russo A, Taibah A, Sanna M (2003) Facial nerve tumors. Otol Neurotol 24(6):942–947

Fenton JE, Morrin MM, Smail M, Sterkers O, Sterkers JM (1999) Bilateral facial nerve schwannomas. Eur Arch Otorhinolaryngol 256:133–135

Fortuna A, La Torre E, Forni C (1972) The cisternal segment of the nevus intermedius of Wrisberg: an anatomical study under the operating microscope. Acta Neurochir 27:53–62

Guclu B, Sindou M, Meyronet D, Streichenberger N, Simon E, Mertens P (2011) Cranial nerve vascular compression syndromes of the trigeminal, facial and Vago-glossopharyngeal nerves: comparative anatomical study of the central myelin potion and transitional zone; correlation with incidences of corresponding hyperactive dysfunctional syndromes. Acta Neurochir 153:2365–2375

Hosoya M, Oishi N, Noguchi M, Kasuya K, Nishiyama T, Ishikawa T et al (2018) Intraoperative facial nerve monitoring revealed the origin of rapidly progressing schwannoma in the cerebellopontine angle: a case of large intermediate nerve schwannoma. J Int Adv Otol 14(3):488–492

Inamasu J, Shiobara R, Kagami H, Sato S, Kawase T, Kanzaki J (2000) Medial (intra-cisternal) acoustic neuromas. Acta Otolaryngol 120:623–626

Irving RM, Viani L, Hardy DG, Baguley DM, Moffat DA (1995) Nervus intermedius function after vestibular schwannoma removal: clinical features and pathophysiological mechanisms. Laryngoscope 105:809–813

Iwanaga M, Yamamoto E, Yamauchi M, Fukumoto M, Uchino R, Sawada S (1984) Facial nerve neurinoma: two cases located in the horizontal portion. Laryngoscope 94:938–941

King TT, Morrison AW (1990) Primary facial nerve tumors within the skull. J Neurosurg 72:1–8

Kohan D, Downey LL, Lim J, Cohen NL, Elowitz E (1997) Uncommon lesions presenting as tumors of the internal auditory canal and cerebellopontine angle. Am J Otolaryngol 18:386–392

Kohno M, Sato H, Sora S, Miwa H, Yokoyama M (2011) Is an acoustic neuroma an Epiarachnoid or subarachnoid tumor? Neurosurgery 68:1006–1017

Kudo A, Suzuki M, Kubo N, Kuroda K, Ogawa A, Iwasaki Y (1996) Schwannoma arising from the intermediate nerve and manifesting as hemifacial spasm. J Neurosurg 84:277–279

Lee WS, Kim J (2011) Revised surgical strategy to preserve facial function after resection of facial nerve schwannoma. Otol Neurotol 32(9):1548–1553

Lescanne E, François P, Bakhos D, Velut S, Robier A, Pollak A (2008) Vestibular schwannoma: dissection of the tumor and Arachnoidal duplication. Otol Neurotol 29:989–994

Lipkin AF, Coker NJ, Jenkins HA, Alford BR (1987) Intracranial and intratemporal facial neuroma. Otolaryngol Head Neck Surg 96:71–79

Lopes O, Castro NP, Quintanillia Ribeiro FA, Pialarissi PR (1978) Neurinoma of the facial nerve. ORL J Otorhinolaryngol Relat Spec 40:254–262

Mastronardi L, Cacciotti G, Roperto R, Di Scipio E, Tonelli MP, Carpineta E (2016) Position and course of facial nerve and postoperative facial nerve results in vestibular schwannoma microsurgery. World Neurosurg 94:174–180

Matsuo T, Koga H, Moriyama T, Inagawa M (1993) Facial schwannoma spreading in the middle cranial fossa and the cerebellopontine angle—case report. Neurol Med Chir 33:381–385

McMenomey SO, Glasscock ME III, Minor LB, Jackson CG, Strasnick B (1994) Facial nerve neuromas presenting as acoustic tumors. Am J Otolaryngol 15:307–312

McNulty BN, Wise S, Cohen DS, Bell J, Bojrab D, LaRouere M et al (2017) Facial nerve schwannomas mimicking as vestibular schwannomas. J Neurol Surg B Skull Base B 78:283–287

Mowry S, Hansen M, Gantz B (2012) Surgical management of internal auditory canal and cerebellopontine angle facial nerve schwannoma. Otol Neurotol 33(6):1071–1076

Nadeau DP, Sataloff RT (2003) Fascicle preservation surgery for facial nerve neuromas involving the posterior cranial Fossa. Otol Neurotol 24:317–325

Nager GT (1969) Acoustic Neurinomas. Pathology and differential diagnosis. Arch Otolaryngol 89:252–279

Neely JG (1981) Gross and microscopic anatomy of the eighth cranial nerve in relationship to the solitary schwannoma. Laryngoscope 91:1512–1531

Noonan KY, Rang C, Callahan K, Simmons NE, Erkmen K, Saunders JE (2016) Nervus intermedius symptoms following surgical or radiation therapy for vestibular schwannoma. Otolaryngol Head Neck Surg 155(4):657–662

Obersteiner H, Redlich E (1894) [on the nature and pathogenesis of tabetic posterior column degeneration.] arb Neurol Inst (Wien) 2:158–172. (German)

O'Donoghue GM, Brackmann DE, House JW, Jackler RK (1989) Neuromas of the facial nerve. Am J Otolaryngol 10:49–54

Ohata K, Tsuyuguchi N, Morino M, Takami T, Goto T, Hakuba A et al (2002) A hypothesis of Epiarachnoidal growth of vestibular schwannoma at the cerebello-pontine angle: surgical importance. J Postgrad Med 48(4):253–253

Oh C-S, Chung I-H, Lee K-S, Tanaka S (2003) Morphological study of the rootlets comprising the root of the intermediate nerve. Anat Sci Int 78:111–113

Piccirillo E, De Stefano A, Dispenza F, Kulamarva G, De Donato G, Sanna M (2011) Intermediate nerve schwannoma: a rare tumour. B-ENT 7:219–223

Piccirillo E, Wiet MR, Flanagan S, Dispenza F, Giannuzzi A, Mancini F, Sanna M (2009) Cystic vestibular schwannoma: classification, management and facial nerve outcomes. Otol Neurotol 30:826–834

Pulec JL (1994) Facial nerve neuroma. Ear Nose Throat J 73:721–752

Rasmussen AT (1940) Studies of the Vlllth cranial nerve of man. Laryngoscope 50:67–83

Rhoton AL Jr (1968) Afferent connections of the facial nerve. J Comp Neurol 133:89–100

Rhoton AL, Kobayashi S, Hollinshead WH (1968) Nervus intermedius. J Neurosurg 29:609–618

Rizer FM, Guthikonda M, Lippy WH, Schuring AG (1994) Simultaneous presentation of facial nerve neuroma and otosclerosis. Am J Otolaryngol 15:427–430

Roosli C, Linthicum FH Jr, Cureoglu S, Merchant SN (2012) What is the site of origin of Cochleovestibular schwannomas? Audiol Neurootol 17:121–125

Saada AA, Limb CJ, Long DM, Niparko JK (2000) Intracanalicular schwannoma of the facial nerve: a manifestation of neurofibromatosis type 2. Arch Otolaryngol Head Neck Surg 126(4):547–549

Saito H, Baxter A (1972) Undiagnosed intratemporal facial nerve neurilemomas. Arch Otolaryngol 95(5):415–419

Sampath P, Rini D, Long DM (2000) Microanatomical variations in the cerebellopontine angle associated with vestibular schwannomas (acoustic neuromas): a retrospective study of 1006 consecutive cases. J Neurosurg 92:70–78

Sartoretti-Schefer S, Kollias S, Valavanis A (2000) Spatial relationship between vestibular schwannoma and facial nerve on three-dimensional T2-weighted fast spin-echo MR images. AJNR Am J Neuroradiol 21:810–816

Schefter RP, Harner SG (1986) Histologic study of the vestibulocochlear nerve. Ann Otol Rhinol Laryngol 95:146–150

Scheller C, Alfieri A, Peschke E, Strauss C (2012) Intermediate nerve schwannomas. In: Hayat MA (ed) Tumors of the central nervous system. Volume 7. Meningiomas and schwannomas. Springer, Dordrecht, pp 239–245

Scheller C, Rachinger J, Prell J, Kornhuber M, Strauss C (2008) Schwannoma of the intermediate nerve. J Neurosurg 109:144–148

Schwam ZG, Kaul VZ, Wanna GB (2019) Endoscopic resection of a Chorda tympani schwannoma: a novel approach for an exceedingly rare entity. Laryngoscope 129:1188–1190

Shambaugh GE Jr, Arenberg IK, Barney PL, Valvassori GE (1969) Facial neurilemmomas: a study of four diverse cases. Arch Otolaryngol 90:742–755

Sherman JD, Dagnew E, Pensak ML, van Loveren HR, Tew JM Jr (2002) Facial nerve neuromas: report of 10 cases and review of the literature. Neurosurgery 50:450–456

Silverstein H, Norrell H, Haberkamp T, McDaniel AB (1986) The unrecognized rotation of the vestibular and cochlear nerves from the labyrinth to the brain stem: its implications to surgery of the eighth cranial nerve. Otolaryngol Head Neck Surg 95:543–549

Smith JJ, Breathnach CS (1990) Functions of the seventh cranial nerve. Ear Nose Throat J 69:688–691

Song F, Hou Y, Sun G, Chen X, Xu B, Huang JH, Zhang J (2016) In vivo visualization of the facial nerve in patients with acoustic neuroma using diffusion tensor imaging-based fibre tracking. J Neurosurg 125:787–794

Strauss C (2002) The facial nerve in medial acoustic neuromas. J Neurosurg 97:1083–1090

Strauss C, Bischoff B, Romstöck J, Rachinger J, Rampp S, Prell J (2008) Hearing preservation in medial vestibular schwannomas. J Neurosurg 109:70–76

Strauss C, Prell J, Rampp S, Romstöck J (2006) Split facial nerve course in vestibular schwannomas. J Neurosurg 105:698–705

Stripf T, Braun K, Gouveris H, Stripf E, Mann WJ, Amedee RG (2007) Influence of different approaches to the cerebellopontine angle on the function of the intermediate nerve. J Neurosurg 107:927–931

Symon L, Cheesman AD, Kawauchi M, Bordi L (1993) Neuromas of the facial nerve: a report of 12 cases. Br J Neurosurg 7:13–22

Tarlov IM (1937) Structure of the nerve root. II. Differentiation of sensory from motor roots; observations on identification of function in roots of mixed cranial nerves. Archives of Neurology & Psychiatry 37(6):1338–1355

Tew JM Jr, Yeh HS, Miller GW, Shahbabian S (1983) Intratemporal schwannoma of the facial nerve. Neurosurgery 13:186–188

Thomsen J, Borum P, Tos M, Zilstorff K (1981) Nervus intermedius in acoustic neuromas: a critical evaluation of intermedius nerve testing, with special reference to the nasolacrimal reflex. Am J Otolaryngol 3:21–27

Tomii M, Onoue H, Yasue M, Tokudome S, Abe T (2003) Microscopic measurement of the facial nerve root exit zone from central glial myelin to peripheral Schwann cell myelin. J Neurosurg 99:121–124

Tos M, Drozdziewicz D, Thomsen J (1992) Medial acoustic neuromas. A new clinical entity. Arch Otolaryngol Head Neck Surg 118:127–133

Tubbs RS, Steck DT, Mortazavi MM, Cohen-Gadol AA (2013) The Nervus intermedius. A review of its anatomy, function, pathology, and role in neurosurgery. World Neurosurg 79:763–767

van der Jagt MA, Brink WM, Versluis MJ, Steens SC, Briaire JJ, Webb AG et al (2015) Visualization of human inner ear anatomy with high-resolution MR imaging at 7T: initial clinical assessment. AJNR Am J Neuroradiol 36(2):378–383
Ethics declarations
Conflict of interest
The authors declare that they have no conflicts of interest.
Ethical approval
The study was approved by the internal review board (IRB) of the hospital.
Informed consent
The requirement to obtain consent was waived by the IRB.
Additional information
Publisher's note
Springer Nature remains neutral with regard to jurisdictional claims in published maps and institutional affiliations.
Electronic supplementary material
About this article
Cite this article
Constanzo, F., Teixeira, B.C., Sens, P. et al. Cerebellopontine angle schwannomas arising from the intermediate nerve: a scoping review. Neurosurg Rev 43, 1431–1441 (2020). https://doi.org/10.1007/s10143-019-01173-6
Received:

Revised:

Accepted:

Published:

Issue Date:

DOI: https://doi.org/10.1007/s10143-019-01173-6
Keywords
Intermediate nerve schwannoma

Cerebellopontine angle tumor

Vestibular schwannoma

Facial nerve schwannoma