Abstract
The surgical resection of insular gliomas remains a challenge. Middle cerebral artery perforating arteries and deep functional pathways affect the extent of resection and the rate of post-operative morbidity. The authors performed a systematic review and meta-analysis of the literature examining early and permanent post-operative deficits in patients who underwent resection of insular gliomas using awake craniotomy with direct electrical stimulation (DES) versus surgery under general anesthesia. A systematic search of three databases was performed for studies published between 1990 and 2018. Random-effect meta-analysis was used to pool the rate of early and permanent post-operative deficits. Random-effect meta-regression was used to examine the association between the rate of post-operative deficit and the anesthesia protocol. We included eight studies evaluating 227 patients with insular glioma. The rate of permanent sequelae was lower after awake craniotomy with DES (3.5% vs 15.7%; P = .001), and early deficits were lower after surgery under general anesthesia (27.3% vs 47.7%; P = .04). Awake surgery was significantly more common among patients with tumor located within the dominant hemisphere (P < .001). No significant association arose between the rates of post-operative deficits and the use of intraoperative neuronavigation and the neurophysiological monitoring. Furthermore, neither extent of resection nor tumor histology influenced the onset of permanent sequelae. Awake craniotomy with DES is associated with a significantly lower rate of permanent neurological morbidity after an early increase of transient post-operative deficits. These data support the use of awake mapping in insular glioma resection.
This is a preview of subscription content, log in to check access.
Access options
Buy single article
Instant access to the full article PDF.
US$ 39.95
Price includes VAT for USA
Subscribe to journal
Immediate online access to all issues from 2019. Subscription will auto renew annually.
US$ 99
This is the net price. Taxes to be calculated in checkout.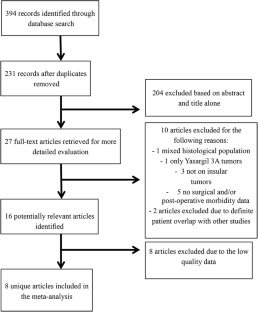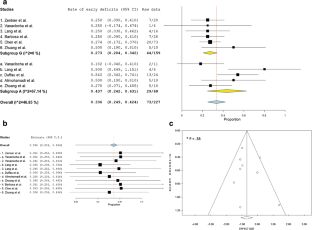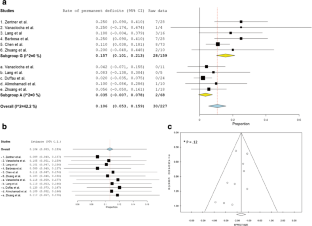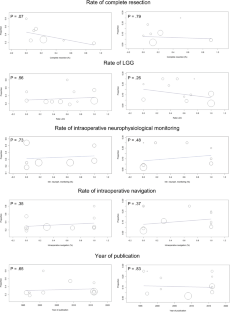 References
1.

Alimohamadi M, Shirani M, Shariat Moharari R, Pour-Rashidi A, Ketabchi M, Khajavi M, Arami M, Amirjamshidi A (2016) Application of awake craniotomy and intraoperative brain mapping for surgical resection of insular gliomas of the dominant hemisphere. World Neurosurg 92:151–158. https://doi.org/10.1016/j.wneu.2016.04.079

2.

Baker WL, White CM, Cappelleri JC, Kluger J, Coleman CI (2009) Understanding heterogeneity in meta-analysis: the role of meta-regression. Int J Clin Pract 63:1426–1434. https://doi.org/10.1111/j.1742-1241.2009.02168.x

3.

Barbosa BJAPBJAP, Dimostheni A, Teixeira MJ, Tatagiba M, Lepski G (2016) Insular gliomas and the role of intraoperative assistive technologies: results from a volumetry-based retrospective cohort. Clin Neurol Neurosurg 149:104–110. https://doi.org/10.1016/j.clineuro.2016.08.001

4.

Chen L-F, Yang Y, Ma X-D, Yu X-G, Gui Q-P, Xu B-N, Zhou D-B (2017) Optimizing the extent of resection and minimizing the morbidity in insular high-grade glioma surgery by high-field intraoperative MRI guidance. Turk Neurosurg 27:696–706. https://doi.org/10.5137/1019-5149.JTN.18346-16.1

5.

DerSimonian R, Laird N (2015) Meta-analysis in clinical trials revisited. Contemp Clin Trials 45:139–145. https://doi.org/10.1016/j.cct.2015.09.002

6.

DeWitt Hamer PC, Robles SG, Zwinderman AH, Duffau H, Berger MS (2012) Impact of intraoperative stimulation brain mapping on glioma surgery outcome: a meta-analysis. J Clin Oncol 30:2559–2565. https://doi.org/10.1200/JCO.2011.38.4818

7.

Duffau H (2016) Brain plasticity and reorganization before, During, and After Glioma Resection. https://doi.org/10.1016/B978-0-323-47660-7.00018-5

8.

Duffau H, Mandonnet E (2013) The "onco-functional balance" in surgery for diffuse low-grade glioma: integrating the extent of resection with quality of life. Acta Neurochir 155:951–957. https://doi.org/10.1007/s00701-013-1653-9

9.

Duffau H, Capelle L, Sichez J-P, Faillot T, Abdennour L, Law Koune J-D, Dadoun S, Bitar A, Arthuis F, Van Effenterre R, Fohanno D (1999) Intra-operative direct electrical stimulations of the central nervous system: the Salpetriere experience with 60 patients. Acta Neurochir 141:1157–1167. https://doi.org/10.1007/s007010050413

10.

Duffau H, Capelle L, Denvil D, Sichez N, Gatignol P, Lopes M, Mitchell M-C, Sichez J-P, Van Effenterre R (2003) Functional recovery after surgical resection of low grade gliomas in eloquent brain: hypothesis of brain compensation. J Neurol Neurosurg Psychiatry 74:901–907

11.

Duffau H, Lopes M, Arthuis F, Bitar A, Sichez J-P, Van Effenterre R, Capelle L (2005) Contribution of intraoperative electrical stimulations in surgery of low grade gliomas: a comparative study between two series without (1985-96) and with (1996-2003) functional mapping in the same institution. J Neurol Neurosurg Psychiatry 76:845–851. https://doi.org/10.1136/jnnp.2004.048520

12.

Duffau H, Taillandier L, Gatignol P, Capelle L (2006) The insular lobe and brain plasticity: lessons from tumor surgery. Clin Neurol Neurosurg 108:543–548. https://doi.org/10.1016/j.clineuro.2005.09.004

13.

Duffau H, Moritz-Gasser S, Gatignol P (2009) Functional outcome after language mapping for insular World Health Organization grade II gliomas in the dominant hemisphere: experience with 24 patients. Neurosurg Focus 27:E7. https://doi.org/10.3171/2009.5.FOCUS0938

14.

Duffau H, Moritz-Gasser S, Mandonnet E (2014) A re-examination of neural basis of language processing: proposal of a dynamic hodotopical model from data provided by brain stimulation mapping during picture naming. Brain Lang 131:1–10. https://doi.org/10.1016/j.bandl.2013.05.011

15.

Easterbrook PJ, Gopalan R, Berlin JA, Matthews DR (1991) Publication bias in clinical research. Lancet 337:867–872

16.

Egger M, Smith GD, Schneider M, Minder C (1997) Bias in meta-analysis detected by a simple, graphical test. Bmj 315:629–634

17.

Fernández-Miranda JC, Rhoton ALJ, Kakizawa Y, Cohi C, Alvarez-Linera J (2008) The claustrum and its projection system in the human brain: a microsurgical and tractographic anatomical study. J Neurosurg 108:764–774. https://doi.org/10.3171/JNS/2008/108/4/0764

18.

Gerstner ER, Chen P-J, Wen PY, Jain RK, Batchelor TT, Sorensen G (2010) Infiltrative patterns of glioblastoma spread detected via diffusion MRI after treatment with cediranib. Neuro-Oncology 12:466–472. https://doi.org/10.1093/neuonc/nop051

19.

Gulati S, Jakola AS, Nerland US, Weber C, Solheim O (2011) The risk of getting worse: surgically acquired deficits, perioperative complications, and functional outcomes after primary resection of glioblastoma. World Neurosurg 76:572–579. https://doi.org/10.1016/j.wneu.2011.06.014

20.

Higgins JPT, Thompson SG, Deeks JJ, Altman DG (2003) Measuring inconsistency in meta-analyses. BMJ Br Med J 327:557–560. https://doi.org/10.1136/bmj.327.7414.557

21.

Kotrotsou A, Elakkad A, Sun J, Thomas GA, Yang D, Abrol S, Wei W, Weinberg JS, Bakhtiari AS, Kircher MF, Luedi MM, de Groot JF, Sawaya R, Kumar AJ, Zinn PO, Colen RR (2018) Multi-center study finds postoperative residual non-enhancing component of glioblastoma as a new determinant of patient outcome. J Neuro-Oncol 0:1–9. https://doi.org/10.1007/s11060-018-2850-4

22.

Lang FF, Olansen NE, DeMonte F, Gokaslan ZL, Holland EC, Kalhorn C, Sawaya R (2001) Surgical resection of intrinsic insular tumors: complication avoidance. J Neurosurg 95:638–650. https://doi.org/10.3171/jns.2001.95.4.0638

23.

Li YM, Suki D, Hess K, Sawaya R (2016) The influence of maximum safe resection of glioblastoma on survival in 1229 patients: can we do better than gross-total resection? J Neurosurg 124:977–988. https://doi.org/10.3171/2015.5.JNS142087

24.

Mandonnet E, Martino J, Sarubbo S, Corrivetti F, Bouazza S, Bresson D, Duffau H, Froelich S (2017) Neuronavigated fiber dissection with pial preservation: laboratory model to simulate opercular approaches to insular tumors. World Neurosurg 98:239–242. https://doi.org/10.1016/j.wneu.2016.10.020

25.

Moher D, Liberati A, Tetzlaff J, Altman DG, Grp P (2009) Preferred Reporting Items for Systematic Reviews and Meta-Analyses: the PRISMA statement (reprinted from annals of internal medicine). Phys Ther 89:873–880. https://doi.org/10.1371/journal.pmed.1000097

26.

Ojemann GA, Whitaker HA (1978) The bilingual brain. Arch Neurol 35:409–412

27.

Ribas EC, Yagmurlu K, Wen HT, Rhoton AL (2015) Microsurgical anatomy of the inferior limiting insular sulcus and the temporal stem. J Neurosurg 122:1–11. https://doi.org/10.3171/2014.10.JNS141194

28.

Sanai N, Chang S, Berger MS (2011) Low-grade gliomas in adults: A review. J Neurosurg 115:948–965. https://doi.org/10.3171/2011.7.JNS101238

29.

Sanai N, Polley M-Y, McDermott MW, Parsa AT, Berger MS (2011) An extent of resection threshold for newly diagnosed glioblastomas. J Neurosurg 115:3–8. https://doi.org/10.3171/2011.7.JNS10238

30.

Stensjøen AL, Solheim O, Kvistad KA, Håberg AK, Salvesen Ø, Berntsen EM (2015) Growth dynamics of untreated glioblastomas in vivo. Neuro-Oncology 17:1402–1411. https://doi.org/10.1093/neuonc/nov029

31.

Szelenyi A, Bello L, Duffau H, Fava E, Feigl GC, Galanda M, Neuloh G, Signorelli F, Sala F (2010) Intraoperative electrical stimulation in awake craniotomy: methodological aspects of current practice. Neurosurg Focus 28:E7. https://doi.org/10.3171/2009.12.FOCUS09237

32.

Ture U, Yasargil MG, Al-Mefty O, Yasargil DC (2000) Arteries of the insula. J Neurosurg 92:676–687. https://doi.org/10.3171/jns.2000.92.4.0676

33.

Ture U, Yasargil MG, Friedman AH, Al-Mefty O (2000) Fiber dissection technique: lateral aspect of the brain. Neurosurgery 47:417–427

34.

Vanaclocha V, Saiz-Sapena N, Garcia-Casasola C (1997) Surgical treatment of insular gliomas. Acta Neurochir 139:1125–1126

35.

Vilasboas T, Herbet G, Duffau H (2017) Challenging the myth of right nondominant hemisphere: lessons from corticosubcortical stimulation mapping in awake surgery and surgical implications. World Neurosurg 103:449–456. https://doi.org/10.1016/j.wneu.2017.04.021

36.

Vogelbaum MA, Jost S, Aghi MK, Heimberger AB, Sampson JH, Wen PY, MacDonald DR, Van Den Bent MJ, Chang SM (2012) Application of novel response/progression measures for surgically delivered therapies for gliomas: Response Assessment in Neuro-Oncology (RANO) working group. Neurosurgery 70:234–243. https://doi.org/10.1227/NEU.0b013e318223f5a7

37.

Weller M, van den Bent M, Hopkins K, Tonn JC, Stupp R, Falini A, Cohen-Jonathan-Moyal E, Frappaz D, Henriksson R, Balana C, Chinot O, Ram Z, Reifenberger G, Soffietti R, Wick W (2014) EANO guideline for the diagnosis and treatment of anaplastic gliomas and glioblastoma. Lancet Oncol 15:395–403. https://doi.org/10.1016/S1470-2045(14)70011-7

38.

Willis BH, Riley RD (2017) Measuring the statistical validity of summary meta-analysis and meta-regression results for use in clinical practice. Stat Med 36:3283–3301. https://doi.org/10.1002/sim.7372

39.

Yasargil MG, von Ammon K, Cavazos E, Doczi T, Reeves JD, Roth P (1992) Tumours of the limbie and paralimbic systems. Acta Neurochir 118:40–52

40.

Zentner J, Meyer B, Stangl A, Schramm J (1996) Intrinsic tumors of the insula: a prospective surgical study of 30 patients. J Neurosurg 85:263–271. https://doi.org/10.3171/jns.1996.85.2.0263

41.

Zhuang D-XX, Wu J-SS, Yao C-JJ, Qiu T-MM, Lu J-FF, Zhu F-PP, Xu G, Zhu W, Zhou L-FF (2016) Intraoperative multi-information-guided resection of dominant-sided insular gliomas in a 3-T intraoperative magnetic resonance imaging integrated neurosurgical suite. World Neurosurg 89:84–92. https://doi.org/10.1016/j.wneu.2016.01.067
Acknowledgments
We thank Ms. Juliet Strachan for English revision.
Funding
No funding was received for this research.
Ethics declarations
Conflict of interest
The authors declare that they have no conflict of interest.
Research involving human participants and/or animals
This article does not contain any studies with human participants or animals performed by any of the authors.
Ethical approval
For this type of study, formal consent is not required.
Informed consent
The nature of this article did not require informed consent
Additional information
Publisher's note
Springer Nature remains neutral with regard to jurisdictional claims in published maps and institutional affiliations.
About this article
Cite this article
Di Carlo, D.T., Cagnazzo, F., Anania, Y. et al. Post-operative morbidity ensuing surgery for insular gliomas: a systematic review and meta-analysis. Neurosurg Rev 43, 987–997 (2020). https://doi.org/10.1007/s10143-019-01113-4
Received:

Revised:

Accepted:

Published:

Issue Date:
Keywords
Insular glioma

Awake surgery

Insular surgery

Meta-analysis