Abstract
This aimed to evaluate the effect of surgery for overall survival (OS) and progression-free survival (PFS) in intracranial primary CNS lymphoma (PCNSL) of all patients diagnosed at a single center. A prospective database at Oslo University Hospital of PCNSL was reviewed over a 12-year period (2003–2014). Seventy-nine patients with intracranial PCNSL were identified. Deep brain involvement was shown in 63 patients. Thirty-two patients underwent craniotomy with resection, while all other patients had a biopsy. Fifty-seven patients were given chemotherapy: 18 were treated with the MSKCC (Memorial Sloan-Kettering Cancer Center) with rituximab, 21 with the MSKCC without rituximab, and 14 within a Nordic prospective phase II protocol. Forty-four patients achieved complete response (CR) and had OS of 46.3 months. Patients who underwent resection had a median OS of 28.6 versus 11.7 months for those who had a biopsy performed. Resection showed an insignificant prolongation of OS. Multivariate analysis confirmed statistical significance of deep brain involvement only (p < 0.005). Neither chemotherapy regimen, Karnofsky Performance Status (KPS), type of surgery, nor patient age was significant factors for OS or PFS. Resective surgery played no role in significantly improving either OS or PFS and therefore it is not recommended as treatment for PCNSL.
This is a preview of subscription content,
to check access.
Access this article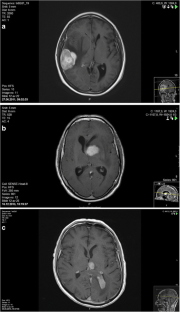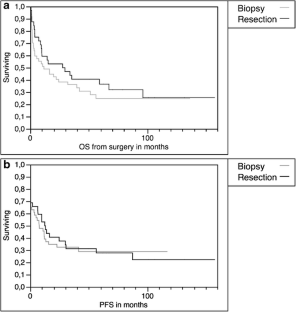 Similar content being viewed by others
References
Abrey LE, Yahalom J, De Angelis LM (2000) Treatment for primary CNS lymphoma: the next step. J Clin Oncol 18(17):3144–3150. https://doi.org/10.1200/jco.2000.18.17.3144

Adachi K, Yamaguchi F, Node Y, Kobayashi S, Takagi R, Teramoto A (2013) Neuroimaging of primary central nervous system lymphoma in immunocompetent patients: comparison of recent and previous findings. J Nippon Med Sch 80(3):174–183. https://doi.org/10.1272/jnms.80.174

Bataille B, Delwail V, Menet E, Vandermarcq P, Ingrand P, Wager M, Guy G, Lapierre F (2000) Primary intracerebral malignant lymphoma: report of 248 cases. J Neurosurg 92(2):261–266. https://doi.org/10.3171/jns.2000.92.2.0261

Bellinzona M, Roser F, Ostertag H, Gaab RM, Saini M (2005) Surgical removal of primary central nervous system lymphomas (PCNSL) presenting as space occupying lesions: a series of 33 cases. Eur J Surg Oncol 31(1):100–105. https://doi.org/10.1016/j.ejso.2004.10.002

Bierman PJ (2014) Surgery for primary central nervous system lymphoma: is it time for reevaluation? Oncology (Williston Park) 28(7):632–637

Cloney MB, Sonabend AM, Yun J, Yang J, Iwamoto F, Singh S, Bhagat G, Canoll P, Zanazzi G, Bruce JN, Sisti M, Sheth S, Connolly ES, McKhann G (2017) The safety of resection for primary central nervous system lymphoma: a single institution retrospective analysis. J Neuro-Oncol 132(1):189–197. https://doi.org/10.1007/s11060-016-2358-8

Enblad G, Martinsson G, Baecklund E, Hesselager G, Sundstrom C, Amini RM, Hagberg H (2017) Population-based experience on primary central nervous system lymphoma 2000-2012: the incidence is increasing. Acta Oncol (Stockholm, Sweden) 56(4):599–607. https://doi.org/10.1080/0284186x.2016.1270465

Ferreri AJ, Reni M, Foppoli M, Martelli M, Pangalis GA, Frezzato M, Cabras MG, Fabbri A, Corazzelli G, Ilariucci F, Rossi G, Soffietti R, Stelitano C, Vallisa D, Zaja F, Zoppegno L, Aondio GM, Avvisati G, Balzarotti M, Brandes AA, Fajardo J, Gomez H, Guarini A, Pinotti G, Rigacci L, Uhlmann C, Picozzi P, Vezzulli P, Ponzoni M, Zucca E, Caligaris-Cappio F, Cavalli F, IELSG (2009) High-dose cytarabine plus high-dose methotrexate versus high-dose methotrexate alone in patients with primary CNS lymphoma: a randomised phase 2 trial. Lancet 374(9700):1512–1520. https://doi.org/10.1016/s0140-6736(09)61416-1

Ghesquières H, Ferlay C, Sebban C, Perol D, Bosly A, Casasnovas O, Reman O, Coiffier B, Tilly H, Morel P, Van den Neste E, Colin P, Haioun C, Biron P, Blay JY (2010) Long-term follow-up of an age-adapted C5R protocol followed by radiotherapy in 99 newly diagnosed primary CNS lymphomas: a prospective multicentric phase II study of the Groupe d'Etude des Lymphomes de l'Adulte (GELA). Ann Oncol 21(4):842–850. https://doi.org/10.1093/annonc/mdp529

Korfel A, Thiel E, Martus P, Möhle R, Griesinger F, Rauch M, Röth A, Hertenstein B, Fischer T, Hundsberger T, Mergenthaler HG, Junghanß C, Birnbaum T, Fischer L, Jahnke K, Herrlinger U, Roth P, Bamberg M, Pietsch T, Weller M (2015) Randomized phase III study of whole-brain radiotherapy for primary CNS lymphoma. Neurology 84(12):1242–1248. https://doi.org/10.1212/wnl.0000000000001395

Lai R, Rosenblum MK, DeAngelis LM (2002) Primary CNS lymphoma: a whole-brain disease? Neurology 59(10):1557–1562. https://doi.org/10.1212/01.WNL.0000034256.20173.EA

Lee BS, Juthani RG, Healy AT, Peereboom DM, Recinos VM (2014) Hyperosmolar and methotrexate therapy avoiding surgery in the acute presentation of primary central nervous system lymphoma. Surg Neurol Int 5(5):S175–S180. https://doi.org/10.4103/2152-7806.136741

Morris PG, Correa DD, Yahalom J, Raizer JJ, Schiff D, Grant B, Grimm S, Lai RK, Reiner AS, Panageas K, Karimi S, Curry R, Shah G, Abrey LE, DeAngelis LM, Omuro A (2013) Rituximab, methotrexate, procarbazine, and vincristine followed by consolidation reduced-dose whole-brain radiotherapy and cytarabine in newly diagnosed primary CNS lymphoma: final results and long-term outcome. J Clin Oncol 31(31):3971–3979. https://doi.org/10.1200/jco.2013.50.4910

Norden AD, Drappatz J, Wen PY, Claus EB (2010) Survival among patients with primary central nervous system lymphoma, 1973-2004. J Neuro-Oncol 101(3):487–493. https://doi.org/10.1007/s11060-010-0269-7

Pulczynski EJ, Kuittinrn O, Erlanson M, Hagberg H, Nordstrøm M, Østenstad B, Fluge Ø, Leppä S, Fiirgaard B, Bersvendsen H, Fagerli U-M, Alexander, Eriksson M (2015) Successful change of treatment strategy in elderly patients with primary central nervous system lymphoma by de-escalating induction and introducing temozolomide maintenance: results from a phase II study by the Nordic lymphoma group. Hematologica 100(4):534–540. https://doi.org/10.3324/haematol.2014.108472

Rees JH, Smirniotopoulos JG, Jones RV, Wong K (1996) Glioblastoma multiforme: radiologic-pathologic correlation. Radiographics 16(6):1413–1438; quiz 1462-1413. https://doi.org/10.1148/radiographics.16.6.8946545

Rubenstein JL, Hsi ED, Johnson JL, Jung SH, Nakashima MO, Grant B, Cheson BD, Kaplan LD (2013) Intensive chemotherapy and immunotherapy in patients with newly diagnosed primary CNS lymphoma: CALGB 50202 (alliance 50202). J Clin Oncol 31(25):3061–3068. https://doi.org/10.1200/jco.2012.46.9957

Sonstein W, Tabaddor K, Llena JF (1998) Solitary primary CNS lymphoma: long term survival following total resection. Med Oncol 15(1):61–65. https://doi.org/10.1007/BF02787347

Weller M, Martus P, Roth P, Thiel E, Korfel A, Group GPS (2012) Surgery for primary CNS lymphoma? Challenging a paradigm. Neuro-Oncology 14(12):1481–1484. https://doi.org/10.1093/neuonc/nos159

Yun J, Iwamoto FM, Sonabend AM (2017) Primary central nervous system lymphoma: a critical review of the role of surgery for resection. Arch Cancer Res 4(2):71. https://doi.org/10.21767/2254-6081.100071
Ethics declarations
Conflict of interest
The authors declare that they have no conflict of interest.
Ethical approval
The study was approved by the Data Protection Office at OUH (2015/16840).
All procedures performed in studies involving human participants were in accordance with the ethical standards of the institutional and/or national research committee and with the 1964 Helsinki Declaration and its later amendments or comparable ethical standards.
Informed consent
For this type of study, formal consent is not required.
About this article
Cite this article
Jahr, G., Da Broi, M., Holte, H. et al. The role of surgery in intracranial PCNSL. Neurosurg Rev 41, 1037–1044 (2018). https://doi.org/10.1007/s10143-018-0946-0
Received:

Revised:

Accepted:

Published:

Issue Date:

DOI: https://doi.org/10.1007/s10143-018-0946-0
Keywords