Abstract
The aim of this study was to estimate the incidence, identify the causes, and explore treatments of the injuries to the brachial plexus and peripheral nerves of the shoulder girdle and upper limb in the 1,220,000-inhabitant Italian region Friuli Venezia Giulia.
We linked at the individual patient level various administrative databases using an anonymous stochastic key: list of residents, hospital discharge, emergency department, and outpatient care prescriptions database. We abstracted hospital discharge records with at least one discharge diagnosis code ICD-9-CM 953.4 (brachial plexus) or 955.0–955.9 (upper limb). For hospitalized patients, we investigated the prescriptions of ambulatory care during the following year. Emergency department visits in the month prior to hospital admission were also assessed.
From 2000 to 2015, we observed 474 hospitalizations (annual average: 61); 48% of patients received at least one prescription of outpatient physical therapy and rehabilitation in the following year, accounting for more than 25,000 visits and interventions. According to emergency department data, falls were the most common mechanism among the elderly; cuts were common among the young.
This is the first population study of peripheral nerve injuries to the brachial plexus and peripheral nerves of the shoulder girdle and upper limb in Italy.
Access options
Buy single article
Instant access to the full article PDF.
US$ 39.95
Tax calculation will be finalised during checkout.
Subscribe to journal
Immediate online access to all issues from 2019. Subscription will auto renew annually.
US$ 79
Tax calculation will be finalised during checkout.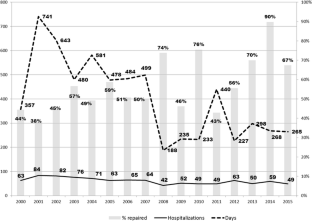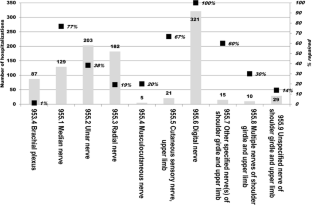 References
1.

Dubuisson AS, Kline DG (2002) Brachial plexus injury: a survey of 100 consecutive cases from a single service. Neurosurgery 51:673–682

2.

Lad SP, Nathan JK, Schubert RD, Boakye M (2010) Trends in median, ulnar, radial, and brachioplexus nerve injuries in the United States. Neurosurgery 66:953–960

3.

Noble J, Munro CA, Prasad VS, Midha R (1998) Analysis of upper and lower extremity peripheral nerve injuries in a population of patients with multiple injuries. J Trauma 45:116–122

4.

Eser F, Aktekin LA, Bodur H, Atan C (2009) Etiological factors of traumatic peripheral nerve injuries. Neurol India 57:434–437. doi:10.4103/0028-3886.55614

5.

Saadat S, Eslami V, Rahimi-Movaghar V (2011) The incidence of peripheral nerve injury in trauma patients in Iran. Ulus Travma Acil Cerrahi Derg 17:539–544. doi:10.5505/tjtes.2011.75735

6.

Ciaramitaro P, Mondelli M, Logullo F, Grimaldi S, Battiston B, Sard A, Scarinzi C, Migliaretti G, Faccani G, Cocito D, Italian Network for Traumatic Neuropathies (2010) Traumatic peripheral nerve injuries: epidemiological findings, neuropathic pain and quality of life in 158 patients. J Peripher Nerv Syst 15:120–127. doi:10.1111/j.1529-8027.2010.00260.x

7.

Rosberg HE, Carlsson KS, Höjgård S, Lindgren B, Lundborg G, Dahlin LB (2005) Injury to the human median and ulnar nerves in the forearm—analysis of costs for treatment and rehabilitation of 69 patients in southern Sweden. J Hand Surg Br 30:35–39

8.

Faglioni W Jr, Siqueira MG, Martins RS, Heise CO, Foroni L (2014) The epidemiology of adult traumatic brachial plexus lesions in a large metropolis. Acta Neurochir 156:1025–1028. doi:10.1007/s00701-013-1948-x

9.

Castillo-Galván ML, Martínez-Ruiz FM, de la Garza-Castro O, Elizondo-Omaña RE, Guzmán-López S (2014) Study of peripheral nerve injury in trauma patients. Gac Med Mex 150:527–532

10.

Rasulić L, Puzović V, Rotim K, Jovanović M, Samardžić M, Živković B, Savić A (2015) The epidemiology of forearm nerve injuries—a retrospective study. Acta Clin Croat 54:19–24

11.

Hundepool CA, Ultee J, Nijhuis TH, Houpt P, Hovius SE, Research Group 'ZERO' (2015) Prognostic factors for outcome after median, ulnar, and combined median-ulnar nerve injuries: a prospective study. J Plast Reconstr Aesthet Surg 68:1–8. doi:10.1016/j.bjps.2014.09.043

12.

Kim DH, Cho YJ, Tiel RL, Kline DG (2003) Outcomes of surgery in 1019 brachial plexus lesions treated at Louisiana State University Health Sciences Center. J Neurosurg 98:1005–1016

13.

Krishnan KG, Martin KD, Schackert G (2008) Traumatic lesions of the brachial plexus: an analysis of outcomes in primary brachial plexus reconstruction and secondary functional arm reanimation. Neurosurgery 62:873–885. doi:10.1227/01.neu.0000318173.28461.32
Ethics declarations
Financial source
None.
Conflict of interest
The authors declare that they have no conflicts of interest.
Research involving human participants and/or animals
This research did not involve human participants, since only administrative anonymous data were analyzed.
Informed consent
Since in this study all the analyses were conducted on anonymous administrative data, ethical committee approval was not needed and formal consent was not required in Italy.
About this article
Cite this article
Valent, F., Eleopra, R., Manganotti, P. et al. A population-based study of injuries to the brachial plexus and to the peripheral nerves of the shoulder girdle and upper limb in the Italian region Friuli Venezia Giulia. Neurosurg Rev 41, 519–523 (2018). https://doi.org/10.1007/s10143-017-0881-5
Received:

Revised:

Accepted:

Published:

Issue Date:
Keywords
Nerve injury

Upper limb

Administrative data

Italy

Epidemiology