Abstract
The standard anterior transpetrosal approach (ATPA) for petroclival lesions is fundamentally an epidural approach and has been practiced for many decades quite successfully. However, this approach has some disadvantages, such as epidural venous bleeding around foramen ovale. We describe here our experience with a modified technique for anterior petrosectomy via an intradural approach that overcomes these disadvantages. Five patients with petroclival lesions underwent surgery via the intradural ATPA. The intraoperative hallmarks are detailed, and surgical results are reported. Total removal of the lesions was achieved in two patients with petroclival meningioma and two patients with pontine cavernoma, whereas subtotal removal was achieved in one patient with petroclival meningioma without significant morbidity. No patient experienced cerebrospinal fluid leakage. The intradural approach is allowed to tailor the extent of anterior petrosectomy to the individually required exposure, and the surgical procedure appeared to be more straightforward than via the epidural route. Caveats encountered with the approach were the temporal basal veins that could be spared as well as identification of the petrous apex due to the lack of familial epidural landmarks. The risk of injury to the temporal bridging veins is higher in this approach than in the epidural approach. Intradural approach is recommended in patients with a large epidural venous route, such as sphenobasal and sphenopetrosal vein. Navigation via bone-window computed tomography is useful to identify the petrous apex.
Access options
Buy single article
Instant access to the full article PDF.
USD 39.95
Price includes VAT (USA)
Tax calculation will be finalised during checkout.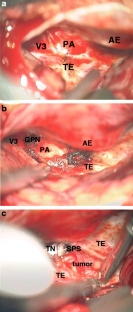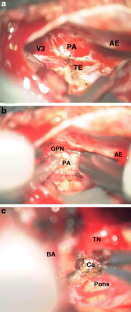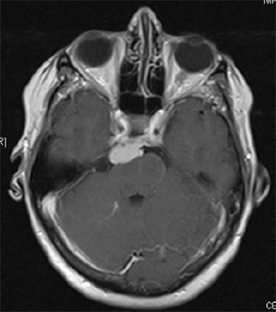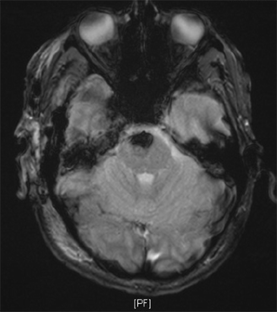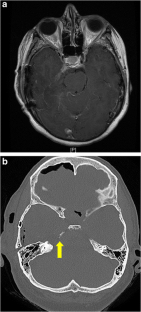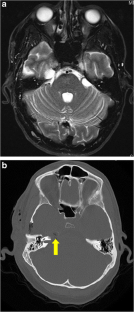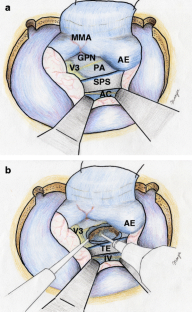 References
1.

DiChiro G (1962) Angiographic patterns of cerebral convexity veins and superficial dural sinuses. Am J Roentgenol Radium Ther Nucl Med 87:308–321

2.

Gupta SK, Salunke P (2012) Intradural anterior petrosectomy for petroclival meningiomas: a new surgical technique and results in 5 patients: technical note. J Neurosurg 117:1007–1012

3.

Hacker H (1974) Normal supratentorial veins and dural sinus. In: Newton TH, Potts DG (eds) Radiology of the Skull and Brain: Angiography. CV Mosby, Saint Louis, pp 1851–1877

4.

Hayashi N, Sato H, Tsuboi Y, Nagai S, Kuwayama N, Endo S (2010) Consequences of preoperative evaluation of patterns of drainage of the cavernous sinus in patients treated using the anterior transpetrosal approach. Neurol Med Chir (Tokyo) 50:373–377

5.

Ichimura S, Yoshida K, Kagami H, Inaba M, Orii M, Kitamura Y, Saga I, Toda M (2012) Epidural anterior petrosectomy with subdural visualization of sphenobasal vein via the anterior transpetrosal approach—technical case report. Neurosurg Rev 35:609–613

6.

Ichimura S, Yoshida K, Sutiono AB, Horiguchi T, Sasaki H, Kawase T (2010) Greater petrosal nerve schwannomas-analysis of four cases and review of the literature. Neurosurg Rev 33:477–482

7.

Kawase T, Shiobara R, Toya S (1991) Anterior transpetrosal-transtentorial approach for sphenopetroclival meningiomas: surgical method and results in 10 patients. Neurosurgery 28:869–876

8.

Kawase T, Toya S, Shiobara R, Mine T (1985) Transpetrosal approach for aneurysms of the lower basilar artery. J Neurosurg 63:857–861

9.

Steiger HJ, Hänggi D, Stummer W, Winkler PA (2006) Custom-tailored transdural anterior transpetrosal approach to ventral pons and retroclival regions. J Neurosurg 104:38–46

10.

Suzuki Y, Matsumoto K (2000) Variations of the superficial middle cerebral vein: classification using three-dimensional CT angiography. Am J Neuroradiol 21:932–938
Acknowledgments
The authors report no conflict of interest concerning the materials or methods used in this study or the findings specified in this paper.
About this article
Cite this article
Ichimura, S., Hori, S., Hecht, N. et al. Intradural anterior transpetrosal approach. Neurosurg Rev 39, 625–631 (2016). https://doi.org/10.1007/s10143-016-0711-1
Received:

Accepted:

Published:

Issue Date:
Keywords
Anterior transpetrosal approach

Intradural approach

Petrous apex

Subtemporal approach

Sphenobasal vein

Sphenopetrosal vein